6 Tips To Make Camping With Your Dog Easy And Enjoyable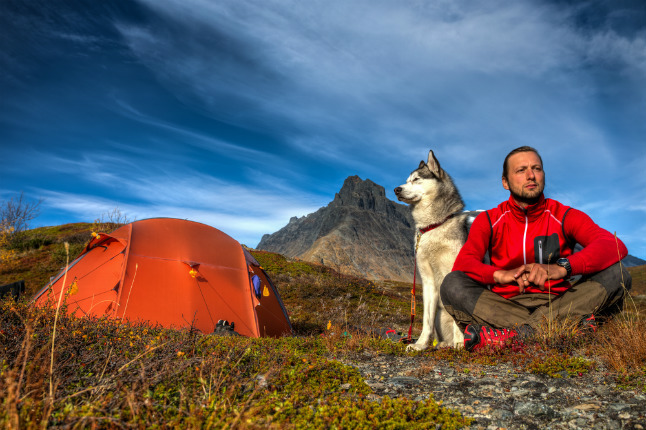 Shutterstock
There's no better camping companion than a well-trained four-legged friend. But before you decide that your pup is ready for an overnight in the great outdoors, there are few things you should consider. To make the experience as easy and enjoyable as possible, check out these six key tips.
Do Your Research
From the obvious—"does the campsite allow dogs" to the less obvious—"is my dog up to date on vaccinations and medications," there are a few questions you need to answer before your trip. Check with park or campsite officials to ensure your campground and surrounding trails are dog-friendly. Schedule a visit with the vet to ensure your pup is completely vaccinated and healthy enough for a trip. Also consider tick, flea and heartworm medications before you head out.
Honestly Ask Yourself If Your Dog Can Handle the Trip
At first, it might seem like a trip out into nature would be perfect for your pooch, but some dogs simply aren't suited or trained for the experience. Be honest about how your dog will handle the new atmosphere, wildlife, other campers and potentially other dogs. If your dog is loud or isn't a very good listener, you should consider more training before trying a camping trip.
Bring the Right Gear
Along with your camping necessities, be sure to take everything your four-legged friend might need. For starters, bring updated tags, a strong leash, a harness for hiking, bedding, a brush, poop bags, treats, food and water (and dishes to put the food and water in). Two important additions—a light for your dog's collar and a doggie first aid kit, which you can buy in the store or build yourself with some recommendations from your vet.
Practice Trail Etiquette
Hiking with your dog can be one of the best parts of your adventure, but you'll likely be sharing the trail with other people—it's important to practice good etiquette. In places where there are leash laws, keep your dog on a leash and on trails where your dog can roam, keep her close by. Not everyone is comfortable around dogs, so it's crucial that you show other hikers you're in control of your dog. Saying your dog is harmless or friendly isn't enough; if you plan to let her off the leash she needs to be obedient enough to stick close to you when called.
Always Clean Up
It's certainly not the most glamorous part of the trip, but it needs to be done. If you're staying at a campsite with a garbage can nearby, bring bags to pick up after your dog. If there are no garbage bins available, bring a shovel to properly bury the waste.
The Sleeping Situation
If you're planning on camping with your dog the best bet is to have her sleep in the tent with you. If your dog is in the tent she's protected from nocturnal animals and she'll be able alert you if there's something wandering around outside.
More Reading:
The World's Most Athletic Dog Breeds
9 Expert Tips for Running with Your Dog
Summer Trips Perfect for You and Your Dog