15 Best Snowshoeing Spots In North America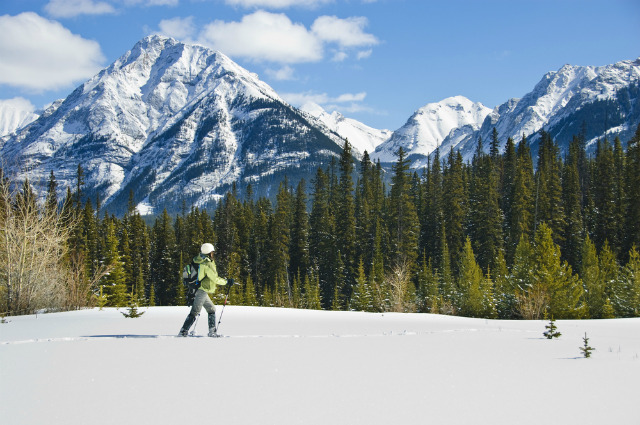 Shutterstock
Best Snowshoeing Spots in North America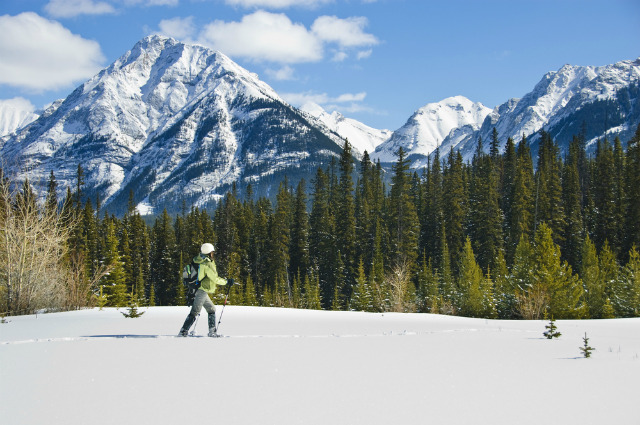 Shutterstock
It's certainly not the flashiest snow sport and it may not be the most popular one either, but outdoor enthusiasts hoping to connect with nature can often find what they're looking for on a pair of snowshoes.
Though you need to be aware of snow conditions, avalanches and other cold-weather dangers, a little knowledge can go a long way and snowshoeing is typically safe. If you're ready to strap on some snowshoes and head outdoors, check out these 15 top spots in North America. 
Gros Morne National Park—Newfoundland, Canada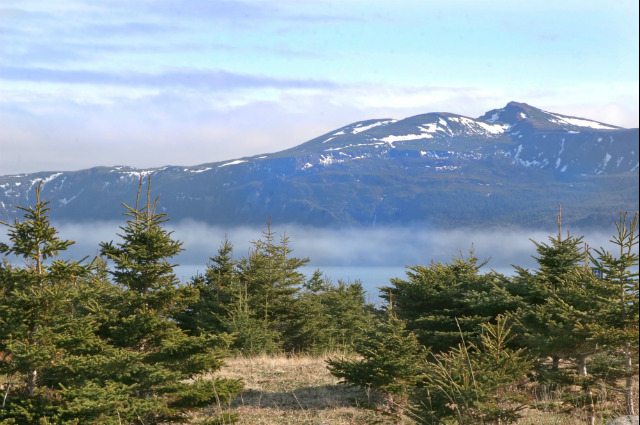 Shutterstock
Wild and nearly deserted in the cold winter months, the Gros Morne National Park, set on the island of Newfoundland is an ideal spot for those who want to get away from it all. The area typically gets hit with a lot of snow and the stunning landscape looks even better for it. Either hire a local guide for your trip or, if you know what you're doing, head out alone to enjoy nature at its most serene.
Camel's Hump State Park—Vermont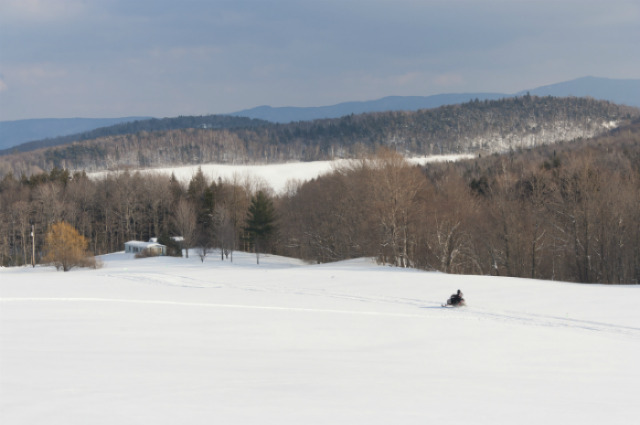 Shutterstock
Set in the scenic Green Mountains, Camel's Hump State Park has an extensive trail system with trails for every skill level. Those looking for a bit of a challenge might want to try the Bald Mountain Trail, a three-mile trek to stellar views. Those looking for something easier could try the two-mile Osmore Pond Loop. 
Whistler—B.C., Canada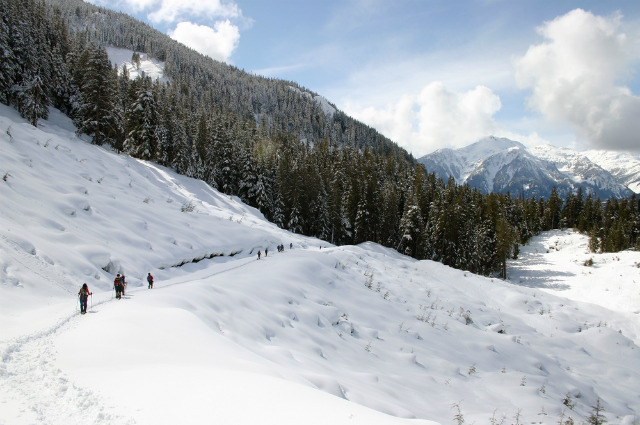 Shutterstock
It's no surprise that this major ski resort would be a top choice for all kinds of winter sports enthusiasts. Host for the 2010 Winter Olympic Games, Whistler has a history of snow sport excellence, an extensive network of trails and rental equipment available for those without gear. Top-notch guides can lead you through snow covered forest or you can make your own way on one of the many trails. 
Mount Greylock—Massachusetts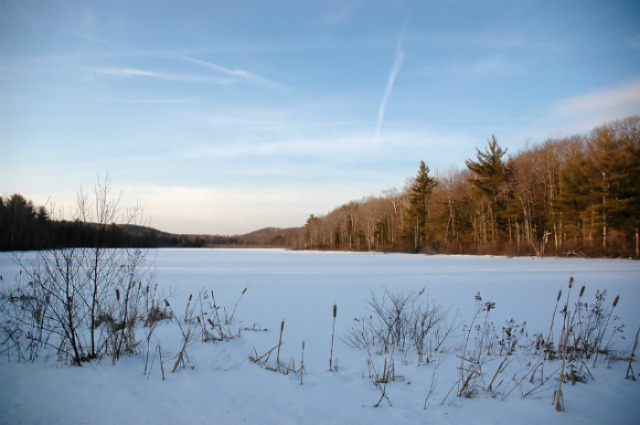 Shutterstock
In an area rife with wilderness and towering peaks, Mount Greylock is certainly one of the more challenging snowshoe treks, but it's also among the most rewarding. Take the Hopper Trail to the Appalachian Trail—it's about an eight-mile trek and the views from the 3,491-foot peak are other-worldly.
Black Hills National Forest—South Dakota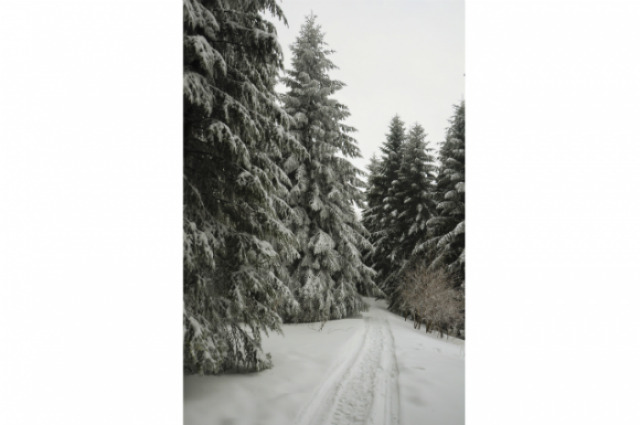 Shutterstock
For a look at wild buffalo, partially frozen trout streams and soaring granite peaks, check out the Black Hills National Forest on a pair of snowshoes. With more than 1.25 million acres at your disposal, you'll find a nearly endless array of trails and backcountry terrain. Head to the Spearfish area to find trails designated for snowshoeing or take off on the Centennial Trail—a 100+ mile trek with some gorgeous views.
Rocky Mountain National Park—Colorado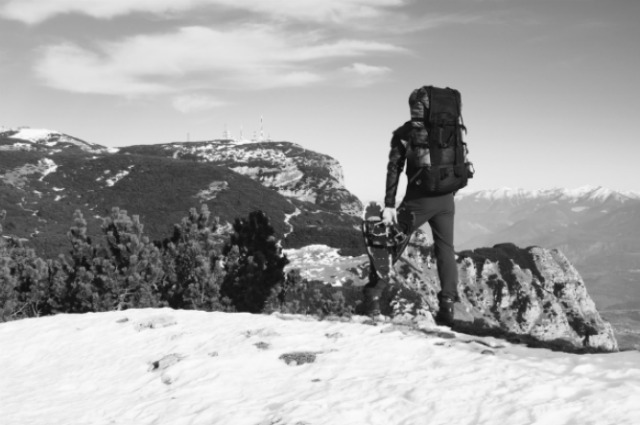 Shutterstock
The state of Colorado is rich with snow, mountains and lots of trails, making it the perfect place to enjoy all that winter has to offer. Rocky Mountain National Park is a particularly great spot with 355 miles of trails ranging from easy strolls to tough accents. Be sure to stop by the visitor center to find out about snow and avalanche conditions and they can tell you which trail would be best. If you call ahead for reservations you can also take a free snowshoe tour led by a ranger.
Itasca State Park—Minnesota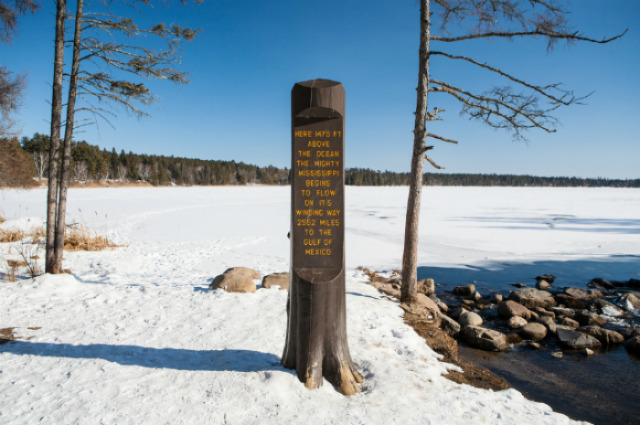 Shutterstock
The land of the lakes has plenty to offer in the winter and with a long list of trails perfect for snowshoeing and Itasca State Park is a top spot. There are plenty of scenic trails, but three trails are specifically groomed for the sport. Check out the manageable Dr. Roberts Nature Trail, Mary Lake Trail and Schoolcraft Trail which are all less than two miles long and kept up specifically for snowshoeing.
Bretton Woods—New Hampshire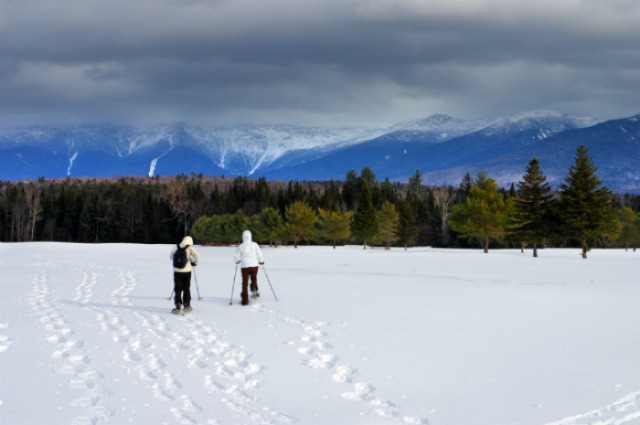 Shutterstock
The Bretton Woods Nordic Center gives cross country skiers and snowshoers access to a trail system with 62 miles of snow-covered terrain. Set at the base of Mount Washington, the trails take you through fields and forests, offering fantastic views of the mountains nearby.
Strawberry Park Hot Springs—Colorado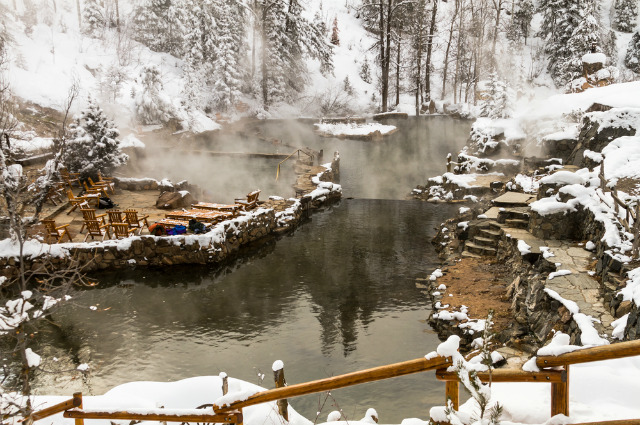 Shutterstock
Just north of Steamboat Springs, Colo., a rugged retreat marked by hot spring pools is the perfect escape for a long winter weekend. The site, which is a convenient 20-minute drive from downtown is also within driving distance of downhill skiing at Steamboat. Even closer than downhill runs, there are great snowshoeing trails that wind through Aspen tree forests and up onto beautiful overlooks.
Stevens Pass—Washington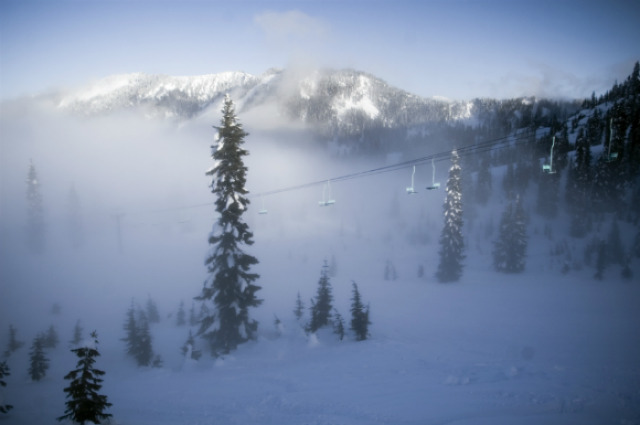 Shutterstock
Best known for alpine skiing, Stevens Pass is also a great spot for snowshoeing. If you're looking for stellar views along with challenging elevation gain, this is the place for you. Trek across the Skyline Ridge and make it to the frozen lake—you can start out at the ski area and on a clear day from the ridge the views are unmatched.
Kirkwood Cross Country Ski & Snowshoe Center—California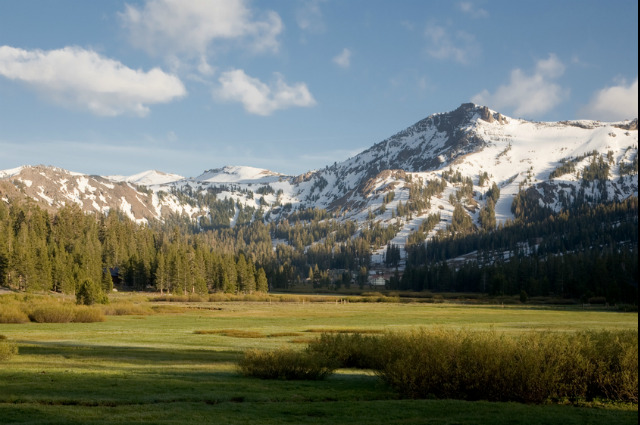 Shutterstock
Complete with rentals, lesson and machine groomers, Kirkwood is an excellent option for first-time snowshoers and those more experienced, looking for incredible views. Set at 7,800 feet, these trails will have you traversing ridgelines and navigating a breathtaking alpine valley. Just be sure to check the conditions before you head to Kirkwood, they haven't seen much snowfall in recent years.
Porcupine Mountains Wilderness State Park—Michigan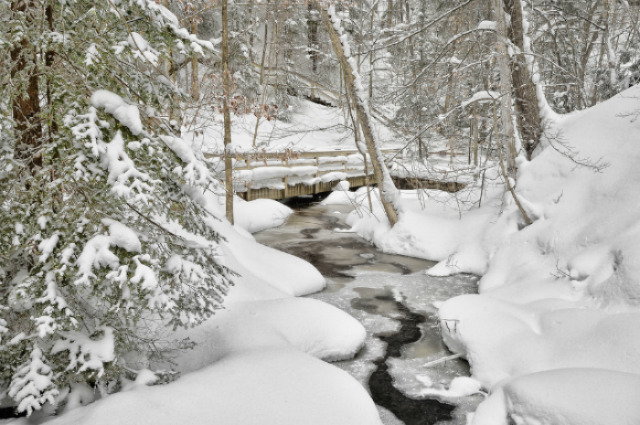 Shutterstock
Michigan's Upper Peninsula is a sparsely populated, nature haven chock full of great places to snowshoe. In the Porcupine Mountains Wilderness State Park, You'll find 100 miles of trails, 19 wood-heated old-world cabins and three yurts—with enough advanced planning you could snowshoe from hut to hut.
Yosemite National Park—California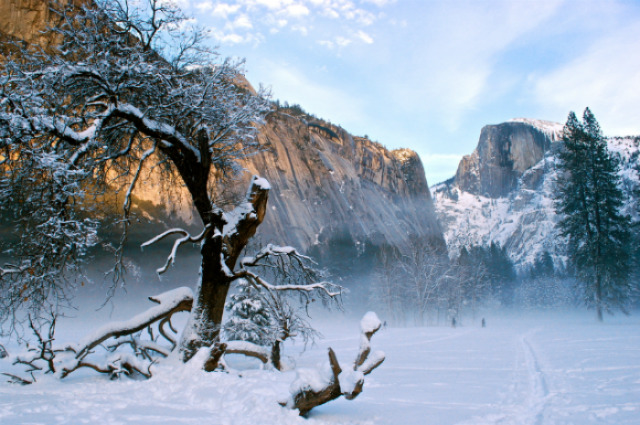 Shutterstock
Yosemite National Park is one of the most visited parks in the U.S., attracting major crowds in the summer, which makes winter a perfect time to visit. The park is home to one of the best snowshoe treks in the country: the seven-mile loop from Badger Pass to Dewey Point. The loop offers visitors one of the best views of El Capitan anywhere and if you dare to look down, a wild view of the valley 3,000 feet below.
Banff National Park–Alberta, Canada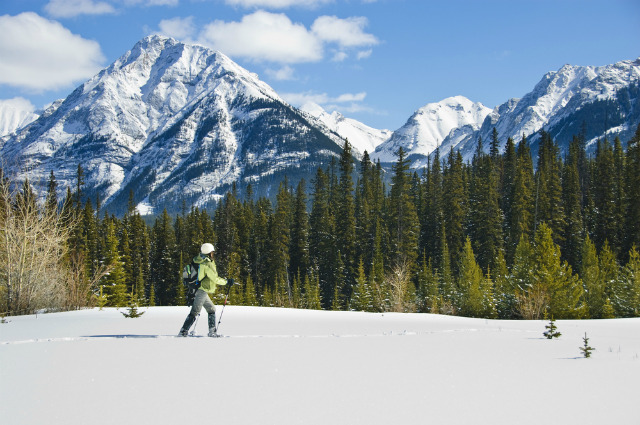 Shutterstock
Between the soaring peaks, electric blue water and roaming wildlife, Banff National Park looks too good to be true—but the pictures simply don't do it justice. The best way to see these unbelievable sights for yourself is to strap on some snowshoes and head out on one of the many open trails in the park. January to early April is prime time for snowshoeing in Banff, but the park advises visitors that this is also when avalanche risk is a factor. Check with park staff before you set out and stay within your comfort level out on the trail.
Palos Trail System—Illinois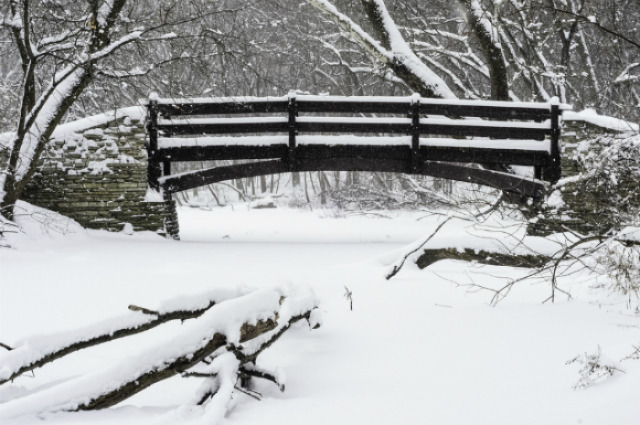 Shutterstock
One of the best mountain biking spots in all of Illinois, the Palos Trail System certainly doesn't lose its allure in the winter; it just attracts a different crowd. The trails are a quick 30 minute ride from downtown Chicago and it's certainly worth the trip. From singletrack to multi-track paths, the ten trails range in difficulty and length, which means there's something for everyone.