Take In Breathtaking Scenery At This Must-Visit National Park In China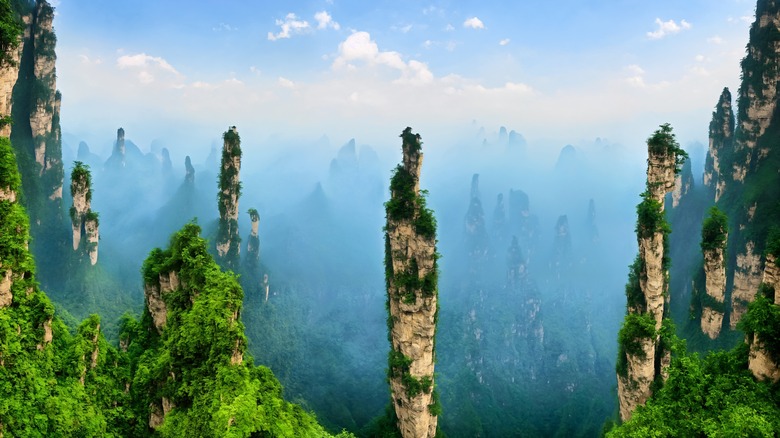 World-Wide-Photography/Shutterstock
If you've seen the blockbuster movie "Avatar," this place may look familiar. The towering quartz-sandstone pillars of Zhangjiajie National Forest Park in Hunan Province, China, inspired the movie's iconic Pandora. It is part of the greater Wulingyuan Scenic Area, which is a UNESCO World Heritage Site, and is one of the most beautiful and unique places on earth. Recognized as China's first national forest park in 1982 and later a UNESCO Global Geopark, Zhangjiajie is an otherworldly haven that welcomes nearly 3 million annual visitors.
Spread over nearly 12,000 acres, the park is a geological tapestry of ravines, streams, natural bridges, and more than 3,000 vertical pillars. These pillars, many of which rise over 650 feet, are the park's most distinctive feature. They are the result of millions of years of erosion, shaped by the elements into the mesmerizing structures we see today. Dense forests cover 98% of the area, harboring a rich variety of flora and fauna. Rare species, such as the giant salamander and Chinese tulip trees, call this place home, along with 93 families and 517 species of woody plants, which is over double the number found in Europe.
One of the park's claims to international fame is its connection to "Avatar" — and one pillar, in particular, has been officially renamed "Avatar Hallelujah Mountain." However, there is much more to this national park than this famous landmark. Zhangjiajie is divided into multiple scenic areas, from the top-rated, albeit crowded, Yuanjiajie (where you'll find the "Avatar" pillar) to the off-the-beaten-path and rugged Yangjiajie. 
Scenic views and sublime landscapes at Zhangjiajie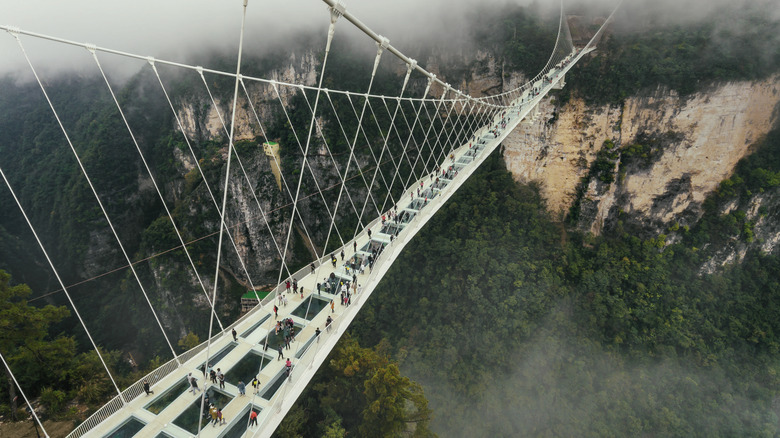 Mediaproduction/Getty Images
For those seeking the best views, one of the most famous is the First Bridge under the Sun, a natural stone bridge that spans two mountains. You also may have seen online videos of terrified people clinging to the railings of a transparent bridge. That's the notorious Zhangjiajie Grand Canyon Glass Bridge, stretching a length of 1,411 feet (that's four football fields) and suspended at a shocking 1,000 feet. Supposedly, the glass panes can withstand even sledgehammers. Walk it if you dare. 
The Golden Whip Stream is another must-visit spot. Named after the Golden Whip Rock it flows past, this five-mile crystal-clear stream meanders gracefully through the park, offering a peaceful ambiance. Along its banks, you might spot playful macaques or hear the distant calls of birds. For even more poetic scenery, the 10-mile Natural Gallery offers a panoramic stretch reminiscent of traditional Chinese paintings. You can walk or take a small, open-sided train to enjoy the views.
In the Yangjiajie area, known for its rough landscapes and deep valleys, you'll experience a more raw side of the park. The Wulong Village, One Step to Heaven pathway, and The Natural Great Wall are some unique features worth exploring. Local legends are deeply rooted in Yangjiajie's landscapes. The area, like other parts of Zhangjiajie, has inspired countless Chinese poets and artists throughout history. Some formations, like the Tianzi Mountain, are believed to resemble creatures or warriors from traditional Chinese mythology.
Transportation, accommodations, and travel tips for Zhangjiajie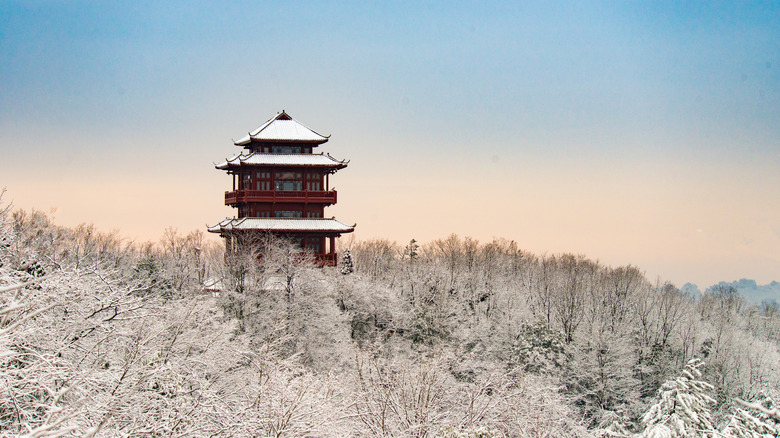 HelloRF Zcool/Shutterstock
If you don't feel like hiking, the park has several cable cars, including the Tianzi Mountain cable car and the Huangshi Village cable car, which offer views of the park's landmarks and a comfortable ride to the top. The Bailong Elevator is the world's tallest outdoor lift. Enjoy a two-minute ascent up a massive cliff, providing unparalleled views of the surrounding landscapes.
While the park is open year-round, each season offers a unique experience. Spring is a blooming time of rebirth, and summer, though a bit rainy, envelops the park in an ethereal, misty atmosphere. Autumn is arguably the best time, with clear skies and colorful foliage, while winter dresses the park in a blanket of snow. Peak season is from May to October when the weather is at its best. However, the amount of other visitors can be overwhelming, so visiting during the shoulder season and avoiding major local and international holidays can help you avoid heavy crowds.
Reaching Zhangjiajie National Forest Park is relatively straightforward. The nearest city, Zhangjiajie, is well connected by air and train. Once in the city, numerous tour operators and public transport options can take you to the park. Public buses located near the Zhangjiajie railway station cost about CNY 10 and take 40 minutes to get to the park. A multi-day visit is recommended — tickets are CNY 248 and last two days, allowing for plenty of time to explore. There are several hotels within the park itself and designated camping areas for the adventurous. Take a trip to China — Zhangjiajie awaits with its Pandora magic!