This African Mountain Is Considered One Of The Best Natural Wonders In The World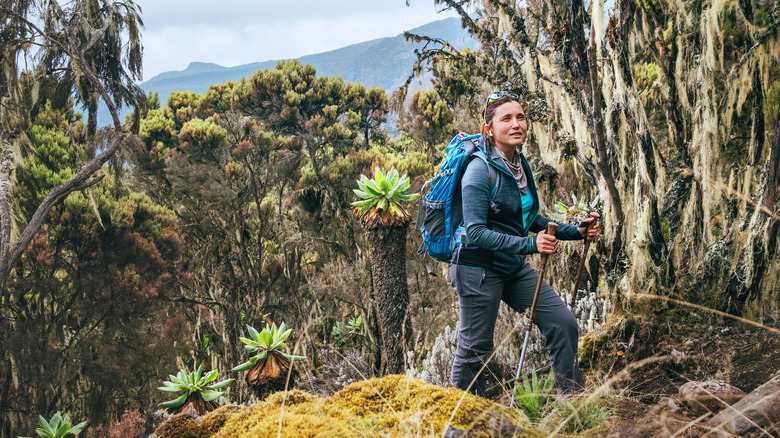 Soloviova Liudmyla/Shutterstock
Mount Kilimanjaro, which translates to English as "White Mountain" or "Shining Mountain," is a wondrous sight. Its white peaks are visible from afar, and its gigantic width and height drastically contrasts the flat plains and vegetation below. It stands tall, rising to almost 20,000 feet, making it the tallest point on the whole continent of Africa. This glorious sight is located in Tanzania, which is in East Africa.
Experienced climbers, novice climbers, and those uninterested in climbing all have a place at Kilimanjaro. Whether you're looking to reach the summit in record time or simply observe its enormity and beauty from afar, there are several ways to make your trip memorable. This destination isn't only for adults, either. It can be a family trip. The Tanzania National Parks Authority allows kids 10 and older to climb the mountain (up to 10,000 feet). So bring your climbing gear and family and prepare to have a blast as you take in the breathtaking sights and sounds of Mount Kilimanjaro.
Hiking tours and checklists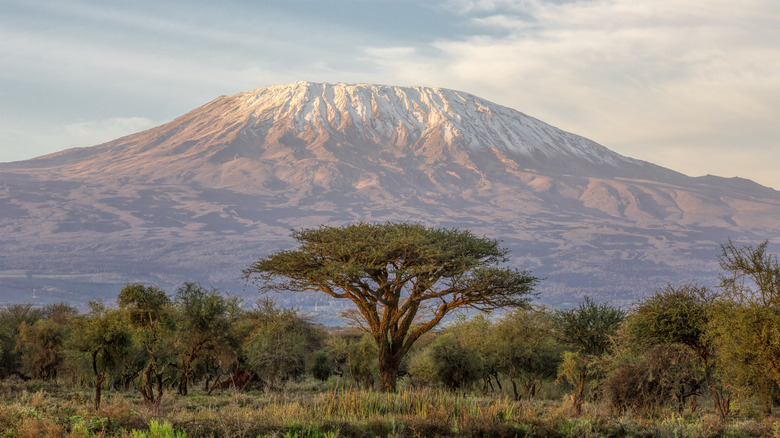 1001slide/Getty Images
For those hoping to climb the mountain, there are multiple groups you can go with. They have tour guides that help you and offer insightful information about the mountain itself, surrounding environment, and cultural history. You can choose among trips ranging from just a couple of days to a whole week. For seasoned climbers, you still have to go with a guide. There are regulations in place prohibiting people from climbing on their own.
Kopa Tours is highly rated on TripAdvisor for their climbs as well as safaris, so if you're interested in getting up close and personal with animals, Kopa Tours is for you. Climbing Kilimanjaro is another company that offers guided climbs up five out of the seven routes — the LeMosho route and Machame route are the easiest, so take note if you're a novice climber.
It's important that you're in good physical shape and that you have all the right items on your checklist before you hike the famous mountain. Some often overlooked items include lotion and chapstick, plenty of layers of clothing (it gets cold, especially at night), sunglasses, and sunscreen. The best time to climb is in January and February as well as June through October to avoid the wet seasons. Typical costs range from $2,000 to $6,000 plus tip.
Exploring Moshi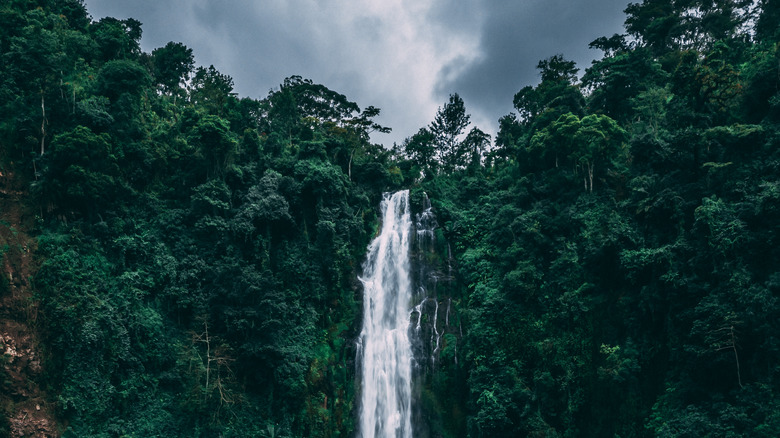 LP Production/Shutterstock
For those who'd rather not climb, there's still plenty for you to do. Moshi is the closest Tanzanian town to Mount Kilimanjaro, so it's a great place to observe the mountain while being entertained. If you want to have a calm day, consider shopping at a market filled with produce and colorful textiles, or visiting one of the many cafés. If you have a curiosity about where your coffee comes from, you can head over to a coffee plantation. Kilimanjaro Plantation offers guided tours around the plantation as well as coffee tastings.
If you're looking to spend time in nature but aren't quite ready or willing to hike Mount Kilimanjaro, then you can take a dip in the natural Kikuletwa, alternatively known as Chemka, Hot Springs. You can relax in the warm waters or swing on a rope in the jungle. Next, you can visit the breathtaking Materuni waterfalls. You can sign up for a day tour and hike your way to see the splendid, nearly 500-foot waterfall. Finally, there's the Olpopongi Maasai Cultural Village about two hours away. You can learn more, as the name indicates, about Maasai culture as well as history.
As you can see, Mount Kilimanjaro and the surrounding area offers a wide variety of activities for everyone. For those itching for adventure, book your trip to this underrated adventure destination and spend your days climbing, exploring, or doing both.