This Popular East Coast Hiking Trail Is Not For Amateur Hikers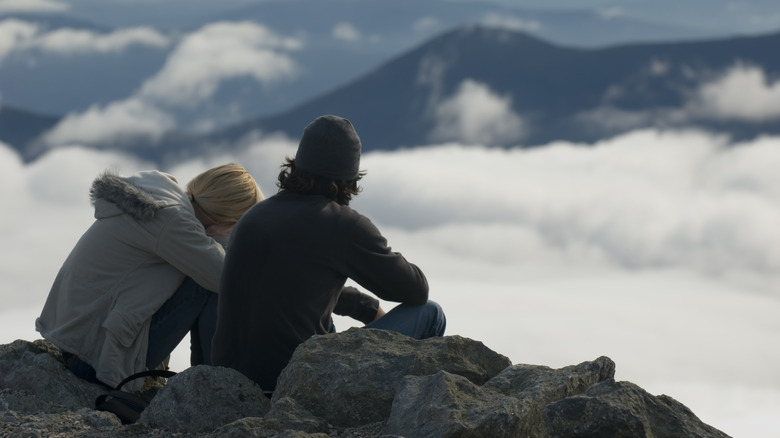 Westhoff/Getty Images
New Hampshire is one of the least populous U.S. states and is home to well over 100,000 acres of federally protected wilderness areas offering gorgeous rivers and waterfalls, ancient forests, and majestic mountain ranges. The state's motto is equally rugged: Live free or die. With such an abundance of natural resources, New Hampshire attracts people from all over the country and abroad with its promise of clean air and an escape from the pressures of day-to-day life.
New Hampshire's mountain ranges include dozens of peaks that top 4,000 feet above sea level. The big prize for intrepid hikers, however, is the summit of Mount Washington. Around 250,000 people head for the stately peak each year, soaring to 6,288 feet in the Presidential Range of the White Mountains. It is the tallest mountain in the Northeastern United States — higher than four Empire State Buildings stacked on top of one another! Despite its appeal to visitors of all ages and levels of fitness, Mount Washington also has a reputation as one of the deadliest treks in the United States, and it is not a hike that should be taken lightly.
What makes Mount Washington so dangerous?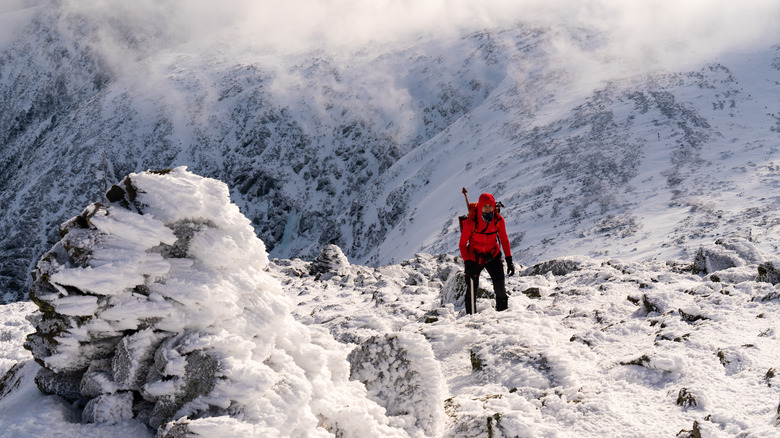 Isaac Shiffman/Getty Images
Mount Washington has a fearsome reputation as the most dangerous small mountain in the world, with many factors that can catch amateur hikers off guard. Although it sounds small compared to the tallest peaks in the United States, it is renowned for having some of the worst weather in the world. Warm and sunny conditions at the base can lull inexperienced hikers into a false sense of security because the weather higher up can change quickly and without much warning. On top of that, the ascent can be extremely challenging — the final 1,800 feet to the summit is above the tree line, meaning rocky terrain with little or no shelter from the elements.
The extreme weather and terrain are no joke. Climbers preparing for Mount Everest sometimes put themselves through their paces on Mount Washington. The peak frequently experiences high winds, recording hurricane-force gales around 90 days of the year. Temperatures can plummet rapidly any time of year, leaving hikers in danger of hypothermia and frostbite from the severe windchill factor.
Naturally, taking on the mountain is even more challenging in the winter, when over 280 inches of snow falls each year. Just in case you need any more convincing about the treacherous nature of Mount Washington, it is also one of the deadliest mountains on Earth, having claimed over 160 lives since the first recorded fatality in 1849.
How to stay safe on Mount Washington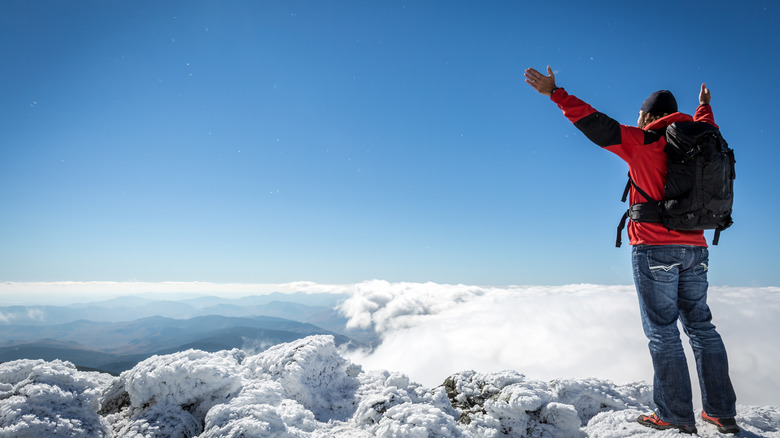 Onfokus/Getty Images
Professional guides suggest that newbies warm up with hikes on less-challenging peaks before tackling Mount Washington. Hikers need to be physically fit before attempting even the shortest trail, which is still an eight-mile round trip across difficult terrain.
You can save your legs by catching a shuttle bus either up to or down from the summit. The bus runs on a first-come, first-served basis and is dependent on the weather. You can also take one-way rides on the historic cog railway if tickets are available. Overall, organizers advise that if conditions look bad, hikers should cut their losses and head back down for their own safety. 
Hikers should make sure they are fully equipped with the correct clothing and gear. With the possibility of bad weather all year round, good-quality waterproof boots are essential. It is also important to take enough food, water, and snacks for the journey, as well as items like maps, flashlights, first-aid supplies, something to start a fire with, a knife, and any medication you might need.
Mount Washington has many ways up and down, and the 10-mile round trip on the Jewell Trail is generally regarded as the easiest due to its relatively shallow incline. However, it is still a demanding walk that requires a high degree of physical fitness and experience to accomplish without getting into difficulties.