Why You Should Bring A Power Strip To The Airport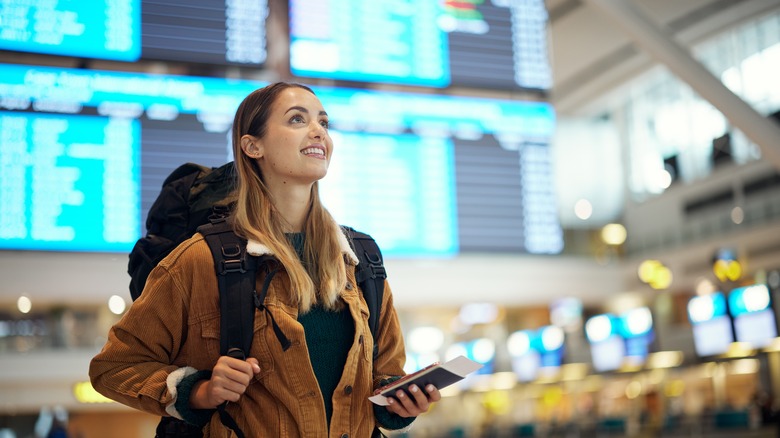 PeopleImages.com - Yuri A/Shutterstock
Just like the scouts and the antagonist from the beloved 1994 Disney film "The Lion King," we should all adopt the motto "Be Prepared" when we travel. Whether you're traveling by plane, train, or automobile, it always helps to know your route and pack whatever will be necessary for the trip. And we're not just talking about checking the weather ahead of time so you know if you should bring shorts or not.
In this digital age that we live in, there's a very good chance that you will be traveling with some kind of electronic device. This could be a laptop computer, a camera, an MP3 player, a tablet, or maybe even a drone. Even if it's just your cellphone, the majority of electronics on the market today need to be recharged at some point. If you're flying the friendly skies and spending a considerable amount of time in airports, you may need to replenish your batteries during layovers or delays in order for your devices to last until you get to your final destination.
However, as many frequent fliers will tell you, it's not always easy to find an available outlet in an airport. Though many hubs of international travel have been upgrading their facilities to make things easier for the multitudes of people who pass through on a daily basis to plug in a charger, it still may not be enough. That's why it's important to pack a power strip in your carry-on bag.
Add more outlets with a power strip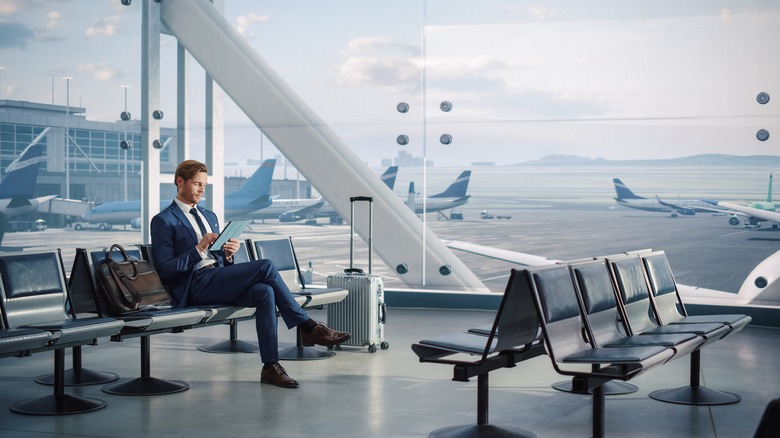 Gorodenkoff/Shutterstock
In an average airport, train station, or bus station, you will typically find a standard duplex electrical outlet with three-prong sockets. Unfortunately, many airline gates only have a few of these outlets in their immediate vicinity. If you're one of the unlucky few who couldn't snag a spot for your phone charger before boarding, you may need to venture further from your gate and risk missing announcements or maybe even the boarding process altogether.
The best solution to this problem is to charge your devices the night before your trip and bring power banks as a backup. But the next best solution is a power strip. You can pick up sturdy, reliable ones at Walmart, Target, Best Buy, and Amazon for a relatively low price. A power strip will quickly multiply the number of available outlets for use from two to four or six (or more), depending on how big of a power strip you buy.
Whether you want to share the outlets with your fellow travelers or use up each socket for your many devices is completely up to you. However, camaraderie between those on a journey can be a beautiful thing and potentially one of the most memorable aspects of your trip. Or it can just be a polite and neighborly gesture to share your wealth of outlets with those in need. Either way, a power strip will come in handy.
Save money on travel adapters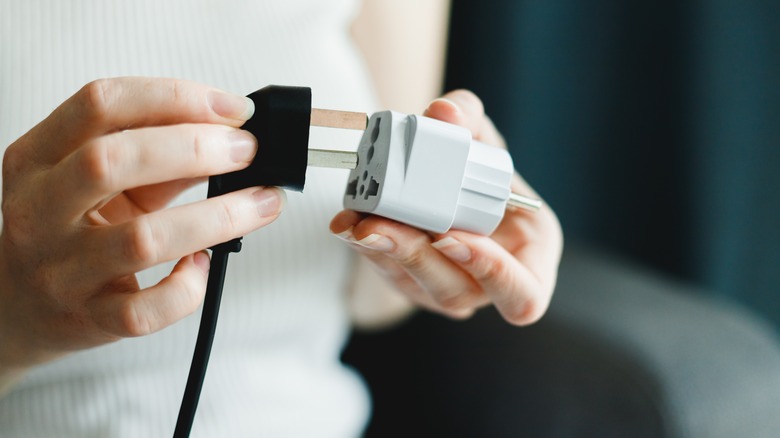 Vladeep/Shutterstock
Power strips are not only useful for making new friends during domestic travel but also during international travel. Chances are that you've already spent a lot of money on the trip itself. You may have also bought some fashionable new clothing or top-of-the-line luggage to treat yourself ahead of your adventure. However, buying enough travel adapters for each device can be a rather expensive necessity if you wish to have a charged phone or an operational computer on your journey in a foreign land. So why not just buy one for your handy, dandy power strip? That way, you would only need a single international adapter to plug in your arsenal of electronics rather than purchasing a plethora of plugs that would take up precious space for souvenirs in your bags. However, definitely be sure to check your devices' technical specifications when traveling internationally, and use power sources accordingly.
Although, no matter what continent you're on and plugging into, it's important to remember power strip safety. According to MidAmerican Energy, you should never plug a power strip into an existing surge protector, power strip, or extension cord. Only one power strip should be used in each double wall outlet. And they should also remain dry and uncovered in order to circulate more freely. If you ignore these guidelines, there is a risk of overloading the power strip and causing a fire hazard. In the event that a power strip becomes hot to the touch, unplug and remove it as soon as possible to avoid a potential fire.