Don't Have AirTags? Here Are Other Effective Ways To Track Your Luggage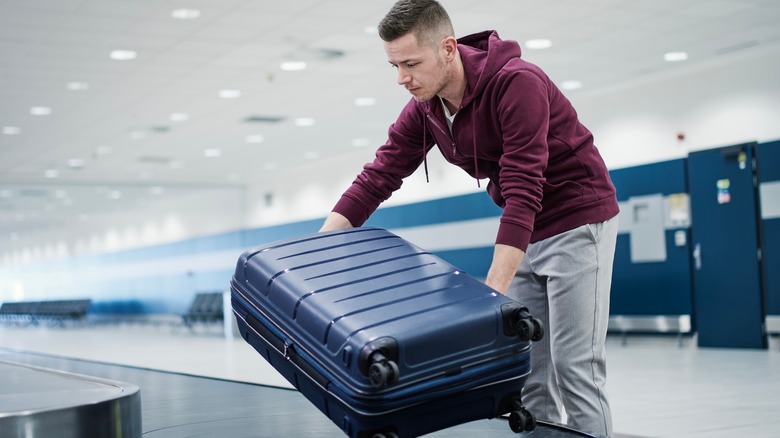 Jaromir Chalabala/Shutterstock
Technology: Can't live with it, can't live without it, especially when it comes to keeping track of your luggage. Yes, automated baggage handling systems might accidentally send your luggage to Timbuktu. But then there are handy tracking devices like Apple AirTags that you can place in your luggage to keep tabs on where your bags end up. This can also help airport staff locate and return them to you if they get lost. But what happens if you don't have an Apple iPhone to use with AirTags? Luckily, tech companies everywhere have recognized the incredible utility of these devices, and there are now plenty of options on the market.
Nowadays, travelers can choose from Tiles for all Android phones; Galaxy SmartTags for Samsung Galaxy phones; and now Chipolo, which is compatible with both Android and Apple phones. But which one is the best for you, and what's the best way to use these devices? We'll cover it all below.
Options for tracking your luggage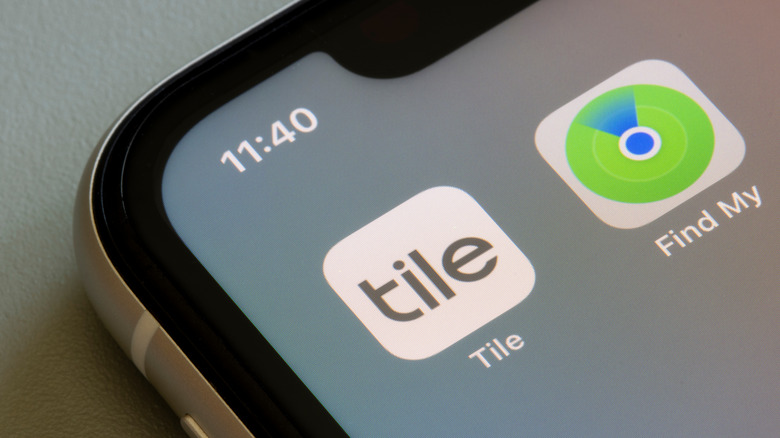 Tada Images/Shutterstock
Whether you use an Android or iPhone, you have at least a couple of options to choose from for tracking devices you can use in your luggage. These devices use Bluetooth to connect to your phone and other Bluetooth-enabled devices with the same operating system (OS) around it to triangulate their location. The most versatile option — especially for those who aren't loyal to one tech company camp or another — would be Chipolo. Unlike its main competitors, Chipolo offers tracking devices that work for both Android and Apple phones. You can buy trackers that specifically work for your phone's OS, like the Chipolo ONE Spot and CARD Spot for iPhones; or the Chipolo ONE and Chipolo CARD that work for both Androids and iPhones, but only if you download the Chipolo app.
Much like AB+ blood types, if you have a Samsung phone, your options for non-Apple AirTag trackers are pretty much boundless. However, you might find it's best to stick with the tracker made for your specific phone: the Galaxy SmartTag. Also, if you have other Samsung devices in your home, it will work for those, too.
Finally, there's Tile. The Tile actually came onto the market in 2013, a whopping 8 years before AirTag made its own introduction in 2021. The Tile Mate has been named the best Bluetooth tracking device for both Android and iPhones by GearLab.
How much it will cost?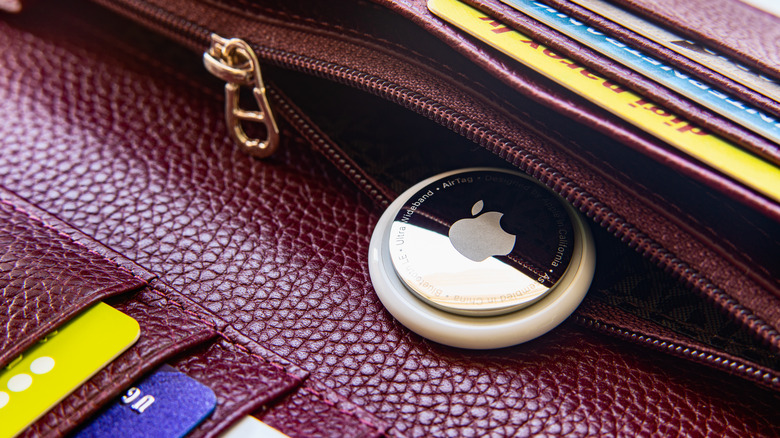 Ugis Riba/Shutterstock
For iPhone users, your primary options are between the Apple AirTag and Chipolo. As of writing, AirTags run between $27 to $29, depending on if you get them from Amazon or direct from the Apple store. Chipolo, on the other hand, currently offers Apple users the Chipolo ONE Spot and CARD Spot for $28 and $35, respectively, and they both work with the Find My app. They also have a bundle offer for two ONE Spots and a CARD Spot for $77. If you don't care about relying on the Find My app, you could opt for the Chipolo ONE that works with their app and grab their four-pack for $75.
For Android users, Tile devices have a wide range of products and offerings that can suit just about any budget. They have the best deals on four-packs, though, for just $71.99. You can also purchase their credit card-sized trackers for $56.99 for two. They also offer an essentials four-pack (a mix of their primary products) for $79.99.
While Samsung Galaxy users may find the utility of SmartTags to be higher than a regular tracker, you will pay a steeper price. You'll find a single, basic Galaxy SmartTag costs $29.99. The SmartTag+ will run you $39.99. However, the reviews for these trackers aren't the best, so we wouldn't blame you for trying a different tracker first.