Why It Matters Which Type Of Phone Charger You Use Abroad (And Which Kind You Need)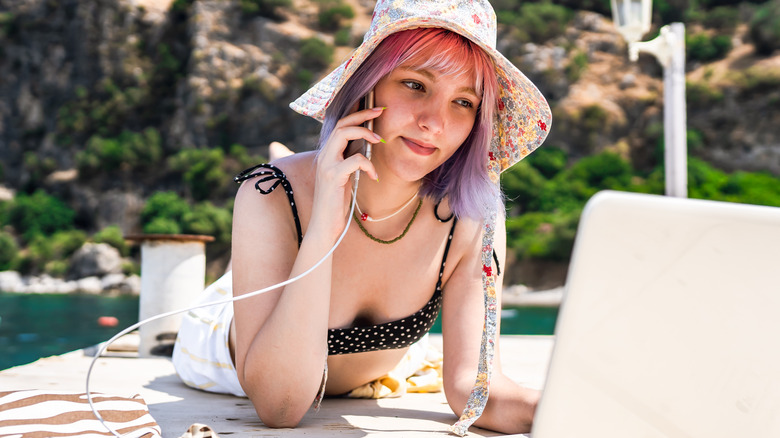 Su Arslanoglu/Getty Images
Any trip abroad requires a little bit of planning. You want to make sure that you've got everything organized as much as possible, because you know you're going to bump into the unexpected, no matter how prepared you are. Keeping this in mind, it's best to take care of everything you do have control over so that you aren't overwhelmed by the things you don't have control over when traveling.
One detail in this arena of pre-travel preparation is your phone. It's hugely advantageous — even necessary, in many cases — to travel with your phone. You've got a built-in camera, you've got a way to connect with loved ones, you have maps and directions, and everything else that has made phones so essential to daily life. But traveling with your phone, and using it abroad, can come with surprises. For instance, there are things you need to know about using your phone on a cruise. Those roaming charges can get steep! Charging your phone is another crucial point when traveling. You may need to check your charger ahead of time to ensure it's compatible with the voltage frequency in your destination. If the voltage is too high, you can damage your electronic item. The good news is that most chargers accommodate dual voltage so you likely don't need to buy a new charger. But there are a few things you should know.
Why you need to check the voltage that your charger can support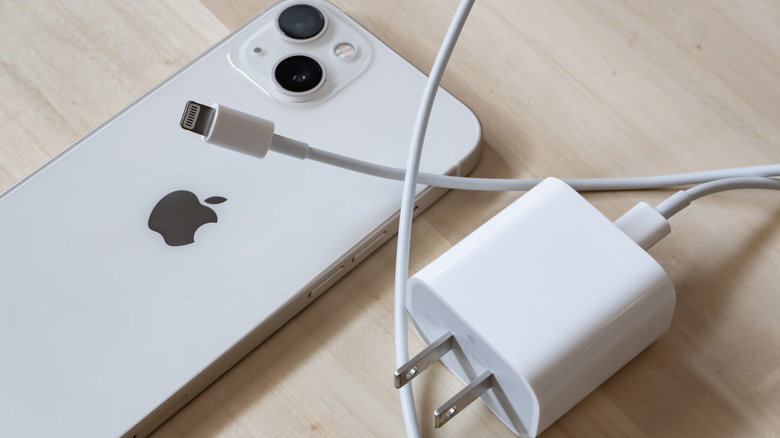 Wachiwit/Getty Images
There are different voltages around the world. In the United States, the voltage of the electrical current is 120 volts with a frequency of 60 Hz. In a country like Belgium, meanwhile, the voltage is 230 volts and the frequency is 50 Hz. It's important to note the voltage of where you're visiting and see if your phone charger can support a different voltage range. The good news is that many modern phone chargers are designed to support a range of 100 volts to 240 volts. For instance, Apple phone chargers support this, with a frequency of 50 Hz to 60 Hz. Samsung phones are typically also made to support this voltage range. There's a slight potential for risk if you're using an uncertified charger while traveling. Check the chargers to see.
Since most phone chargers are compatible with dual voltage, all that you'll need is a plug adapter. You likely won't need a converter, a device that changes the voltage in an outlet, since your charger is already compatible.
Get the right adapter for your phone charger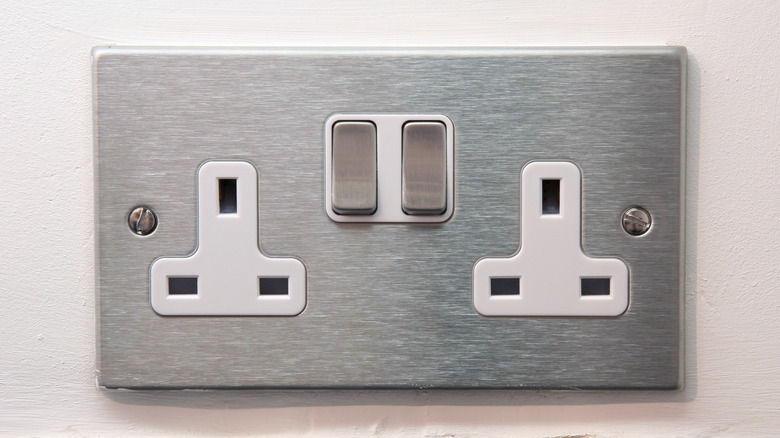 Nicholas Free/Getty Images
While you likely don't need a converter for your phone charger, you will want to make sure that you have the correct wall adapter so that you can use the different electrical outlets themselves. Annoyingly, wall plugs are different all over the world, so you'll want to make sure you have the correct adapters ahead of time.
According to REI, the International Electrotechnical Commission states that there are 14 different kinds of wall plugs used throughout the world. However, you may not need such a plethora of wall adapters depending on where you're traveling. For instance, all of Europe (except the U.K. and Ireland) uses the two-pronged plug as does Egypt, Morocco, Argentina, China, and Thailand. 
The good news is that you don't have to buy a new phone charger for your trip. You just need to double-check that it's voltage-compatible and that you have the correct wall adapter so that you're able to effectively use your phone to make the most out of your vacation. If you're traveling somewhere remote, you'll likely need a portable charger. Consider a portable power bank that can give your phone 40 extra hours, or use a portable solar charger.