Best Places In New Orleans For Beignets (That Aren't Café Du Monde)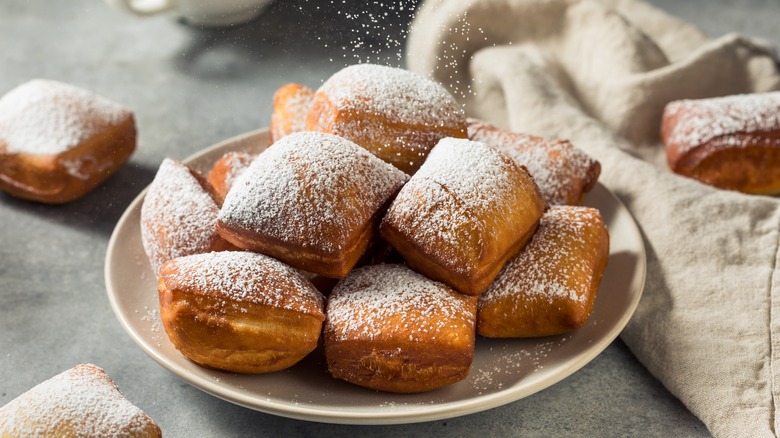 Brent Hofacker/Shutterstock
Few foods capture the culinary soul of New Orleans quite like beignets. One can trace the fascinating history of New Orleans' famous beignets back to the Celts and French. The fluffy fried treats popped up in New Orleans in the 1700s when the French-Creole colonists arrived, bringing with them their knowledge of how to make the perfect beignets.
Beignets are typically made of a dough called pâte à choux, containing butter, flour, sugar, and eggs fried in oil. The best part of beignets is that they must be made to eat fresh since if they're fried and left out they'll become soggy and unsavory. So when you visit New Orleans it's common to see the beignets being made in full view of customers.
Though a traditional beignet is typically fried dough with a healthy coating of powdered sugar, leave it to the professionals to experiment with some incredible combinations. You'll find sweet beignets filled with chocolate, Nutella, and fruity jams; topped with candied pecans; or even stuffed with Oreos. The savory beignet combinations? Expect them to be stuffed with delicacies like crab, crawfish, and duck. Inevitably, numerous cafés, restaurants, and bakeries in the Big Easy have tried their hand at making beignets with their own unique spin. But who comes out on top (besides Café du Monde)? We spill the beignets below.
Sweet beignets that will satisfy your sugary cravings
Morning Call Coffee Stand has almost an equal cult following as Café du Monde, and for good reason. This eatery is home to some of New Orleans' best beignets. Though it originally opened in the French Market in 1870, today, Morning Call has left its original spot and branched out to a number of locations around the city. You can still get a plate of beignets made to order and served without sugar so you can add just the right amount and type you prefer. Enjoy your beignet with a hot café au lait!
The Vintage Restaurant is another crowd-pleaser in the Big Easy shaking up the beignet status quo. Not only does this café serve up puffy pillows of sugary goodness but they also pair their beignets with Cava (a bubbly wine) and offer "fancy" flights filled with interesting flavors like matcha and s'mores. If this is your first stop after a raucous night of fun on Bourbon Street, you'll have plenty of hangover-curing breakfast options; try the beignet topped with bacon gravy and a poached egg.
Meanwhile, Luca Eats takes an infamous American carnival treat and steps it up a notch. Can you guess what it is? Indulge in your guiltiest pleasures with a few award-winning Oreo-stuffed beignets.
These savory beignets will challenge your expectations
If you're sugared out and just looking for a yummy and filling pick-me-up, you can still turn to the amazing beignet. Head to La Petite Grocery Restaurant & Bar for a savory beignet that will blow your mind. The eatery's chef, partner, and director of culinary arts, Justin Devillier is a James Beard Award winner renowned for his blue crab-stuffed beignets, among many other delectable dishes.
A local culinary icon in New Orleans, Katie's Restaurant and Bar is one you cannot miss. After making an appearance on "Diners, Drive-ins, and Dives" with Guy Fieri, it's gotten some well-deserved recognition for the Taeyo's Seafood Beignet. However, this won't be one for the faint of heart. And we might mean that literally since the thing is packed with some greasy goodness along with crawfish, shrimp, and spicy aioli.
If you want options though, Stuph'D Beignets and Burgers has them. Choose from their breakfast beignets with crawfish, steak, sausage, or bacon; or savory beignets like their Philly cheese steak, Surph and Turph, and Creole Queen beignets stuffed with crab, crawfish, and shrimp. They also don't skimp on their sweets, with over 10 different pastries to choose from like pecan and sweet potato pie beignets.