10 Best Under-The-Radar Neighborhoods To Stay In NYC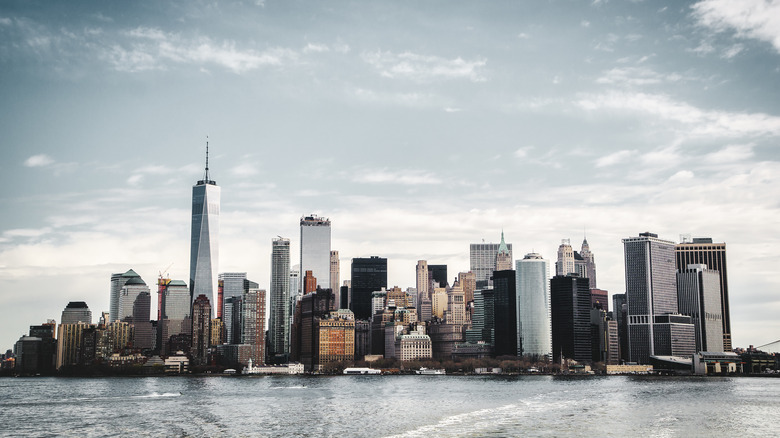 Isaac Cedercrantz/Shutterstock
"New York, New York, big city of dreams" rapped Grandmaster Flash in the 1983 synth-laden song named for the city. The Big Apple looms large in the public imagination, with a perception — at times accurate, at times wildly off target — of sky-reaching glass towers, sidewalks choked with harried people, blatant contempt for authority, inhabitants that pride themselves on their unapologetic aggression, and an intense, unstoppable energy beating through its public and private spaces. 
This city of almost 9 million people has long attracted those to dare to achieve the impossible, hoping, to paraphrase Ol' Blue Eyes, if they can make it there, they'll make it anywhere. But, as residents will attest, the city (Manhattan) isn't the only slice of land where skyscrapers huddle together to sculpt a scintillating skyline — there's a haphazardly stitched together congregation of five boroughs, or neighborhoods, each with its charm, character, and pockets of wonder. 
There's a lot more to NYC than the neon lights of Times Square, tourist traps of Little Italy, and staid canyons of Midtown — all in Manhattan, by the way. The city is a vivid tapestry, one with an abundance of other, less obvious neighborhoods where a stay can provide not just an alternate view of the city (figuratively and literally), but also a refreshing change of scene, a departure from those rote images drawn from popular culture. 
Here are 10 of the best under-the-radar neighborhoods, all served by the city's subway system, listed alphabetically.
Astoria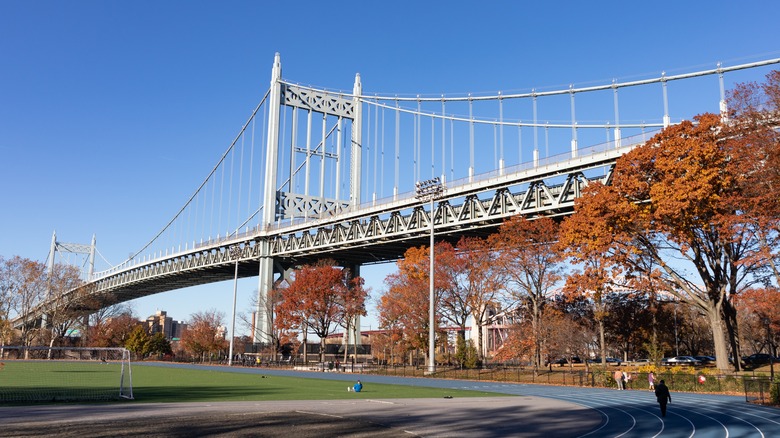 James Andrews1/Shutterstock
Yassou is a common term heard in Greece, an informal greeting made between friends (the more polite form is yassas, also used when speaking to more than a single person). It's a word you might hear frequently in this neighborhood in Queens, one of New York City's five boroughs, because this area is a Greek stronghold. Connected to the city by subway, and one of the closest neighborhoods to LaGuardia Airport, Astoria might as well be called Athenia (or maybe Big Athens, since the Greek presence is so dense). You'll see Greek supermarkets (Titan Foods is one of the best), Greek restaurants, signs for lawyers and beauticians with Greek names, Greek flags fluttering in front of houses, and even a sculpture park, built on a former landfill, named for the Greek philosopher Socrates. 
But this group isn't the only ethnic powerhouse here, with a section of Steinway Street known as Little Egypt, filled with Arab restaurants, cafes, and hookah lounges. There is also much to explore. Astoria Park, a slab of waterfront greenery between the Robert F. Kennedy and Hell Gate Bridge, has tennis courts, an outdoor pool, playgrounds and areas to wander for adults and children. Astoria is also where to find the Museum of the Moving Image, in the southern part of the neighborhood, where exhibits, collections, and interactive stations offer a deep dive into the joyous art of making content for the cinema, television, and media.
Bedford-Stuyvesant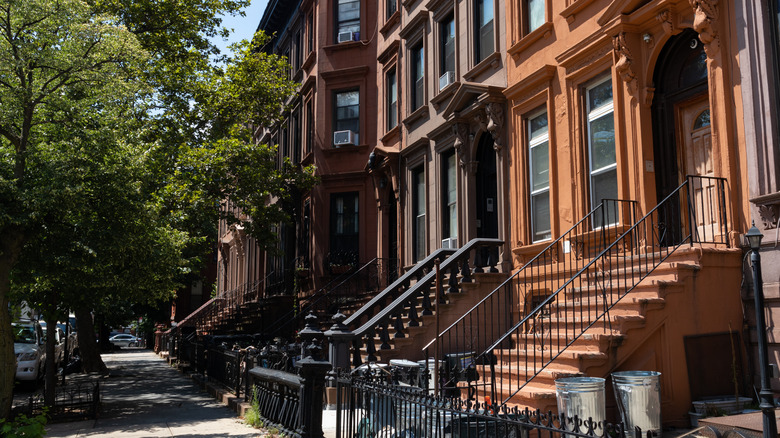 James Andrews1/Shutterstock
Walk down the block of Stuyvesant Avenue, between Lexington Avenue and Quincy Street, and you might not sense much difference between this and other blocks in this Brooklyn neightborhood. But take a closer look. Maybe you'll see the bright murals, or the street sign at the corner of Lexington and Stuyvesant avenues that proclaims Do The Right Thing Way. This, after all, was where Spike Lee's seminal 1989 movie, "Do The Right Thing" was filmed, catapulting this Brooklyn hood into the global psyche. Bed-Stuy, as locals refer to it, has pretty tree-lined streets with striking Victorian brownstones, and more recently has undergone a period of gentrification, with city folk descending on the gorgeous period houses and quiet side streets from other parts of the Big Apple. 
This influx has resulted in manifold changes — the area, for decades a traditionally African, West Indian, and African-American area (rapper Jay-Z was born here), is now more racially mixed, home prices have risen, and the range of food and drink options has broadened. Walk up Bedford Avenue, the other main thoroughfare that gives the neighborhood its name, and you'll see gourmet supermarkets, hip coffee shops, art and antique stores, and cool clothing boutiques. And yet, some things in this district served by the A, C and G subway trains, recall its past. Ali's Roti Shop on Fulton Street still churns out its hearty rotis, doubles, and other Trinidadian delights — and the Bedford Stuyvesant Museum of African Art continues to celebrate Africa's artistic traditions.
Carroll Gardens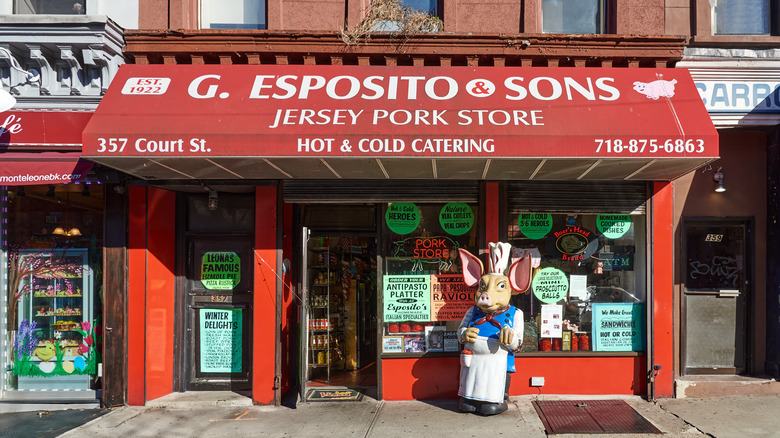 John Penney/Shutterstock
The film "Moonstruck" explored the Italian-American experience in New York, with Nicolas Cage's archetypal hangdog expression on full display. The film earned lead actress Cher an Oscar, though the filming of the movie was also remarkable — one of the locations, Carroll Gardens, actually has deep Italian-American heritage. Some associate this neighborhood with Mafia activity, with whispers of past marriages, funerals, and brazen shootings. Whatever the factual merits of these tales, one thing that remains true is that this part of Brooklyn, accessed by the F and G subway lines, still reverberates with Italian energy. 
There are flags outside homes, Italian bakeries, funeral homes run by Italian families, and, quite possibly, the best pizza restaurant in the city. Lucali opened on an unremarkable stretch of Henry Street in 2006, its owner setting up the restaurant as homage to the failing candy store that was once there, and that was his childhood haunt. Since then, the restaurant has flourished, and devotees of the sumptuous, silky Neapolitan pies have been known to wait in excess of an hour, even for take-out! For the less patient, good food is easy to find elsewhere in Carroll Gardens, with fabulous Thai at Ugly Baby, and addictive fried Chicken at Buttermilk Channel. 
The neighborhood, with its main commercial strips of Smith Street and Court Street, is mostly low-rise with pretty brownstones and terraced houses on tree-lined streets, and the Brooklyn Heights promenade, with its astonishing Manhattan views, is an easy walk away.
East Village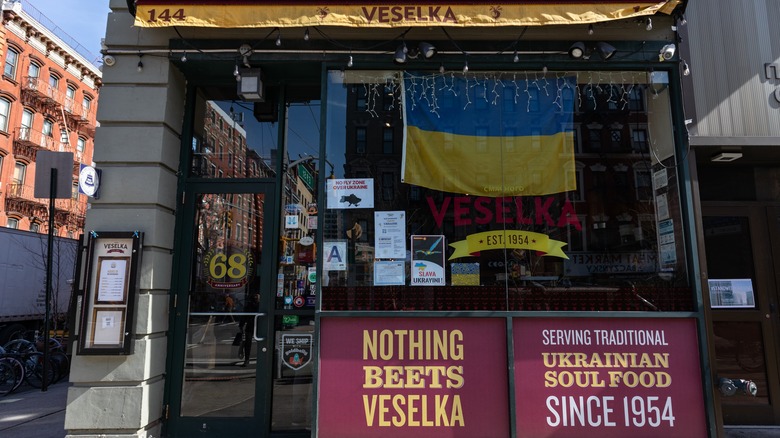 James Andrews1/Shutterstock
If the punk scene in New York can be traced to one venue, it would be CBGB. This dive in the East Village was where the likes of the Ramones and Misfits took to the stage. Sadly CBGB shuttered in 2006, but by then its gritty, grungy spirit had spread throughout the neighborhood. The East Village was a wildly eclectic place, where addicts might shoot up, where drag queens would take over Tompkins Square Park on Labor Day for a day of revelry called Wigstock, and where nightclubbers might refuel in the morning at the Eastern European boîtes serving pierogi and borscht. Hints of the East Village's past peek out, but the area has undergone rapid transformation, with sleek apartment buildings, a new demographic, and mass retail taking over (note the Whole Foods at the southern cusp of the East Village). 
While, in the halcyon 1980s, you might have seen young adults clad in leather and studs wandering along the independent boutiques of St. Marks Place, shopping for statement accessories, these days, visitors are more likely to be students from nearby New York University looking for a chic cafe with an Instagram-worthy esthetic. One thing that hasn't changed is the dominant age group here — people under 30, their youth and energy filling the sidewalks. Not surprisingly, there is great nightlife here, and many bars that proudly embody the area's low-key, no-frills, bare-bones past, as well as more polished joints where cocktails and pricey wines are in demand.
Forest Hills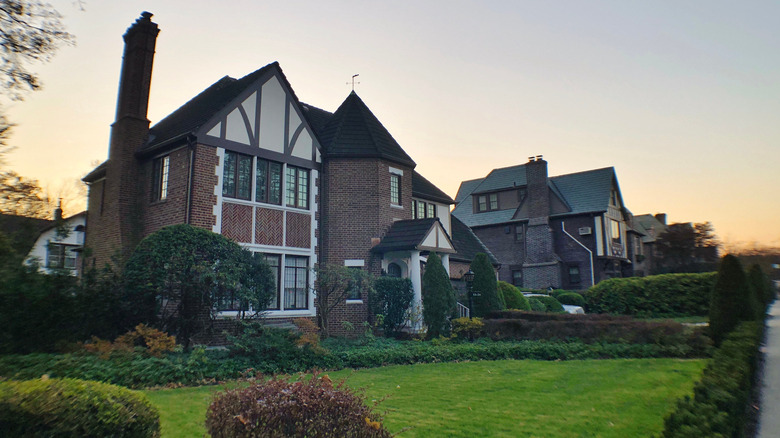 Kits Pix/Shutterstock
Just look at the name of this neighborhood and you'll get a sense of pastoral delights that await, even if this part of Queens doesn't strictly contain any forests or hills. Forest Hills does sit close to a pair of sizeable slashes of greenery — Flushing Meadows Corona Park to the north, Forest Park to the south — and wandering around Forest Hills Gardens really is an escape from every day New York. The houses have classic Tudor hallmarks, with brick, stone, and plaster exteriors, high-pitched tiled roofs, and beautifully landscaped front lawns. At Halloween, residents go all out with extravagant displays, and with the leaves turning here at that time of year, the whole scene has a cinematic quality to it. 
The Long Island Rail Road (LIRR) and train station — a commuter rail that connects the suburbs and outer parts of the city to Manhattan — complements the yesteryear look, built in the early 1900s and with buildings surrounding it that recall an earlier era. Other parts of Forest Hills, which also links to Manhattan with the E, F, M, and R subway lines, contrast with this tranquil image. There remain old-style candy and pizza stores, but parts of the neighborhood are mainstream commercial, especially along Queens Boulevard, and Austin Street.
Jackson Heights
agsaz/Shutterstock
If Queens is the most diverse county in the United States, then Jackson Heights might just be the epicenter of that amazing cultural co-mingling. This hugely multi-ethnic part of Queens places immigrants from South Asia and South America close to each other, so you're as likely to hear Bengali, Hindi and Tamil spoken on the streets as you are Spanish, albeit in varying national accents. This is a busy place for sure, a quintessential melting pot, to use the term often applied to New York City as a whole — and it's never dull. The district is well-served by public transportation — you can get here on the 7, E, F, M, and R subway lines, and also get the Q70 bus to LaGuardia airport from here. 
The section around the Jackson Heights—Roosevelt Avenue station is the base of South Asian businesses and visitors, with supermarkets along 74th Street and 37th Avenue, like Patel Brothers, selling vegetables such as karela (bitter gourd) and methi (fenugreek). You'll also be able to source gold jewelry, Asian fabrics and clothing, and find restaurants that serve Indian, Bengali, Nepalese, and Tibetan food. A short walk away, along Northern Boulevard, another world exists. Grocery stores, cafes, and restaurants that celebrate the tastes of Venezuela, Colombia, Argentina, Peru, and beyond, line the thoroughfare, allowing you to skip across from Asia in the span of a few minutes.
Long Island City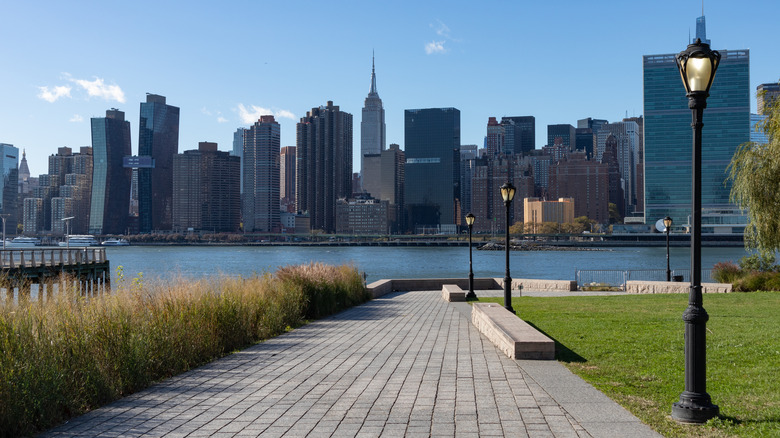 James Andrews1/Shutterstock
For the first half of last century, Long Island City, a splotch of Queens across from the United Nations building and Midtown Manhattan, was a bastion of manufacturing, its waterfront location allowing for the easy, effortless transportation of goods. But, shortly after World War II, as labor and energy costs rose, as land in the city became scarcer with the rising population, and as new cities and countries started to establish their manufacturing prowess, Long Island City — and NYC as a whole — began to notice its manufacturing health decline. Warehouses shuttered and remained empty, and this section of Queens didn't offer much to most city residents. That changed earlier this century, with a city plan to redevelop the area, injecting cash and know-how. 
Now, Long Island City, with great train connections (you can get here on the LIRR, 7, E, F, G, M, N, R, and W subway lines), is a thriving neighborhood, with cool new apartment towers lining the waterfront and businesses that cater to their residents popping up. The views of Manhattan are also fantastic, especially from the piers in the East River, like the one at Gantry Plaza State Park, a 12-acre site with a promenade, built on the site of an old industrial plot. Artists will also pore over the contemporary art at MoMA PS1, housed in a former public school (hence the name), and which has an outdoor music program in the summer called Warm Up.
Morningside Heights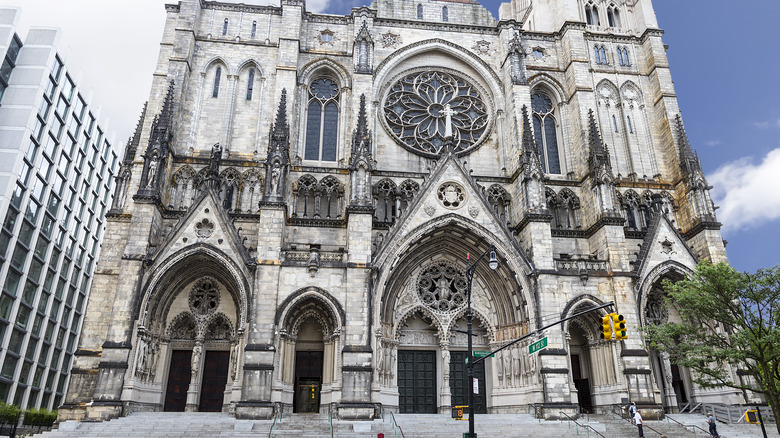 agsaz/Shutterstock
This area on the west side of Manhattan — and that can be reached by the M60 bus from LaGuardia airport — is dominated by its Ivy League tenant, Columbia University. Sitting between the pricey Upper West Side to the south, home to great museums and cultural institutions, and ethnically mixed, gentrifying Harlem to the north, Morningside Heights has an idyllic feel to it, and lots of students! The campus, which visitors can freely walk around, and which has its own stop on the number 1 subway line, has stately buildings smacking of gravitas and erudition. It's not the only institute of higher learning, with Barnard College, and Bank Street College of Education nearby. 
The highlight of this neighborhood is the Cathedral of St. John the Divine, more than a century old and the largest cathedral in the world. It's a vision of architectural splendor — even if its construction is not quite finished — with influences showcasing Romanesque and Gothic vernaculars. There is much to admire here, from vast buttresses to the immense stained glass windows to striking gardens. Another monument nearby not to miss is the General Grant National Memorial, the biggest mausoleum in the country, where the former president now rests. For diners, the lines at the Hungarian Pastry Shop are worth it, while the slices at Koronet Pizza are huge, and beloved by Columbia students for that very fact. Pop-culture vultures will stop by Tom's Restaurant — its exterior was used for the Monk's Cafe shots in "Seinfeld."
Prospect Heights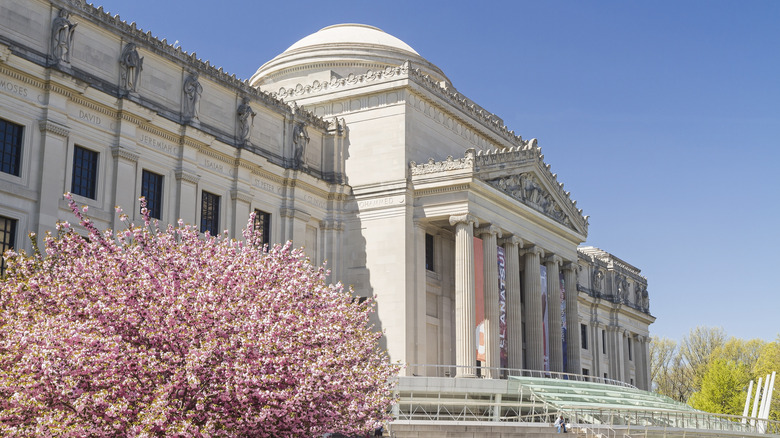 Colin D. Young/Shutterstock
Frederick Law Olmsted, Sr. and Calvert Vaux designed what, for many, is New York's crowning green space — Central Park. This, though, wasn't their only contribution to the city's wellbeing, and the duo was also the driving force behind Prospect Park in Brooklyn, the second-largest park in the borough and one that lends its name to this neighborhood. With main thoroughfares of Washington Avenue and Vanderbilt Avenue, and bordered by the restless Flatbush Avenue on its west, Prospect Heights is close to a number of wonderful places to visit, and it also has excellent subway connections, with the 2, 3, 4, 5, B, and Q lines allowing access to the district. The park is an obvious place to start, with the moving Soldiers and Sailors Memorial Arch sitting just off its northern edge, and wild expanses of greenery and water within, a Brooklynites equivalent of Central Park. 
Founded in 1911, and across the road from the park, the Brooklyn Botanic Garden weaves a spell of urban tranquility, with collections of bonsai, gardens of rose, and a gorgeous grove of cherry trees, whose spring bloom is a sight to inspire awe. Close by, the Brooklyn Museum of Art is the premier repository of art in the borough, and is free to enter on the first Saturdays of select months. Also on weekends, during the warmer months, Vanderbilt Open Streets closes the thoroughfare to vehicular traffic, so you can peruse its shop, cafes, restaurants, and ice cream purveyors in pedestrian bliss.
Riverdale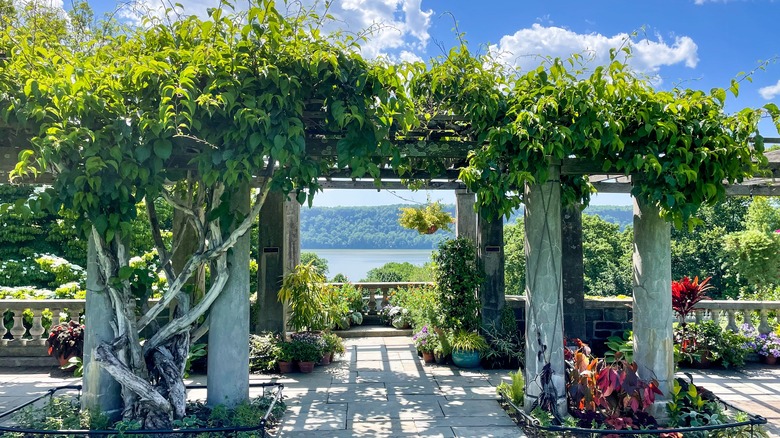 Brian Logan Photography/Shutterstock
Music fans might know that the Bronx, the northernmost of New York City's five boroughs, is the place where hip hop was born, from its fledgling days in the early 1970s through to the global success of Grandmaster Flash, who was born in Barbados but grew up in the southern, rough-and-tumble part of the borough. Television fans might hear the name of this neighborhood and think of a supernatural drama show filmed in Vancouver, but Riverdale is actually the swishest part of the Bronx, with some prestigious private schools here. It's also not far from Manhattan, less than 30 minutes distance on the 1 subway line, quicker by Metro-North railroad, but it retains the ambience of a rich suburb. 
Expect plenty of parkland, fine Victorian Revival houses, and residences that afford stunning views of the Hudson River and the Palisades cliffs, across the water in New Jersey. A stay here has to include a visit to Van Cortlandt Park, an expanse that is larger than Central Park, and that has trails, cricket pitches, a freshwater lake, public golf course, and that extends all the way to the city's border with Westchester County. By the river, Riverdale Park comprises 50 acres of forest, with plenty of bird life — while nearby, the mansion Wave Hill was where Mark Twain and Theodore Roosevelt once lived. Who would believe that these two luminaries would reside in an area of New York City that today is firmly under-the-radar?