See Why Crested Butte, Colorado Is Known As The Wildflower Capital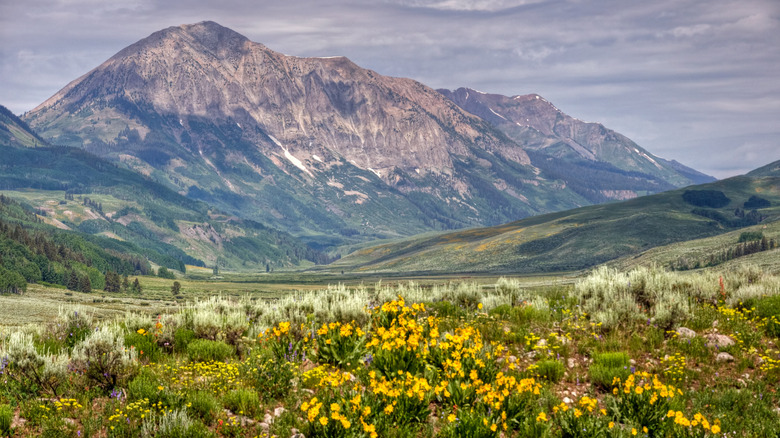 Jeffrey T. Kreulen/Shutterstock
Crested Butte is located about 230 miles from Denver, but driving from Colorado's capital to C.B., as residents call it, during the summer will be worth it. While this quaint town is well-known for being a ski destination during winter, in the summer it dons a different appearance that beckons to botanists and other flower-lovers all over the country. Although the colorful buds might start appearing in spring, summer is when you'll find out why Crested Butte is called the "wildflower capital of Colorado."
This natural phenomenon is a seasonal attraction and thousands flock to this historic mining town in the Elk Mountains to get their flower fix. And, there are several ways you can catch this stunning floral display. You can go on a hike in one of the many trails in the area, get on a bike, or even ride a horse, which is a great way to see the flowers, according to Gunnison County. Whatever you choose, you'll be glad you came outdoors to witness this spectacular show.
An eruption of fantastic flowers and where to find them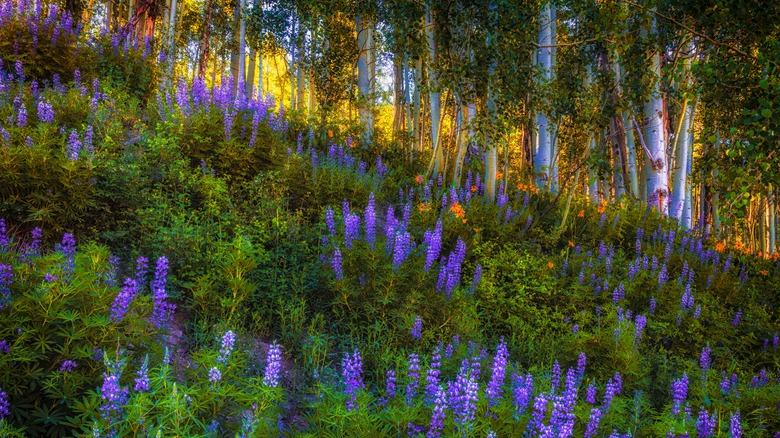 Andrew S/Shutterstock
According to the Gunnison Crested Butte Tourism and Prosperity Partnership (TAPP), wildflowers stretch from Gunnison Valley to the mountaintops from May to August. However, peak season is late June to July, when you'll find blue columbines, paintbrushes in different hues, sego lilies, and many more. TAPP lists the most common and popular blooms and offers suggestions on where to find them.
Glacier lilies, lupines, and elephant heads (or elephantellas) are early bloomers. In June, after snow runoff, glacier lilies pop up between snow patches in the Oh Be Joyful Trail and Kebler Pass, while purple lupines are on Lupine Trail (where else?) and Cement Creek in early summer. Elephantellas are located near rivers and marshes, but their biggest congregation is at East River near the Ditch Trail. Another water-loving plant is the shooting star, which you'll find near the valley's streams and ponds.
If you arrive late, don't worry, you'll still be able to catch some blooms in August. For instance, the fireweed will enthrall you with their tall pink flowers from late July until August in Cement Creek, Trail 401, Rustler's Gulch, meadows, and sunny patches in the woods. Even the dark and dry evergreen forests can hide a solitary calypso orchid — or with luck, several of them — displaying little pink blooms. You can also find them at Matchless, 409.5, and Deadman's trails. Meanwhile, bright heartleaf flowers live in coniferous forests or Taylor Park, while sunflowers, sky pilot, purple fringe, and other alpine dwellers reside in high altitudes.
Crested Butte Wildflower Festival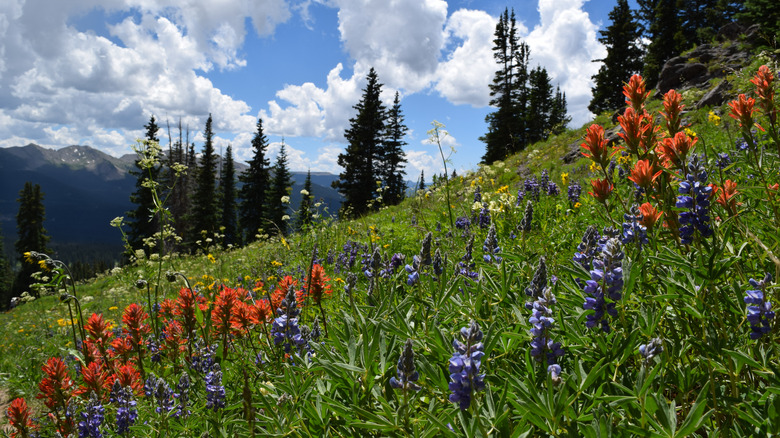 Captain Colorado/Shutterstock
To celebrate the area's beautiful floral displays, Crested Butte holds an annual wildflower festival every July, which is the best time to visit as it is peak flowering season. As one Facebook user said, " ... [It]'s Colorado in Technicolor," while another Facebook user shared, "Crested Butte's Wildflower Festival is a fairyland and flower feast. It [offers] up nature's greatest show with fun and friends." Fun in the Crested Butte Wildflower Festival includes many activities and events all packed in 10 days.
You can join any of the more than 200 workshops that all deal with wildflowers. You could be painting them, cooking with them, appreciating them on a hike, taking a photo, or learning about them. There might also be garden tours, nature walks, medicinal programs, and birding and butterfly lectures, according to The Travel. You can check out the different activities in this program guide. Most importantly, the festival attracts people who share in their love and appreciation of Crested Butte's wildflowers. "It is always a renewed joy to visit the [C.B.] area during the Wildflower Festival, to take some classes, go on hikes, learn more, and share the inspiration of wildflower covered [mountain] sides with like minded people!" a Facebook user commented.