The Best Time Of Year To Plan An Adventure-Filled Trip To Malta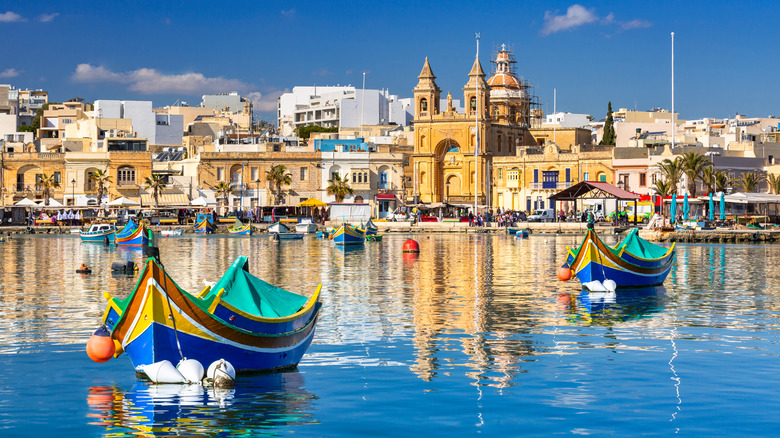 Patryk Kosmider/Shutterstock
Malta is ripe with adventure. While only 122 square miles, per Nations Online, which is about twice the size of Washington, D.C., Malta brims with activities for the adventure traveler. Whether you're into boating, mountaineering, snorkeling, hiking, or scuba diving, Malta's diverse topography and crystal-clear waters provide a playground for discovery.
The Republic of Malta actually consists of three islands: the main island of Malta, the smaller island of Gozo, and Gozo's smaller sister island, Comino. If your vacation means a dose of adventure, you should plan a trip to Malta during a time you can comfortably visit all three of Malta's islands.
Too often, Malta visitors tend to stay in Valletta, the island's capital city, without exploring the rest of the island. Also, many only consider visiting Malta in the summer. While Valetta is indeed beautiful and the summer is peak tourist season, Malta is much more than Valletta in summer, especially if you're looking for an adventure. 
Maltese adventures by sea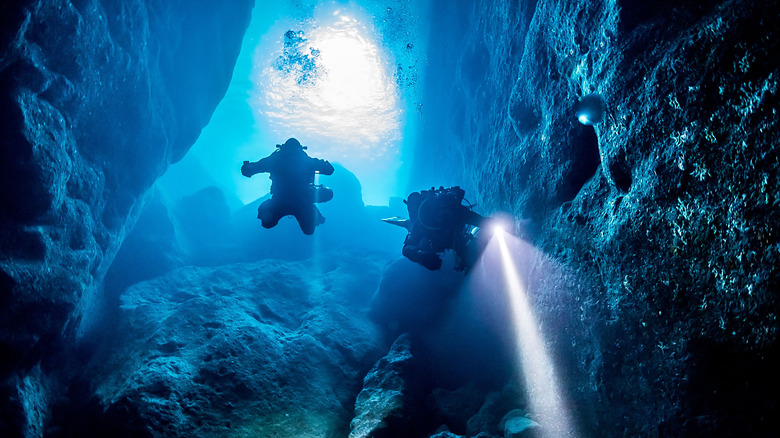 Wojciech-p/Getty Images
In Malta, there are plenty of both ocean and land adventures. Since it's surrounded by clear Mediterranean waters, Malta is known for its snorkeling and scuba diving, especially around Malta's beautiful lagoons and bays. Formed by the island's dramatic cliffs, these bays shelter abundant sea life and keep the ocean waters calm and clear.
On the main island of Malta, you'll find dozens of swimming areas and diving spots, per Visit Malta. These include Golden Bay, Anchor Bay, as well as plenty of reefs and wrecks that surround the main island of Malta.
However, for exceptional scuba diving, you'd probably want to head to the island of Gozo, where there are plenty of opportunities for cave diving. On Gozo, you'll find Dwejra Bay and Hondoq ir-Rummien, both popular spots for more experienced divers. 
Also, if you'd like to explore arguably the most picturesque swimming spots of Malta, you'd need to cross from Gozo to the smaller island of Comino. Here, you can take a dip in the fabled Blue Lagoon and St. Nicholas Bay.
Maltese adventures by land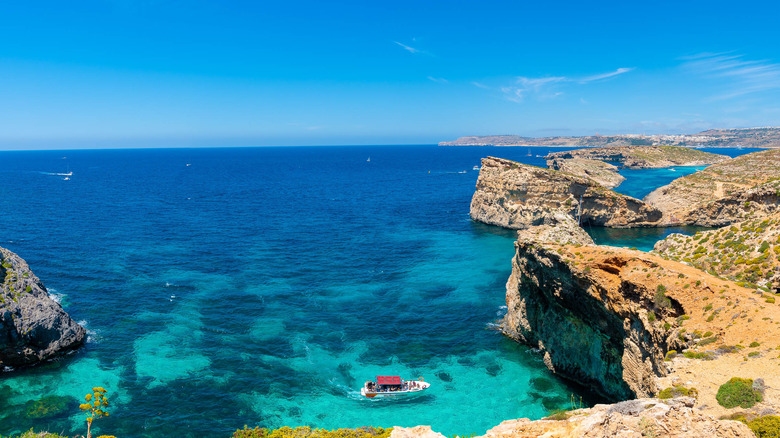 luchschenF/Shutterstock
With its rich history, dramatic cliffs, and sweeping landscapes, Malta is also ideal for a serious or leasiurely walkabout. On Malta's main island, you'll find walks by the Dingli Cliffs and through rural Malta especially rewarding. While you pass farmland, medieval towers, and expansive ocean views, it's easy to get lost in space and time.
However, the hikes on Gozo and Comino are particularly scenic and less traveled. Beginning and ending at the Blue Lagoon, the Comino walk is breathtakingly tranquil — depending on the time of year. Since the islands of Gozo and Comino are so small, the influx of tourists during peak summer months is pretty dramatic. While visiting these islands, the day-tripper crowds from Valletta tend to compromise Malta's mystique, natural beauty, and historical richness. For this reason, Malta Uncovered suggests visiting Malta from April to June to avoid the crowds while still enjoying the warm weather.
With experience as a guide, this time of year also features more neighborhood "festis," which are local festivals that celebrate each village's specific patron saint. Malta's annual Earth Garden is also held in June, which is one of Europe's most popular music festivals and an adventure in its own right.