The 3 Best Areas To Stay When Visiting Zion National Park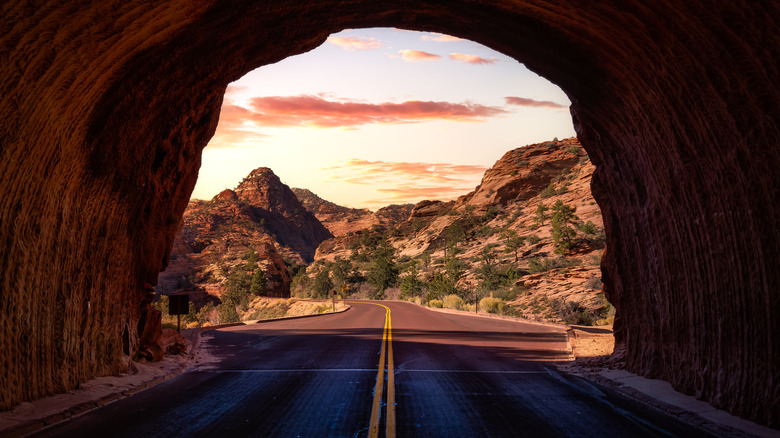 EB Adventure Photography/Shutterstock
When considering a home base for visiting Zion National Park, you have three basic options: inside Zion, in the nearby town of Springdale, or outside of Springdale. No matter where you choose to stay, understand this — you can't go wrong. All three options provide easy access to Zion National Park, so it really comes down to personal preference, and all of Greater Zion is postcard pretty. 
Are you a camper? A glamper? An improvising off-ramper? For those who really wish to immerse in Zion, the national park features three campgrounds and one hotel. The Watchman and South Campgrounds are located in Zion Canyon, while the Lava Point Campground is about an hour away. Both South and Lava Point Campgrounds close during the winter, while the Watchman Campground stays open year-round. Camping is only allowed in designated campgrounds. And if you prefer to camp, you'll need to plan ahead, as the campgrounds stay fully booked almost every night from March to November.
The Zion National Park Lodge is the only hotel inside the park. Combining an ideal in-park location with modern convenience, the hotel features 28 rustic cabins, hotel rooms with private balconies, and spacious suites.
Mixing Utah's natural beauty with small-town charm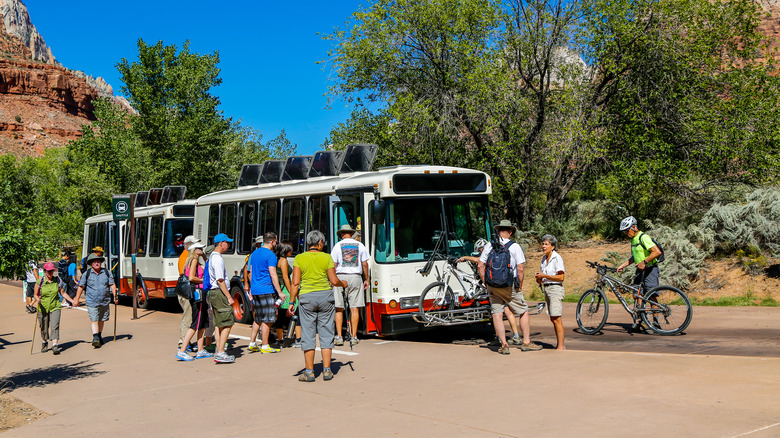 Leonard Zhukovsky/Shutterstock
Springdale, Utah is an incredibly popular base camp for in-the-know Zion visitors. Since the national park offers limited camping and only one hotel, Springdale has become the de facto place to stay. Springdale is located just outside of Zion National Park, minimizing travel time for park visitors.
When not hiking or biking around Zion, you can explore Springdale's charming downtown, which features local lodging options, art galleries, restaurants, farmer's markets, outfitters, and boutique shops. Springdale is also very bicycle-centric, making it a favorite among cyclists. Both biking and hiking trails weave through and around the town, and some cyclists choose to cycle into Zion from Springdale.
When choosing between in-park lodging and accommodations in Springdale, it's important to know that cars aren't allowed inside Zion National Park from mid-March through the end of November. All park visitors must use the shuttle system, though bicycles are allowed onto the shuttles. So whether you stay inside the park or in Springdale, you'll still need to take shuttles (or cycle) to visit popular park highlights.
Exploring the highlights outside of Zion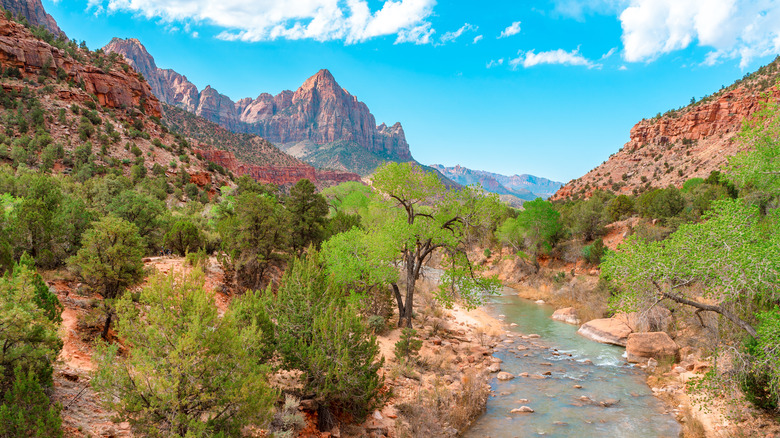 Ivanova Ksenia/Shutterstock
While Springdale is certainly charming, there are also benefits to staying outside of the town. Since Springdale is located right outside of Zion National Park, the town's accommodations stay pretty booked. Unsurprisingly, given the popularity of Springdale, everything will also be a little more expensive, from food to lodging, when you choose to stay inside town. 
So, if you're a budgeting trip planner or literally took the off-ramp for a last-minute trip to Zion, then you're more likely to find acceptable accommodations outside of Springdale. In some cases, people also choose to stay outside of Springdale to visit multiple destinations. For instance, you may stay in East Zion to be closer to Bryce Canyon, or stay in Cedar City to access nearby ski resorts. Greater Zion also features plenty of exquisite state parks worth exploring. 
Really, the entire area of southern Utah is beautiful. No matter where you stay to explore Zion National Park, you'll always be minutes away from a worthwhile experience immersed in breathtaking scenery. 
Explore wants to acknowledge that Zion National Park is the traditional territory of the Southern Paiute.