40 Places In New York Where You're Most Likely To Spot Celebrities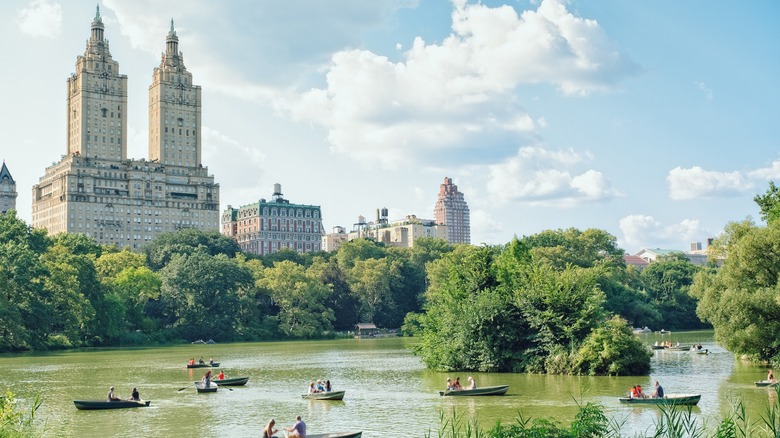 Eliyahu Yosef Parypa/Shutterstock  
New York City is home to bright lights, iconic tourist destinations, professionals pursuing the dream and those who've already achieved it. Like Los Angeles, a lot of movie stars, TV actors, singers and athletes live here — but with more than 8 million inhabitants, how are you supposed to find any?
We did a little digging on social media and other parts of the web to see where the stars are eating, drinking and hanging out. Please remember: If you see someone famous at any of the following locations, be respectful. Celebrities are human too, and as opposed to celebrity-obsessed Los Angeles, bothering a famous person you encounter in New York is considered quite a faux pas. So get ready for prime people-watching at these 40 places in New York where you're most likely to spot celebrities.
Joyface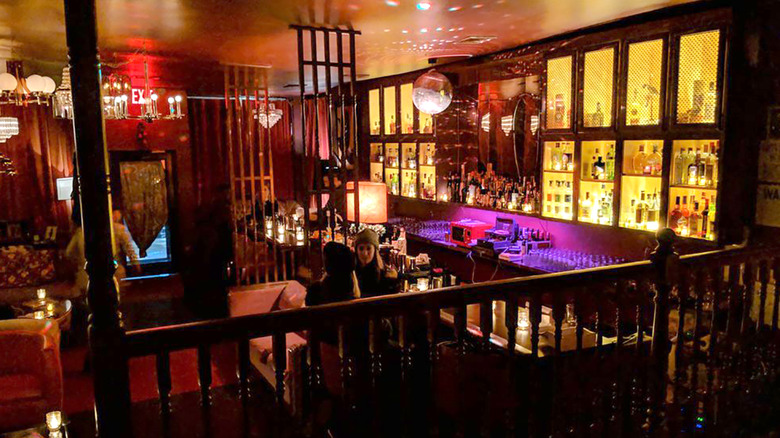 Gene L./Yelp
Walking into Joyface will transport you to funkier times. This Alphabet City cocktail bar looks more like someone's home from the 1970s, complete with velvet couches, Playboy magazines, a waterbed and a spicy portrait of Burt Reynolds in the nude. If you don't know what you want to sip on, pick a pair of keys from the swingers bowl and the bartender will make you a drink at random. Famous patrons include Brittany Snow, Sam Smith, Kate Bosworth, Charli XCX, Carly Rae Jepsen and Ashley Graham.
The airports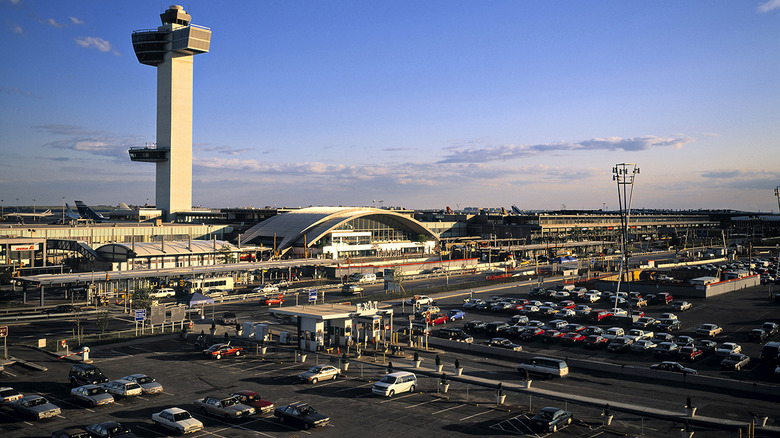 Royalty-free/Getty Images
Tons of celebrities live in New York (or at least maintain a residence here) and others are constantly traveling in from other cities. At any given time, you might find yourself in line for TSA behind Kristen Bell, Victoria Beckham, Selena Gomez or virtually any other celebrity with a means to fly in or out of JFK or LaGuardia airports in Queens.
Brooklyn Heights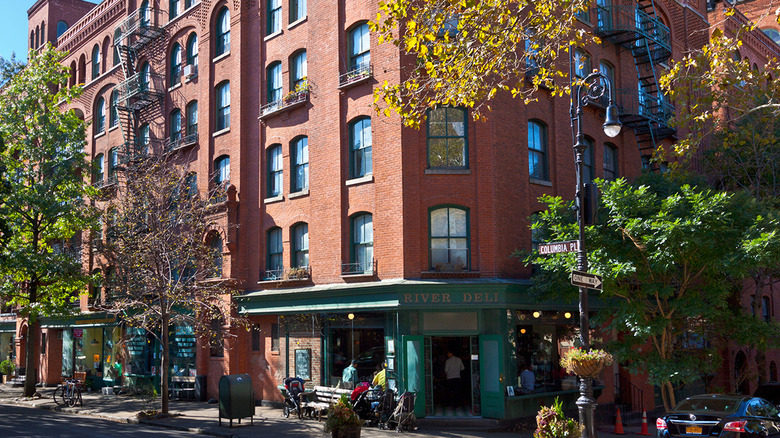 iStock.com/OlegAlbinsky
Many stars look to laid-back Brooklyn neighborhoods to get away from the chaos in Manhattan. One of the most star-studded areas in the borough is Brooklyn Heights, where John Krasinski and Emily Blunt, Matt Damon, Jennifer Connelly and Paul Bettany, Mary-Louise Parker and Paul Giamatti all reportedly have homes.
Barclays Center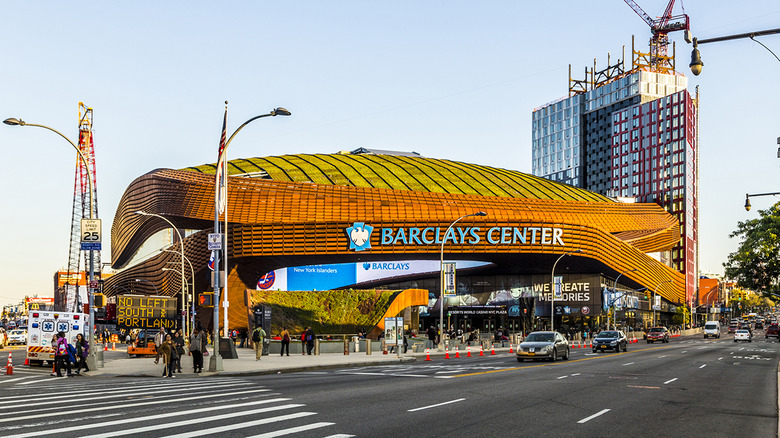 iStock.com/Meinzahn
It's practically guaranteed that celebrities are sitting courtside at every Nets game. Famous figures photographed at Brooklyn's Barclays Center include CC Sabathia, Aaron Judge, 50 Cent, Amy Schumer, Floyd Mayweather, French Montana, Ja Rule, Vinny Guadagnino, Naomi Campbell, Emily Rajatkowski and many more.
Madison Square Garden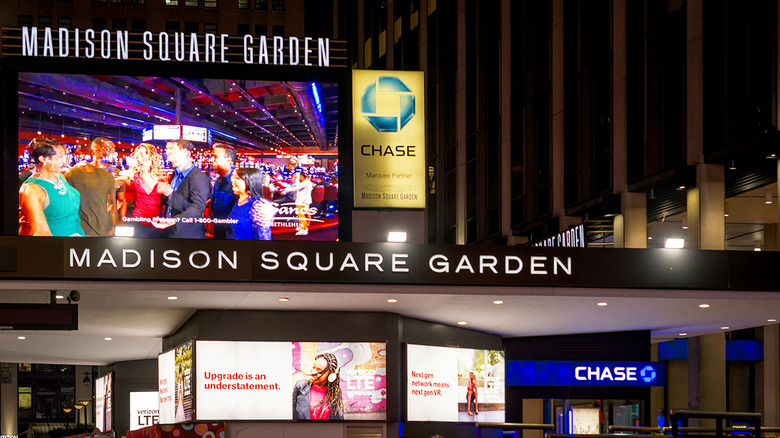 iStock.com/rarrarorro
Madison Square Garden, home of the Knicks and Rangers, is another incredibly popular place for celebrity courtside and rinkside sightings. Kevin Bacon, Pete Davidson, Hassan Minhaj, Kaia Gerber, Cecily Strong, Fat Joe, Chris Rock, Tracy Morgan, David Harbour, Justin Long, Joe Jonas and Sophie Turner have all been spotted at recent games.
Pastis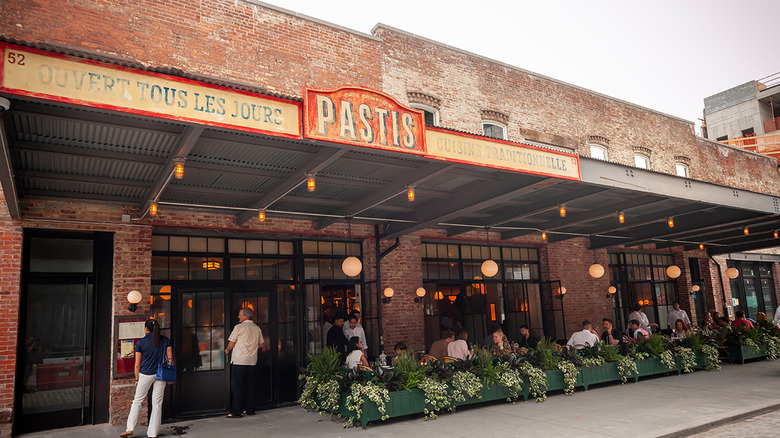 rblfmr/Shutterstock
Pastis is an iconic Parisian-style bistro in the Meatpacking District that we named one of the best restaurants of 2019. Prior to its multi-year closure in 2014, Martha Stewart and Anna Wintour were regulars. Sarah Jessica Parker had her baby shower there and Liv Tyler married Royston Langdon with Kate Hudson, Stella McCartney and David Bowie in attendance. Other notable VIP guests, past and present (the restaurant reopened in a new location in the summer of 2019) include Cyndi Lauper, Monica Lewinsky, Madonna, Demi Moore, Bruce Willis, Bill and Hillary Clinton, Lindsay Lohan, Jack Nicholson, Jake Gyllenhaal and on, and on.
Rockefeller Center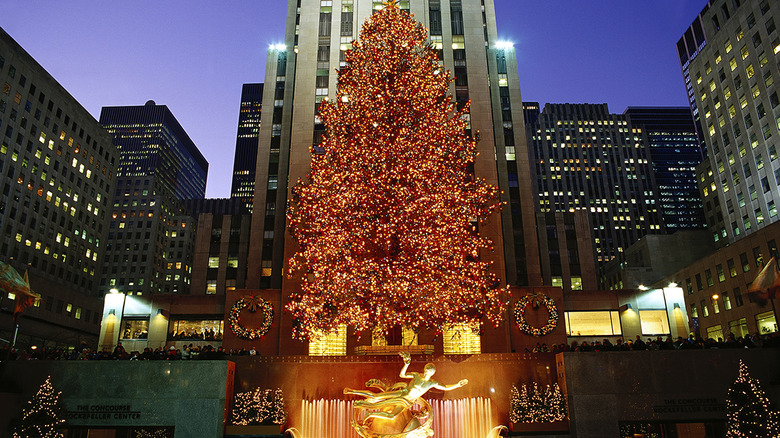 Royalty-free/Getty Images
NBC Studios is inside 30 Rockefeller Plaza, where shows including "Saturday Night Live" and "The Tonight Show Starring Jimmy Fallon" currently film. You can spot talent walking in or around the premises, especially coming into and out of the "Tonight Show" entrance on 49th Street. The famous Rockefeller Center Christmas Tree is in front of the building, too. Every year, performers sing at the lighting ceremony. John Legend, Gwen Stefani, Brett Eldredge and Lea Michele are included in the 2019 lineup.
Broadway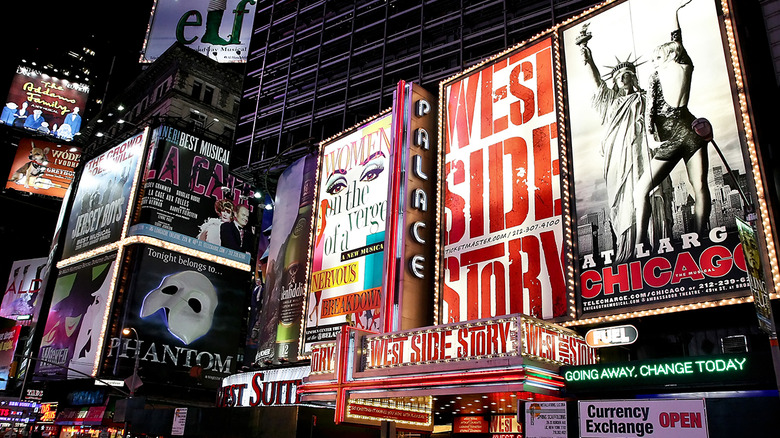 iStock.com/RightFramePhotoVideo
If you want to see celebrities on stage, there are always a handful performing in Broadway plays. Others have taken their seats in the audience at various shows, including Lupita Nyong'o, Angela Bassett, Kacey Musgraves, Joshua Jackson, Jesse Tyler Ferguson, Uma Thurman, Phylicia Rashad, Alanis Morissette, Hugh Jackman, Carrie Underwood and more.
Rao's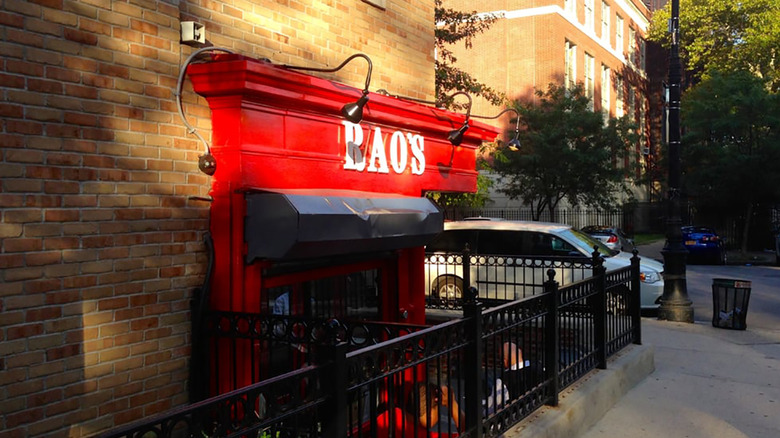 Mark L./Yelp
Rao's has been serving authentic Italian fare in Harlem since 1896. The restaurant is so elite that you can only dine here if you "own" a table, are a noted regular (like Billy Crystal, Rob Reiner, Nicholas Pileggi and Danny Aiello) or are lucky enough to be invited by a VIP. With just 10 tables, Rao's is among the toughest restaurants to get into in the country, and odds are you won't be dining there unless you know the right people or you win a meal there in a charitable auction. Bill and Hillary Clinton, Fat Joe, Martin Scorcese, Tony Bennett, Leonardo Dicaprio and Mariano Rivera have all dined here.
Lucali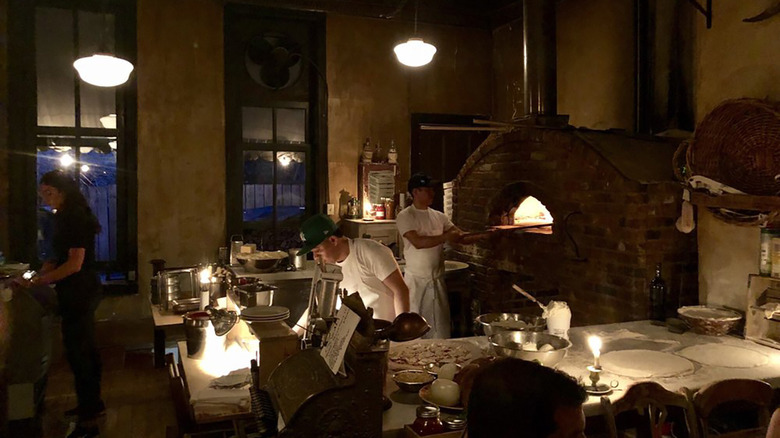 David N./Yelp
Lucali, located in Brooklyn's Carroll Gardens neighborhood, serves some of the best pizza in America. The wait can sometimes last for hours, but this restaurant is worth waiting in line for. Besides, if you show up before 5 p.m. you can add your name to the list and go have a drink. Famous patrons include Jay-Z and Beyonce, David Beckham, Liv Tyler and John Legend.
The Mark Hotel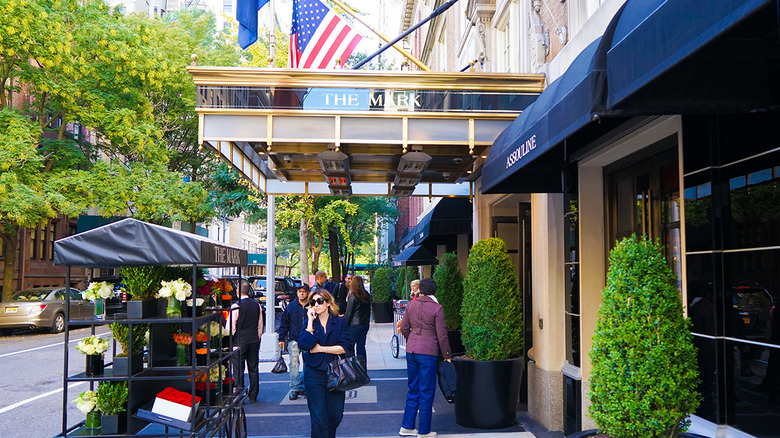 Inspired By Maps/Shutterstock
The Mark Hotel is a luxury property on the Upper East Side with room rates ranging from $795 to $75,000 per night for the penthouse. It should go without saying that this place caters to the well-heeled. Some recent guests have included Oprah, Anna Wintour, Russell Crowe, Marc Jacobs, Katie Holmes, Kelly Ripa, Novak Djokovic, Meghan Markle, Kendall Jenner and Jennifer Lopez. At the hotel restaurant, The Mark Restaurant by Jean-Georges, you might catch A-listers chowing down on Maine lobster, truffle pizza and fresh fettuccine.
Central Park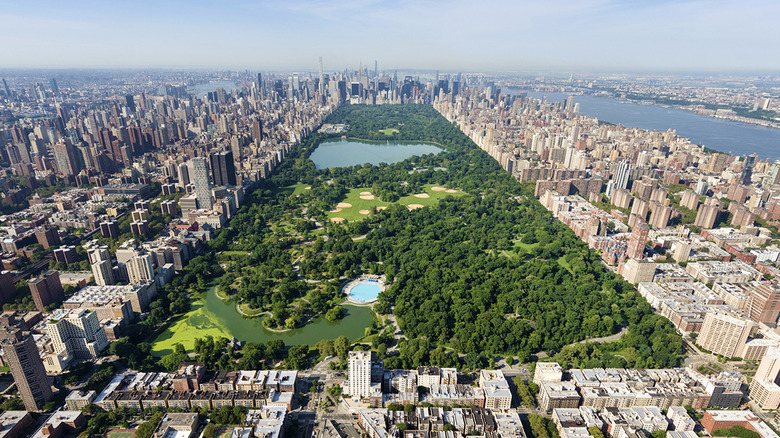 iStock.com/Andrew Bertuleit
Lots of stars live and hang out in the Central Park area including Antonio Banderas (who recently listed his home for $7.4 million), Trey Anastasio, Al Sharpton, Tony Danza, Bobby Flay, Anne Hathaway, Regis Philbin, Yoko Ono, Gayle King, Mark Ruffalo, Michael Strahan, Madonna and Jordan Peele. While you certainly shouldn't stalk their buildings, you could happen upon any of these people on a Sunday stroll along the reservoir.
Ray's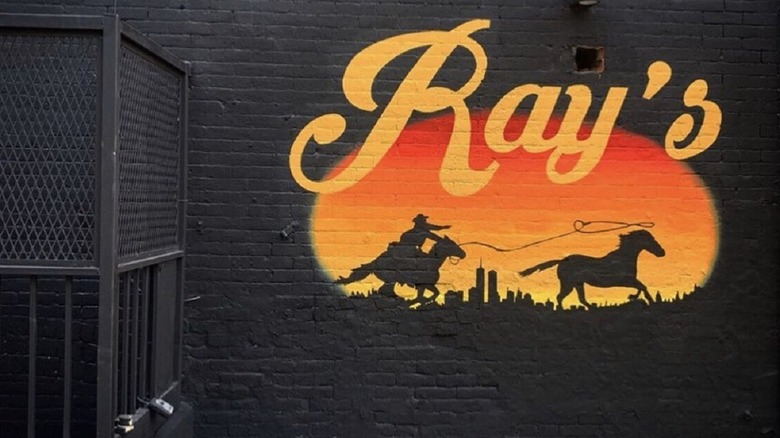 Ruggy J./Yelp
Justin Theroux and three nightlife experts (Jon Neidich, Taavo Somer and Carlos Quirarte) recently opened a country western-inspired dive bar on the Lower East Side and, since it's owned by a celebrity, that usually means others follow. Jimmy Kimmel, Billy Crudup, David Spade, Cody Simpson and Mark Ronson have all been to Ray's since it opened in the summer of 2019.
Polo Bar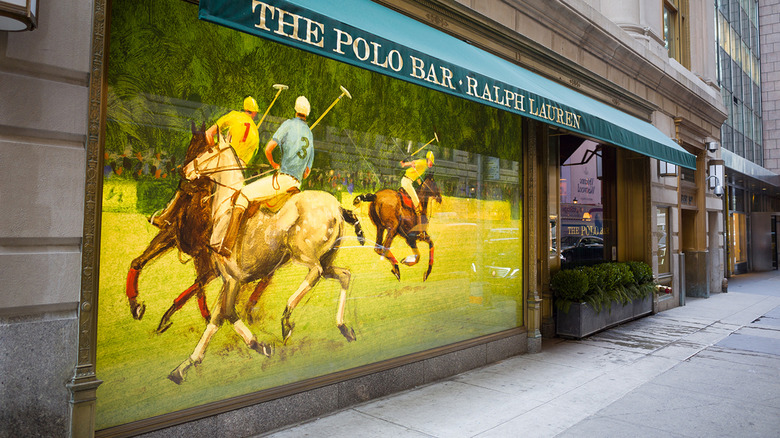 iStock.com/Andraz_Naglic
Polo Bar is another highly exclusive reservation-only restaurant that's more or less impossible to get into. You can't even pop into the bar for a drink because it's reserved for dinner guests only. The Ralph Lauren-owned Midtown eatery often serves people of importance and the menu even alludes to it by asking guests to respect the privacy of others and limit photography to their own party. Meghan Markle, Hillary Clinton, Andy Cohen, Gwyneth Paltrow, Scarlett Johansson, Carol Burnett, Julie Andrews, Kristin Chenoweth, and Bernadette Peters are among the stars who've dined here.
21 Club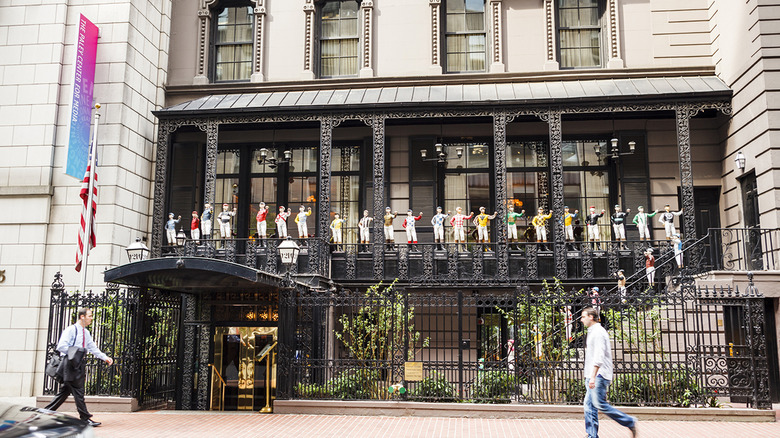 iStock.com/wdstock
21 Club first opened in Midtown during prohibition and nearly a century later it's still going strong. This speakeasy is a New York City institution famous for its historic décor (antique toys and sports memorabilia include 21 painted cast-iron lawn jockeys), excellent food and drink, and a wine cellar that once housed the private collections of Gerald Ford, Richard Nixon, Elizabeth Taylor, Sophia Loren, and Aristotle Onassis. Frank Sinatra, Liza Minelli, Bette Midler, Rod Stewart and almost every single president since the 1930s have spent time here.
The Rainbow Room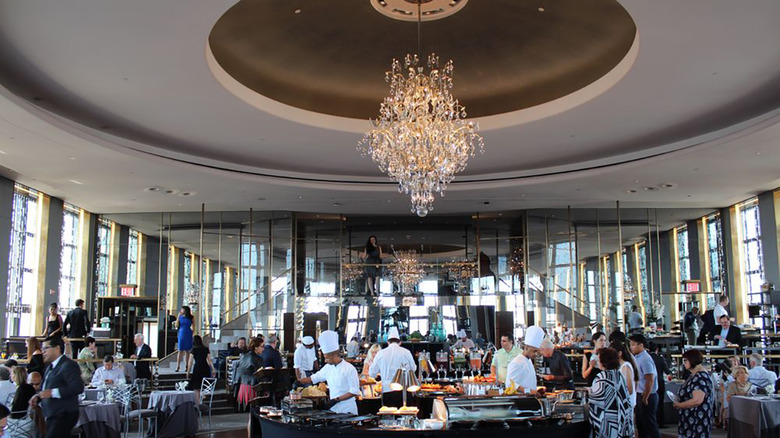 iNicole M./Yelp
The Rainbow Room is a swanky restaurant and event space with the highest outdoor terrace bar in all of New York City, offering sweeping views of the surrounding landscape. The space, located on the 65th floor of 30 Rock, has hosted The Rolling Stones, Zendaya, Ashley Graham, Lady Gaga, Kaia Gerber, Ansel Elgort, Paul McCartney, ASAP Ferg, and more.
The Carlyle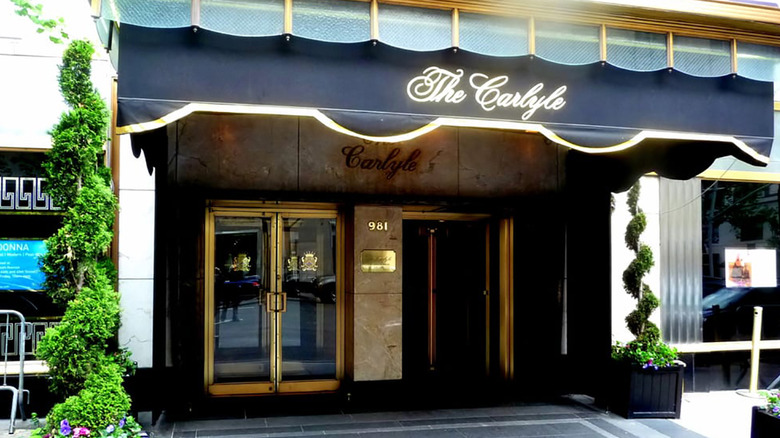 Jeff H./Yelp
Jackie Kennedy once lived in this Upper East Side hotel, and apparently Princess Diana, Michael Jackson and Steve Jobs famously rode the elevator together. It's also rumored that Paul Newman created the original recipe for his salad dressing while eating here. Other notable celebrity sightings include Lucille Ball, John F. Kennedy, Bono, Naomi Campbell, George Clooney, Harrison Ford, Jon Hamm, Vera Wang, Jeff Goldblum, and Lenny Kravitz.
Joanne Trattoria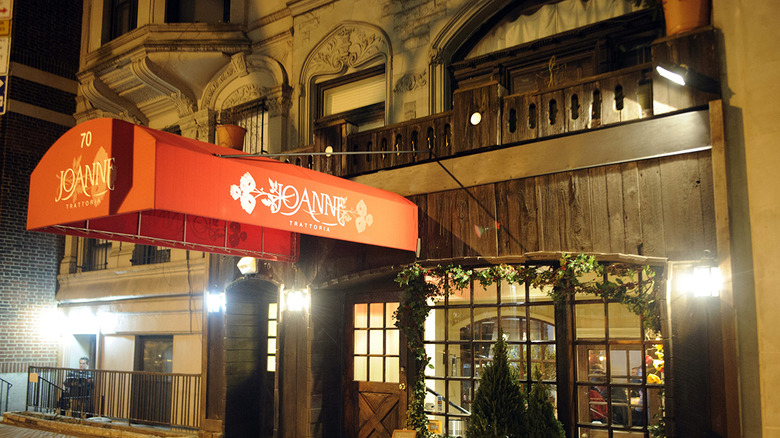 James Keivom/New York Daily News/Getty Images
Joanne Trattoria is an Italian restaurant owned by Lady Gaga's parents, Joe and Cynthia Germanotta. The Upper West Side eatery is named in memory of Joe's sister, Joanne, who passed away from lupus when she was just 19 (Lady Gaga later released the album "Joanne" in 2016). Most menu items are Germanotta family favorites, including Joanne's seafood mac and cheese and Papa G's chicken. Lady Gaga even once served guests at her parents' restaurant. It's unlikely that would ever happen again, but you never know.
Bagatelle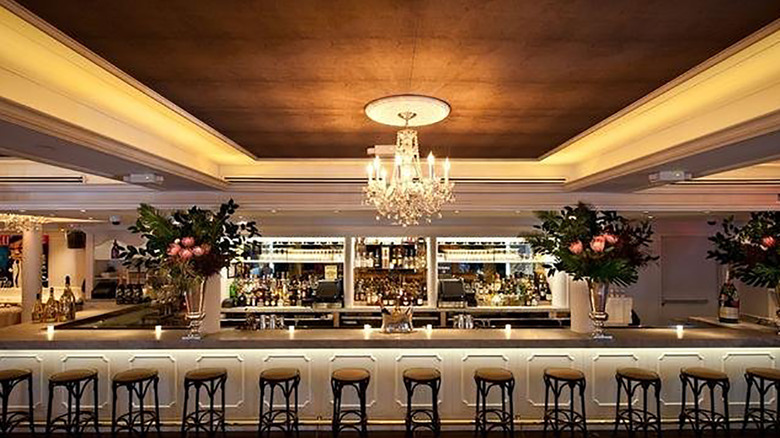 Bagatelle/Yelp
Bagatelle is a European-style bistro in the Meatpacking District famous for French Mediterranean cuisine, a vibrant atmosphere and boozy brunches. Menu highlights at this celebrity hotspot include a seafood tower (oysters, mussels, shrimp, tuna tartar, ceviche, poke salmon and whelks), black truffle gnocchi and truffled roasted turkey with baby potatoes chicken jus. Rich and famous guests spotted here include Helen Mirren, Beyonce and Jay-Z, Mariah Carey, Sofia Vergara, Jamie Foxx and various personalities from "The Real Housewives of New York."
Film festivals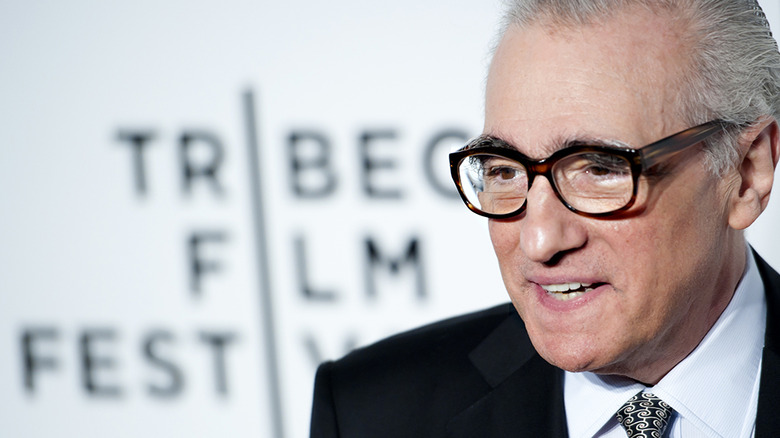 aspen rock/Shutterstock
There are more than 20 major film festivals that take place in New York City, including the Tribeca Film Festival, the Brooklyn Film Festival and the New York City International Film Festival. Filmmakers and actors often attend the screenings and post-movie discussions, many of which are ticketed events. Even if you don't get in, you could see the stars walking the red carpet before and after the big premiere.
Locanda Verde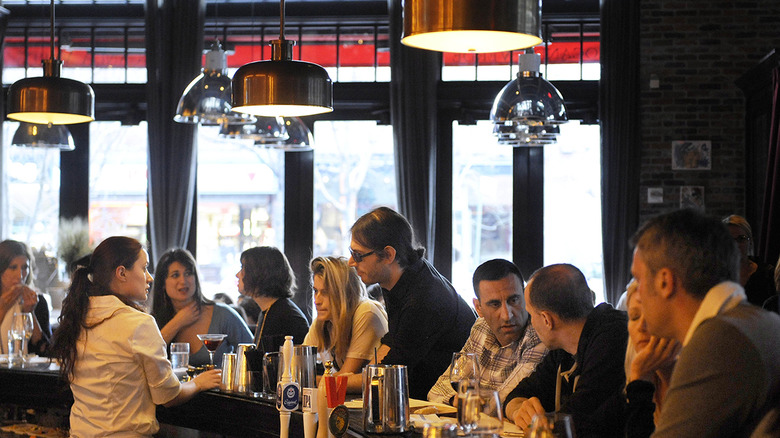 Helayne Seidman/The Washington Post/Getty Images
Locanda Verde is a warm Italian restaurant located inside the Robert De Niro co-owned Greenwich Hotel in Tribeca. Some standouts from the menu include sheep's milk ricotta, lamb meatball sliders, pappardelle and duck. Beyonce and Jay-Z, Bradley Cooper, Amal and George Clooney, Katie Holmes and Olivia Wilde have all enjoyed family-style food here.
Nobu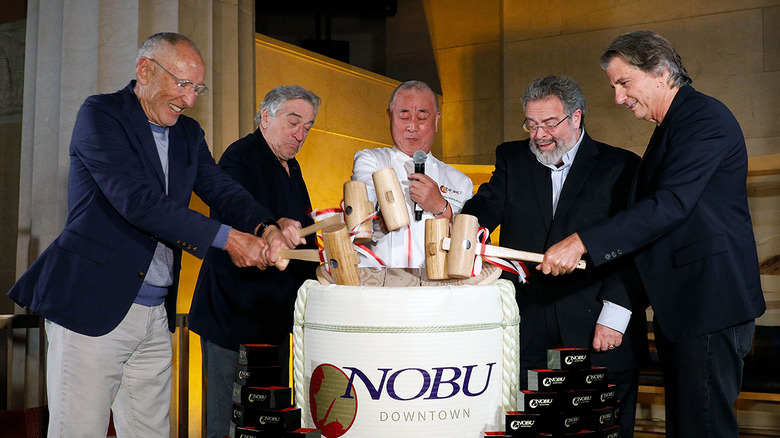 Taylor Hill/FilmMagic/Getty Images
Robert De Niro also co-owns Nobu in Tribeca with acclaimed chef Nobu Matsuhisa. The ultra-luxe Japanese restaurant has locations worldwide that serve high-quality sushi to Hollywood elite and their bodyguards, socialites and other people who have the money to spend an average of $120 on a meal pre-tax without alcohol. Bigger bills ring in around $1,000 a head. Famous names on the reservation list include Drake, Madonna, Martha Stewart and the Kardashians.
Chelsea Market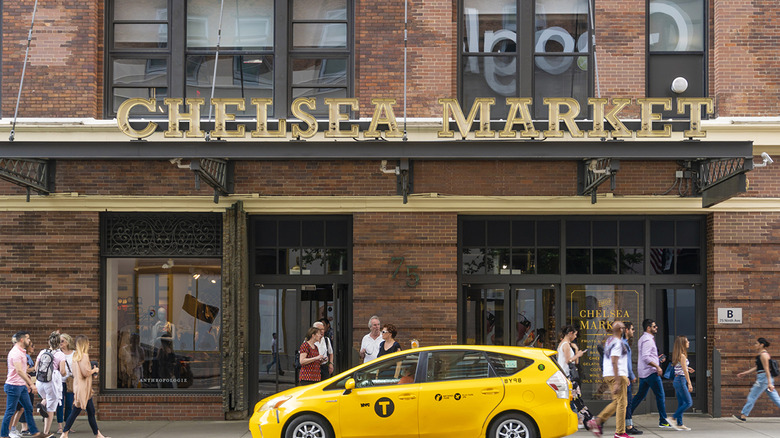 iStock.com/ymgerman
Chelsea Market is an indoor food hall with tons of food and retail shops. Julianne Moore, Kelly Ripa, and Ted Danson have been spotted shopping here. Chelsea Market is also home to Food Network's headquarters and main studio (so don't be surprised if you spot a Food Network star or two) as well as YouTube Space, a 20,000 square foot production, recording and editing studio for artists with more than 10,000 subscribers.
Coppelia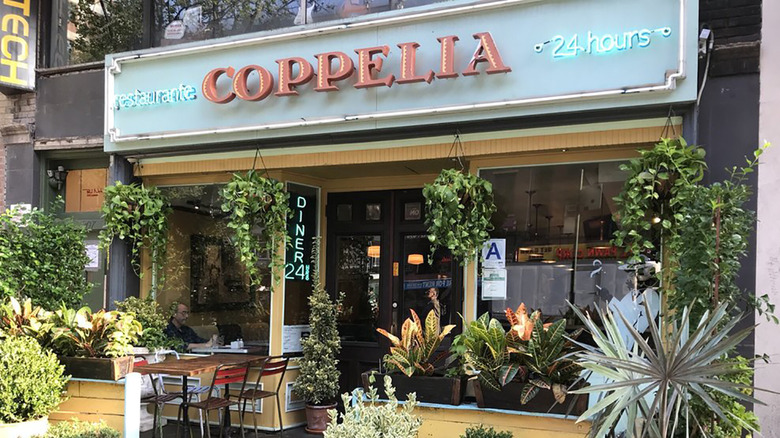 Jennifer H./Yelp
Coppelia is a cozy Cuban diner in Chelsea. It's open 24/7, but if you go early in the morning, you might catch Rihanna having breakfast. Rumor has it, the singer and fashion designer comes here often and orders the lomo saltado, Peruvian-style stir-fry with beef short ribs, red onions, tomato, light soy, ginger and sambal over rice.
Lure Fishbar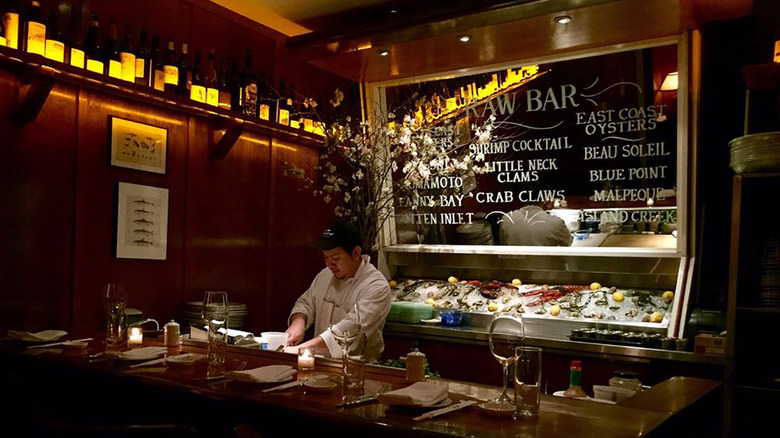 Maricar T./Yelp
Meghan Trainor says this Soho spot serves the best burger of all time, though the restaurant primarily serves seafood. Alex Rodriguez, Jon Bon Jovi, Whoopi Goldberg, Cam Newton, Brooke Shields and Kenan Thompson have all eaten at Lure Fishbar, and Chrissy Teigen is a regular. The chef, Josh Capon, is a good friend of hers.
Momofuku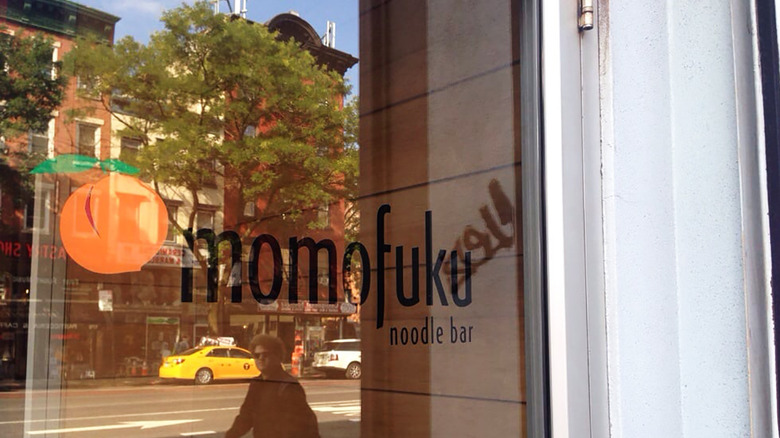 William C./Yelp
Momofuku Noodle Bar is owned by David Chang, who currently stars in "Ugly Delicious" and "Breakfast, Lunch & Dinner" on Netflix. The restaurant is widely known for ramen and caviar-topped fried chicken. Chrissy Teigen is a known Momofuku regular.
Film sets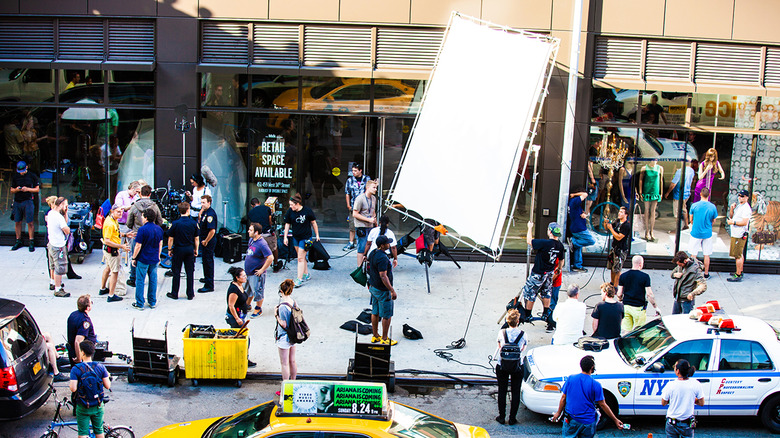 iStock.com/LeoPatrizi
New York City is one of the most popular cities to film in with incredible outdoor settings from Central Park to Coney Island. There are currently more than 50 large-scale projects filming in various locations, including "Billions," "Lizzie McGuire" and "The Marvelous Mrs. Maisel." On any given day, you could find yourself walking through a set, so get ready for your closeup.
Park Side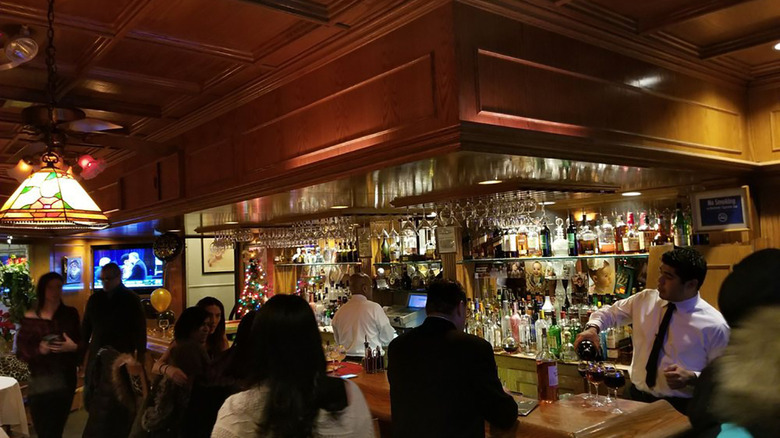 Andrew K./Yelp
Park Side is in Queens, which is a little far out compared to the other restaurants on this list. Nonetheless, the traditional Italian fare has attracted the likes of Selena Gomez, Fat Joe, Ray Romano, Bobby Flay, Adam Sandler, Robinson Cano and more.
The Bowery Hotel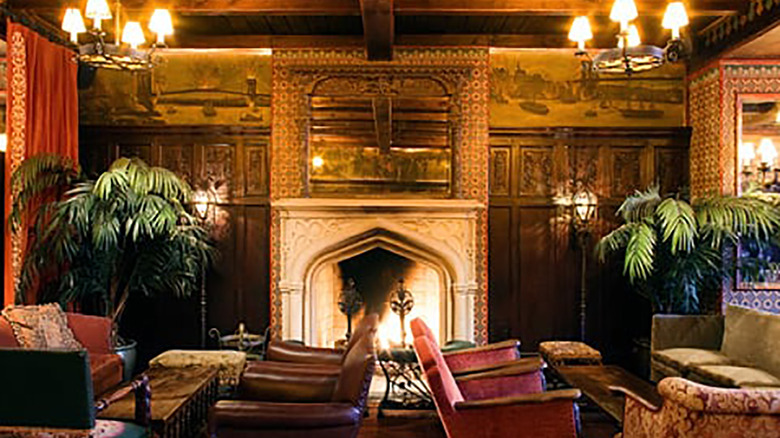 Cristine W./Yelp
Celebrities are known to crash at The Bowery Hotel in the Lower East Side. VIP guests have included Ashley Olsen, Rachel Bilson, Blake Lively, Kiefer Sutherland, Joshua Jackson, Ashley Tisdale, Kendall Jenner, Bella Hadid, Kristen Stewart, Hailey Baldwin and James Marsden. You might even catch someone famous at Gemma, the hotel's ground-floor rustic Italian eatery.
Minetta Tavern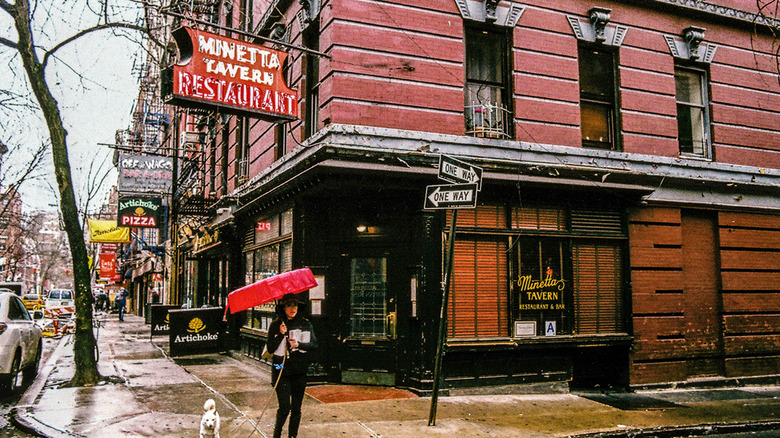 Chris J Ratcliffe/Contributor/Getty Images News
Minetta Tavern opened in Greenwich Village in 1937 and quickly became a happening place with star-studded regulars like Ernest Hemingway, e.e. Cummings and more. After a thorough renovation and rechristening from famed restaurateur Keith McNally, Brooke Shields, Jerry Seinfeld, Naomi Watts, Tori Spelling, Barack Obama and Bill Clinton have been spotted at this Parisian-style steakhouse. If you make a reservation here, you might not see anyone in the main dining area. Most high-profile people are seated in the back room.
Monkey Bar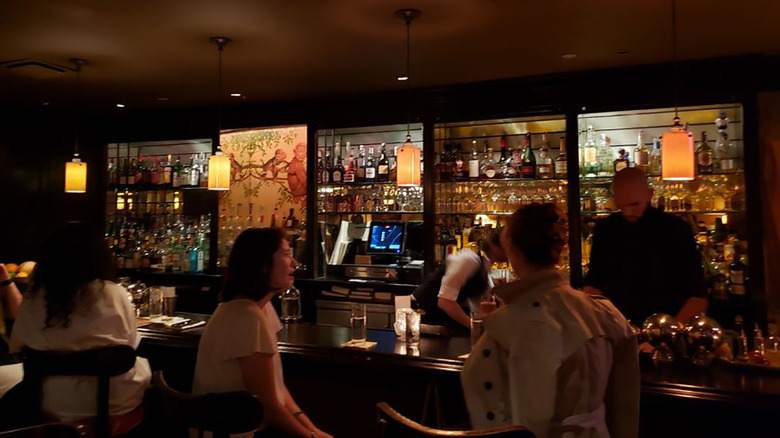 Maggie D./Yelp
Monkey Bar is a classic New York City establishment inside Hotel Elysée in Midtown. Babe Ruth, Frank Sinatra and Joe DiMaggio came here often when the place was a swanky piano bar, as did Tennessee Williams before he fatally choked in his hotel suite upstairs. When you look up from your lobster and faro risotto today, you might see Saoirse Ronan, Michael Kors, Tiffany Haddish, Savannah Guthrie, Naomi Watts, Kim Kardashian, Heidi Klum, or Marc Jacobs.
Morandi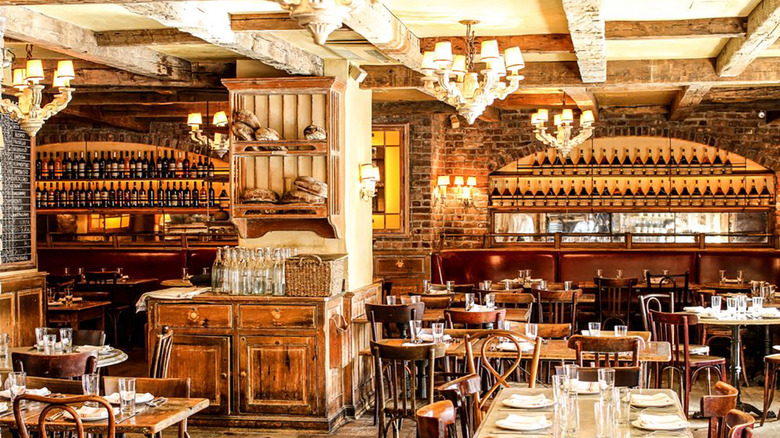 Morandi/Yelp
Morandi is an Italian restaurant in the West Village — and it's always packed. Andy Cohen has been here and it comes highly recommended by Giada de Laurentiis, who loves the pasta, meatballs and arancini di riso. Other celebrity patrons include Amal and George Clooney and Cameron Diaz.
Michael's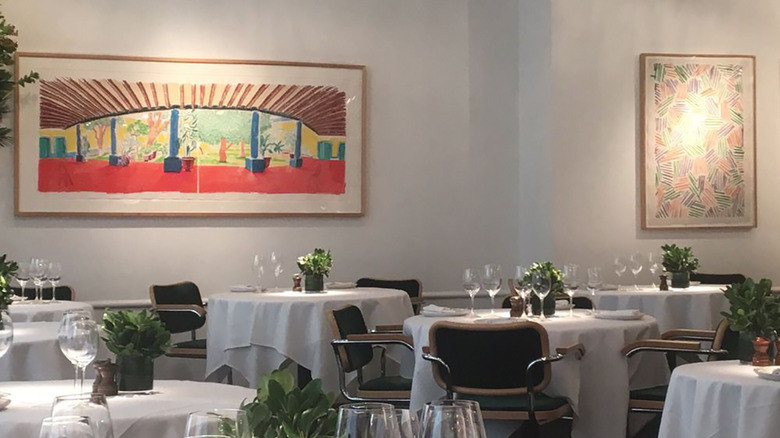 Rebecca R./Yelp
Bill Clinton, Billy Crystal, Robin Williams, Hoda Kotb, Kathie Lee Gifford, Tom Brokaw, Barack Obama, Gayle King and Michael Keaton are just a handful of celebrities who have dined at media hangout Michael's, a California-style restaurant in Midtown. It's also where "Today" weatherman Al Roker had his first date with current wife and ABC news correspondent Deborah Roberts.
Carbone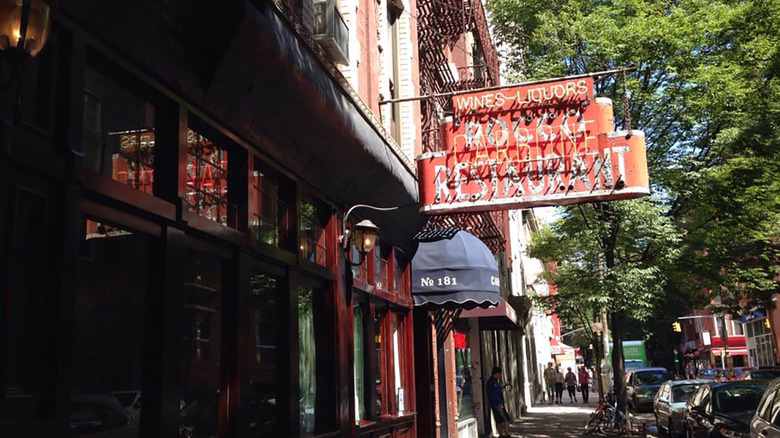 Harumi U./Yelp
Carbone is an upscale Italian-American restaurant with a tiled floor inspired by "The Godfather." Gwyneth Paltrow calls it "1950s meets hipster chic" and says the food is rich and luscious. Taylor Swift threw Lorde a birthday party here (Karlie Kloss, Aziz Ansari and Lena Dunham were in attendance), and Kim Kardashian once sipped tea at a corner table with Serena Williams.
Bar Pitti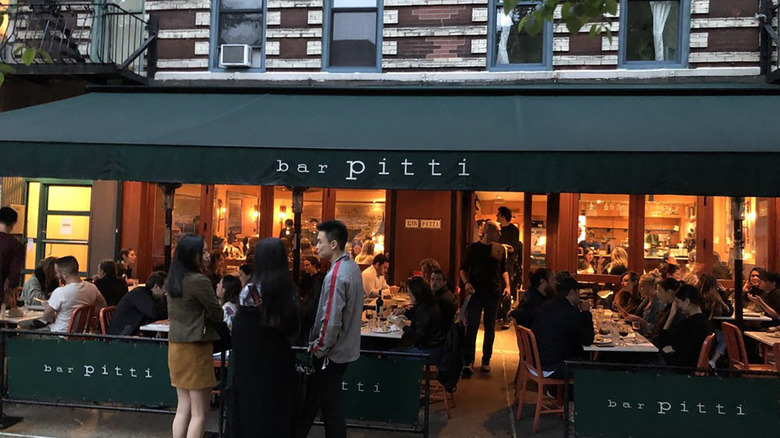 David R./Yelp
Bar Pitti is a popular Italian restaurant known to attract a glamorous crowd. The West Village spot serves heaping portions of spaghetti carbonara, which may or may not have been enjoyed by Taylor Swift, Demi Moore, and Billy Joel. Naomi Campbell, Jared Leto, Calvin Klein, Sarah Jessica Parker, Raf Simons, Linda Evangelista, Heidi Klum, and Tim Gunn have also been seen here.
Hotel Gansevoort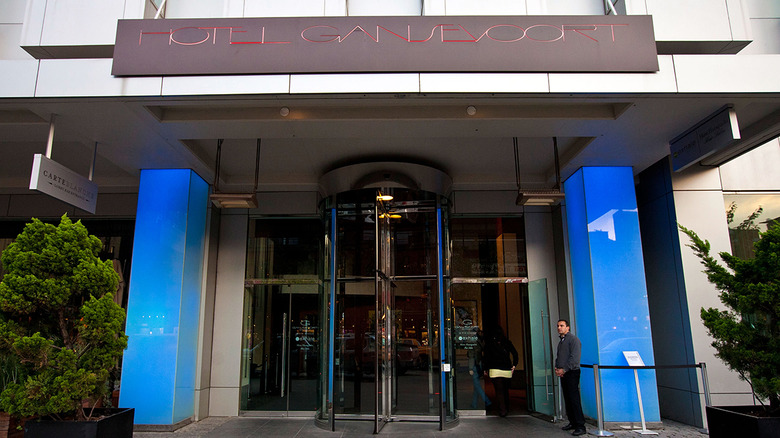 Dario Cantatore/Getty Images
The Gansevoort is a luxury hotel in the Meatpacking District. The ultra-sleek property has 186 trendy guest rooms including a penthouse suite, plus a rooftop pool and bar (dubbed B on Top) that offers incredible 360-degree views of the New York City skyline. Nelly Furtado, Christina Aguilera, the Kardashians, Sofia Vergara, Zoe Saldana, and Rihanna have checked in here.
Tao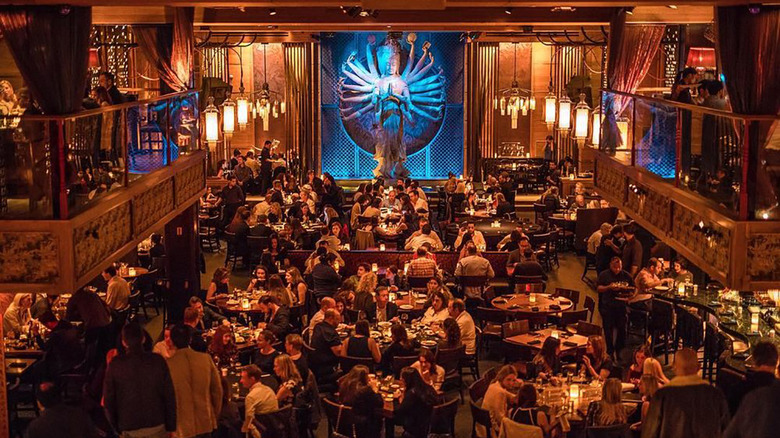 Tao Downtown/Yelp
Tao has two locations in the city that never sleeps: Chelsea and Midtown (at the southeastern edge of Central Park). The Asian-themed restaurant and nightclub has hosted Whoopi Goldberg, Swae Lee, Kehlani, YG, Rob Gronkowski, Emily Ratajkowski, DJ Khaled, Meek Mill, Big Sean, Fat Joe, Ciara, Travis Scott, Diddy, and more.
The Standard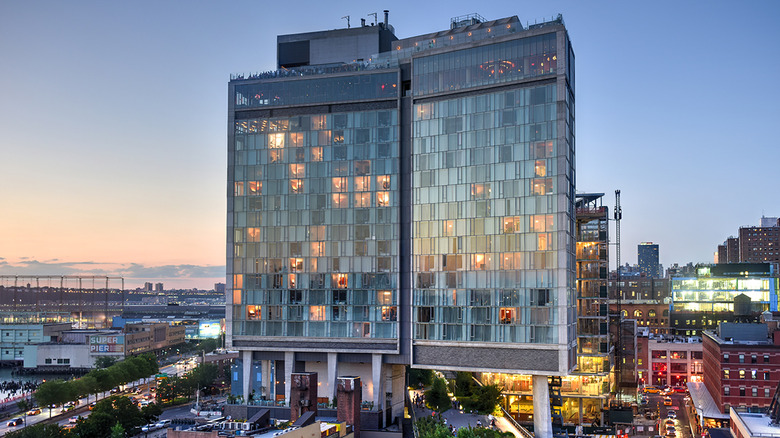 Felix Lipov/Shutterstock
The Standard is a boutique hotel in the Meatpacking District, and the fabulous lounge on the 18th floor — the Top of the Standard, which is better known as the Boom Boom Room — is a popular after-party hangout with floor to ceiling windows and panoramic views. Zac Efron, Rihanna, Jeff Gordon, Cameron Diaz, Aaron Rodgers, Neil Patrick Harris, Katy Perry, John Legend, Chrissy Teigen, Priyanka Chopra, Eddie Redmayne, James Corden, Kerry Washington, Brie Larson, Roger Federer and Elle Fanning are among the elite who've partied here.
1 Hotel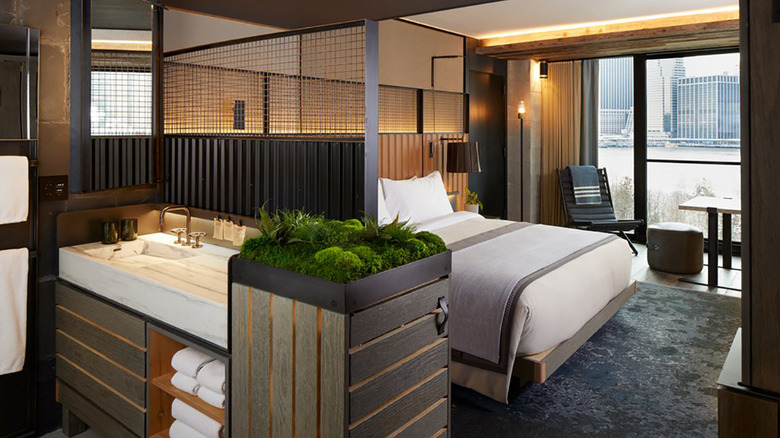 1Hotels M./Yelp
1 Hotel is located in DUMBO, a formerly industrial Brooklyn neighborhood with highly desirable waterfront real estate. The view at 1 Hotel is stunning, whether you're in a room or at the rooftop bar ogling at the East River and the Manhattan skyline. Gigi Hadid threw her 23rd birthday here. Her sister Bella, Hailey Baldwin, Martha Hunt, Joan Smalls, Olivia Culpo, Antoni Porowski, Jonathan Van Ness and Tan France were in attendance.
Delmonico's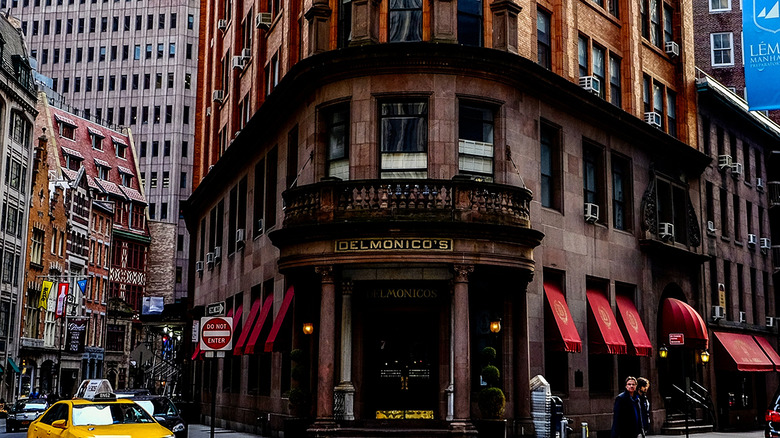 NYC Russ/Shutterstock
Delmonico's is one of the oldest restaurants in New York City and the alleged first fine dining restaurant in the country. The high-end Financial District steakhouse is also the rumored birthplace of popular dishes eggs Benedict and baked Alaska, and the first U.S. restaurant to let women dine without the company of a man. Through the years, Whoopi Goldberg, Alton Brown, Luke Evans, Dakota Fanning, Rick Ross and Sean Penn have eaten here (and way back in the day, Mark Twain and Diamond Jim Brady were regulars). Happy celeb spotting