These Are The Cruises With The Best Onboard Entertainment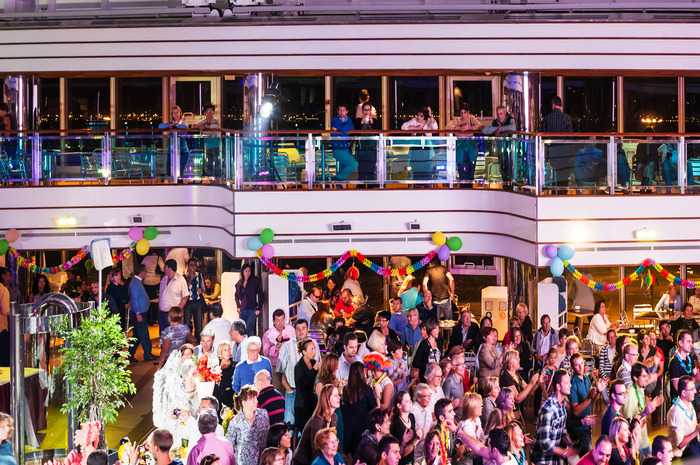 vvoe / Shutterstock.com
These Are the Cruises With the Best Onboard Entertainment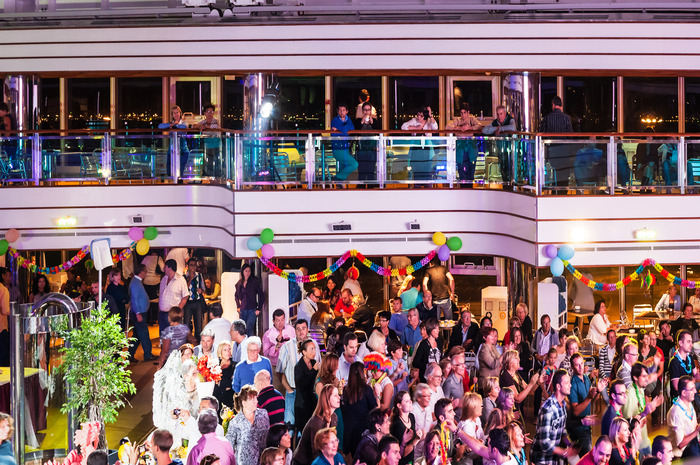 vvoe / Shutterstock.com
Cruise lines no longer offer just an opportunity to get away from home and sunbathe by large pools while sipping sugary cocktails at sea. The ships themselves are no longer the biggest attraction during a vacation out on the open ocean. The following list, in no particular order, is a collection of cruise lines that have been ranked "the best" over the last two years by Cruise Critic, USA Today, and Fodor's Travel.
Allure of the Seas (Royal Caribbean)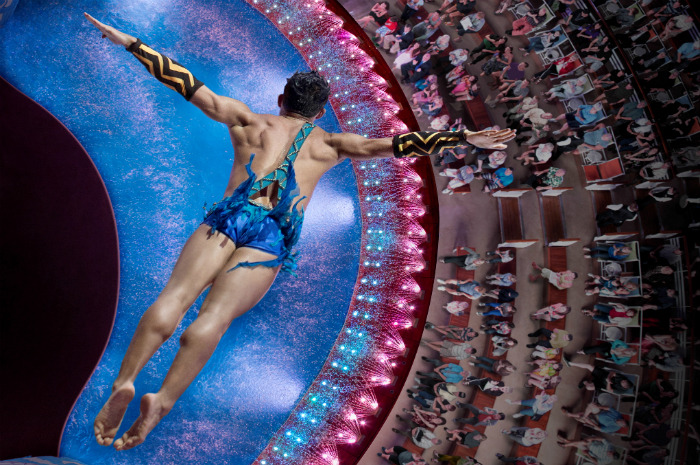 Royal Caribbean
Most of the fun is happening in the two main theaters onboard – the indoor Amber Theater and outdoor AquaTheater. World-famous productions are being staged there. You can catch "Mamma Mia" and "Blue Planet," a Cirque du Soleil-style song-and-dance production. The stage turns into a giant aquarium one second and a writhing human tree the next. Wow! The theater shows 3D DreamWorks movies during the day.
Disney Dream (Disney Cruises)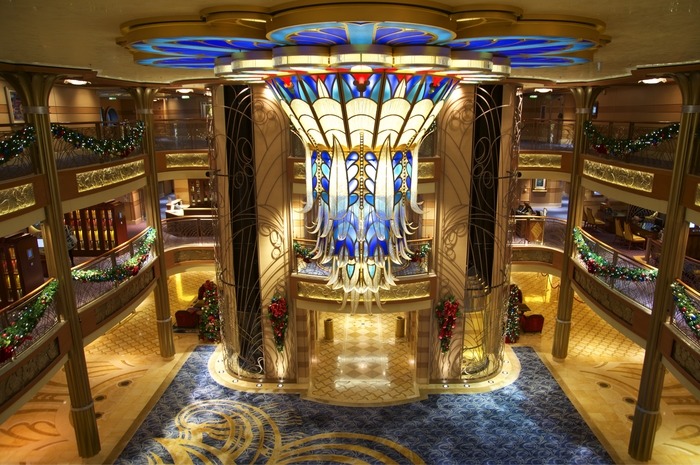 Juan Camilo Bernal / Shutterstock.com
The name "Disney" kind of gives it away, doesn't it? The ship hosts amazing parties such as Pirate Night, Sail-Away Celebrations, Halloween on the High Seas, and everyone's favorite tale as old as time, Beauty and the Beast. The Walt Disney Theatre stages Broadway-caliber productions; the Buena Vista Theatre shows everything from blockbusters to Disney classics.
Koningsdam (Holland America)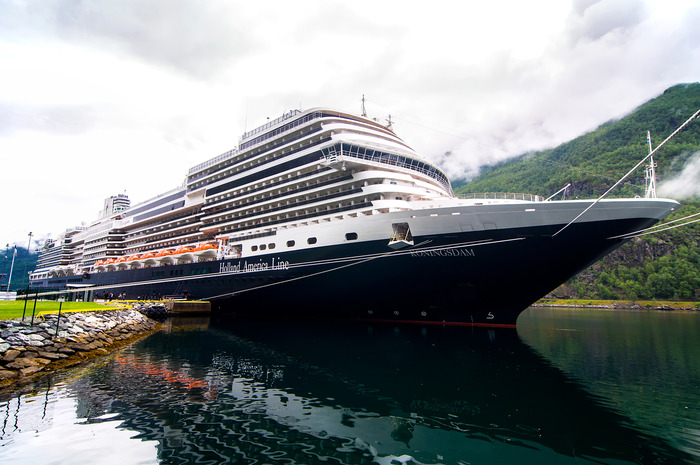 Dreamstime
The highlight of the ship is World Stage. With its two-story, 270-degree wraparound LED screen surrounding you in high-definition, it is  a dazzling, trendsetting theater where innovation meets entertainment. So step out on the Lido Deck to enjoy a movie on the giant screen. The screen comes down for live shows that include magic shows, tribute bands, and music and dance skits.
MSC Divina (MSC Cruises)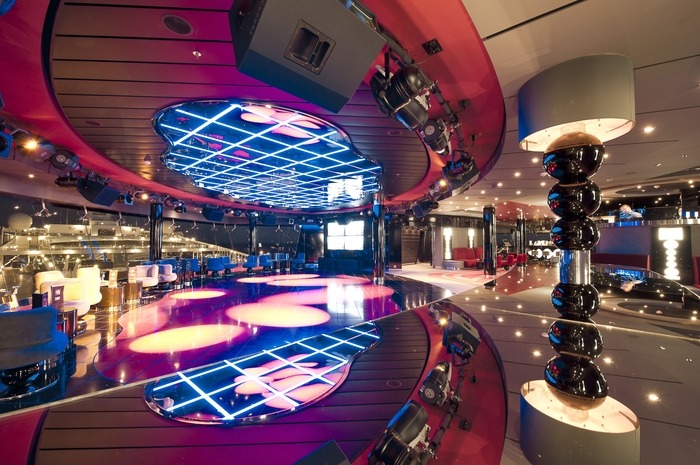 MSC Cruises
There are 80 different original productions performed across the futuristic Broadway-scale designer theaters on every ship in the MSC fleet. Every cruise offers at least six different shows – even on a 7-night cruise. Singers, dancers, acrobats and artistes are all over the world, including Argentina, Brazil, Canada, France, Italy, Kenya, Mongolia, Spain, Russia, the UK, Ukraine and Zimbabwe. The Divina ship has a massive and magnificent theatre, the Pantheon Theatre. It is a two-deck neon-and-crystal spectacle.
Harmony of the Seas (Royal Caribbean)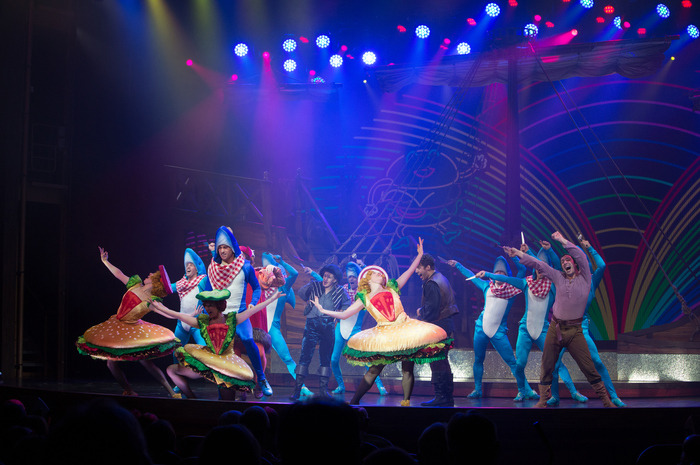 Royal Caribbean
This is the first ship to feature the Broadway hit musical, Grease. The musical, as well as other big productions like it, are staged in the Royal Theater. It is large, with neon lighting, cushioned gold chairs and a giant stage, with a huge movie screen flanking each side. "Columbus the Musical!" is the second big-stage show on the ship. It's about Marvin Columbus, a distant relative of Christopher who sets sail hoping to make a discovery of his own. Musicians, jugglers and ventriloquists perform some nights.
Oasis of the Seas (Royal Caribbean)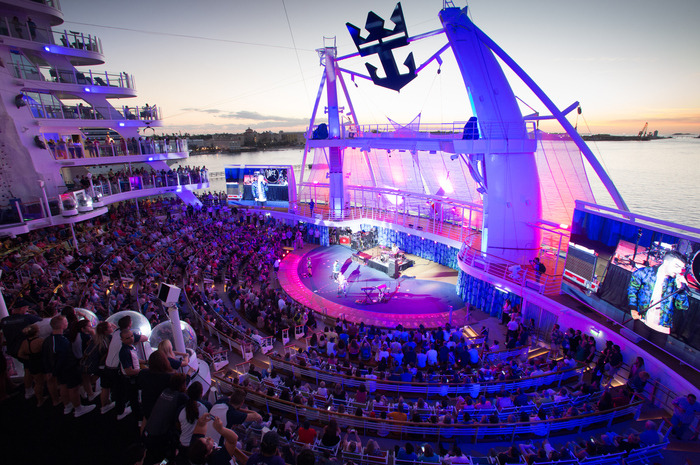 Royal Caribbean
Spectacular shows, blockbuster movies and even a casino – there is a whole host of entertainment to enjoy onboard Oasis of the Seas for people of all ages. The cruise line offers Tony Award®-winning musicals including CATS. The award-winning Adventure Ocean® Kids Club. Royal Caribbean is the first and only cruise line with ice skating rinks right onboard Oasis.
Freedom of the Seas (Royal Caribbean)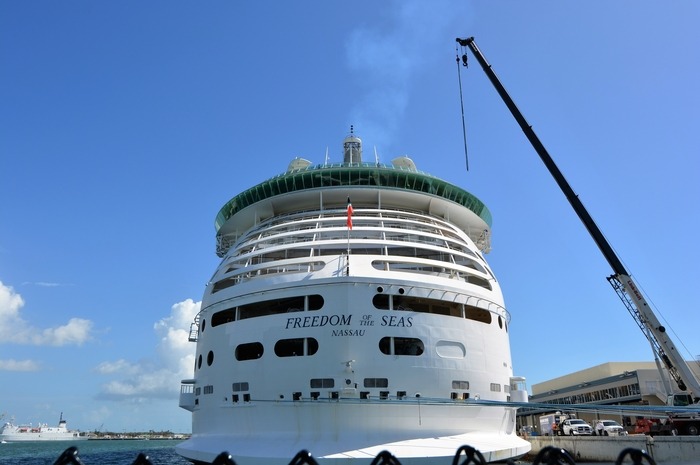 Dreamstime
There is an ice skating rink onboard, too. Enjoy the complimentary ice spectaculars featuring professional skaters that amaze with jumps, lifts, and spins. As for live shows, the main Arcadia Theater, which seats more than 1,300 people over two decks, is where the big nighttime productions take place. They include song-and-dance shows by the cruise line's troupe and performances by guest aerialists, comedians and magicians.
Liberty of the Seas (Royal Caribbean)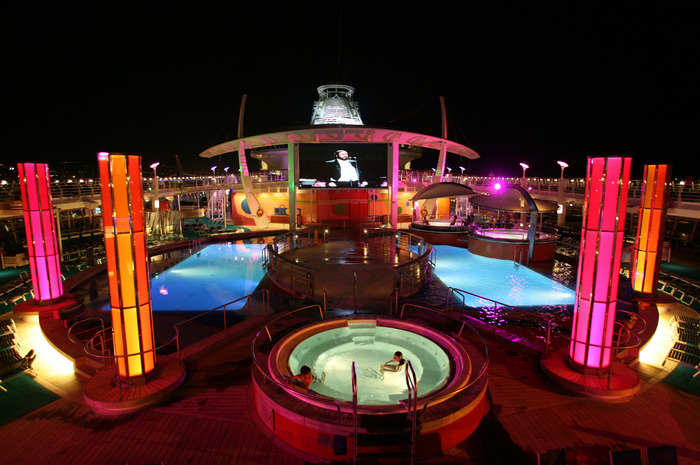 Royal Caribbean
The Liberty of the Seas was ranked highly because of the famous "Saturday Night Fever" show. The cruise ship also stages piano performances and other shows in Broadway style. Art auctions are held on regular basis. Also, you can surf on board in a special surf simulator and bathe in two whirlpools that hang about 100 feet above the sea.
Celebrity Infinity (Celebrity Cruises)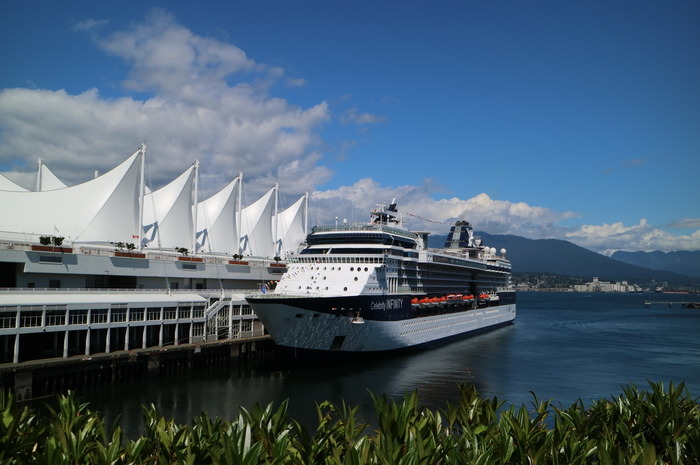 Emi330 / Shutterstock.com
Infinity's large show lounge, the 900-seat Celebrity Theater, is the place to be after dinner. The entertainment includes Las Vegas-style shows by the ship's troupe, or guest musicians and comedians. Interactive game shows and enrichment seminars are also scheduled. Guests usually head to the Rendevous Lounge for live music. The nightclub is at the Constellation Lounge.
Norwegian Epic (Norwegian Cruise Line)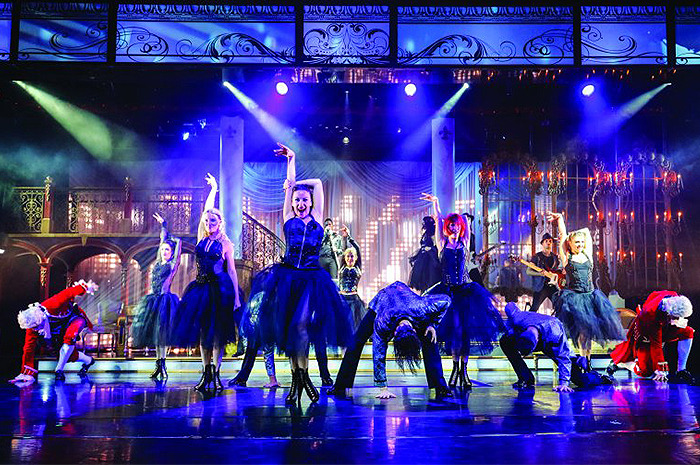 Norwegian Cruise Line
The Burn the Floor show, performed by ballroom and Latin dance theater company, renowned for its gifted dancers, is an absolute hit. Another one-of-a-kind theatrical experience is an entertainment extravaganza that includes world-class acrobats, aerialists, musicians, a touch of whimsy and a dash of audience participation. Only onboard Norwegian Epic you can experience the Cavern Club where the Beatles performed.
Norwegian Escape (Norwegian Cruise Line)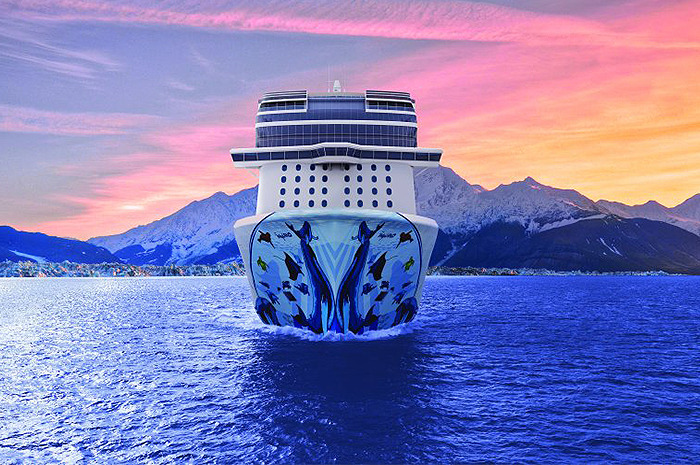 Norwegian Cruise Line
The Escape is known for its live comedy shows. You'll see performances by Levity Entertainment Group's best comedians. Employing more than 300 artists nationwide, Levity is the largest producer of live comedy in the U.S. You can also see the winner of the 2014 Tony®, Drama Desk, Outer Critics Circle, and Astaire Awards for Best Choreography, "After Midnight." The smash-hit musical combines the big-band songs of Duke Ellington, a jazz band, and the best dancing from Broadway.
Disney Fantasy (Disney Cruises)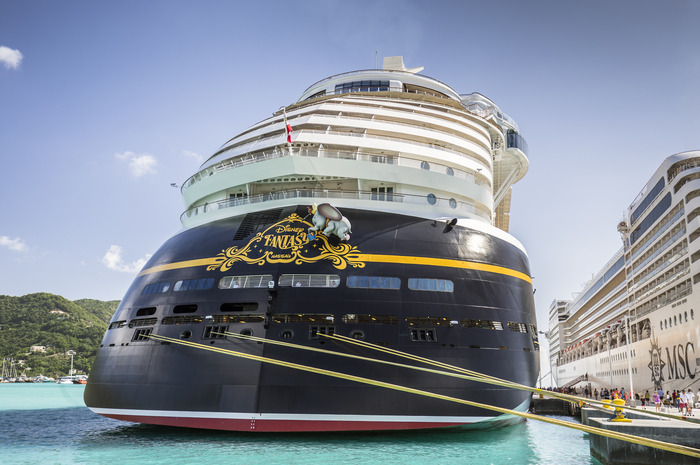 Sergey Kelin / Shutterstock.com
This is the cruise you'd book if you and your kids wanted to see Disney's Aladdin – A Musical Spectacular. Another popular musical is Disney Wishes, and enchanting show about growing up and staying young at heart. This one is staged exclusively on the Disney Fantasy. The littles ones will also love "Believe." It's a spellbinding musical about a workaholic father who reconnects with his daughter through some Disney magic.
Viking Star (Viking Ocean Cruises)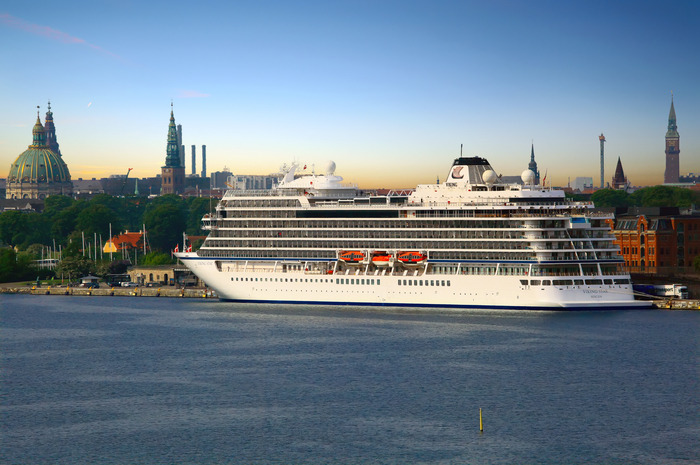 NAN728 / Shutterstock.com
Viking line's first ship impresses with its entertainment lineup, much of which revolved around the ports of call. The Star Theater, which is the main theater, stages production shows, hosts enrichment lecturers and shows movies. Local performers aboard are scheduled when the ship is docked in port overnight.  There are two onboard movie theaters showing first-run films and destination-centric classics.
Carnival Sunshine (Carnival Cruise Lines)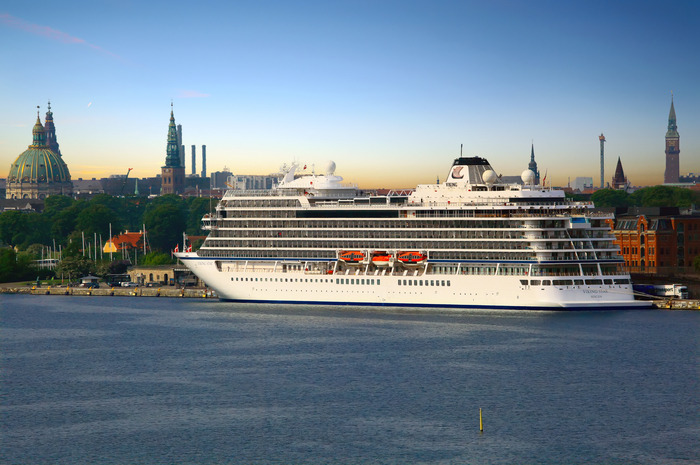 Solarisys / Shutterstock.com
The stage shows, which are included in your fare, feature singers, musicians and dancers performing numbers in extravagant costumes with stunning sets and scenery. DJ IRIE makes the nightlife on board even more bustling as he is heading the "DJ IRIE's Spin'iversity," which trains other DJs to keep their spinning skills sharp. Also, you can watch a blockbuster movie on a big screen from the comfort of your poolside lounge chair, or even the pool itself.
Crystal Serenity (Crystal Cruises)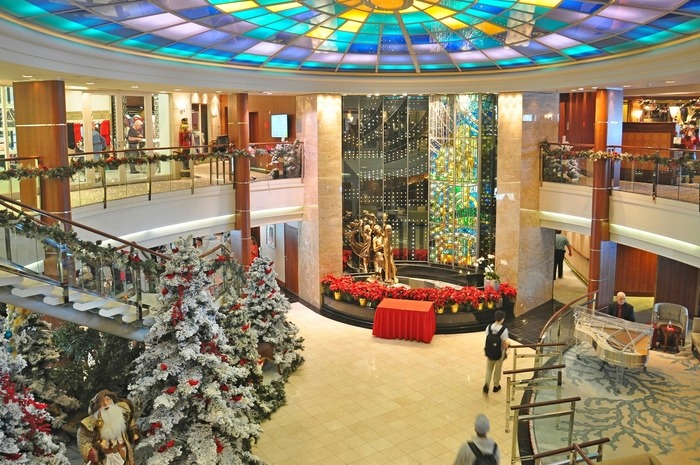 Dreamstime
Crystal's signature cocktail and piano bar is known for its intimate "clubby" atmosphere. Pulse is the high-energy dance club that plays all the latest hits with a mix of long-time favorites. Stardust is perfect lounge for a pre-dinner dance and aperitif, and after dinner dancing as well. This is where intimate performances, recitals and special lectures are scheduled.
Carnival Breeze (Carnival Cruise Lines)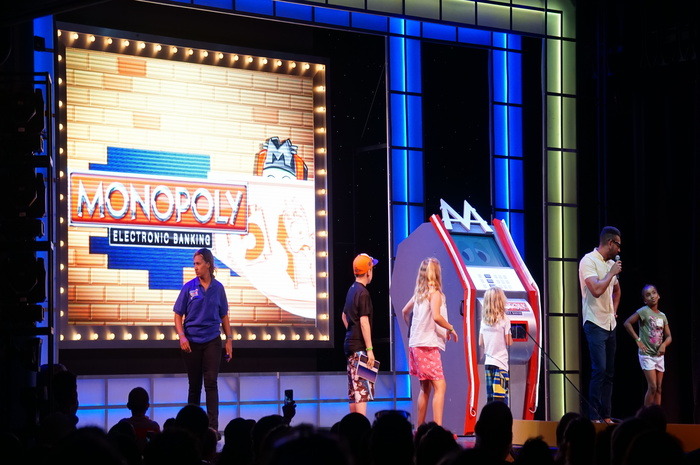 Ritu Manoj Jethani / Shutterstock.com
Lip sync battles, Hasbro, The Game Show, standup comedies, Dive-In movies as well...the fun doesn't stop. Playlist Productions takes popular tunes and presents them in a completely new way featuring singers and dancers bringing down the house. Enjoy the spicy sounds of Latin Nights, or the larger-than-life favorites (and personalities) of Divas. Motor City and The Brits! are also popular. The Heart of Soul has a playlist that includes sounds of Epic Rock, the piano-pounding 88 Keys, as well as 80s Pop.
Costa Deliziosa (Costa Cruises)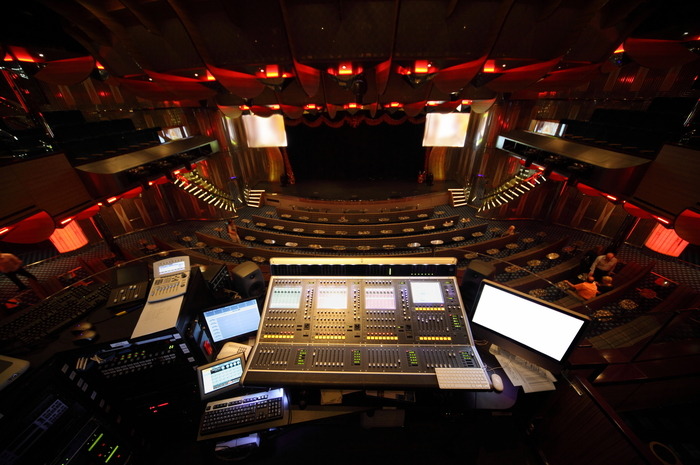 Dreamstime
The ship features a 4D Cinema, a casino, Grand Bar with dance floor, pool deck with retractable glass roof and giant screen, a theatre on three levels, disco, Grand Prix Simulator with single-seater racing car, to name a few. Deck 3 offers the Excite Piano Bar, which has its own bar and lots of room.
Regal Princess (Regal Cruises)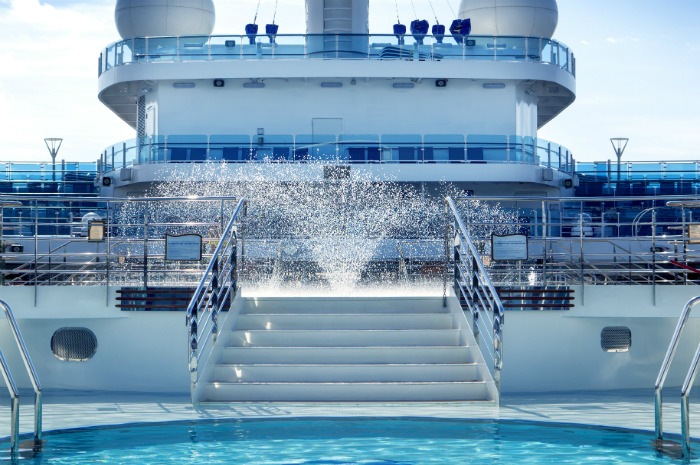 Robyn Mackenzie / Shutterstock.com
Princess Live! studio features all day programing. There are two fresh production shows in the Princess Theater. The huge space for the line's original production debuts with two new productions on its stage – "Fiera!" takes guests on a journey the fairground, and "Bravo... A Regal Celebration" a celebration of lights opera, musical theater and p'opera. Two favorites- "Spectacular!" a musical revue extravaganza, and "Sweet Soul Music" an upbeat tribute to Rhythm and Blues- will also be featured.
Independence of the Seas (Royal)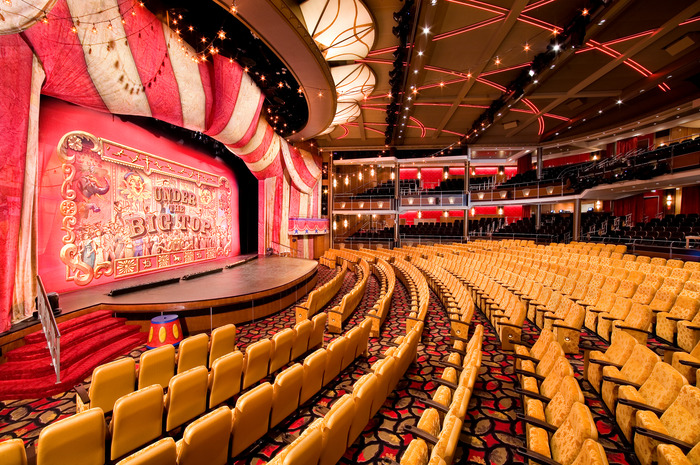 Royal Caribbean
Guests enjoy a wide range or onboard activities from Broadway-style production shows to ice-skating extravaganzas. The two-deck-high performance space hosts the remarkable new production, Grease. Lounges range from a piano bar and a pub to a wine bar, a Latin-themed dance club, and even a disco. You can end the evening with a movie on the outdoor screen overlooking the pool.
Carnival Vista (Carnival Cruise Line)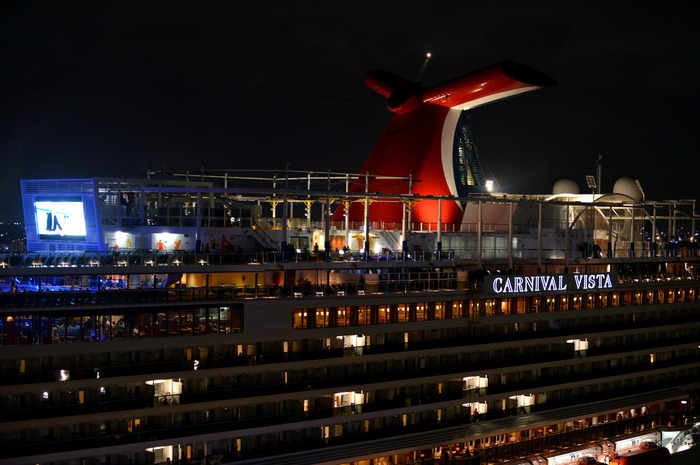 Dreamstime
The IMAX Theatre is a real hit with guests. This is actually the very first such theatre at sea. It shows first­-run Hollywood blockbusters, recent hit films and IMAX documentaries. The Liquid Lounge, a multi-purpose venue, is home to special effects-heavy Playlist Productions song-and-dance shows.
Norwegian Breakaway (Norwegian Cruise Lines)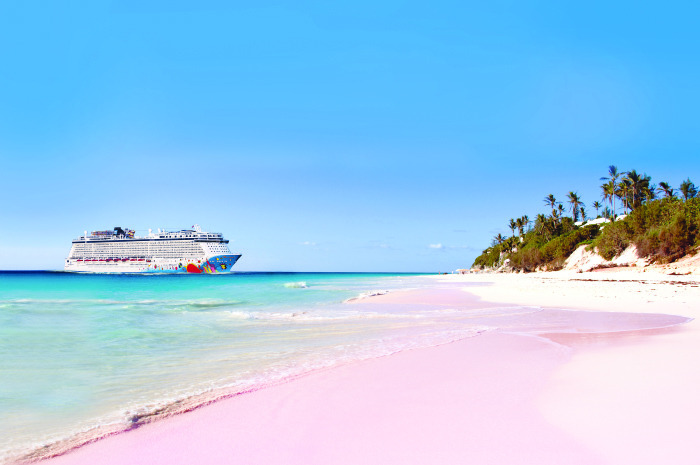 Norwegian Cruise Lines
Exclusively on Norwegian Breakaway, the five-time Tony® Award-nominated musical Rock of Ages is where the fun is. It relives the anthems of the 1980s through the story of a small town boy and girl who are living in Los Angeles, falling in love and following their dreams. The performances of Burn the Floor are also available on the Breakaway. One of a kind cirque performances are also a lot of fun.
Queen Mary 2 (Cunrad)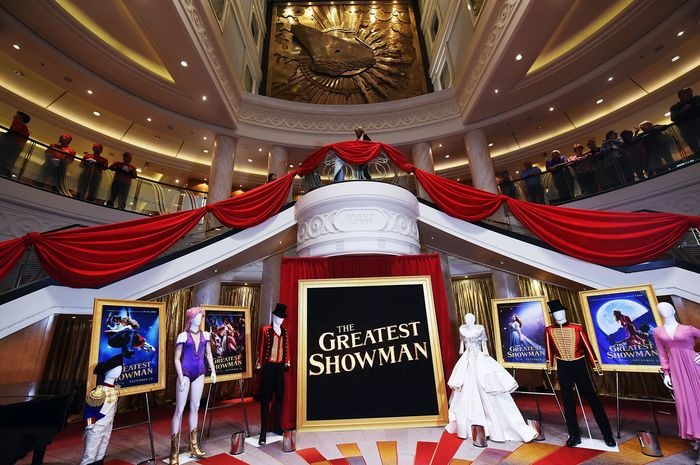 Cunrad
The Queens Room is the largest dance floor at sea. Illuminations is a luxury 3D cinema, a planetarium and a classical music venue. Try out your dance moves in glamorous balls, or go to the G32 nightclub or on deck for a lively party. Live musicians play throughout the day and night with a different cast of singers, dancers and performers every evening.
Crystal Symphony (Crystal)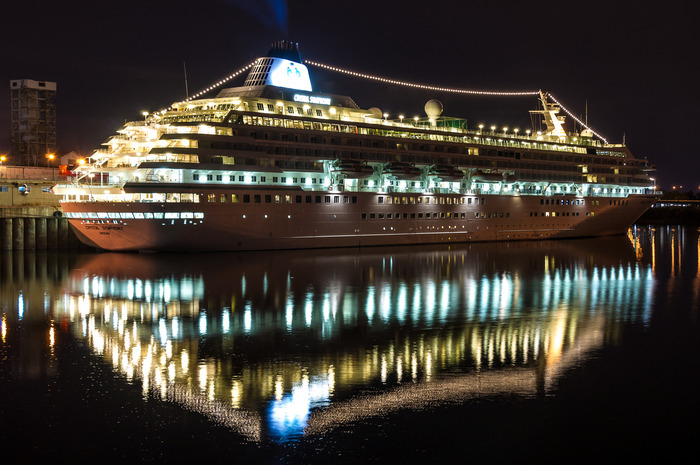 Denis Roger / Shutterstock.com
Crystal's famous cocktail and piano bar known for its intimate "clubby" atmosphere is available on this ship. On main activity deck there is a dramatic round bar that takes center stage in a stylishly open environment offering panoramic sea views.  With window walls sparkling with Swarovski crystals, the new Starlight Club is the place to be dancing at night.
Nieuw Amsterdam (Holland America)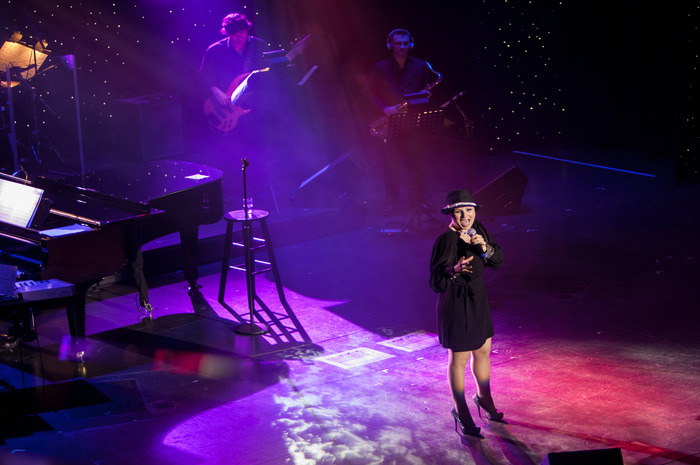 Dreamstime
The Nieuw Amsterdam celebrates the glamour and history of New York City. As part of the updates since December 2017, two new music venues are added: Lincoln Center Stage, featuring world-class musicians performing chamber music, and Billboard Onboard, rocking the house with 50 years of chart-topping hits. These venues will join the B.B. King's Blues Club, which brings the best of Memphis blues to sea.