The Most Annoying Things You Can Do On A Cruise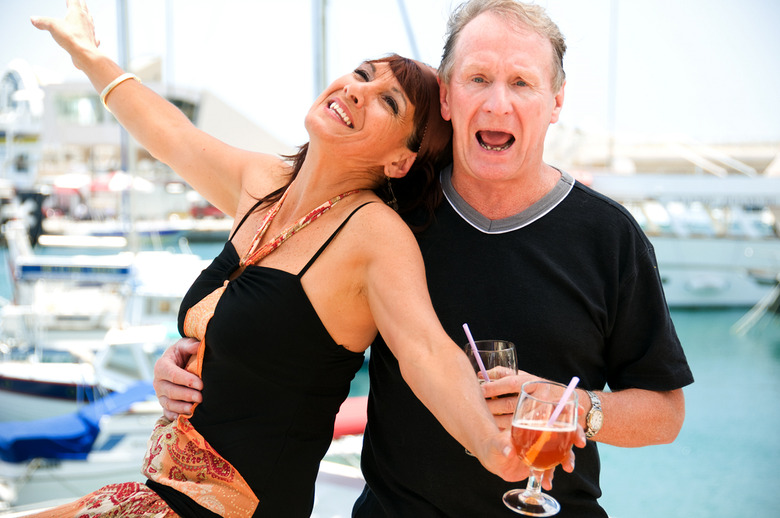 istockphoto.com
Few vacations are more low-key than a cruise. You spend a few days lounging in the sun, exploring new and exciting countries and eating endless amounts of delicious foods. The one downside to your cruise vacation: You and yours aren't the only people on board.
You have to be considerate of the thousands of other people who are on your ship with you. They paid just as much as you did for their time away from the stresses of everyday life, and they deserve to be respected. So follow some basic rules of etiquette, and also know how to conduct yourself on a cruise. After all, you wouldn't want someone else annoying you, so you should avoid these 25 annoying behaviors as well.
Ignoring the safety briefing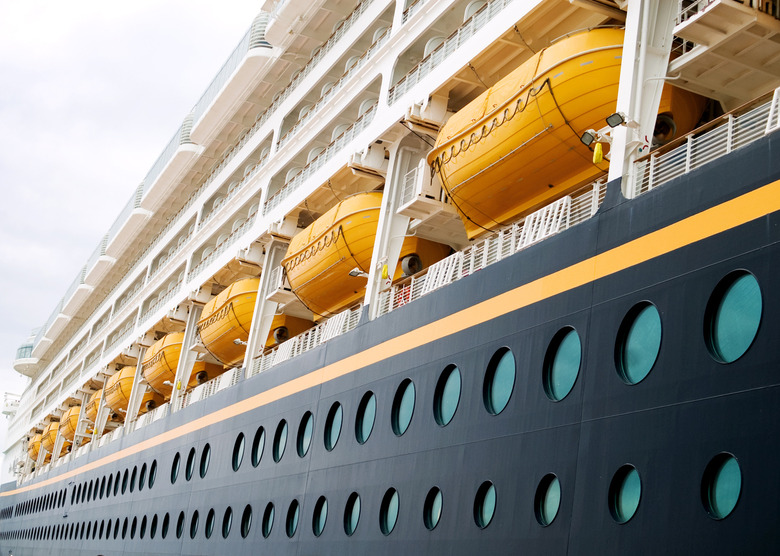 istockphoto.com
We get it — you're on vacation and rules are for the workplace and school! But, the safety briefing on day one of a cruise (also known as a muster drill) is really important. This mandatory exercise teaches you where to go in case of an emergency and what to do once you get there. It's rare, but accidents and wrecks on cruise ships do happen. So sacrificing your cocktail sipping and pool swimming for a 30-minute drill isn't an awful trade-off for a week of fun. And please, when you do get to your safety area, please pay attention.
Reserving chairs without using them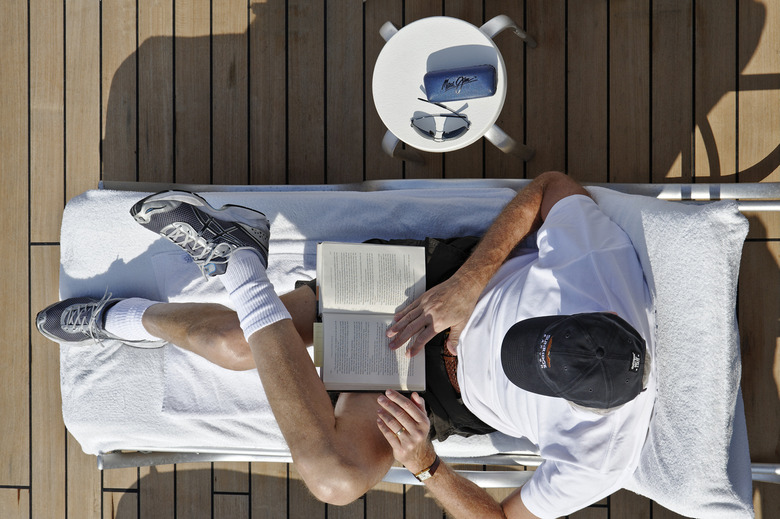 istockphoto.com
The No. 1 thing that annoys your fellow cruisers: being a chair saver. Wandering out onto the pool deck at 7 a.m. to reserve the perfect seaside spot may seem like a good idea, but you should intend on staying there. Grabbing those highly-coveted chairs and then going to the breakfast buffet or the bar is just inconsiderate.
Saving seats at the theater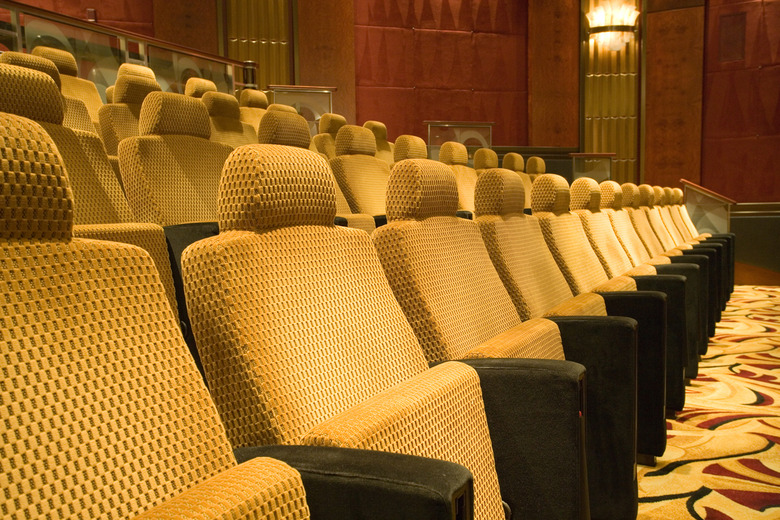 istockphoto.com
There are a lot of unique shows and activities on cruise ships, but space is still limited and highly-coveted at the theaters. Space is even more limited in comedy shows and bars for events like karaoke or major sporting events. If you're going to take in a Broadway play or see ice dancers while at sea, make sure your entire party is with you when you enter the theater. You wouldn't want to stumble upon what seems like an empty aisle or table only to discover it's being held for absent people, so return the favor.
Forgetting elevator etiquette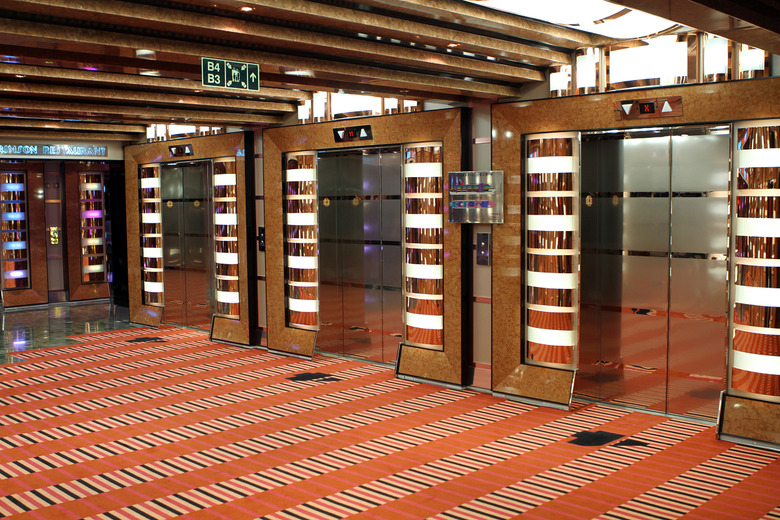 Don Valentine/Dreamtime.com
Ships will never have enough elevators for the number of passengers they carry. So unless you have a medical or health reason, try to use the stairs if you're just going up or down a few stories. Nothing is more irritating than having your trip from deck 2 to deck 15 interrupted at every floor because some people are only going up one level. And remember basic elevator etiquette: Allow people to get off before you get on. Things will go much smoother that way.
Blocking the walkways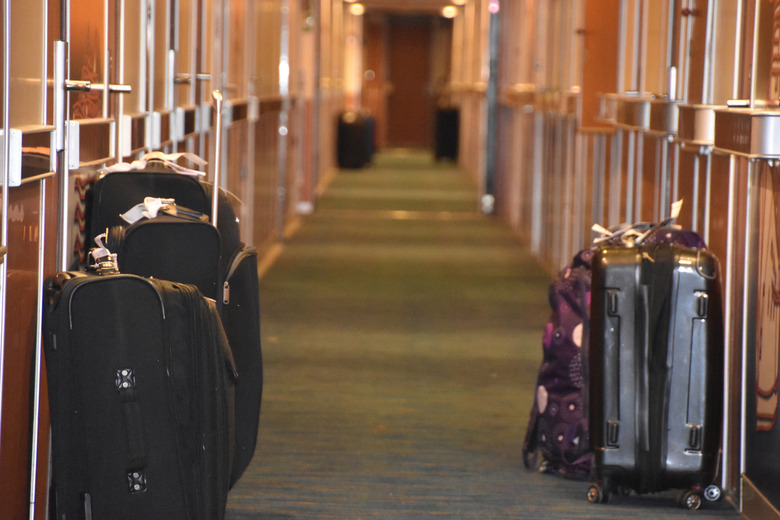 istockphoto.com
Cruise ships are notorious for very long and narrow cabin deck hallways. Some passageways can be as narrow as 3 or 4 feet. Be aware of that and the people around you. Don't pile your purses in the hallway or crowd restaurant entrances. Cruise ships are big! You need to let others pass through. And while you're at it, please don't sit on the stairs and block people coming down.
Cutting in line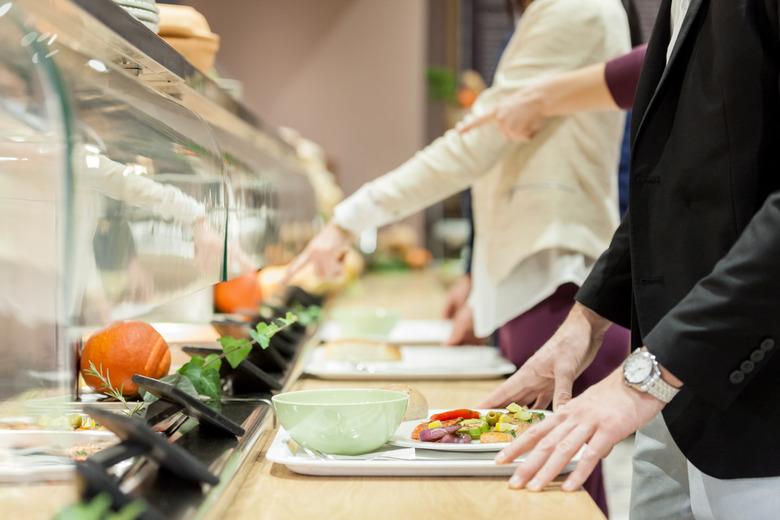 istockphoto.com
There are a lot of lines on cruise ships. You wait to get on the ship and off the ship. You wait for the buffet, for the waterslide, to get into a show... You catch our drift. It's tempting to cut in line at breakfast because you just want to grab that one piece of bacon, but be courteous to others. While your vacation time is valuable, so is theirs.
Hogging the gym equipment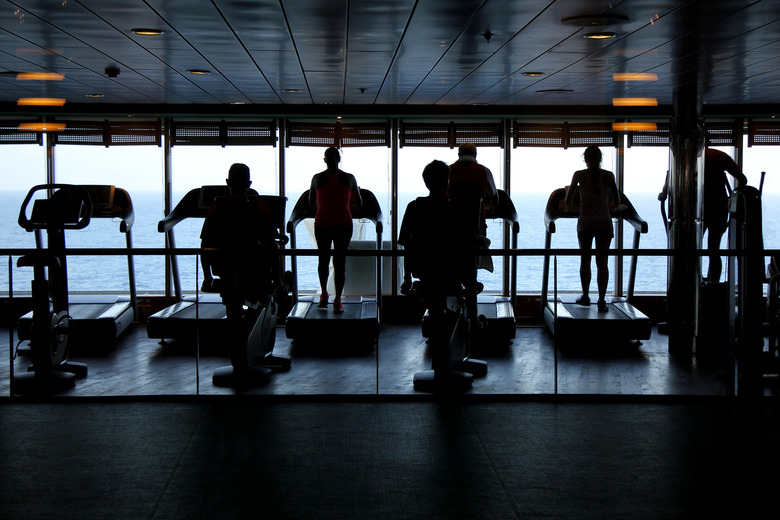 Dreamstime.com
Cruise ships can carry in excess of 5,000 guests, and although the gyms are getting larger, they still can't accommodate every single person who wants to work off some of that lunch buffet. With that said, lines for equipment can stack up. You wouldn't want to wait an hour for an elliptical, so be considerate and keep your workout to 30 minutes.
PDA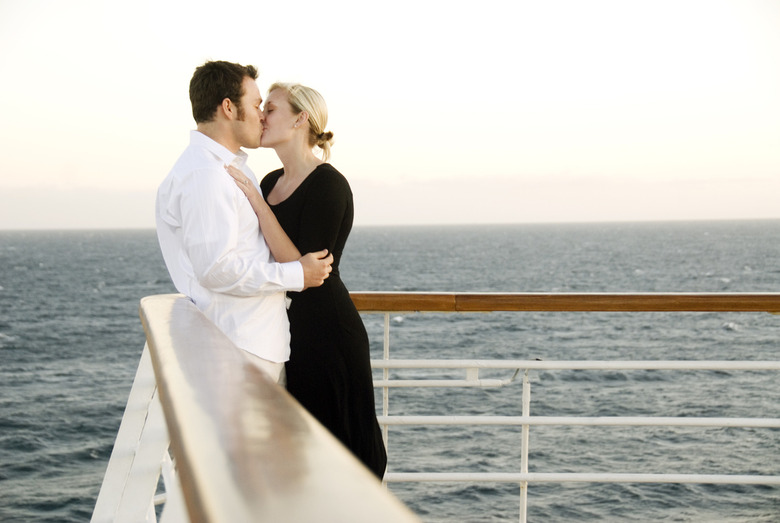 istockphoto.com
It's not always easy to know what PDA is OK and what isn't. When you're in public spaces on a cruise, try to keep things PG-rated (just like on your balcony — see below). Giving your sweetheart a quick kiss or holding hands at dinner is nice! But groping your partner in the pool or making out with your love on a deck chair is grossing your fellow passengers out. You have a room — use it.
Playing your own music loudly on the deck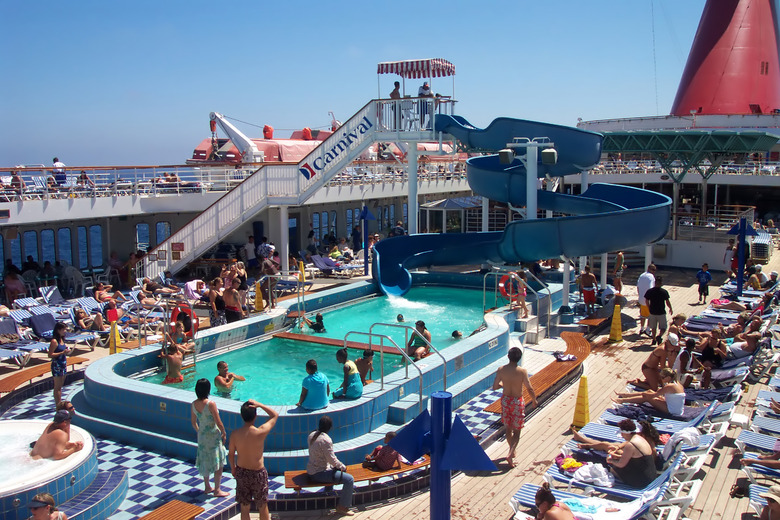 Shutterstock
You probably have great taste in music, at least according to you. Your fellow passengers may not agree. If you want to soundtrack your own vacation, bring a pair of headphones with you and listen privately. Blasting your own music on deck is irritating for those who don't share your favorite band and can also irritatingly conflict with any other music around you.
Smoking on your balcony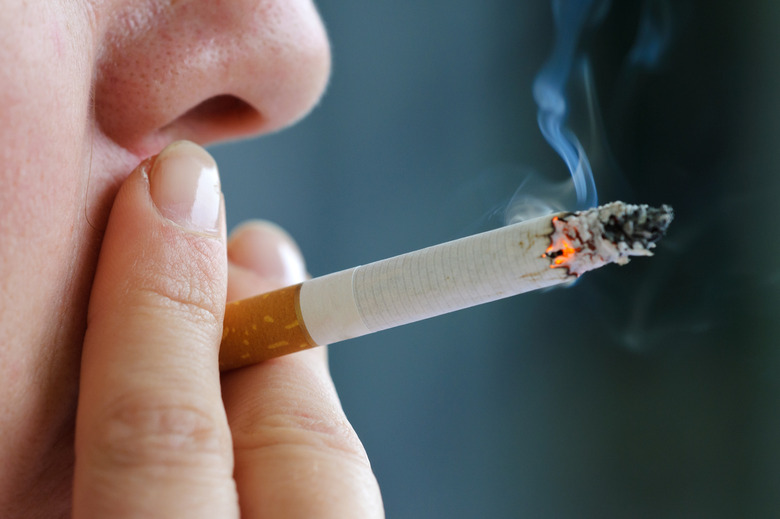 istockphoto.com
Most cruise lines accommodate smokers with designated areas of the ship. Often smoking is allowed on a certain area of an outside deck, in a special cigar lounge and in casinos. One of the most annoying things you can do is to ignore these rules. Smoking and vaping in non-specified areas of your ship, especially your stateroom or balcony, can lead to fines or even being removed from your cruise. So not only are you irritating your fellow non-smoking passengers, you're also putting your own vacation at risk.
Doing other things on your balcony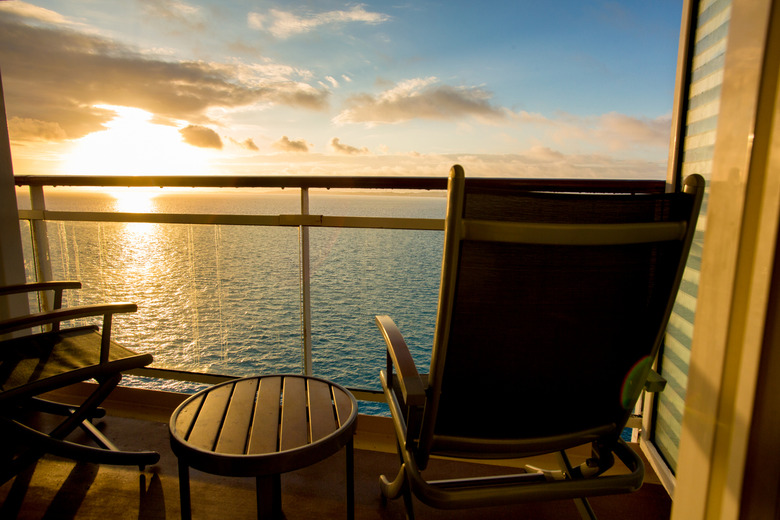 istockphoto.com
The sea is romantic, and having an ocean-side view and a balcony can seem like a thrilling time for you and your partner to have a little fun outdoors, if you catch our drift. But think before you and your partner get too intimate on your balcony. If you look around, you'll see your balcony isn't as private as you may think. The side walls don't go all the way to the floor, and your neighbors can hear everything. Keep things rated PG.
Eavesdropping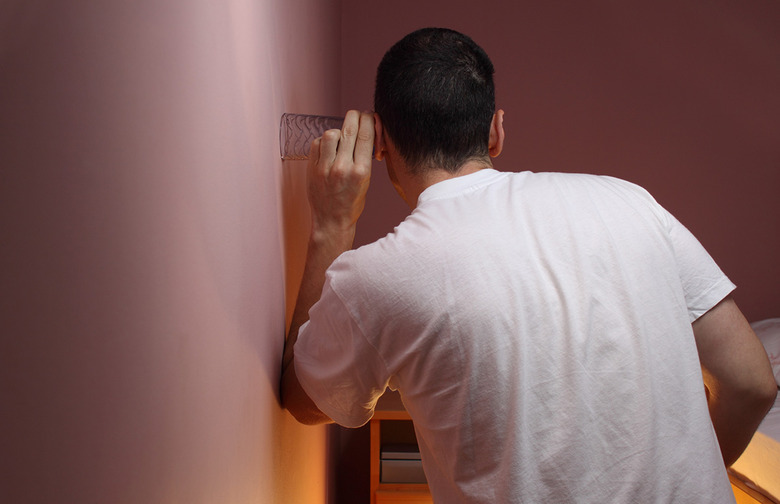 Dreamstime
Cruise ships have to accommodate as many people as they can in a limited amount space. The result is small rooms with very thin walls. So thin, in fact, you can hear your neighbor ordering room service, getting into a fight or just casually discussing their plans for the next day. You wouldn't want someone else getting into your business, so don't eavesdrop on other people's.
Letting your children run wild
Dreamstime
Most cruise lines feature supervised child care and child-friendly areas. If you want to take advantage of them and have a little vacation from your kids while they have their own fun, great! But be sure you use these services if you're not going to be with your little ones. It's not necessarily safe to let your kids do whatever they want, and nothing is more irritating to child-free cruisers than the elevator being over-run with children pushing every button to every floor for fun.
Bringing children into adults-only areas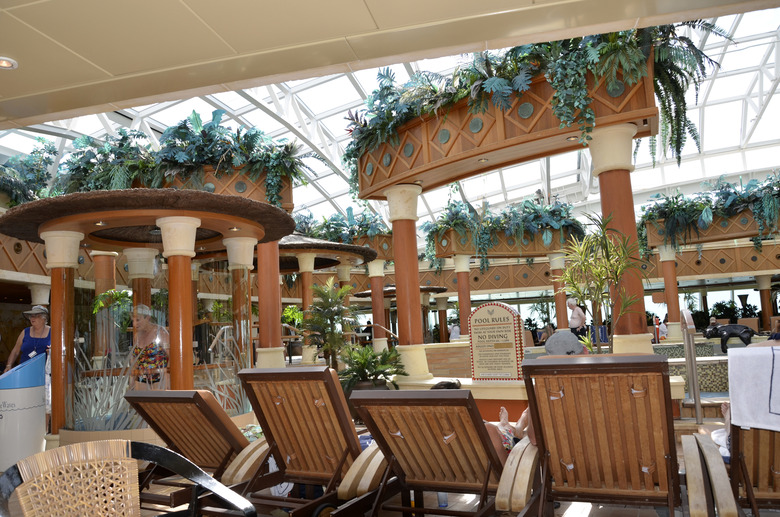 Dreamstime
Cruises are one of the best family-friendly vacation ideas out there, but there are also plenty of adults who travel without kids and want to have a (mostly) child-free trip. Most cruise ships have 18-and-older areas, including pools, solariums, lounges and restaurants. And those age limitations need to be respected. Even if your kids are well-behaved in your eyes, they may not be so respectful and charming to others.
Not washing your hands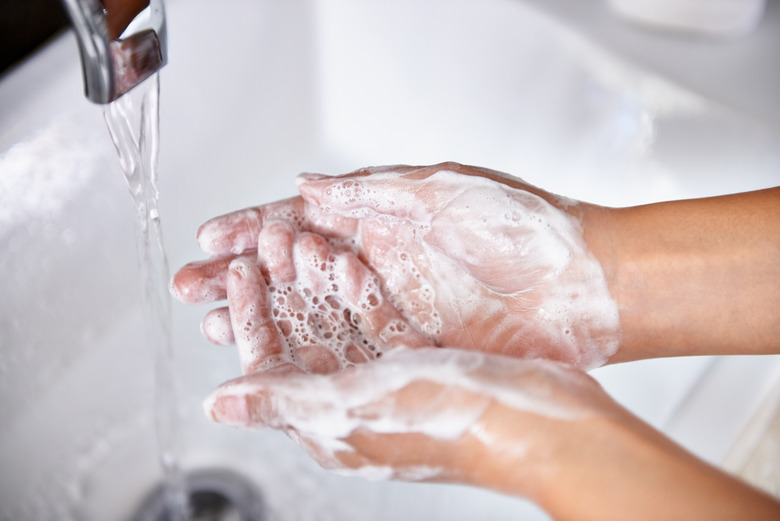 istockphoto.com
Noroviruses are real, y'all. The entrances to buffets and restaurants on cruise ships all have hand sanitizing or hand washing stations. Using them not only benefits your own health, but it benefits the health of everyone on board with you. You don't want to spend your hard-earned vacation sequestered in your room and praying to the porcelain gods, do you?
Touching buffet items with your hands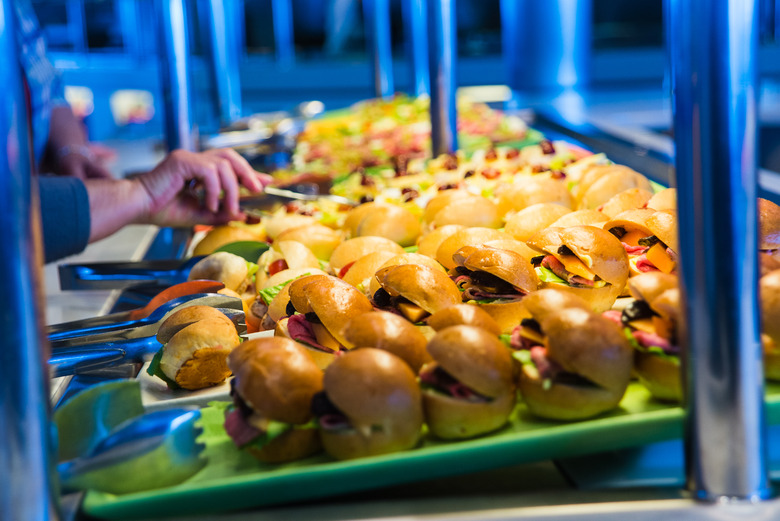 Dreamstime
While we're on the subject of dining on a cruise ship, it's annoying, inconsiderate and unsanitary to touch buffet items with your bare hands. Even something like a muffin or an apple touches other food items that you're not going to eat. So please, use the serving tongs, spoons, forks and ladles. You wouldn't want someone else touching your food before you eat it, would you?
Being late to dinner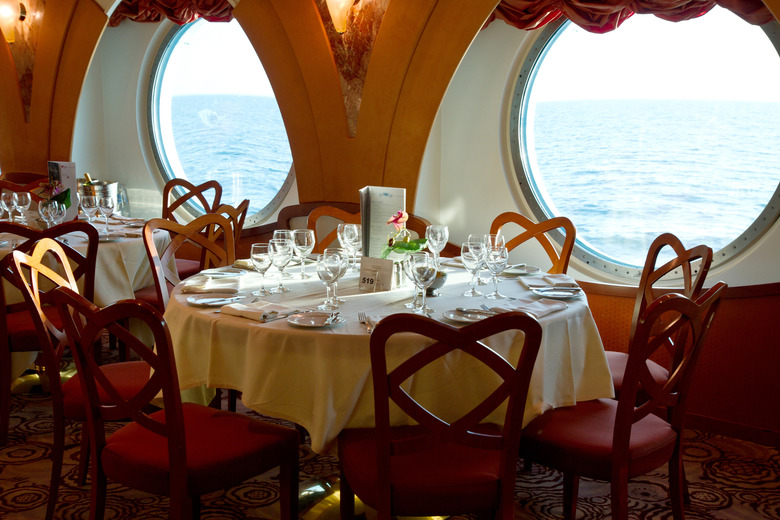 Dreamstime
Many cruise lines have established dining times. If you happen to be on one of those lines, make sure you show up on time. Nothing can be ruder to your tablemates or your waitstaff than showing up after everyone else has ordered their first course. It will throw off the servers and the meal timing for everyone else in your party.
Drinking way too much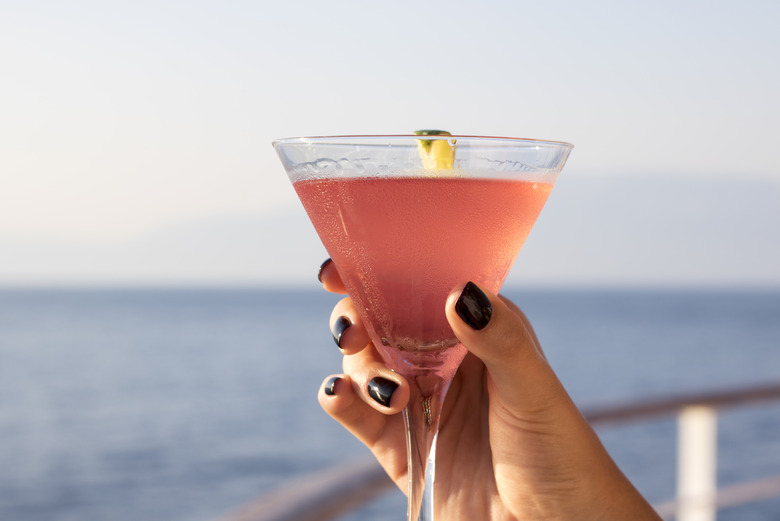 Shutterstock
We love an all-you-can-drink beverage package. But presumably if you're old enough to have an all-inclusive drinks packages, you are old enough to drink responsibly. Nothing will make you the most unpopular partier than being the one who throws up all over the dance floor. Have a good time, of course, but know when to stop and go to bed.
Throwing garbage overboard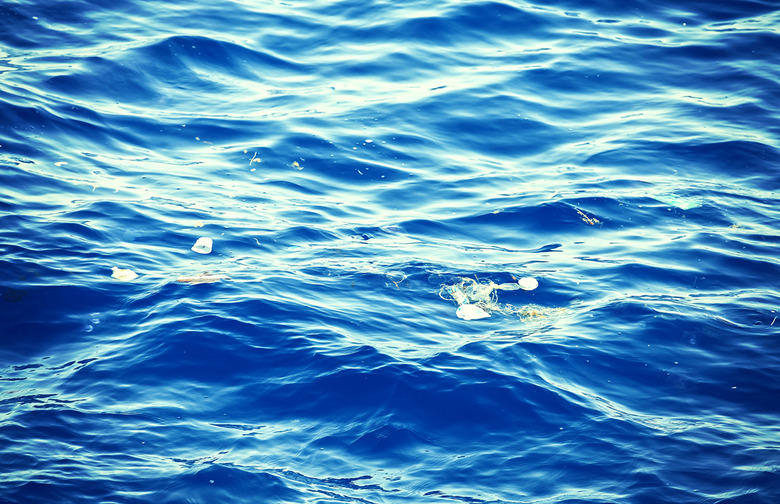 Dreamstime
It's hard to believe people will throw trash overboard in this day and age, because pollution is a serious problem. But it happens. Things will happen, of course. A strong gust on the sea can blow items off balcony tables or even out of your hand. But throwing garbage purposefully overboard is basically unforgivable. Relatedly, if your cruise ship is one with an open atrium, please refrain from throwing items from one deck to another. You never know what could hit somebody on the head and cause serious harm.
Spraying sunscreen everywhere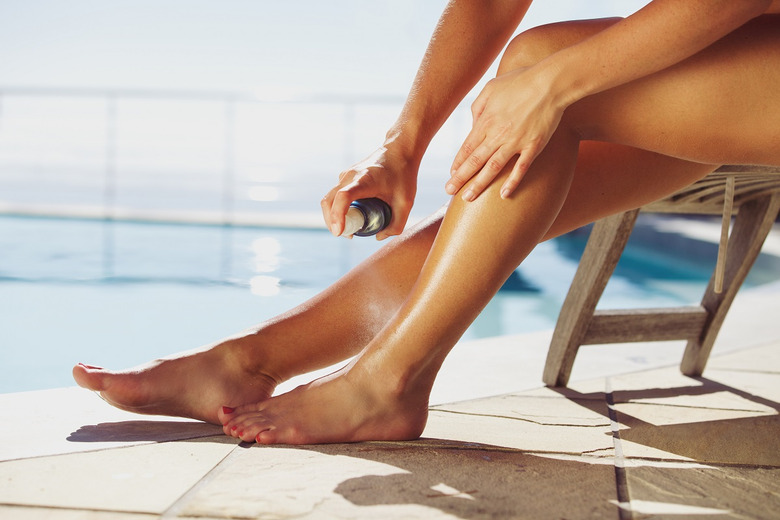 Shutterstock
Please don't make your cruise one of those times you forgot sunscreen — you could seriously harm yourself. But try to spray your sunscreen on your body away from other passengers. That stuff travels, and it can easily get in others' mouths or eyes. And that's irritating.
Cheating at games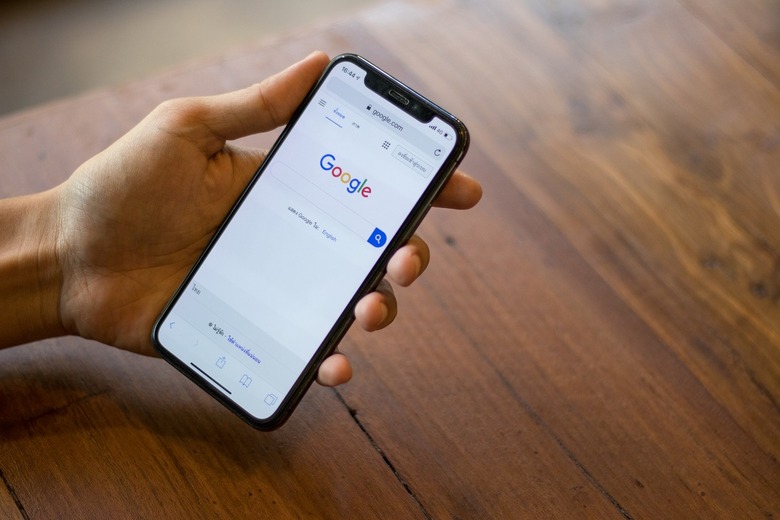 Shutterstock
Most cruise itineraries will have a few sea days, which will feature various games and rounds of trivia. Just like with pub trivia, using your smartphone to Google the answers isn't fair. (And on a cruise, this is a weird use of very expensive Wi-Fi.) Cruises will also often feature scavenger hunts, and some frequent cruisers will bring items that they know will be on the list. Cheating spoils the fun for everyone.
Dressing inappropriately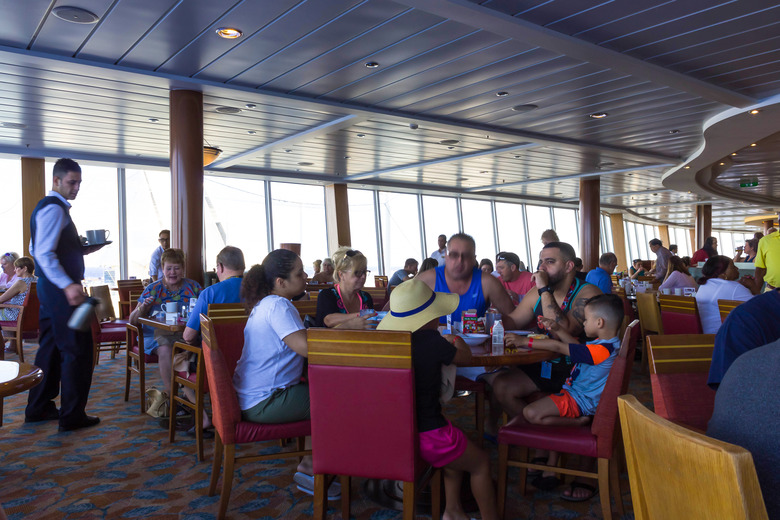 Shutterstock
While a cruise is mostly a casual vacation, there are places where you need to be a little more dressed up. If you're going to the dining room, try to refrain from wearing tank tops or flip-flops and wear something a little bit nicer. If your cruise has a formal night at dinner, try to respect that by wearing a cocktail dress or nice pantsuit (for ladies) and dress slacks and a jacket (for men). And unless you're at the pool, please wear a cover-up or T-shirt with your swimsuit.
Complaining about everything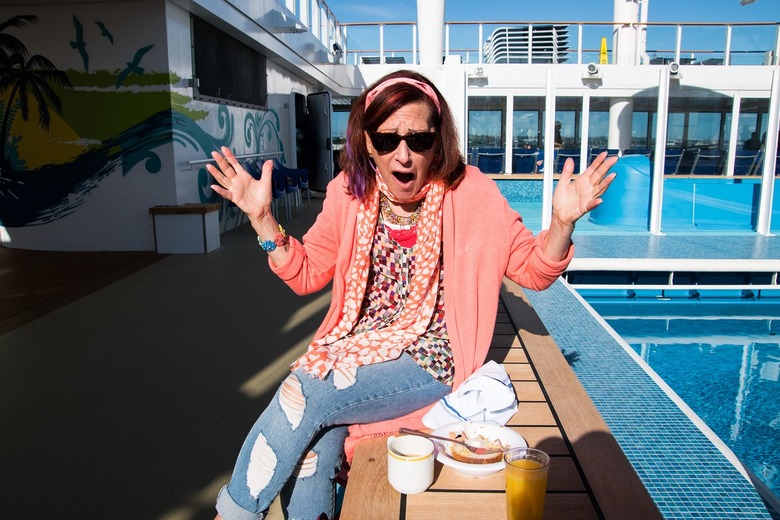 Shutterstock
You're supposed to be on vacation— so there's no reason to be a negative Nancy. Maybe you've been on other cruises before and things aren't as good as they used to be, be it the food, the service or the entertainment. Bringing up how nothing is up to snuff just bums everyone else around you out. Keep your opinions to yourself until after the cruise is over and let other people enjoy their trip.
Stiffing the server and steward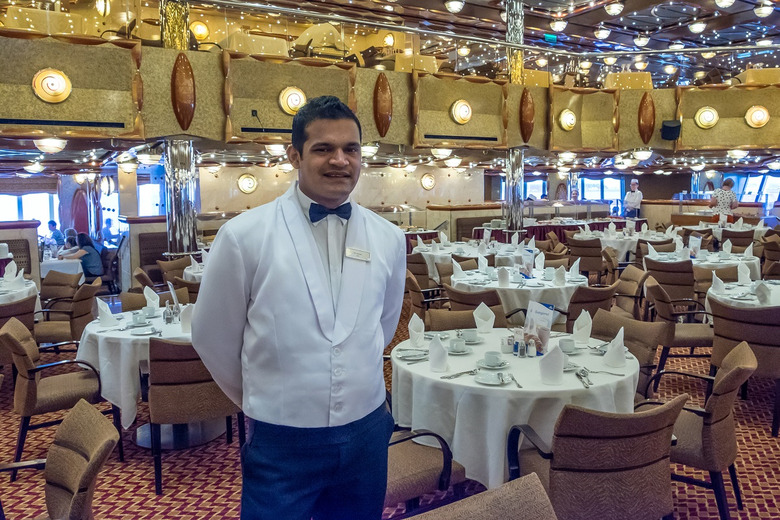 Shutterstock
Most people don't even know how much to tip their servers on land, let alone at sea. A tip isn't mandatory, but it is a very welcome thank you to a crew who have served you. Many cruise lines these days have included pre-paid gratuities (about $12 per person per day) which go to your waiters and room stewards. Drinks at the bar also tend to come with a 15 percent gratuity added on to your bill. But if your service is above and beyond expectations, it's nice to give an additional tip to the waitstaff and steward. And if you do this at the beginning of your cruise, you're bound to get some special service in return. If you opt out of pre-paid gratuities or your cruise line doesn't have them, please don't stiff your servers. Many cruise line workers are paid low wages (by Western standards) and depend on tips as income.
Being rude to the staff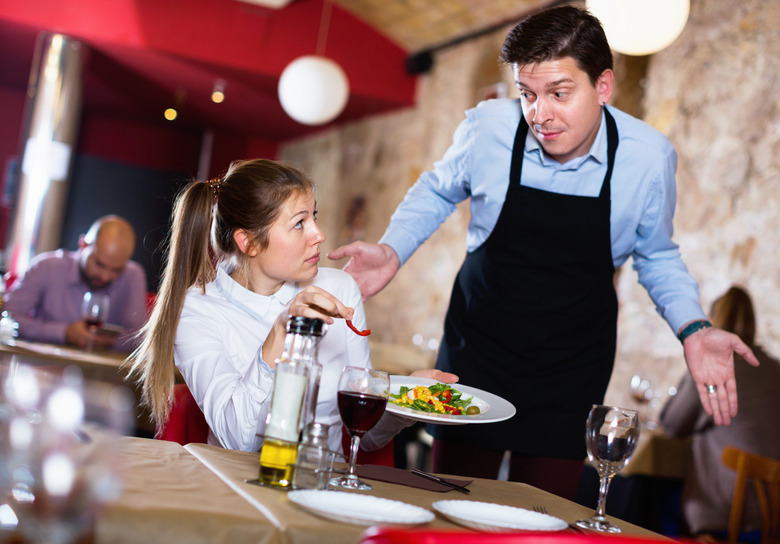 iStockphoto.com
The cruise ship staff — servers, bartenders, cabin stewards and the hundreds of people you don't see and interact with every day — are people too. And they work hard at sea for months at a time to cater to every guest's needs. Remember that they are people too, and don't be rude or overly-demanding with them. Being mean to staff is one of the rudest things you can do, period.