7 Reasons Why Alaska Cruises Are So Popular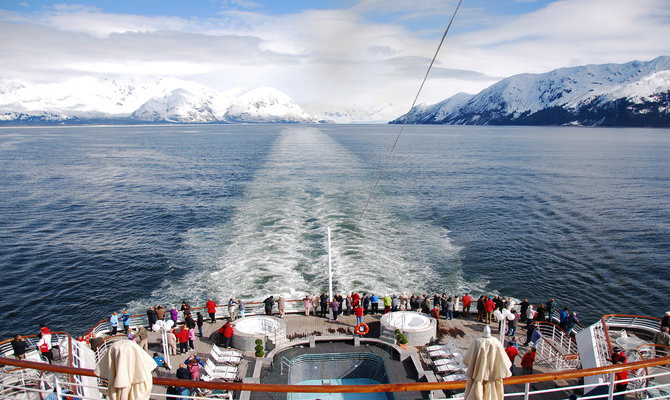 shutterstock
If you're someone who enjoys vacationing in warm places with sandy beaches or in big bustling cities you may have always wondered why people are so crazy about cruises to Alaska. Isn't it cold?! What is there to do? Well, I'm here to tell you that Alaska cruises are so fantastic that even sun- and city-worshipers could be converted. The sights, excursions, and dining will blow your mind. Here are some of the reasons why cruising to the last frontier is so popular.
Cool off when the weather is hot
You may have noticed that summer temperatures are getting hotter and hotter every year. Scientists have reported that in 2016, the Earth set a high temperature record for the third year in a row. If you live in a place where sweltering heat starts to make you crazy come August, taking in a cool Alaskan breeze aboard an accommodating ocean vessel could be the perfect getaway for you. During the cruise season between May and September, temperatures range between 55 and 75 degrees depending on where you are along the 6,000 miles of coastline. Sounds refreshing, doesn't it?
Every meal more delicious than the last
Cruise lines take the the duty of hiring a chef very seriously, and don't give the job to just any line cook. If you're a foodie taking a cruise to Alaska, you'll be in heaven when you dine on the freshest succulent seafood, vibrant vegetables and decadent desserts. These experienced chefs are passionate about the region's local resources and create dazzling menus that satisfy both adventurous and allergy conscious eaters. And, they're eco-conscious. In 2015, Un-Cruise Adventures became the first cruise line to commit to serving only ocean-friendly seafood in partnership with the Monterey Bay Aquarium Seafood Watch program.
See the glaciers up close
The smaller ships that cruise through the Inside Passage and Glacier Bay National Park allow you to get up close and personal with glowing blue glaciers. You'll be in awe of the scenic fjords, coves, and waterfalls. Most Alaska itineraries include cruising days where the only thing on the agenda will be to relax on your balcony with your binoculars and a cup of coffee while you peer across the water in search of whale tales. You'll also want to keep your eyes and ears open for "white thunder." The Glaciers are melting rapidly, so book your visit before the scenery is forever changed or more protected from tourism.
Spot some truly wild animals
If you're excited by the idea of seeing wild animals up close, an Alaska cruise will have you absolutely squealing with delight. We're counting this a one reason, but these 10 animals are reason enough to book your trip immediately. Keep your eyes peeled for these large and small creatures on your journey:
Bald Eagles: There are close to 30,000 of these majestic birds in Alaska, so you're likely to see at least one everyday– surveying the wilderness from their tree-top nests, soaring through the sky or swooping down to snatch a fish from the water.
Bears: Brown and black bears are native to Southeast Alaska and commonly spotted along the shoreline during spring and summer. Book your adventure later in the season to see them at their most active while they fill up on salmon in preparation for hibernation.
Harbor Seals: Every spring, harbor seals migrate to the glacial fjords to have babies, so you're bound to spot a mama seal and her pup on shore or amongst the icebergs. Cruise ships will keep their distance from the pups, but the adult seals have been known to swim up close and pop their heads out of the water to spy on us curious travelers.
Humpback Whales: The most anticipated sighting of the Alaskan waters, by far, is thankfully one of the easiest to spot. The Inside Passage is the summer home of more than 500 humpback whales. These amazingly large creatures gracefully swim about, playing at the surface to give you a peek at their humps and tails. The tails are actually referred to as "flukes" and you'll notice that each one is distinct, like a fingerprint.
Mountain Goats: You'll need to have strong binoculars to catch a glimpse of a shaggy mountain goat since they live high on the cliffs above the coastline. The seasoned expedition staff may help you spot a goat or two as they graze on the sparse grasses in Glacier Bay National Park as well as the Skagway, Juneau and Ketchikan areas.
Orcas: You might know them better as Killer Whales, but they're not whales at all. They're actually the largest member of the dolphin family and the roam in pods throughout the cold Southeast Alaskan waters. There aren't nearly as many orcas as there are humpbacks, though, making the black and white beauties a much more uncommon sighting.
Puffins: There are all kinds of seabirds that nest for the summer around the protected islands of Glacier Bay, but puffins are easily the most recognizable. The colorful beaks of both the tufted and horned puffins make them stand out by land, sea and air.
Sea Otters: These playful, cuddly-looking sea mammals are a joy to watch as they swim on their backs, cracking open shellfish and cradling their babies on their bellies. Keep your eyes out for their whiskered, inquisitive faces and thick grown fur as they tumble and groom themselves throughout the shallow coastal waters.
Salmon: During the late season you'll be sure to see hundreds of salmon launching themselves upstream as they dodge the grasp of bears and eagles. The most common types to be seen spawning in Southeast Alaska are humpback and sockeye salmon. You're likely to see one one your plate at dinnertime as well.
Steller Sea Lions: You might hear them before you see them. These massive mammals can weight more than a ton, and their thundering barks can be heard from quite a distance. Glacier Bay's South Marble Island is a popular gathering point for nearly 500 sea lions, but you can also spot them around the Inian Islands and fishing villages.
The shore excursions are an adventurer's dream come true
Whether it's hiking, kayaking, or soaring above Alaska in a floatplane or helicopter, there are plenty of exciting ways to experience the last frontier and take in all of its untamed beauty. Consider beginning or extending your Alaska expedition with a seven-day journey into one of North America's natural treasures– Denali National Park– where you'll trek into bear territory for a thrilling encounter (accompanied by by an experienced nature guide, of course). You can add a snorkeling or paddleboarding excursion to your trip and see what swims in the frigid waters up close and personal. Kayak to remote areas between Alaska and Russia or fly above sled dog camps to complete your unforgettable cruise experience. These are once-in-a-lifetime activities you won't want to pass up.
It's a photographer's dream
Google these natural wonders now and start planning your shots. Within Glacier Bay National Park and Preserve, Mount Fairweather's icy peak and Bartlett Cove's mossy forests are a photographer's dream. The maze of fjords, channels and glaciers provide incredible scenery, while the whales and other wildlife provide yet another source of action and amazement. The Lindblad cruise ships offer itineraries with a special photography theme, and sail with a National Geographic-certified photo instructor to help amateur and professional photographers alike capture some of the most spectacular photo ops on the planet.
There are other themed cruises to choose from, including yoga and fitness.
Expand your mind
If you learn something new every day of your regular life, you'll learn dozens of new things every day on an Alaskan cruise. In the protected waters of Glacier Bay, a national park ranger is required to board and provide informative commentary about the sights and surroundings. You can learn about the lore and ancestry of Glacier Bay from a native Huna Tlingit interpreter, and meet people of American, Russian and Scandinavian descent. 
Are you not convinced?! Alaska cruises are popular because they're thrilling, relaxing and unforgettable. Instead of going home with a sun tan, you can go home with memories (and photos) of humpback whale flukes and sea otters playing, stories of native american legend, and a satisfied appetite for seafood. If you're ready to travel north, just plan ahead. Alaska cruises book up early.
More Readings
The 15 Best Vacations for Animal Lovers
18 Reasons Why You Need to Take a Cruise This Year