The 6 Best Holiday Light Displays In New York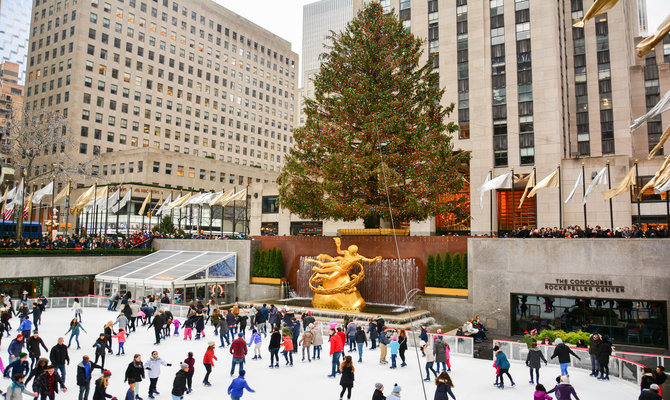 DiegoMariottini / Shutterstock.com
For those of you planning a holiday trip to New York, an exciting and full packed schedule awaits you. There are tons of holiday celebrations, light displays, and events to attend.
From Rockefeller Center, to the New York Botanical Garden, thousands of people gather in and around New York City to view magnificent light displays.
Whether you would rather walk through an illuminated display or drive through a synchronized light show, there is something for everyone on this list.
While you are there, make sure to visit some of their most popular tourist attractions – Central Park, the Empire State Building, Highline, Statue of Liberty and Times Square, to name a few.
Here are some of the best holiday light displays in New York.
1. "Lights of Dyker Heights," Brooklyn- When many of us think about Holiday Lights in New York City, we usually think about Rockefeller Center, but the truth is that Dyker Heights Brooklyn goes over and beyond. Home-owners participate in an unspoken competition for the most lavish holiday light display. Walk through Dyker Heights or drive through in your car to experience the joy.
2. Westchester Winter Wonderland, Valhalla- Watch as dancing lights brighten up the night sky at Westchester Winter Wonderland. The lights are choreographed to holiday music. Walk through Candy Cane Lane and view incredible lights features, ride thrilling rides, go ice skating, and make sure that you attend the Hanneford Holiday Circus.
3. Rockefeller Center, Manhattan- The Rockefeller Center Christmas Tree is an iconic attraction for tourists and locals. Snap postcard worthy pictures right in front of the ginormous tree and walk through thousands of lights. The tree will remain lit and can be viewed until January 7, 2017.
4. New York Botanical Garden, The Bronx- Watch as enchanting model trains zip through incredible displays at the Holiday Train Show in the New York Botanical Garden. Also, take special tours through 250 acres of winter wonderland, listen to music at their Winter Harmonies Concerts and participate in numerous kid-friendly activities.
5. Washington Square Park, Manhattan- Sing your favorite Christmas carols with your family, while watching in awe as the 45-foot fir is lit under the Washington Square Arch.
6. Lights on the Lake, Liverpool- Located in Onondaga Lake Park is this magical light display – Lights on the Lake. It features towering holiday displays, colorful arches, animated scenes, a twinkling fantasy forest and a fairytale magic grand finale. The display will run until January 8, 2017.
More Readings
The 15 Most Spectacular Holiday Light Displays in the U.S.
The Most Popular Tourist Attractions in New York City