2016's Best Cities To Celebrate Oktoberfest In The U.S.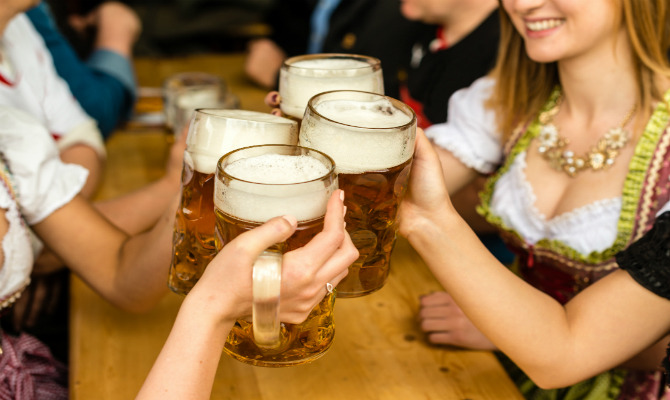 Shutterstock
With German-Americans constituting the largest U.S. ethnic group and the world's largest beer festival and traveling fun fair — known as Oktoberfest — already underway, the personal-finance website WalletHub took a close look at 2016's Best Cities to Celebrate Oktoberfest along with fun and interesting facts about the event in its Oktoberfest By The Numbers infographic.
To determine the best cities for partaking in the epic German festival, WalletHub's number crunchers compared the 100 largest cities across 20 key metrics, ranging from "percentage of German population" to "number of beer gardens per capita" to "average price for Oktoberfest festivals and parties ticket."
If you can't make it to Munich this year, consider going on a road trip to the following cities for an unforgettable experience. After all, it's always 5 o'clock somewhere.
Top 20 American Cities for Celebrating Oktoberfest
| | | | | |
| --- | --- | --- | --- | --- |
| 1 | Cincinnati, OH |   | 11 | Scottsdale, AZ |
| 2 | Pittsburgh, PA |   | 12 | St. Louis, MO |
| 3 | Portland, OR |   | 13 | Columbus, OH |
| 4 | Minneapolis, MN |   | 14 | St. Paul, MN |
| 5 | Orlando, FL |   | 15 | Buffalo, NY |
| 6 | Denver, CO |   | 16 | Colorado Springs, CO |
| 7 | Tampa, FL |   | 17 | Milwaukee, WI |
| 8 | Miami, FL |   | 18 | Cleveland, OH |
| 9 | Madison, WI |   | 19 | Philadelphia, PA |
| 10 | Boise, ID |   | 20 | New Orleans, LA |
Oktoberfest Fun Facts:
$5,000 – Estimated cost for an American to attend Oktoberfest in Munich, Germany
1.9 Million – Gallons of beer consumed during Oktoberfest 
750,000 – Number of sausages and whole roast chickens that are eaten
$1.2 Billion – Oktoberfest's annual economic impact on Munich
More Fun Facts:
More readings: 
15 Tourist Traps You MUST Avoid
25 Things You Didn't Know About Traveling To Hawaii