Star Wars: Rise Of The Resistance Opening Date Revealed For Disney World, Disneyland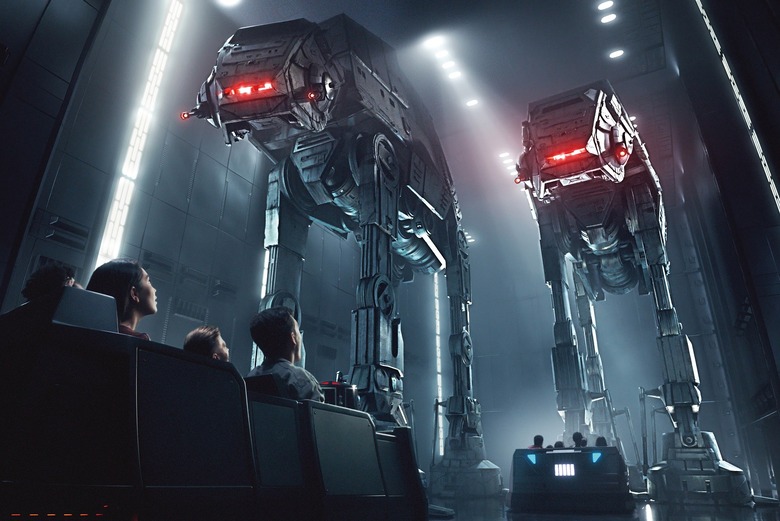 Courtesy of Disney Parks
Star Wars: Galaxy's Edge may already be open at Disneyland and coming later this summer to Walt Disney World's Hollywood Studios, but the expansive, immersive new land isn't fully complete on either coast. The marquee attraction, Star Wars: Rise of the Resistance, took a little extra time to get ready, but now the official opening dates have been announced.
Coast-to-Coast: The Best Rides at Disneyland vs. Walt Disney World
Disney Parks Blog announced that Rise of the Resistance will open at Hollywood Studios at Walt Disney World in Orlando, Florida, on Thursday, December 5. That date has a special meaning, too. Not only will the expansive, immersive ride be ready for all of those Disney World Christmas travelers, December 5 also marks the 118th birthday of the man behind the mouse, Walt Disney. Rise of the Resistance will then open at Disneyland in Anaheim, California, on Friday, January 17, 2020.
So what is Star Wars: Rise of the Resistance? Teased as four rides in one, this attraction will put guests right in the middle of a battle between the Resistance and the First Order. The ride features an immersive queue that guides riders through the woods and ruins of Batuu, a briefing from the Resistance, a full-size star destroyer hangar bay complete with 50 stormtroopers, interactions with TIE fighters, AT-ATs and Kylo Ren, and so much more, Tech Crunch reported. The ride sure sounds like it's set to become one of the best Disney theme park attractions of all time.
Rise of the Resistance will join Millennium Falcon: Smugglers Run as one of two rides in Star Wars: Galaxy's Edge. Smugglers Run, which opened at Disneyland along with the rest of the Black Spire Outpost on Batuu on May 31, allows guests to sit in the cockpit of the "fastest hunk of junk in the galaxy" and play the role of pilot, gunner or engineer. That ride is a spectacle in and of itself, with photo-realistic views of the Star Wars galaxy above and around you and a queue that perfectly imitates the interior of the Millennium Falcon.
And while the rides are the biggest deal on Batuu, they're far from the only draw in Star Wars: Galaxy's Edge. The frothy blue milk, straight from "A New Hope," is basically its own attraction. There's also Oga's Cantina (the first bar at Disneyland), which serves up some seriously spectacular and on-theme cocktails, workshops where you can make your own lightsaber or droid, eateries with intergalactically-themed food and more. And if you didn't know the latest land at Disney was about more than just the rides, you have a lot of things you need to learn about Star Wars: Galaxy's Edge.