Viking Ocean Cruises Review: Onboard An Adults-Only Floating Luxury Hotel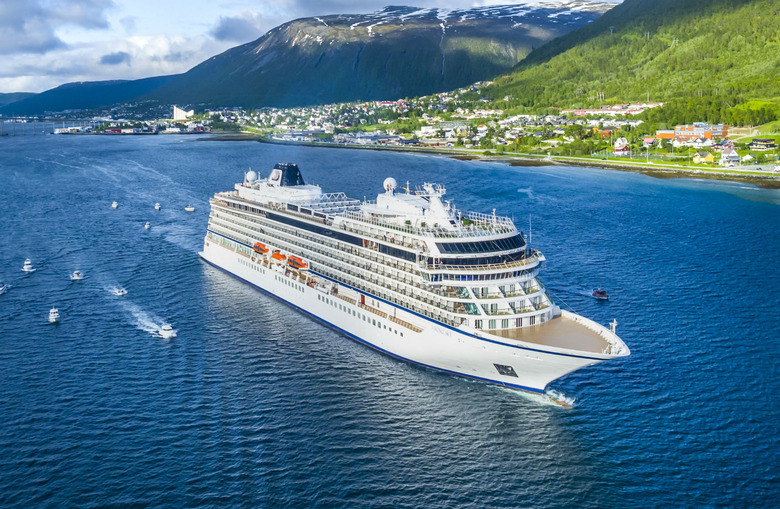 Photo courtesy of Viking
The cruise that is the subject of this review, along with all meals, lodging, etc., were provided at no cost to the writer.
Since 1997, Viking River Cruises has been making a name for itself by cruising through the world's rivers on a fleet of elegantly appointed vessels small enough to navigate them. The fleet is currently up to 53 "longships," and the company has been able to establish a loyal following by branding itself as "The Thinking Person's Cruise," complete with curated onboard libraries, guest lecturers, a focus on the culture of the destinations, unique itineraries and excursions and an emphasis on serving regional cuisine.
River cruises come with certain limitations, though, like the size of the ships and an inability to traverse more open expanses of water. So in 2013, the company announced the launch of Viking Ocean Cruises, a fleet of nearly-identical cruise ships that while larger than the longships, are still much smaller than what you'd expect from, say, Royal Caribbean. When offered the opportunity to travel aboard the Viking Sky (six ships are currently in the fleet, with a seventh launching in 2021) on its Viking Homelands itinerary to Northern Europe, we accepted, eager to see how Viking Ocean Cruises' ships stacked up against the competition.
The most important thing to know about Viking Ocean Cruises is that this is a mature, adult-oriented cruise line. No one under 18 years of age is allowed on board, there's no casino and things tend to wind down on board after dinnertime. If you're looking to party, you should probably look elsewhere. It's smart to think of Viking Ocean Cruises' ships as floating luxury hotels, with plenty of space to lounge and relax with a good book, a luxurious spa, plenty of dining options, a relaxed pool area, a few boutique shops, a cocktail lounge featuring nightly live music and a theater. And during our 15 days aboard, we became experts about what works — and what doesn't — on the Sky.
The Viking Sky is 745 feet long and 94.5 feet wide, with space for 930 guests. Compare that to the Norwegian Bliss, which is 1,094 feet long, 136 feet wide and can accommodate 4,000 passengers and you'll get a sense of scale: It's not small by any means, but if you're used to the mega-ships, it's downright boutique. And because there are relatively few people on board, it never feels crowded.
The stateroom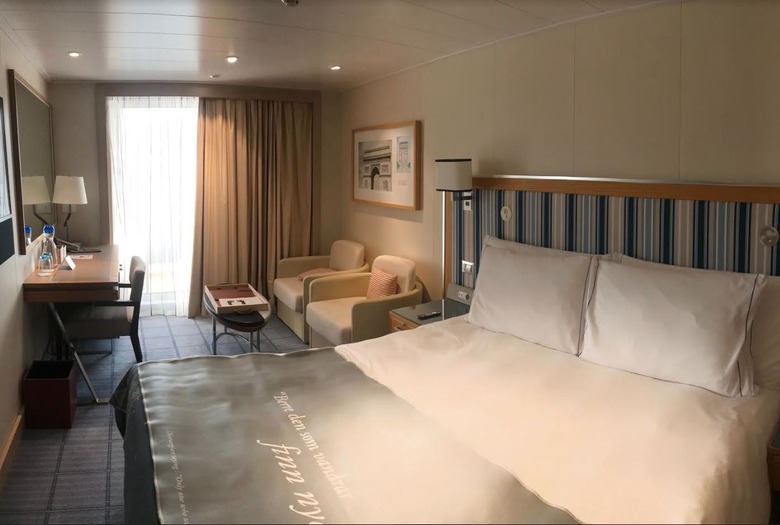 Dan Myers
We'll start our tour of the ship with the stateroom. We were in a Veranda Stateroom, the "standard" room aboard the ship. All staterooms have balconies so there are no "inside" rooms. These rooms are 270 square feet including the balcony, but never felt cramped. The queen bed was comfortable, the minibar was replenished with snacks and sodas daily, there were plenty of outlets, the 42-inch TV offered a surprisingly large selection of movies and even some live American television and while it at times could get a little warm, the temperature was never a major issue. Our only criticism was that there could have been a few more drawers, as we quickly ran out of space for our clothes. Free washer-dryers are available, however (as well as paid laundry/dry cleaning), so we never had to worry about running out of clean clothes.
The bathroom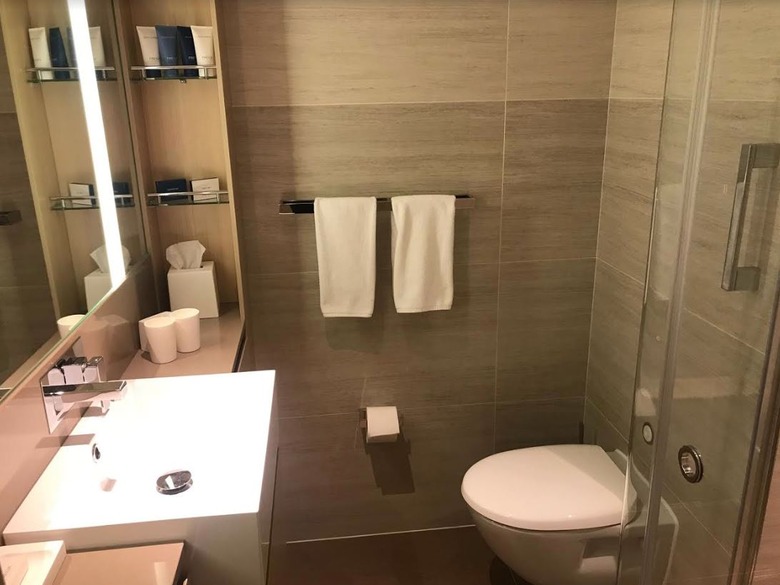 Dan Myers
Most cruise ship bathrooms are cramped and nothing to write home about, but the bathroom in our stateroom was actually quite nice. The shower was downright roomy, the mirror was anti-fog and the floors were heated. The floor would occasionally get a little too warm, especially the area underneath where a towel had been, but it's still a thoughtful touch.
The Viking Living Room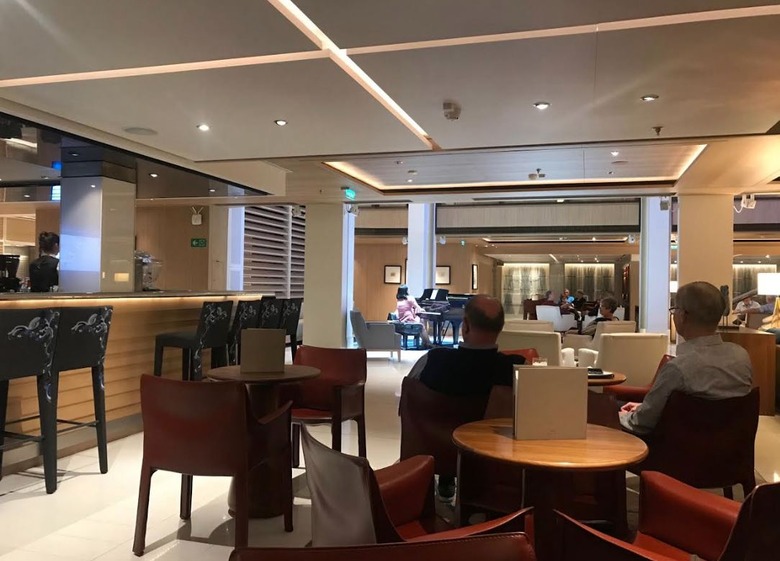 Dan Myers
The main "lobby lounge" of the ship, the Viking Living Room, was where we found ourselves spending a lot of time. There's a well-stocked bar (and the servers had remembered our names and drink orders by day two), lots of comfortable Scandinavian furniture (with lots of pillows and even reindeer-fur blankets draped across the back) and bookshelves stocked with interesting things to read, and it's designed in a way that makes each individual seating area semi-private.
One note on alcohol, while we're on the subject: All drinks are (very reasonably) priced a la carte, but if you're planning on having more than a few drinks per day we suggest you buy the Silver Spirits Package, which allows you unlimited drinks for $19.95 per day as long as they're priced below $15, which covers just about everything except for Champagne and a few top-top-shelf liquors.
The atrium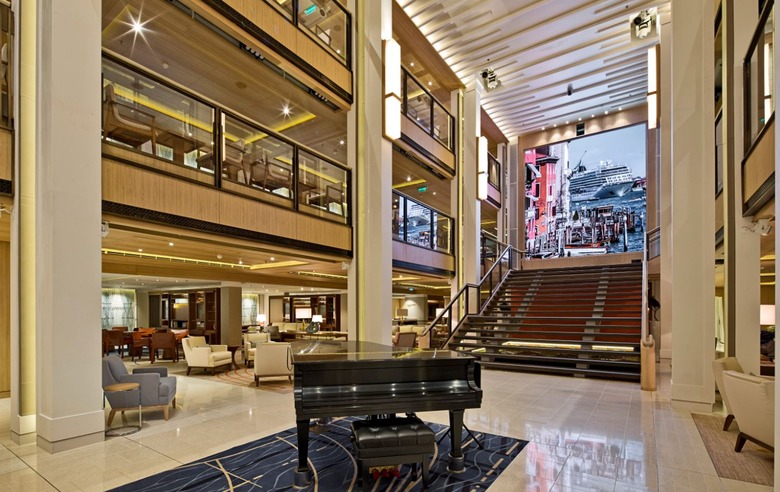 Photo courtesy of Viking
At the center of the Viking Living Room is a three-story atrium, with live musicians (usually a pianist or a string duo) playing during peak hours, and at the top of a grand staircase is a second level with even more comfortable places to sit as well as a selection of large jigsaw puzzles and board games. Also tucked into the second level is a mini Viking heritage museum, with dozens of Viking-era artifacts with thorough descriptions as well as a monitor showing an animation of the famed Bayeux Tapestry, which explains the Norman Invasion of England.
Dining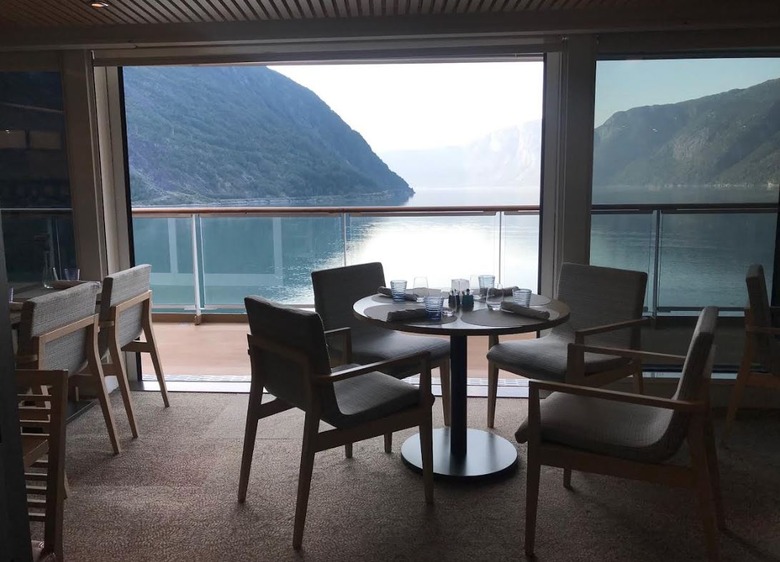 Dan Myers
There's a wide variety of dining options onboard Viking's ships: The Restaurant, The Chef's Table and Manfredi's Italian Restaurant lower down on the ship, and the World Cafe, Pool Grill, Mamsen's and Aquavit Terrace up on the pool deck. As opposed to many other cruise lines where specialty restaurants have a surcharge, all onboard meals are included. Dinner at The Restaurant (and lunch and dinner at the World Cafe) come with complimentary beer and pours of red or white wine, and Silver Spirits guests can choose glasses from an extensive wine list.
The Restaurant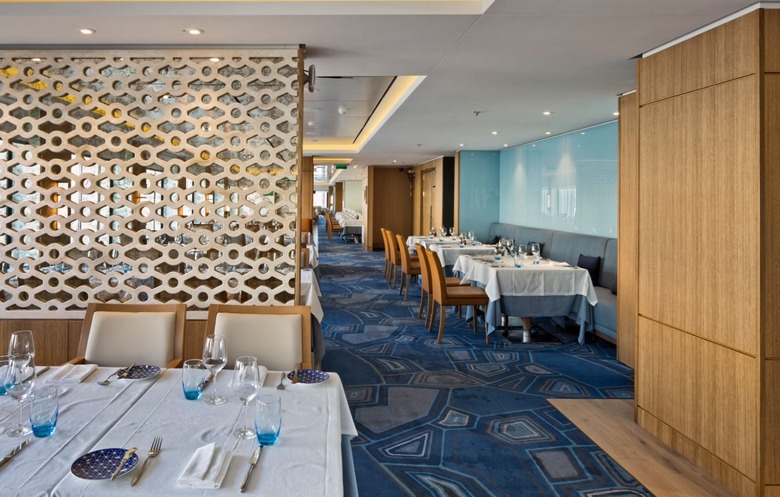 Photo courtesy of Viking
The Restaurant is the ship's main dining room, and it was our favorite dining option on the ship. It really looks like a fine dining restaurant, and while there's no Formal Night or anything along those lines, jeans and T-shirts aren't permitted. The menu changes daily, but a selection of "classics" are always available: tiger prawn cocktail, a 9-ounce Angus New York strip, poached Norwegian salmon and roast chicken, as well as desserts including creme brulee, cheesecake and housemade ice cream. The team is also very receptive to special diets and allergies; because all orders are taken via special iPhones and relayed directly to the kitchen, if you let your server know about dietary restrictions at the beginning of the voyage, the devices will automatically notify them for the duration of the cruise.
The rest of the menu changes daily, and a few specials reflect the local cuisine at the port of call. For example, in Bergen, Norway, salmon gravlax and lamb fårikål (a stew that's considered the Norwegian national dish) were on offer, and in Poland, offerings included cheese pierogi and kotlety schabowe, a mushroom-stuffed pork cutlet. The rest of the menu's daily-changing offerings would have felt right at home at a high-end restaurant, with items including lemon-scented ricotta ravioli with toasted almonds and lemon butter, prime rib, lobster veloute, chicken Kiev, beef tartare, roast venison loin, Dover sole, whole grilled lobster, beef Wellington, foie gras terrine and filet mignon. It was seriously opulent, and not once did we have a less-than-stellar meal in The Restaurant.
The Chef's Table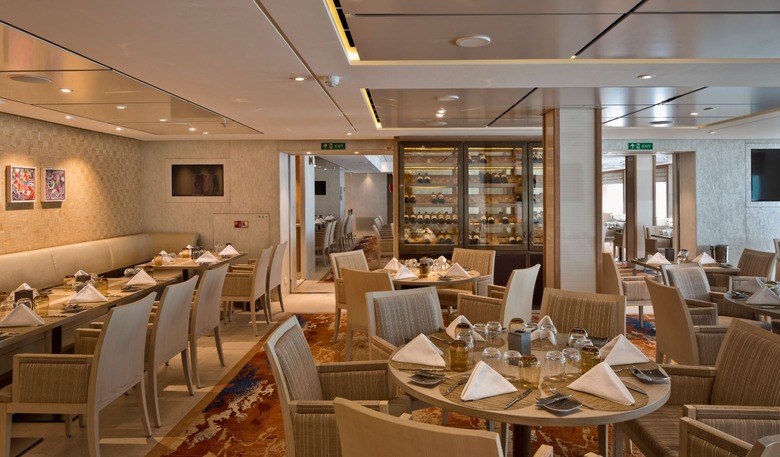 Photo courtesy of Viking
Like Manfredi's, The Chef's Table is a smaller, reservations-only restaurant. Guests can reserve tables during the cruise, or before depending on their stateroom type (we were allowed to make one reservation at each restaurant before the cruise, but had no trouble making additional reservations once on board). Meals at The Chef's Table adhere to a set, multi-course menu, with a different theme each night, such as Asian, Indian, Scandinavian, California, etc., each course paired with a wine. We dined there on "Asian Panorama" night, when chilled king crab with coconut foam and curry, Shanghai-style lobster and chicken shu mai, lemongrass and red chile granita with lychee foam, Peking duck and a trio of Asian-inspired desserts were on the menu. Each course's description on the menu delved into the inspiration and history behind each dish, which was a nice touch, but the meal didn't blow us away, although the Peking duck was tasty. With too many foams, unnecessary frills and a face-meltingly spicy granita (seriously), we probably would have received a better meal at The Restaurant, but the service was excellent and it really did feel like a fine-dining experience (except for a continuous glare from two bright TV screens showing an animation of water droplets on leaves).
Manfredi's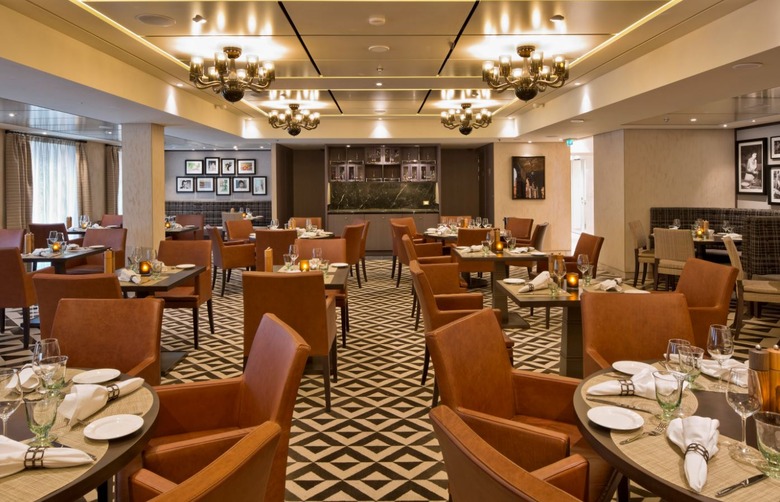 Photo courtesy of Viking
Manfredi's is a classic Italian restaurant with a surprisingly large menu of Italian antipasti, pasta and classic entrees. It's a bustling space, with Felliniesque photos on the walls and black-and-white tile on the floor, and by-and-large we enjoyed our meals there. A spice-crusted rib-eye steak was a standout (easily one of the best dishes served on board), osso bucco with polenta was deeply satisfying, cioppino was filled to the brim with super-fresh seafood and the pasta was well-cooked, but the chicken parmesan was mushy and bland and the veal saltimbocca was wan and dry. The desserts were excellent, though, as was the overflowing bread basket. Huge chunks of Parmigiano-Reggiano carved from a massive wheel were also most welcome.
World Cafe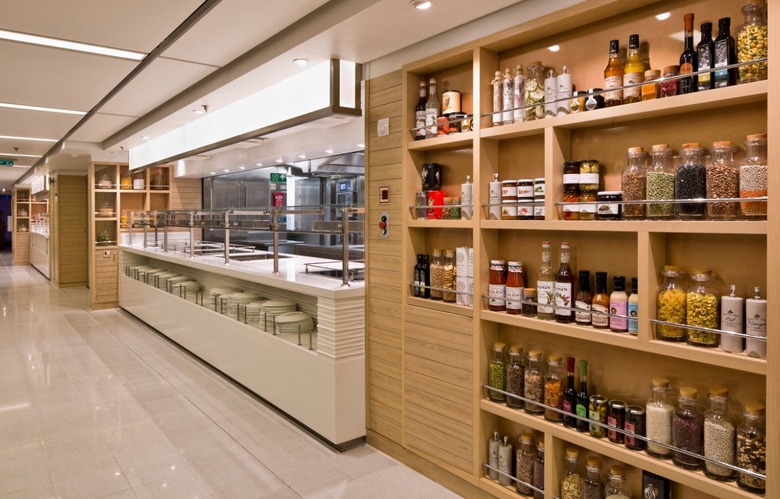 Photo courtesy of Viking
World Cafe is a bright and airy buffet-style dining option and the only onboard eatery that serves breakfast, lunch and dinner (The Restaurant, Chef's Table and Manfredi's are only open for dinner). We were thoroughly impressed by the selection here, especially during dinner hours, when a wide and impressive variety of sushi was offered, along with king crab legs, shrimp cocktail and Norway lobsters (also called Dublin Bay prawns or langoustines). World Cafe also serves the same daily-changing menu that's served at The Restaurant buffet-style, which is great for people who want to try those dishes in a less-formal setting (there's no dress code here). It was also great on prime rib night, when the carving station was especially popular. The wide variety of nightly desserts was also most welcome.
Pool Grill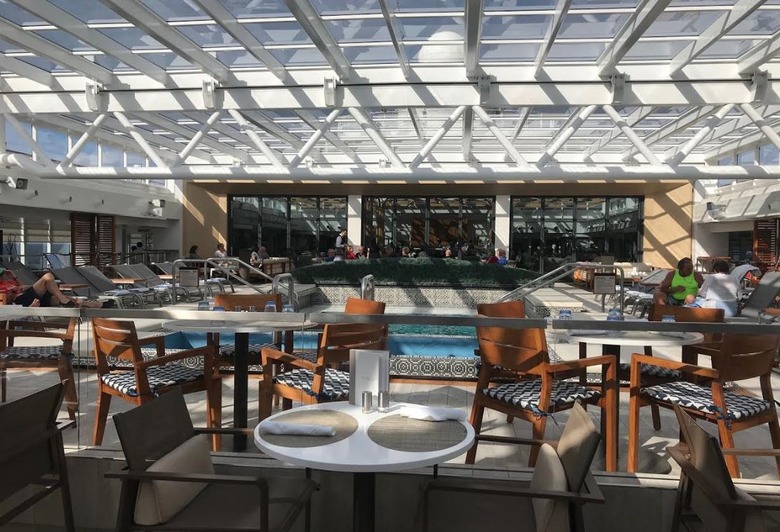 Dan Myers
The Pool Grill is a casual snack bar adjacent to the pool area, serving a menu of burgers, hot dogs, pulled pork, wings, salads and cold cuts, and there's a full bar as well. It has its own seating area under a glass sunroof (or open sky on nice days), and it makes for a good lunch option.
Mamsen's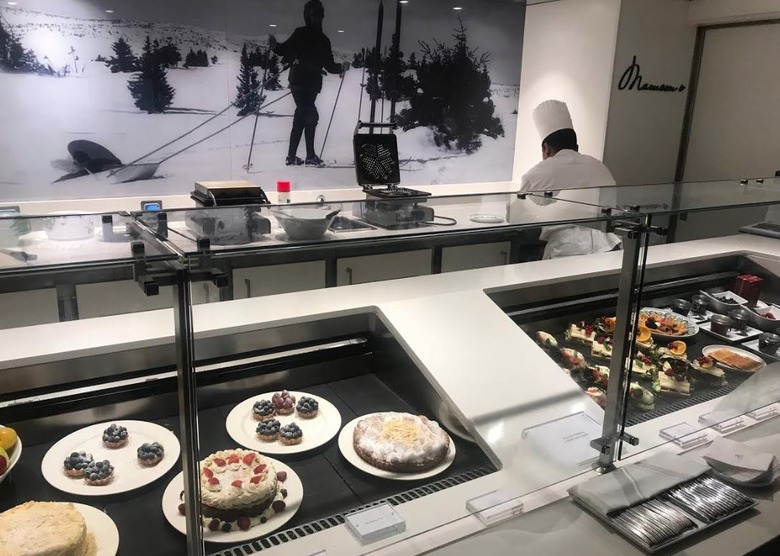 Dan Myers
Mamsen's (an outpost of which is located aboard all Viking ships, both River and Ocean) is located inside the Explorer's Lounge, and it's a good grab-and-go option for those looking for a snack. There's a variety of desserts and smørrebrød (traditional Scandinavian open-faced sandwiches), but the star attraction here is the waffles, which are made to order and are quite possibly the single food item most closely associated with Viking. There's a hint of cardamom in the recipe, and they come out light and crisp. They're served in the traditional Nordic fashion with jam, fruit and/or Gjetost, a fudgy, brown Norwegian goat's milk cheese.
Aquavit Terrace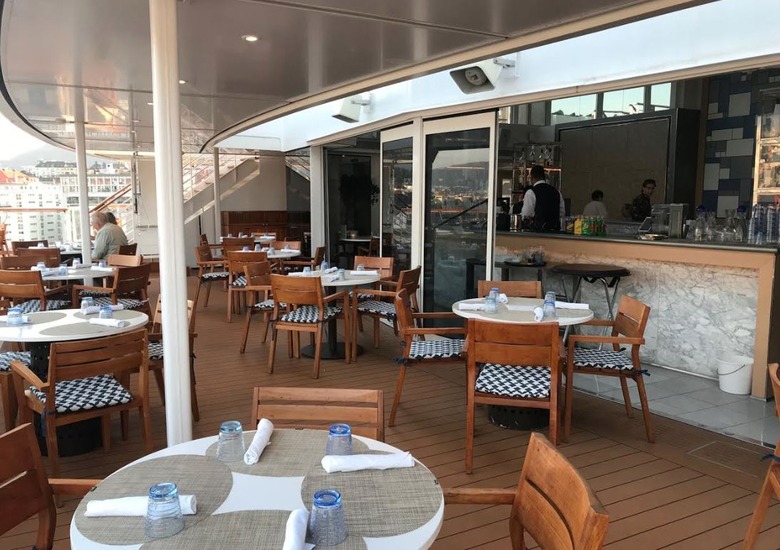 Dan Myers
Aquavit Terrace is a bar located on the pool deck around the corner from the World Cafe with a large alfresco seating area. Guests can grab a cocktail from the welcoming open-air bar and bring their meal to one of the indoor or outdoor tables. Special buffet spreads are also occasionally set up at Aquavit Terrace, such as a full Swedish-style smörgåsbord.
Wintergarden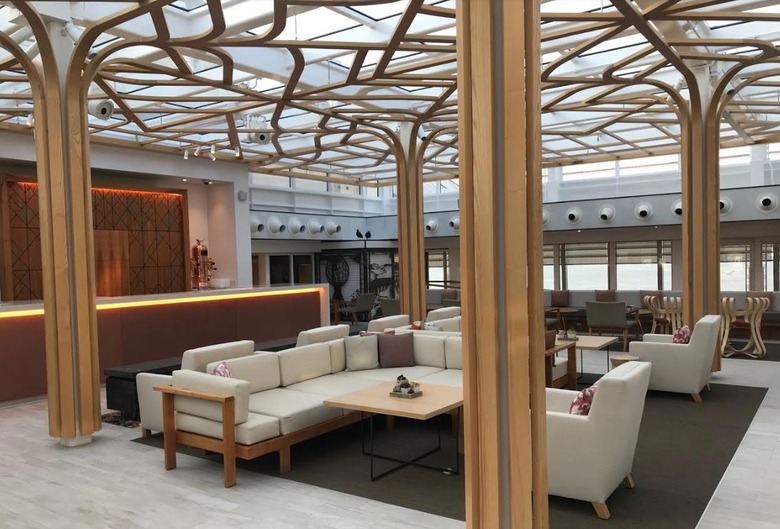 Dan Myers
The Wintergarden is also located on the pool deck and is a comfortable Scandinavian-style lounge area with plenty of chairs and couches and a glass ceiling. The space comes alive during afternoon tea, which is served here daily. Guests are treated to a full tea service, complete with their choice of a wide variety of teas and a traditional tiered tray of finger sandwiches and pastries, accompanied by live music (usually a classical guitarist). It fills up quick, so get there early.
We actually thought the Wintergarden was the most under-utilized space on the ship. Aside from afternoon tea, it was essentially empty at all hours. It could make for a great breakfast or lunch venue, perhaps; it's one of the most attractive spots on the ship and it was a shame to see it only used for a couple hours per day.
In-room dining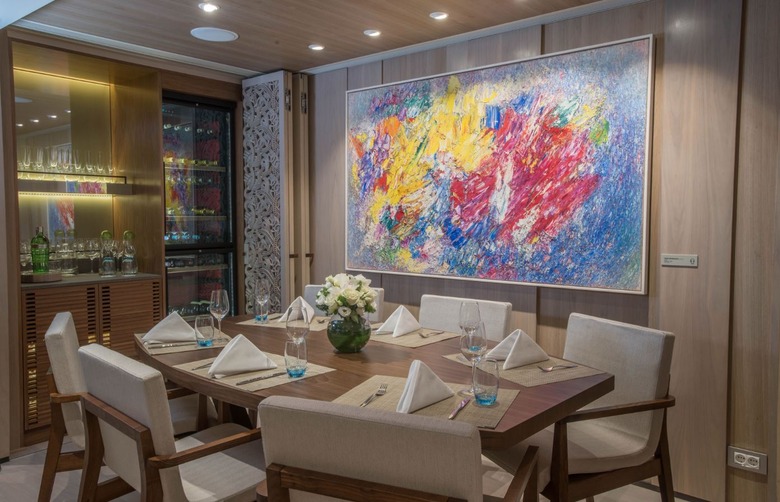 Photo courtesy of Viking
We can't discuss dining aboard the ship without a mention of the complimentary room service, which was a godsend on mornings when we needed to wake up early (which was basically every morning). Why? Three words: room service breakfast. The menu rivals that of most upscale hotels: Fruit, cereal, breakfast pastries and breads, smoked salmon, cold cuts, eggs any style, pancakes, breakfast meats, tea and coffee, all ordered via a door tag the night before and delivered at the exact minute specified (or a few minutes early). There's also a 24-hour menu with items ranging from burgers and hot dogs to salads, sandwiches, desserts and even strip steaks and salmon filets. We'll admit that we ordered some late-night room service a couple times, and the quality of the food was just as good as if it had been ordered in the dining room during dinner.
Explorer's Lounge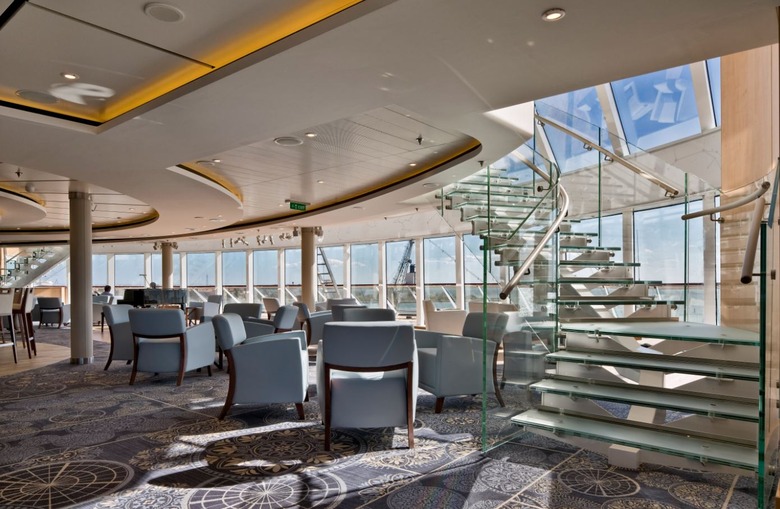 Photo courtesy of Viking
The Explorer's Lounge is a bi-level bar and lounge at the very front of the ship, and it's a real showstopper. Comfortable chairs and couches (there's a lot of comfortable chairs and couches on board) look out through a panorama of windows to the sea beyond, and there's an expansive menu of cocktails and Scandinavian beers and spirits (also available at the Living Room and Aquavit Terrace). Like the Living Room, there are bookshelves lined with interesting books and Scandinavian objects d'art, and the upstairs area (accessed via a sweeping glass staircase) is downright serene, with more bookshelves and seating as well as some model ships to check out (the newest ship, Viking Orion, actually has a full-on 7K planetarium called the Explorers' Dome on the second level, with shows about space and exploration). The Explorer's Lounge is a great spot for a pre-dinner cocktail when a live musician is on hand.
The Spa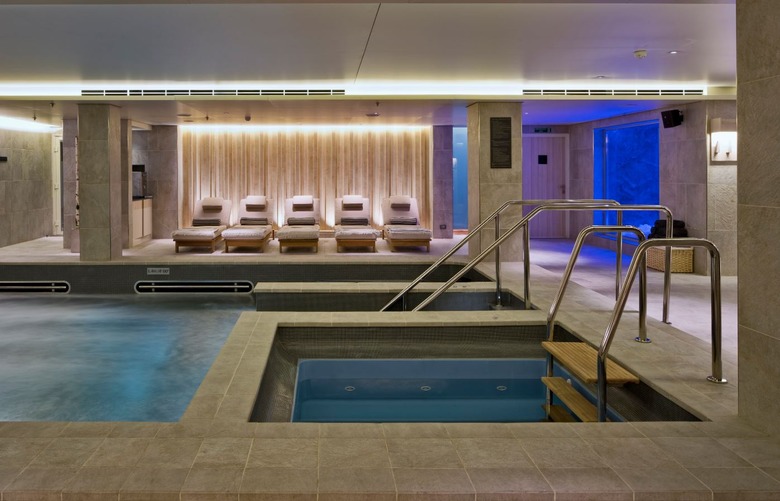 Photo courtesy of Viking
The spa is one of the ship's true showpieces. It's a sleek and tranquil space that's designed with an eye toward Nordic bathing. The centerpiece is a "vitality pool," which is about 5 feet deep and is essentially a jacuzzi at normal pool temperature (there's an attached hot tub for those who want the bubbles and the heat). There's an underwater shelf that you can lie on while surrounded by bubbling water, which is super-relaxing.
You'll also find heated loungers, a steam room, a cold-water bucket (you stand under it and pull a string and cold water dumps on your head) and a "snow grotto" near the pool, and in each locker room there's a dry sauna and a cold plunge pool. Signs throughout the area encourage guests to partake in the traditional Nordic bathing ritual: warming up in the dry sauna, chilling down in the cold plunge, warming back up in the sauna, then chilling out again in the snow grotto, which is a small room where the temperature is below freezing and there's legitimate snow all around (it's one of the coolest amenities you'll find on any cruise ship). It takes some nerve to complete the challenge (every fiber of your being rebels against going into that cold plunge-pool after the sauna), but if you can manage it you'll find it to be quite invigorating. And while individual spa treatments cost extra, access to the spa is included for everyone on board.
The pool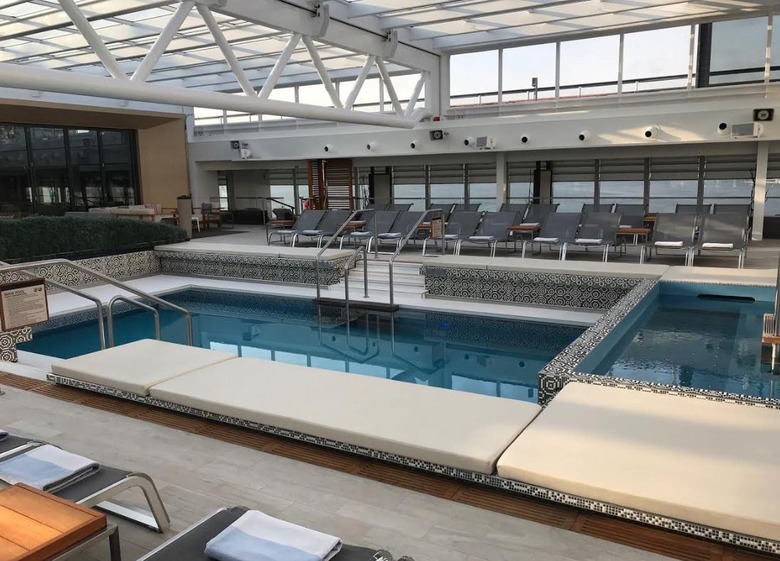 Dan Myers
Back up on the pool deck, the swimming pool itself, which is flanked by two hot tubs, is relatively no-frills, but if you're looking to take a dip or swim a few laps it's quite nice, and there are plenty of lounge chairs positioned around it. The retractable roof is also smart; it can get quite chilly as many itineraries venture into Scandinavia, so it's nice to know that cold weather won't prevent a morning swim. The area did tend to get a bit warm on sunny days when the roof was closed, however.
Infinity pool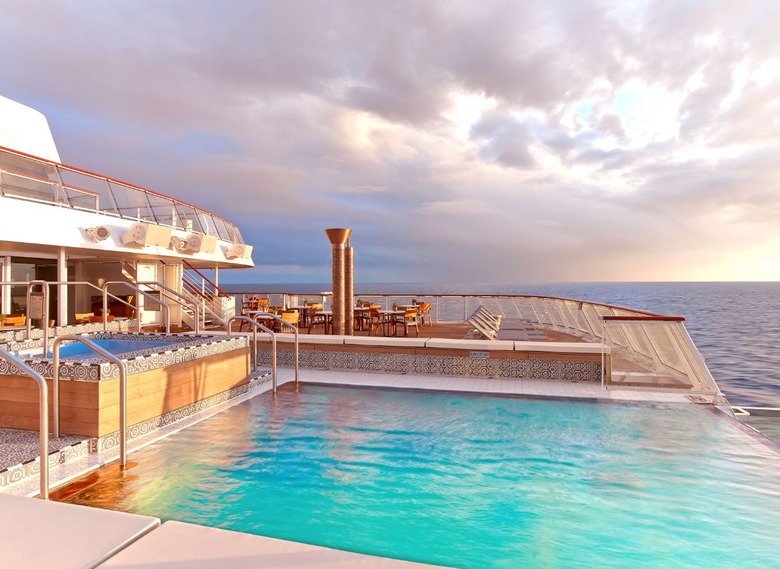 Photo courtesy of Viking
One of the coolest elements on the ship is the infinity pool, which is located at the very back of the ship. It's a small pool, but it appears to hang right over the edge. It's a nice touch, but it's also very in-demand, so on warm days you'll have to share.
The theater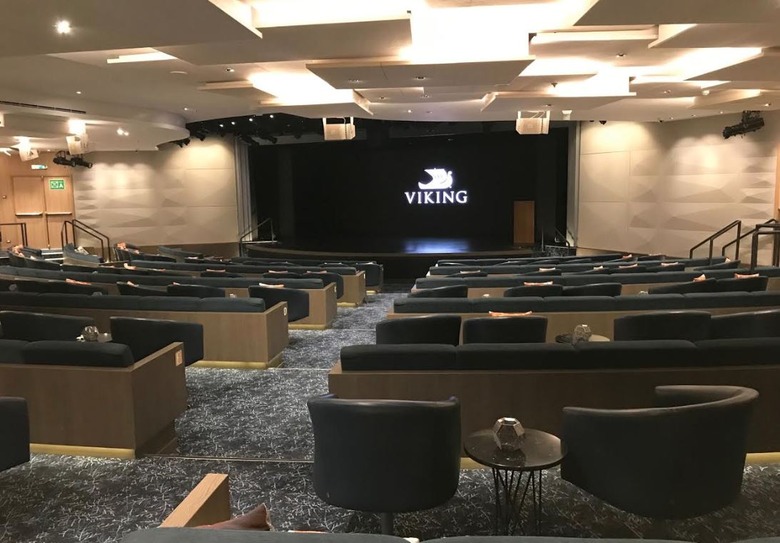 Dan Myers
Viking's Ocean ships come equipped with a spacious theater, and as a thoughtful touch, instead of traditional chairs, the seating is all sofas and cushioned seats. Don't expect big-budget Broadway-style performances, though; nighttime entertainment is not a major selling point for Viking, and performances here were limited to musical revues (think Abba or Beatles) performed by a quartet of singers as well as movies. The Theater was also home to nightly port talks by the cruise director about the next day's port of call and lectures about culture, art and history by the resident onboard historian (another indication that Viking is "The Thinking Person's Cruise"). The port talks were essential prep for the next day's adventure, but we usually watched them on our stateroom TV; We actually spent less time in the theater than anywhere else on the ship.
Torshavn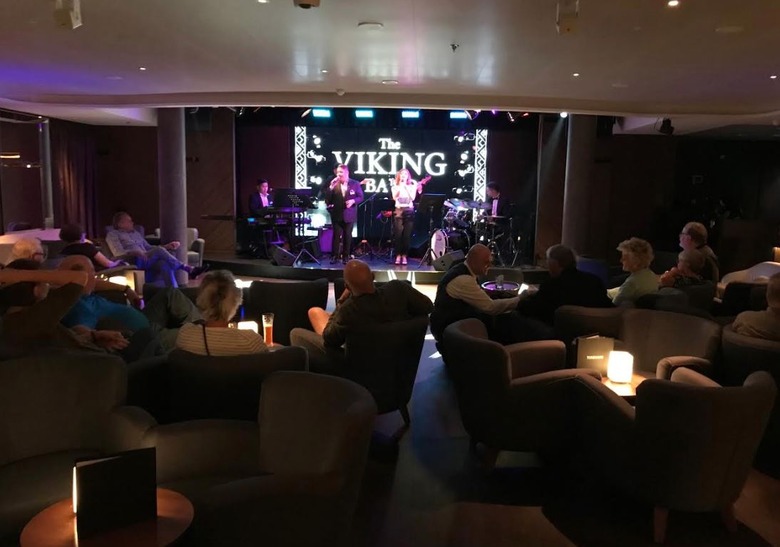 Dan Myers
We did, however, spend a lot of time in Torshavn, a bar and lounge with nightly entertainment from a very talented six-piece band. It looks like a high-end nightclub, with a well-stocked bar, spacious banquettes around the perimeter, table seating, a dance floor and a professionally lit stage. There's a selection of high-end aquavit and Armagnac for those who are willing to pay a little extra, and it's a great place to hang out after dinner (the music continues until after midnight, making it the only late-night venue on the ship). The band plays a wide variety of hits from the 60s through present day (its catalog is seriously massive), and once the disco ball gets spinning it turns into a nightly dance party.
Overall Impressions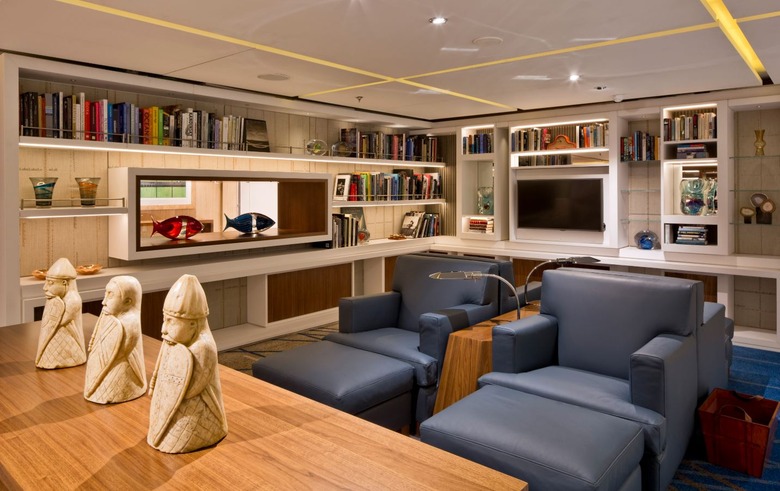 Photo courtesy of Viking
While aboard the Viking Sky, one thing we couldn't get over is how thoughtful everything was. Each space, from the staterooms to the Living Room to Torshavn, has been designed with an eye toward making each guest feel as comfortable as possible, surrounded by sleek and stylish Scandinavian decor. Service was also stellar; everyone we encountered was friendly, patient and knowledgeable about every aspect of the ship. The staff also goes out of its way to make sure you're fully immersed in the culture of your individual ports of call via lectures and special menu items. But it's important to note that this is not a cruise ship for everyone. The vast majority of the passengers were seniors (this is certainly not a cruise for kids), and by and large, the overall atmosphere is quiet and relaxed (except for late at night at Torshavn). These ships are very luxurious, with friendly and personalized service, spectacular food and a world-class spa, but don't expect to find the constant stimulation that you will aboard a super-ship. If all of this sounds right up your alley, then you're in for a very nice vacation any time of year.