Reasons You Should Visit Disney World At Christmas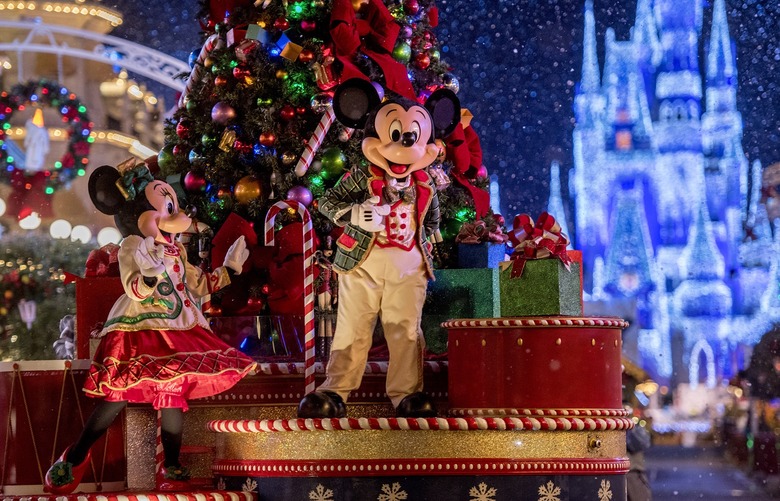 Courtesy of Walt Disney World/Kent Phillips, photographer
There's no wrong place to spend the Christmas season. But one of the absolute best destinations for the holidays is Walt Disney World. Even though the holiday season is one of the busiest times of year at Disney World, it's worth braving the crowds to experience the four theme parks and numerous resorts during Christmas. And the reasons go far beyond meeting Mickey in his holiday suit and eating more cookies than Santa himself.
Holiday lights on Cinderella Castle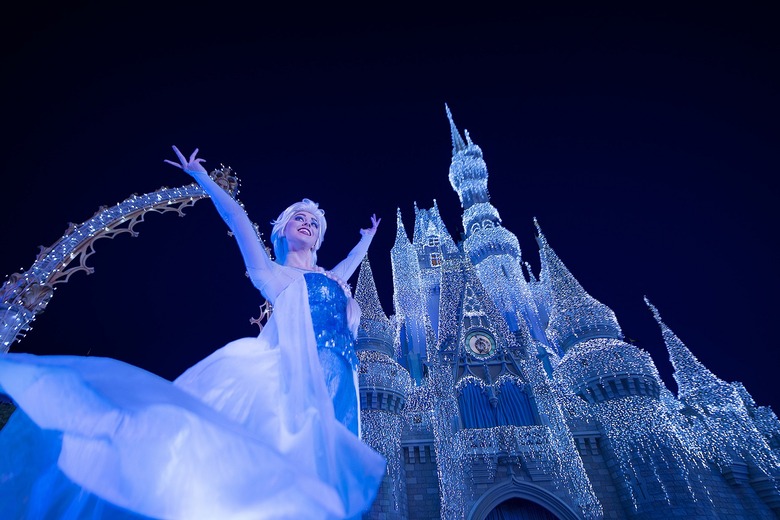 Courtesy of Walt Disney World/Matt Stroshane, photographer
Few things surpass the splendor of walking down Main Street, USA and seeing Cinderella Castle at the end of your path ... except for seeing it during the holiday season. Just as dusk sets every night during the holiday season, Elsa, Anna and a few of their friends from "Frozen" light up this Magic Kingdom icon in bright white lights, mimicking the effect of thousands of icicles.
Mickey's Very Merry Christmas Party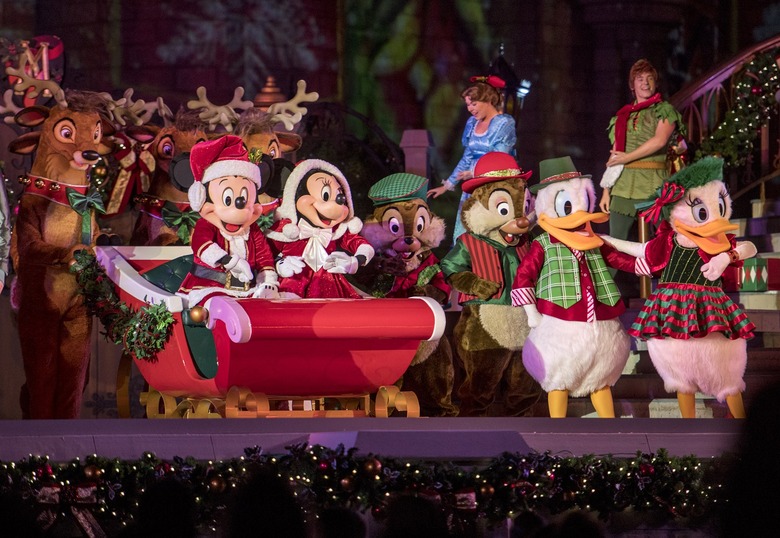 Courtesy of Walt Disney World/Kent Phillips, photographer
It's impossible not to be as jolly as ol' Santa Goofy himself when you're at the Magic Kingdom's nighttime holiday soiree, Mickey's Very Merry Christmas Party. This hard ticket event (meaning it requires a separate ticket) features Disney characters in their most festive outfits for meet-and-greets, special parades, stage shows and dance parties. The best part of MVMCP? Free cookies and drinks. At special locations throughout the park, cast members hand out various holiday cookies and seasonal beverages like hot cocoa and cider.
Minnie's Wonderful Christmastime Fireworks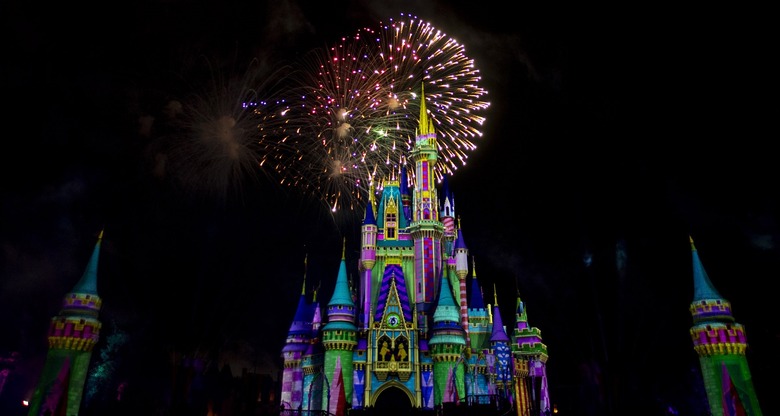 Courtesy of Walt Disney World/Matt Stroshane, photographer
Mickey's Very Merry Christmas Party has a new fireworks show for 2019, Minnie's Wonderful Christmastime Fireworks. Pyrotechnics illuminate the skies, and projections and lights shine on Cinderella Castel as Minnie narrates the show. Classic Christmas carols such as "Jingle Bells," "Joy to the World," "The 12 Days of Christmas," "Have Yourself a Merry Little Christmas" and more soundtrack the spectacular. This nighttime show only occurs on party nights, which are on select days through Dec. 22.
Holiday overlays in Tomorrowland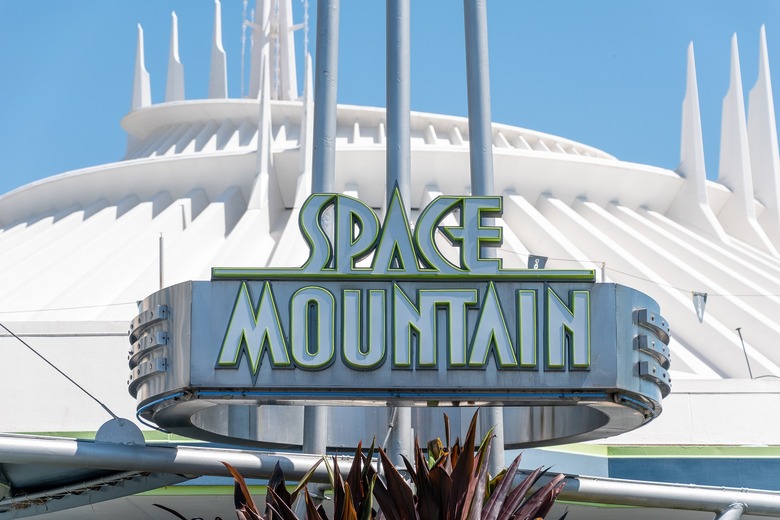 © Craig Russell | Dreamstime.com
During Mickey's Very Merry Christmas Party, a few Tomorrowland classics get retro-futuristic holiday overlays. Tomorrowland Speedway is bedazzled with thousands of twinkling lights and oversized decorations while a soundtrack of holiday tunes plays. Fan-favorite Space Mountain has its own Christmas soundtrack during the party and gets illuminated with red, green and white lights, showing off parts of the attraction that are typically hidden from view. If that isn't enough holiday fun for you, Monsters Inc. Laugh Floor also gets a holiday-themed overlay with new merriment and Christmas jokes added to the show.
Jingle Cruise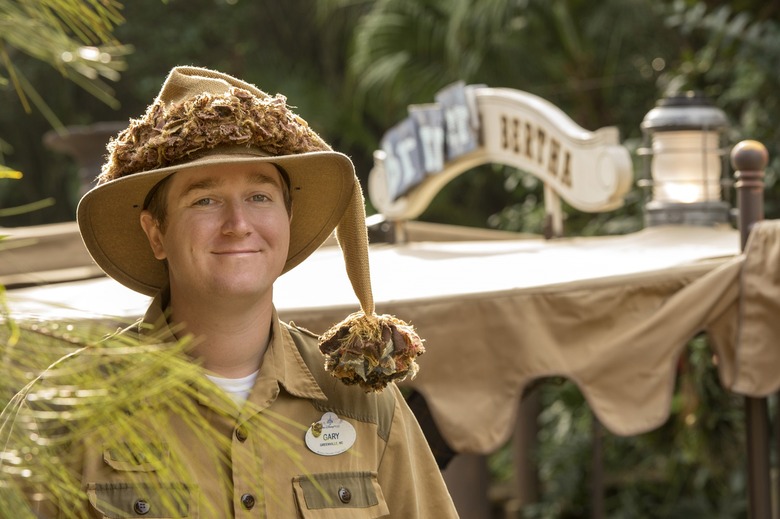 Courtesy of Walt Disney World/Kent Phillips, photographer
One of the ways that Disneyland and Disney World are different is that Anaheim, California, has seasonal overlays on It's a Small World and The Haunted Mansion, while the Magic Kingdom in Orlando, Florida, has the Jingle Cruise. The always-hilarious boat ride throughout the jungles of Africa and Asia usually known as Jungle Cruise gets festive holiday decorations and a new, punny spiel from the Jingle Cruise skippers. Unlike the other overlays, the Jingle Cruise runs throughout the months of November and December and is available during normal park operating hours in addition to MVMCP.
Epcot's International Festival of the Holidays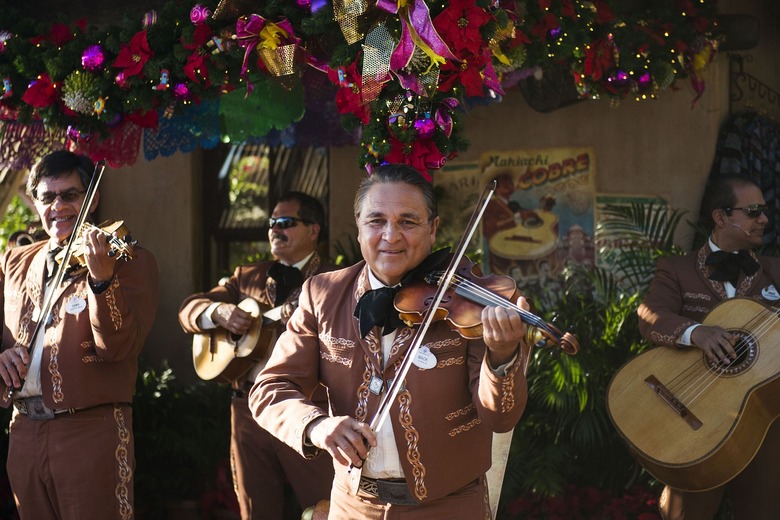 Courtesy of Walt Disney World/Chloe Rice, photographer
It seems as though there's always a festival at Epcot these days, but none of them are quite as lively as Epcot's International Festival of the Holidays. From Nov. 29 through Dec. 30, the 11 nations represented at Epcot's World Showcase have special seasonal food and beverages at the holiday kitchens, and many of the countries have storytellers or musicians sharing their holiday traditions. It's a fun new way to explore this section of Epcot and learn a thing or two along the way.
Candlelight Processional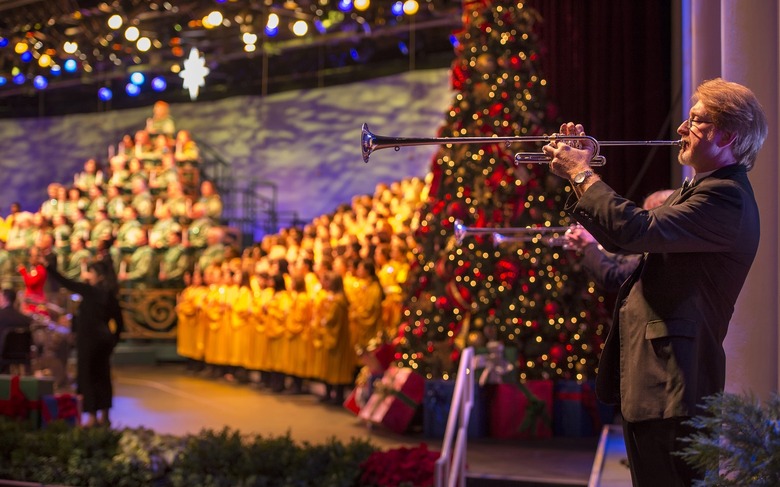 Courtesy of Walt Disney World/Kent Phillips, photographer
For 60 years, the Candlelight Processional has been a tradition at the Disney theme parks. At Walt Disney World, you'll find this beautiful show at the American Adventure pavilion in Epcot's World Showcase. It features a live orchestra, choir and a celebrity narrator telling the biblical story of Christmas. This year, narrators include Neil Patrick Harris, Whoopi Goldberg, Gary Sinise, Lisa Ling and more. It's a moving show that needs to be seen in person to truly be appreciated.
Holiday decor at Hollywood Studios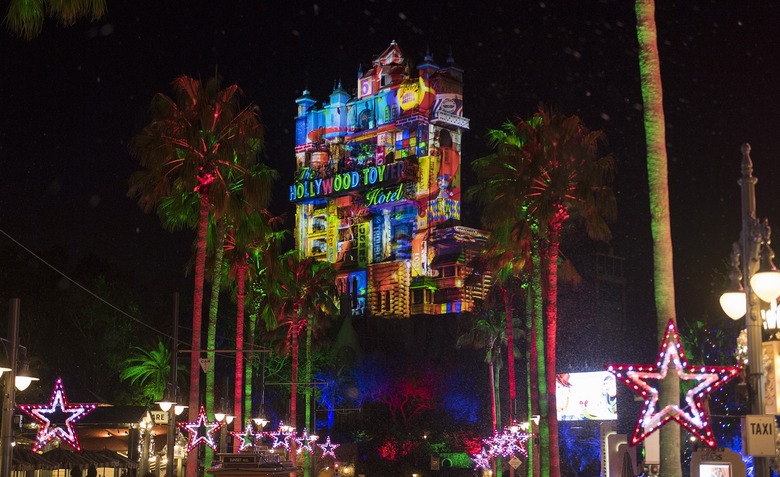 Courtesy of Walt Disney World/David Roark, photographer
Disney's Hollywood Studios has one of the best Christmas light displays in America. As you walk around the park, you'll see kitschy, vintage-style Christmas decorations, plenty of baubles, tinsel and festive lights. At night, the Hollywood Tower Hotel that houses the Tower of Terror turns into the Hollywood Toy Hotel with a festive, continually running projection show. The main street of Hollywood Studios also comes to life with LED holiday displays and snow.
Christmas overlays in Toy Story Land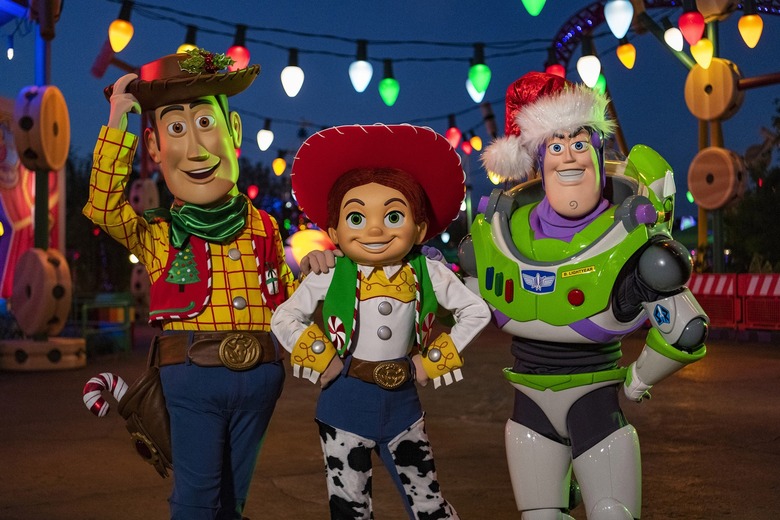 Courtesy of Disney Parks
Andy's backyard gets a little visit from some of Santa's elves for the holidays, with festive overlays and decor throughout Toy Story Land. Alien Swirling Saucers gets a new holiday soundtrack, and Slinky Dog Dash is plussed up with jingle bell sound effects added for an extra touch of holiday magic. As you wander through this themed land, you'll see larger-than-life Christmas cookies, Green Alien-themed baubles and strings of popcorn and holiday lights. Woody, Jessie and Buzz Lightyear also meet in festive holiday apparel.
Jingle Bell, Jingle BAM!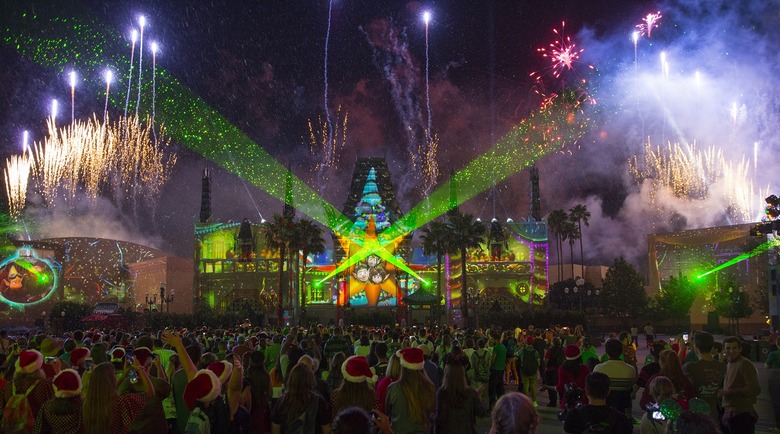 Courtesy of Walt Disney World/David Roark, photographer
Based on the ABC special "Prep and Landing," Disney's Hollywood Studios' holiday fireworks show "Jingle Bell, Jingle BAM!" is quite the spectacle. The Chinese Theater turns into a holiday adventure featuring all your favorite Disney animated characters as elves try to find Santa Claus, who has gone missing right before his busiest day of the year. And as the name implies, this nighttime show has plenty of big, bold fireworks perfectly timed to classic Christmas songs. Jingle Bell, Jingle BAM! runs nightly from Nov. 8 through Jan. 5, 2020.
Holidays at Animal Kingdom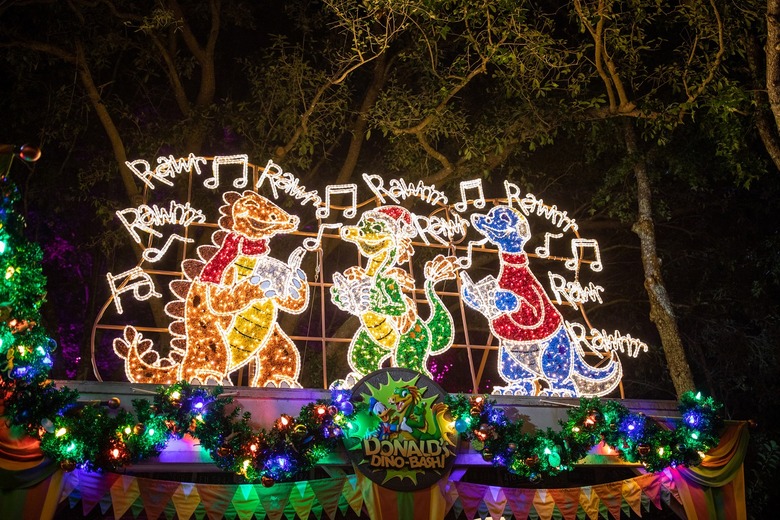 Courtesy of Walt Disney World/Steven Diaz, photographer
New for 2019, the holiday season has arrived at Animal Kingdom. The Merry Menagerie of sculpted reindeer, fox and polar bear puppets wanders around Discovery Island by day, interacting with and enchanting guests. At night, the Tree of Life gets illuminated with wintery animal projections. In Dinoland, U.S.A., Daisy Duck, Donald Duck, Chip and Dale meet guests while wearing whimsical holiday outfits. There's more to explore here, including a Diwali celebration and vintage-inspired decor sprinkled throughout Pandora: The World of Avatar.
Gingerbread displays at the resort hotels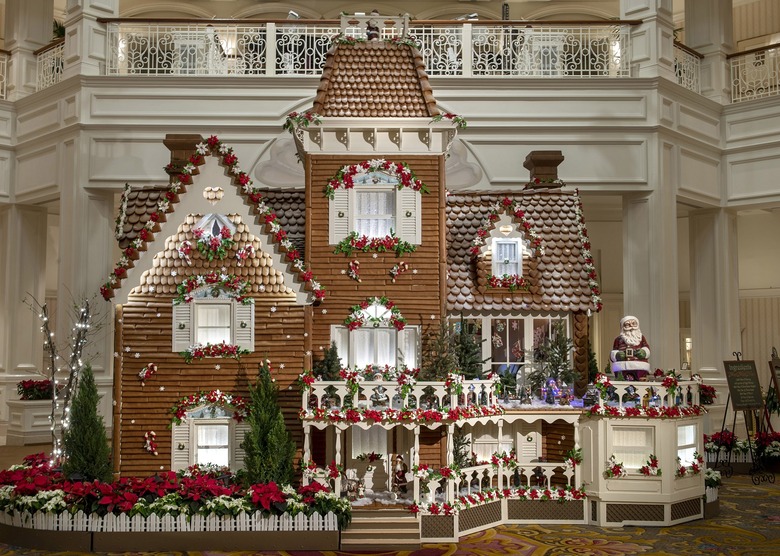 Courtesy of Walt Disney World/Kent Phillips, Photographer
One of the best ways to save money at Disney World during the holidays is to take a day for resort hopping. While every resort has giant holiday trees and other decorations, some of Disney's swankiest hotels get an extra-sweet display of outrageous gingerbread houses. The nearly life-size gingerbread house at the Grand Floridian is legendary, and the Mary Blair-themed gingerbread house at the Contemporary Resort is a must-see for any Disney fan. If you want something truly outrageous, head to the Beach Club to see a gingerbread carousel. The best part of gingerbread, of course, is eating it. And luckily, guests can buy shingles of gingerbread made from the very same recipe Disney uses on its displays.
Disney Springs Christmas Tree Trail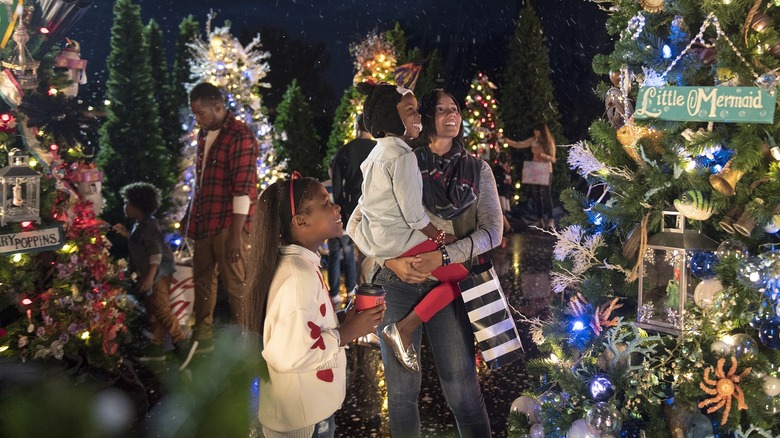 Courtesy of Walt Disney World/David Roark, photographer
From Nov. 8 through Jan. 5, 2020, guests can stroll through the Christmas Tree Trail at Disney Springs, Walt Disney World's shopping district. This free attraction features elaborately decorated holiday trees, inspired by Disney favorites like "Aladdin," "Frozen" and "The Lion King," as well as Disney villains and Star Wars. And if that isn't enough holiday cheer for you, Santa Claus is waiting at the end of the trail to greet guests and ask them what they want for Christmas. It's one of the best things you can do at Disney without a park ticket.
Festive merchandise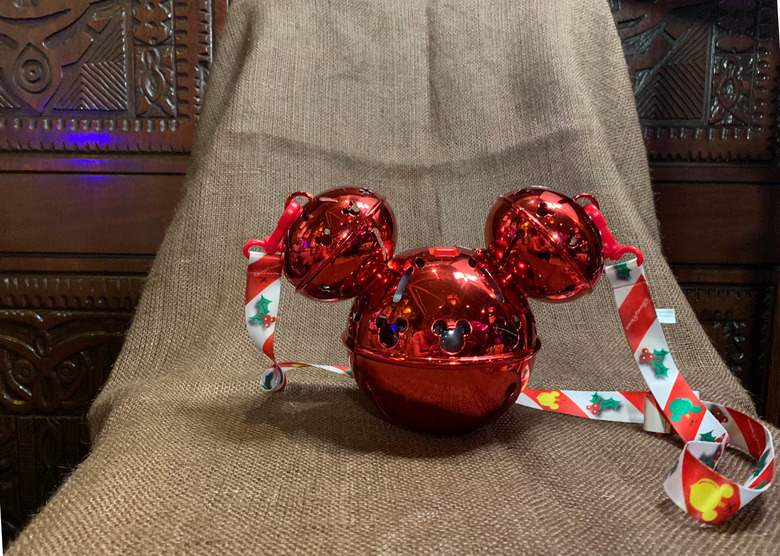 Carolyn Menyes/The Active Times
Sure, you can buy tree ornaments and other holiday decor all year long at many Walt Disney World shops, but there are special seasonal items during the months of November and December. Disney sells many Christmas and Hanukkah decorations and clothing items, from Advent calendars and ugly sweaters to flatware, mugs, plushes, spirit jerseys, popcorn buckets and much more.
Seasonal treats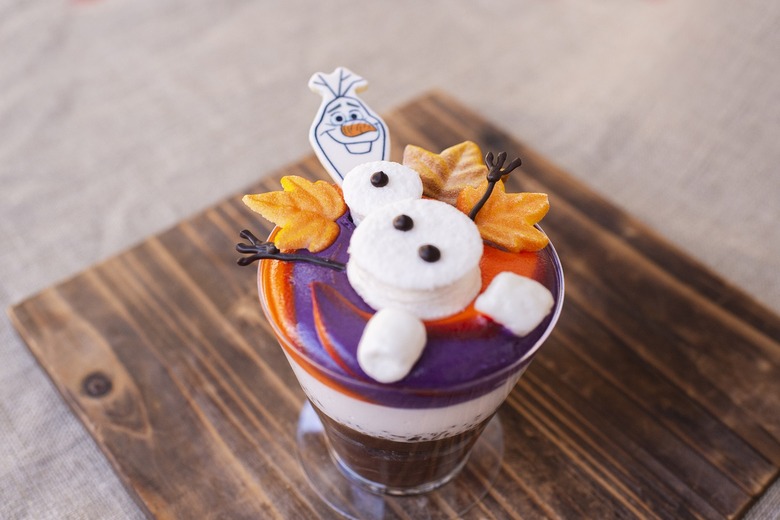 Courtesy of Disney Parks
No celebration at Walt Disney World would be complete without special seasonal treats, and of course Christmas is no exception. From macarons decorated like Santa's coat to cookies shaped like Mickey complete with tons of holly, your Instagram feed will be totally satisfied with all the picture-perfect and oh-so-sweet treats at Disney. You never know just what surprises you may stumble upon, too, as Walt Disney World is constantly surprising guests with the next elaborately decorated food item.
No place in the world is more magical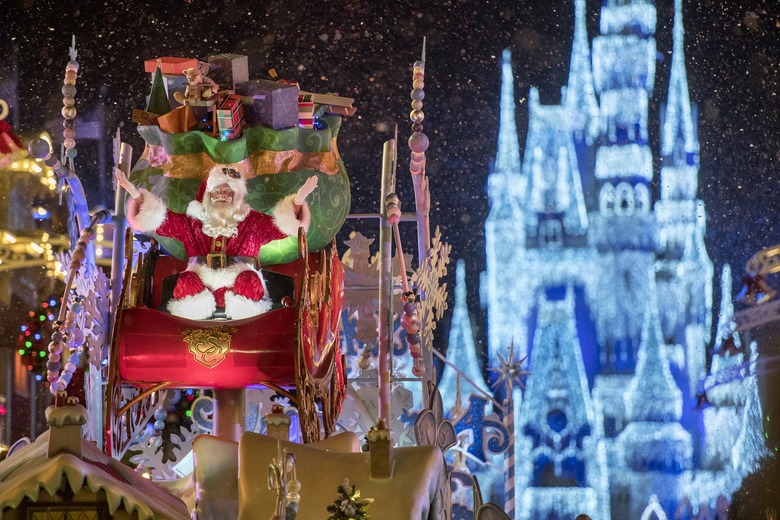 Courtesy of Walt Disney World/Kent Phillips, photographer
The No. 1 reason you should go to Disney World during the Christmas season? Well, it's called the Most Magical Place on Earth for a reason, and all that pixie dust is only amplified by the magic of the holidays. If you truly want to bring out that inner child and holiday cheer this December, Walt Disney World is your ultimate destination. And while you're traveling this winter, consider hitting up these other amazing theme park holiday celebrations.