You Can Still Ride These Opening Day Disneyland Attractions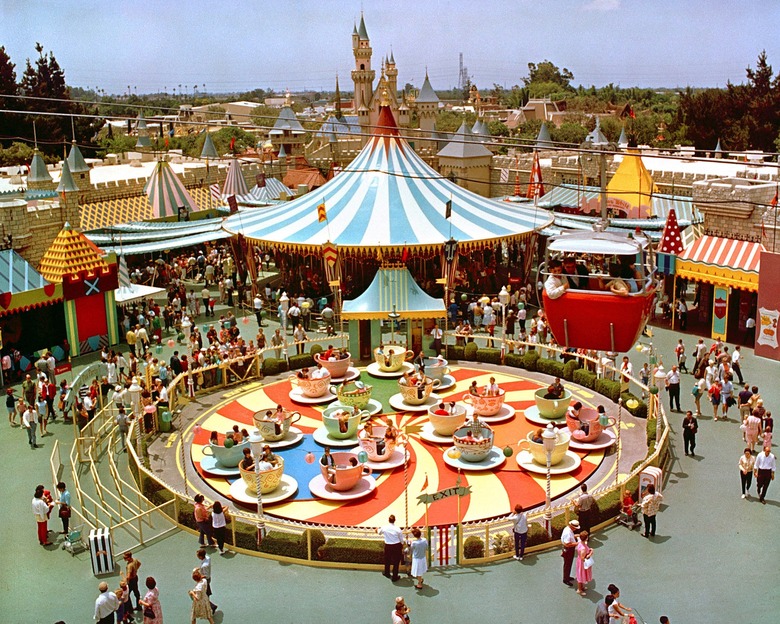 Courtesy of Disneyland Resort
Walt Disney famously said that "Disneyland will never be completed, as long as there is imagination left in the world." Indeed, this classic theme park has seen dozens of rides come and go throughout its 60-plus-year history, but there are some attractions still operating today that were there (in some form or another) on July 17, 1955, Disneyland's opening day. While some rides, such as Dumbo the Flying Elephant and Casey Jr. Circus Train are considered original attractions, they weren't quite ready on that historic day in July and opened up in the following weeks. There are plenty of new and exciting things happening at Disneyland these days, but there's nothing quite like these 11 original rides.
Autopia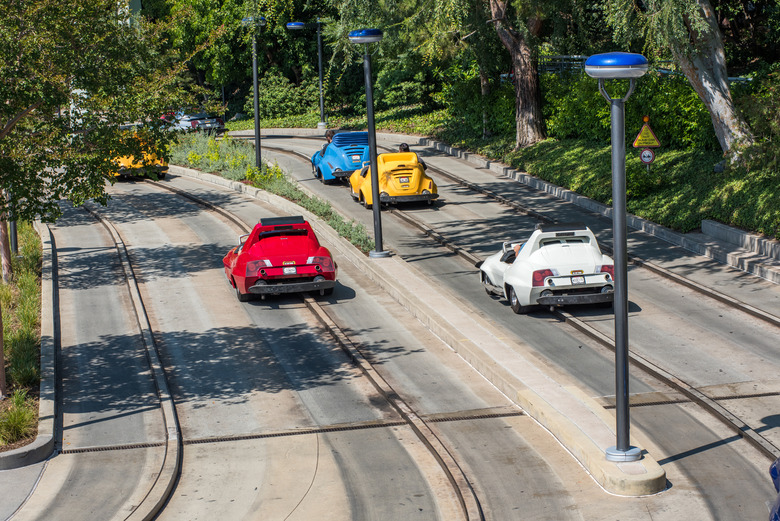 © Michael Gordon | Dreamstime.com
When Disneyland opened in 1955, the multi-lane highway was a futuristic concept; President Dwight D. Eisenhower wouldn't sign the Federal-Aid Highway Act until the following summer. Though Autopia has seen different cars, track layouts and sponsors over the years, the basic concept, where you get in a gas-powered car and drive (no license required) through Tomorrowland, remains consistent. In its history, Disneyland has had three other Autopia rides as the concept was remarkably popular in the '50s. Junior Autopia opened in 1956, which was altered to a longer track with double capacity and dubbed Fantasyland Autopia in 1959. Midget Autopia opened in 1957, but Walt Disney was unhappy with the attraction because the vehicles could only fit kids, and it closed in 1966. Today, there is just one Autopia left at Disneyland, and it's the only opening day attraction left in Tomorrowland.
Disneyland Railroad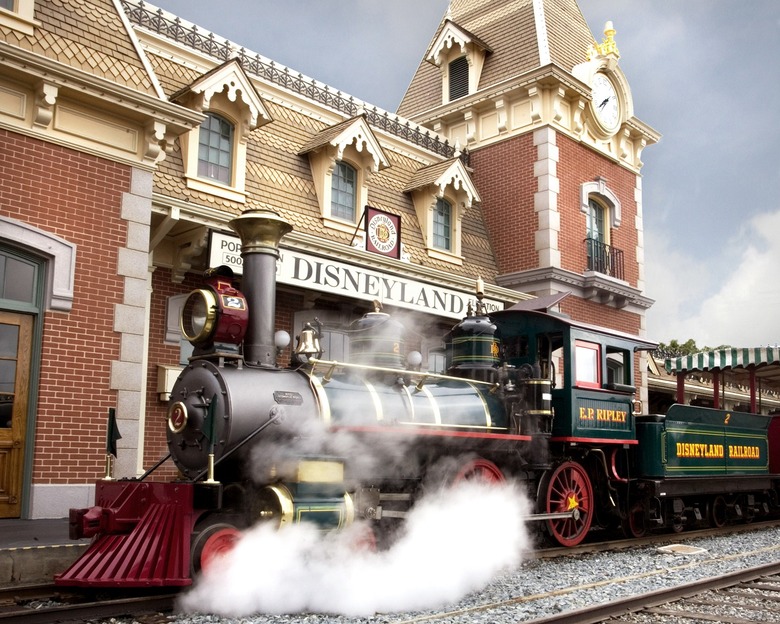 Courtesy of Scott Brinegar/Disneyland
Walt Disney always had a fondness for trains, so when Disneyland opened its gates, of course there was a railroad. This relaxing 18-minute train ride around Disneyland Park originally operated under the name the Santa Fe and Disneyland Railroad, but the moniker was shortened in 1974. In 1955, there were just two stations, one on Main Street and another in Frontierland. Today, there are four total stations: Main Street, U.S.A., New Orleans Square, Mickey's Toontown and Tomorrowland, where guests can hop on and off. It's worth it to make the full circuit. Between the Tomorrowland and Main Street stations, there are two stunning dioramas, one of the Grand Canyon and another called Primeval World, full of dinosaurs. Primeval World came to Disneyland in 1966 after making its debut at the 1964 World's Fair in New York. Even if you've been on the railroad at Walt Disney World, the version at Disneyland is far superior and worth seeking out.
Jungle Cruise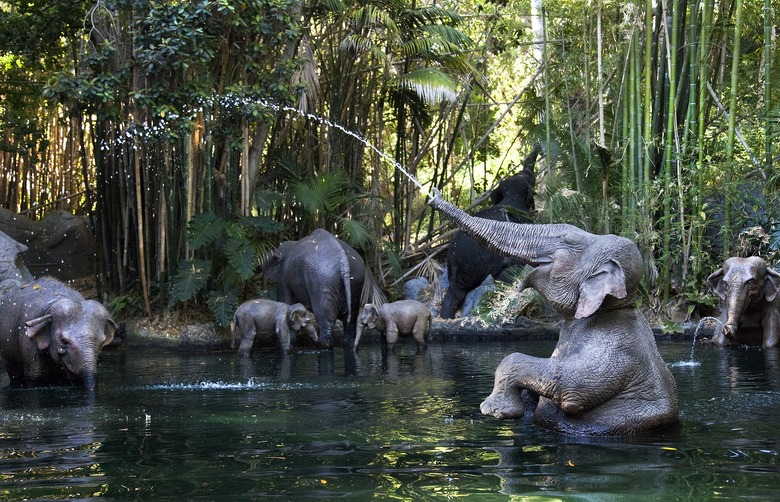 Courtesy of Disneyland Resort
Today, the Jungle Cruise is best known to Disney fans for the punny dialogue spoken by its skippers, but this Adventureland attraction was inspired by Disney's True-Life Adventure films and was actually intended to be educational. The gags and jokes were introduced by Imagineer Marc Davis in the 1960s. Other changes to this boat ride through the rivers of Asia and Africa include new show scenes (such as the bathing pool with Indian elephants and the trapped safari for additional gags) and a two-story queue building.
King Arthur Carrousel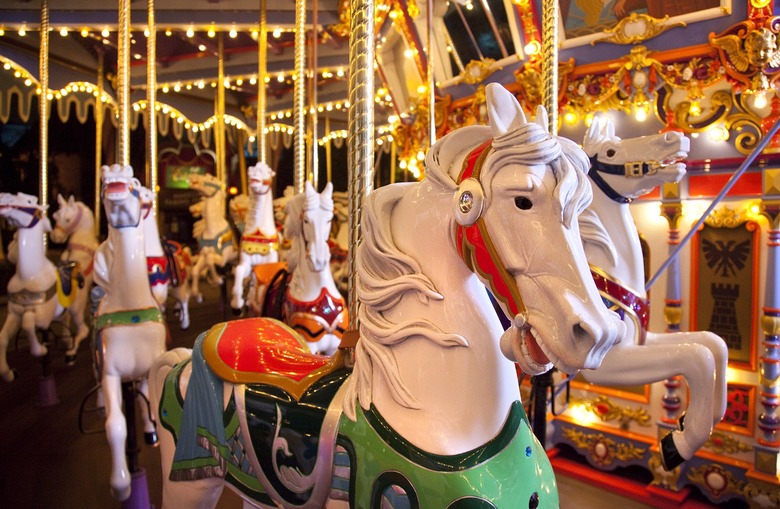 Courtesy of Paul Hiffmeyer/Disneyland Resort
Walt Disney was inspired to build Disneyland while he was sitting on a bench, watching his daughters ride the merry-go-round at Griffith Park in Los Angeles. So, of course a carousel was a must-have for the theme park on its opening day. Handcrafted by the Dentzel Carousel Company, the King Arthur Carrousel dates back to at least 1922 and was originally located in a Toronto amusement park. The purchased carousel featured a menagerie of different animals, but Disney wanted all galloping horses, so other horses were brought in from Coney Island. Today, the King Arthur Carrousel features 68 uniquely carved and painted leaping white horses, led by a horse named Jingles, a rumored favorite of Walt Disney's wife, Lillian Disney.
Mad Tea Party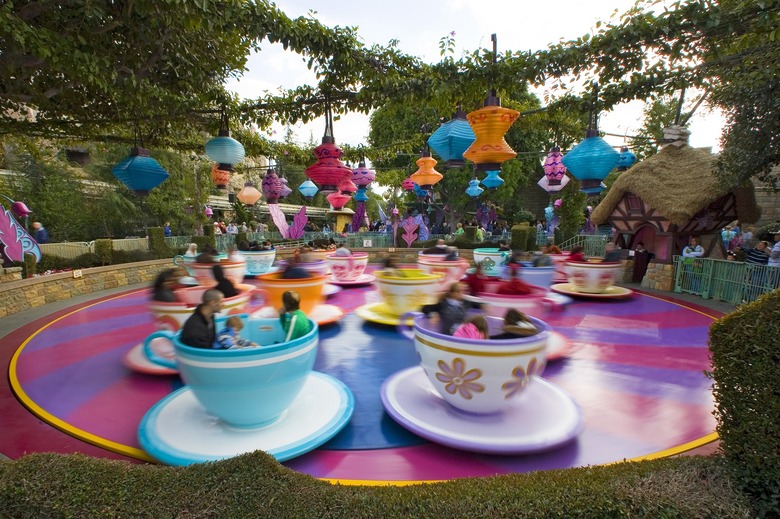 Courtesy of Paul Hiffmeyer/Disneyland Resort
No trip to Disneyland is complete without a spin on the Mad Tea Party in Fantasyland, and it's been that way since 1955. Inspired by the wacky world of the 1951 animated film "Alice in Wonderland," guests spin their teacups around and around. Just don't ride after lunch — that would be a rookie Disney mistake. Today, this attraction is near the Alice in Wonderland dark ride and the Matterhorn, but when it first opened it was actually right behind the King Arthur Carrousel. It moved in 1983.
Main Street Cinema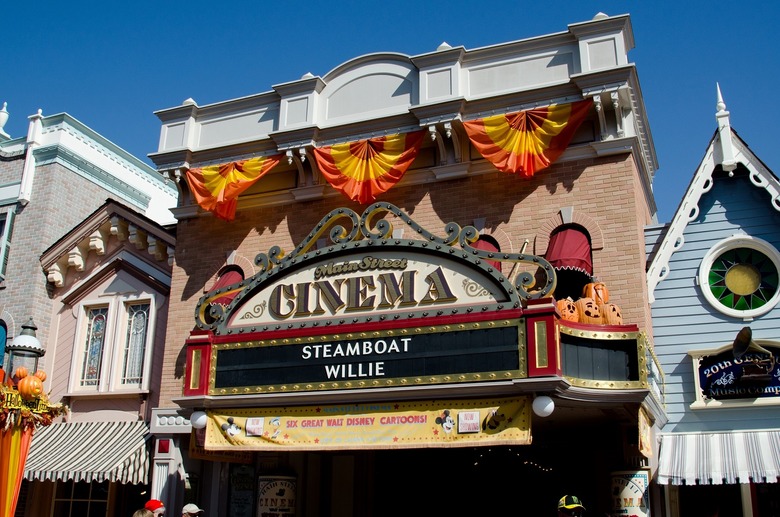 © John Roman | Dreamstime.com
Disneyland wouldn't even exist without Mickey Mouse, so when the park opened, it had a movie theatre, fittingly called the Main Street Cinema. Here, six screens play vintage animated shorts: "Steamboat Willie," "Plane Crazy," "The Moose Hunt," "Traffic Troubles," "The Dognapper" and "Mickey's Polo Team." The Main Street Cinema was very briefly transformed into a gift shop in July 2019, but after guest outrage, the merchandise was pulled from this attraction and new benches were added for a better watching experience.
Mark Twain Riverboat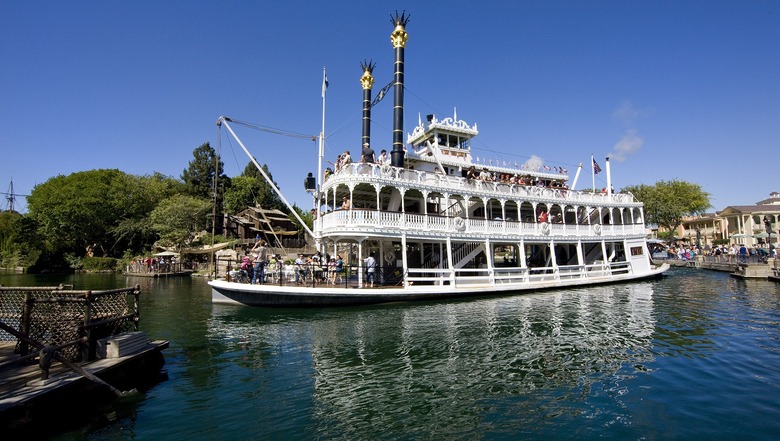 Courtesy of Paul Hiffmeyer/Disneyland
If you're looking to have a really old-fashioned time, take a relaxing riverboat ride through the Rivers of America on the Mark Twain Riverboat. According to Disney, the Mark Twain is an authentic reproduction of the riverboats that paddled down the Mississippi River, and it's really powered by a working steam engine. When it was built, Disneyland boasted that the Mark Twain was the first paddle wheeler built in the United States in 50 years. This vessel is one of three ways to travel around the Rivers of America; the other attractions in this body of water are the Sailing Ship Columbia (which opened on Feb. 22, 1964) and Davy Crockett's Explorer Canoes (which have been operating in the current location since 1971 and were formerly called the Indian War Canoes).
Mr. Toad's Wild Ride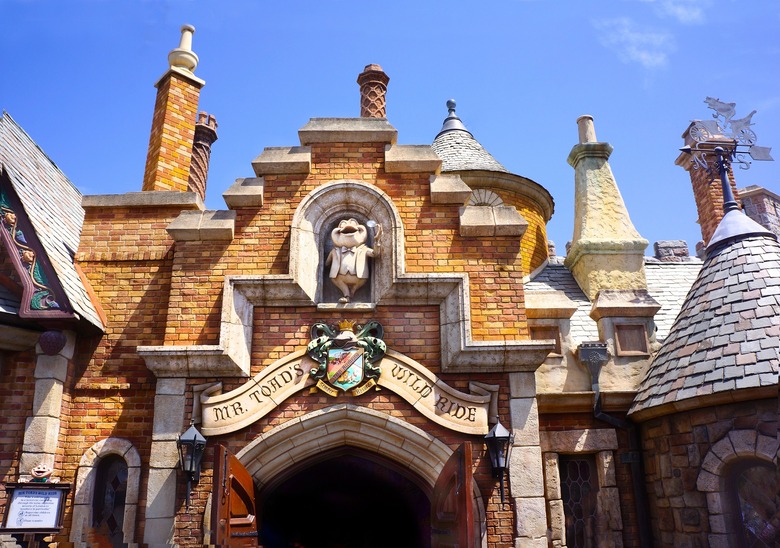 © Michele Kemper | Dreamstime.com
There are three dark rides in Fantasyland that have been around since opening day, one of which is the truly bonkers Mr. Toad's Wild Ride. Based on "The Adventures of Ichabod and Mr. Toad," this wild car ride takes riders around sharp, sudden turns, eventually ending up in the netherworld. Mr. Toad's Wild Ride looks quite different today than it did in 1955. The entire facade was redone in 1983. Instead of entering through a carnival-style tent, guests now enter through a recreation of Toad Hall. New scenes and gags from the Walt Disney World variation of the ride were also incorporated in that '83 overhaul. While Mr. Toad's Wild Ride is still thriving in Disneyland, the Orlando version closed in 1998 and is just one of the many ways Walt Disney World has changed over the years.
Peter Pan's Flight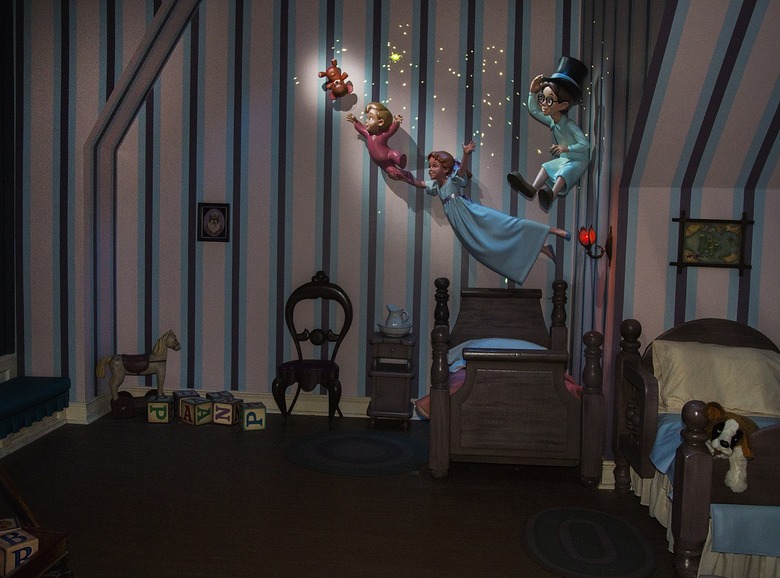 Courtesy of Paul Hiffmeyer/Disneyland Resort
Peter Pan's Flight is the classic Disney dark ride. In this attraction, guests board a flying sailboat and soar over London and Neverland. Peter Pan's flight has been plussed up over the years. Notably, during the 1983 reimagining of Fantasyland, the entrance was changed to a London clocktower, and the ride track was extended, incorporating scenes from the Walt Disney World version of the attraction. Peter Pan's Flight was also updated in 2015 with a reimagined nursery scene and new special effects. Peter Pan's Flight continues to be an immensely popular ride at Disneyland, with wait times regularly exceeding half an hour.
Snow White's Scary Adventures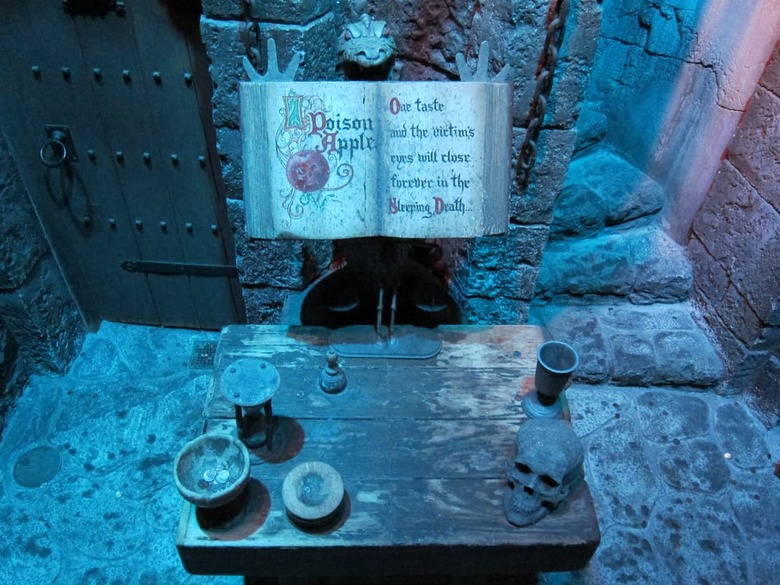 Yelp/Richard L.
When this attraction first opened alongside the rest of Disneyland under the name Snow White's Adventures, the titular princess was missing from the ride. In fact, guests were meant to be Snow White on an adventure where she encounters and runs from the evil queen, but this fact went over their heads. So, when this attraction was redone in 1983 with the rest of Fantasyland, Snow White was added in. At the same time, the word "Scary" was added into the ride's name, replacing a large sign in front with the witch warning the ride has some spooky elements and jump scares. Today, the warning comes from the name and via the evil queen peering down at you from the ride's facade. Looking for this is just one of the things Disney insiders know to do.
Storybook Land Canal Boats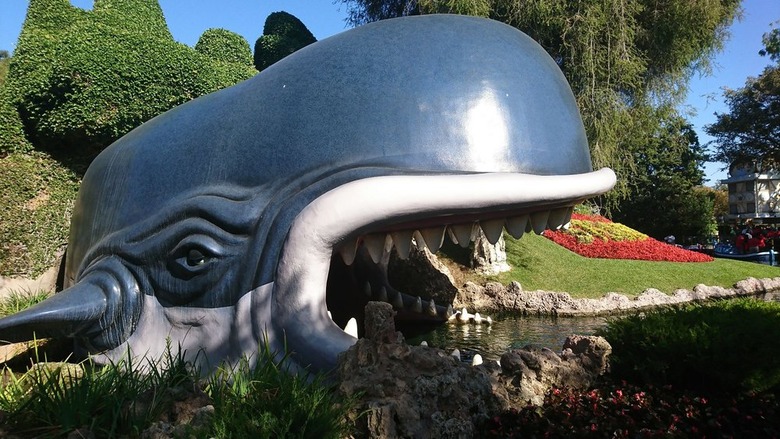 Yelp/Mike P.
Storybook Land Canal Boats existed in a different form on Disneyland's opening day. It was called Canal Boats of the World and featured little-to-no scenery. That version of the attraction closed after just two months and miniature scenes that took inspiration from Disney's animated films such as "Snow White and the Seven Dwarves" and "Pinocchio" were added. The retitled and rethemed Storybook Land Canal Boats opened on June 16, 1956. While miniatures have varied over the decades, today there are 11 scenes including ones from "Frozen," "Aladdin," "The Little Mermaid," "Cinderella" and more. While there is a version of this attraction in Disneyland Paris, in America this ride is unique to Disneyland in Anaheim, and is just one of the many ways that Disneyland is different from Walt Disney World.