10 Reasons Why You Need To Visit Denali National Park This Summer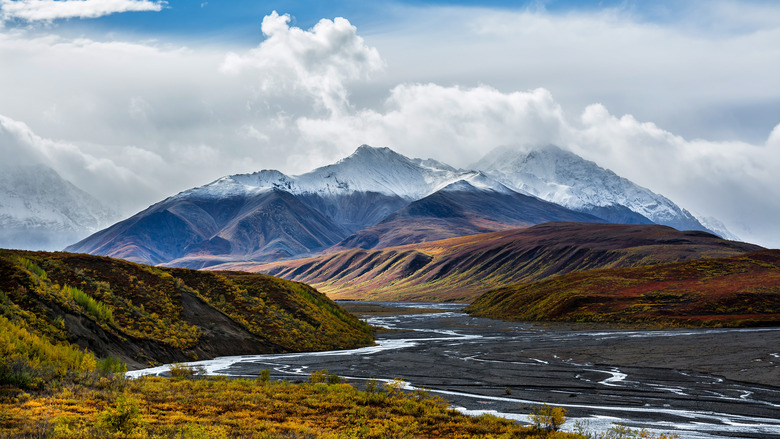 Shutterstock
Founded in 1917, Alaska's most famous national park, Denali, welcomes approximately 400,000 visitors per year. The park features 6 million acres of mountains, glaciers, forests and tundra, and centers around the highest peak in North America, Denali, formerly known as Mount McKinley. Summer is the perfect time to visit this magnificent park—visitor access is more limited during the frigid, long winters, and wild animals are much more active during the warmer months, giving you a higher likelihood of spotting them.
The easiest way to get to Alaska is by flying into either Anchorage or Fairbanks, then traveling by car, bus or train to reach Denali's one road entrance, about 240 miles south of Anchorage and 120 miles south of Fairbanks. Within the park, a rental car can only take you about 15 miles into the park—only tour buses and shuttle buses can take you to the end of the 92-mile road (weather permitting).
Visitation to national parks has been on the rise recently—2016 was a record-breaking year, with 331 million recreation stays recorded, a third consecutive all-time attendance record by the National Park Service. A trip to this historic park will give you a chance to connect with nature, fuel your inner adventurer and, thanks to its remote location, will practically force you into some digital detox time, away from your cell phone and laptop (GPS navigation doesn't even work well out there). Denali is also turning 100 this year, so there are also some special centennial celebrations in the works this summer.  
Click here to see The 10 Reasons You Need to Visit Denali National Park This Summer
Related Stories:
U.S. National Parks You Didn't Know You Needed to See