The Most Festive Christmas Cities Around The World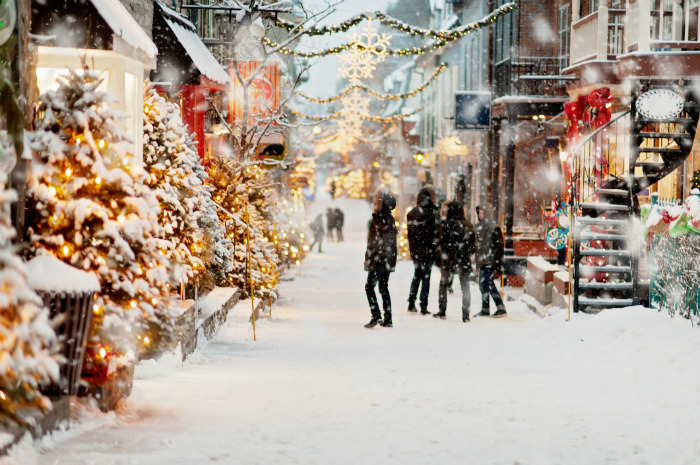 iStock
Traditional hand-crafted gifts, spicy gingerbread and warm mulled wine are nice additions to the holiday bonanza the cities on the following list have to offer. Northern lights and sunny skies come with the territory.
Valkenburg, Netherlands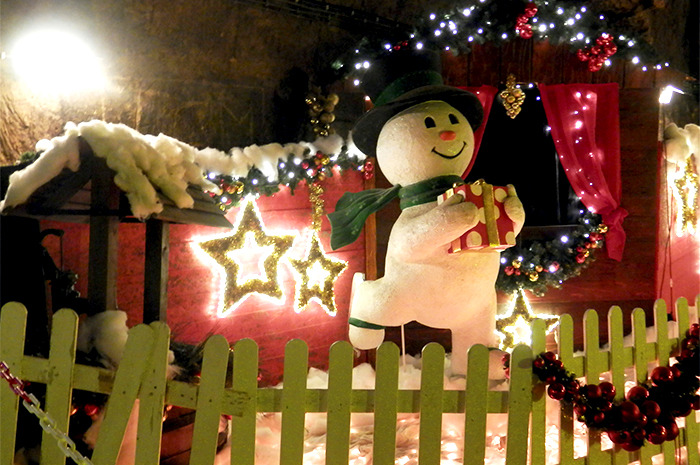 Dreamstime
Amsterdam certainly is beautiful at Christmastime but underrated Valkenburg is worth the trip as well. The town's Christmas market is one of the oldest and biggest in all of Europe. It, for the most part, is set in passages of caves underneath Valkenburg. This is where you can buy some of the most unique presents, most of which are handmade and from marlstone. Santa's village, however, and the parade are above ground.
Vienna, Austria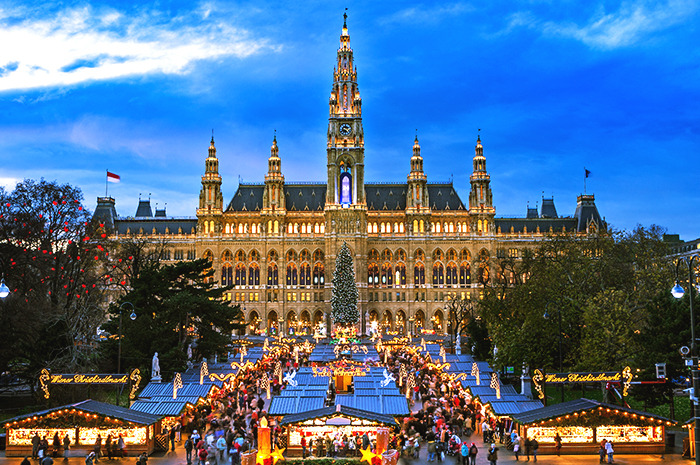 Shutterstock
Christmas in this old-fashioned European city is absolutely stunning. Make sure you visit the Christkindlmarkts, which is one of the oldest Christmas markets in all of Europe, dating back to the 13th century, even if it's just to marvel at the gorgeous Baroque architecture with twinkling decorations. The Vienna Boys' Choir concerts are fabulous. The food alone is a good enough reason to spend the winter in Vienna. Don't leave without trying the Gugelhupf, truffles, or the coconut-coated Topfenknödel.
Leavenworth, Washington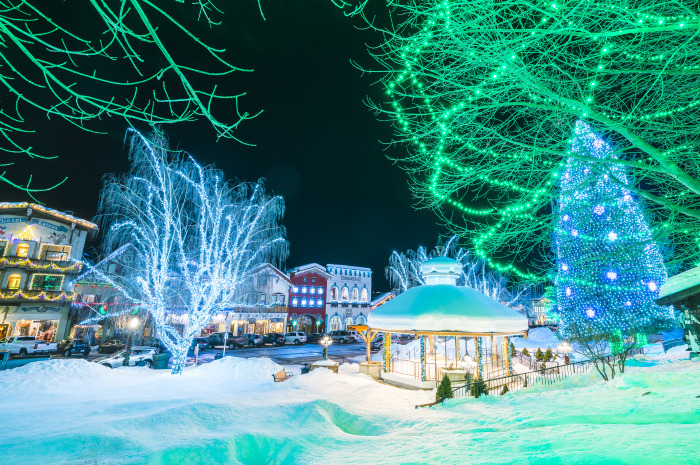 Checubus/Shutterstock.com
Leavenworth becomes a magical city of lights with its millions of Christmas lights, constant caroling and joyous lighting ceremonies during the first three weekends of December. It actually has a pretty festive look all year-round. That's because the town center is modeled on a Bavarian village. Around Christmas, it becomes a "Village of Lights" with more than 500,000 twinkling bulbs downtown. There are carolers strolling around town, dogsled rides and more. It really is a winter wonderland.
Strasbourg, France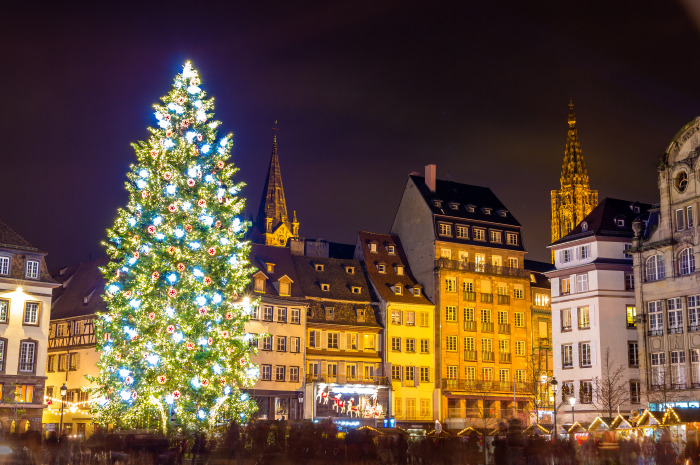 Shutterstock
They call it "the capital of Christmas," according to Office de Tourisme. December is waited in anticipation because of the gigantic Christmas market, the oldest one in all of France, dating back to the late 1500's. It spreads out into lots of streets and squares of the city center. Store windows glow, decorations sparkle, and the smells of spices and cinnamon make you feel like a kid again.
Quebec City, Canada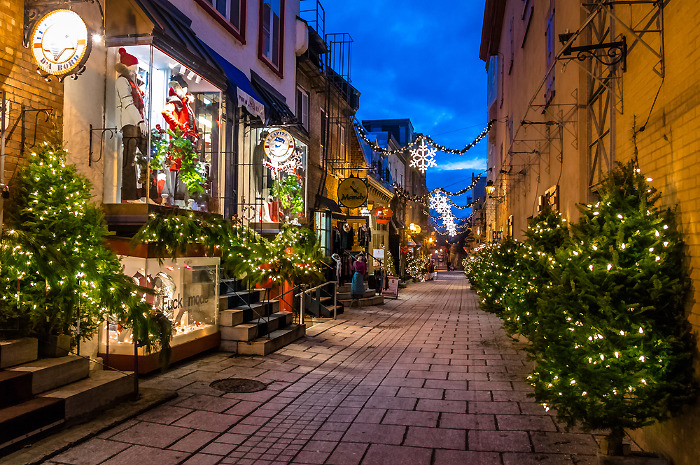 Diego Grandi/Shutterstock.com
If you're trying to decide on a beautiful Christmas getaway, look no further than Quebec City in Canada. The lights, decorations and snow make for a magical setting. There are plenty of activities to participate in during the holiday season; attend Christmas Markets, enjoy concerts and shows, meet Santa Claus in the Petit Champlain District, and attend the Quebec Aquarium Light Festival.
New York City, New York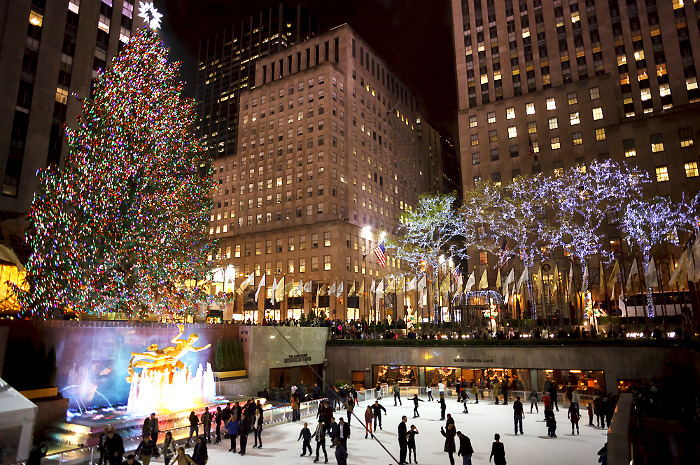 DW labs incoperated/Shutterstock.com
There is no place like the city that never sleeps around the holidays. Experience the magic of the holidays in a place that transforms into a true winter wonderland. Take photos by the famous Rockefeller Christmas tree, witness the rivalry at Dyker Heights for the best Christmas decorations, go ice-skating across the Rockefeller Center Skating Rink, admire the incredible Christmas window displays, and don't miss your chance to see Santa at Macy's New York.
Nuremberg, Germany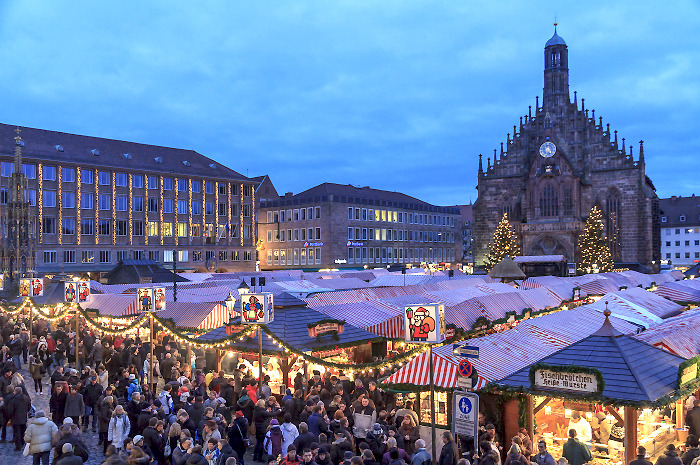 oriredmouse/istockphoto.com
Germany is credited with starting the Christmas tree tradition, as we now know it, in the 16th century. Nuremberg Christmas market, the country's most famous one, draws over 2 million people every year. Locals are very serious about hand-made decorations – you won't find more beautiful ornaments than those sold in the city. Visit the Old Town and see what a traditional Christmas glory is all about. Don't resist the temptations of mulled wine, sweet roasted almonds, Nuremberg sausages and gingerbread.
Prague, Czech Republic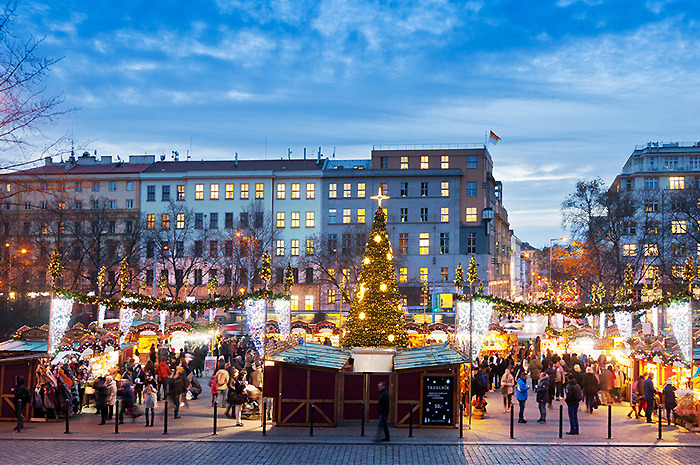 kaprik/Shutterstock.com
This is where you go if you are looking for a picture-perfect Christmas in Europe. Go on a tour walking on cobble stone streets to see the beautiful baroque and Gothic architecture. The glittering decorations only make them look more magical. Christmas trees embellish the town squares and the early sundown is filled with warm light. The Christmas markets in Old Town Square and Wenceslas Square are an absolute must as well.
Rovaniemi, Lapland, Finland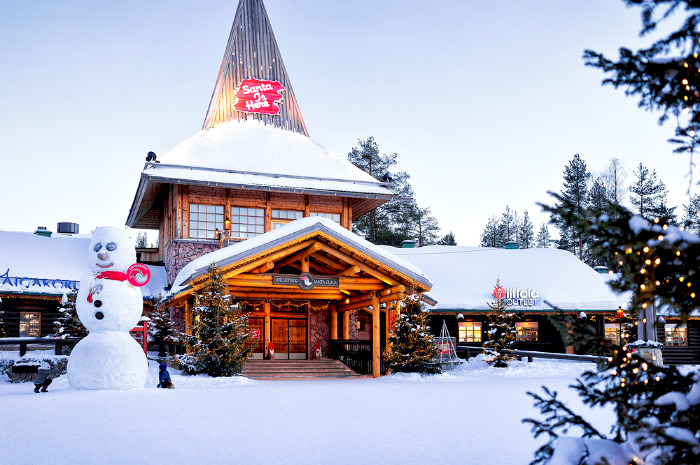 Roman Babakin/Shutterstock.com
Finland, along with Sweden, is often referred to as the original home of Santa Claus because of the world famous Santa Claus village in Rovaniemi where you get to "meet" him and watch his elves work. Stay in glass igloos and log cabins with extraordinary views. They were designed so visitors can enjoy the Northern Lights in their full glory, but sleeping there is an amazing experience even if you don't catch them.
Bruges, Belgium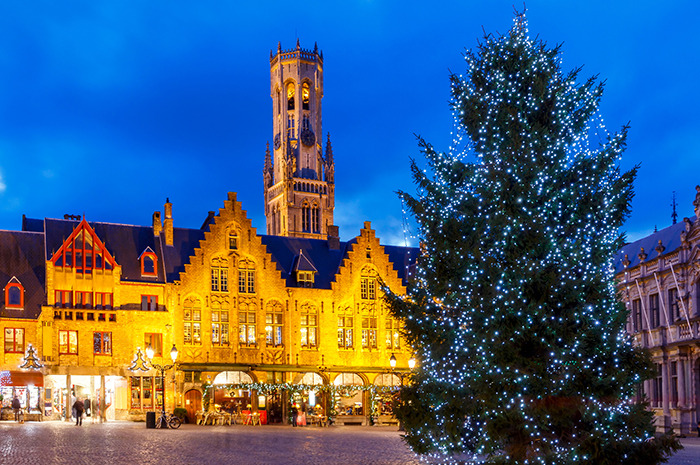 istockphoto.com
Experience Christmas in one of the world's most romantic cities. It offers some of the most spectacular picturesque views in the world. This historic, medieval town makes for the perfect Christmas destination. Wander the cobblestone streets and go to their Christmas markets, drink tons of hot chocolate, and admire festive window displays.
Bath, England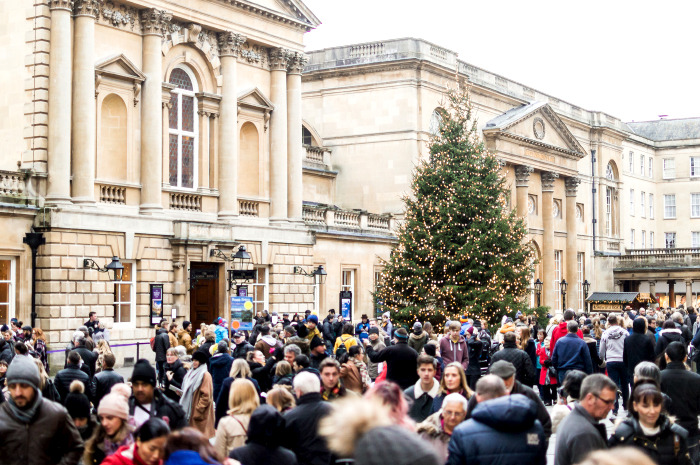 Dreamstime
London usually steals the attention but Bath, which is the only entire city in the kingdom to have been designated as a UNESCO World Heritage Site, is a true please to be in during the holiday. Some of the best theater performances, musicals and operas in the country take place in the Theatre Royal. The town's Christmas Market has over 170 wooden cabins selling uniquely British handmade crafts.
Tallin, Estonia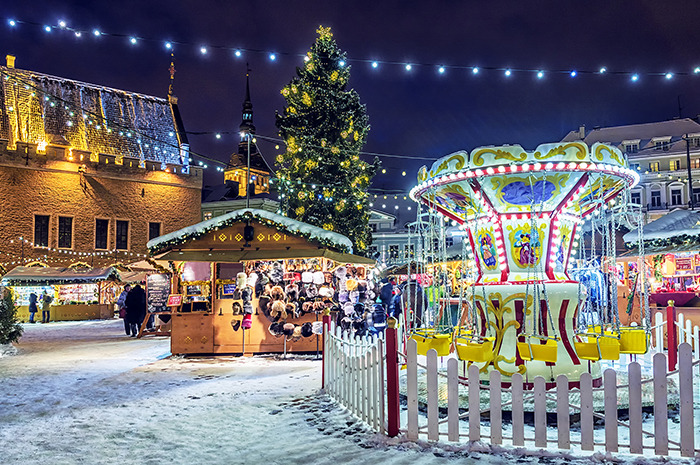 Shutterstock
This underrated European city is a great destination for Christmas. The city is one of the most preserved on the Old Continent. The interesting mix of modern and medieval architecture is even more beautiful when covered in snow with lanterns lit at night. Locals say that the world's first Christmas tree was erected in Tallinn in 1441. Estonia in general is on our list of unforgettable bucket list trips you can do on a budget if you don't want to spend a lot.
Malmö, Sweden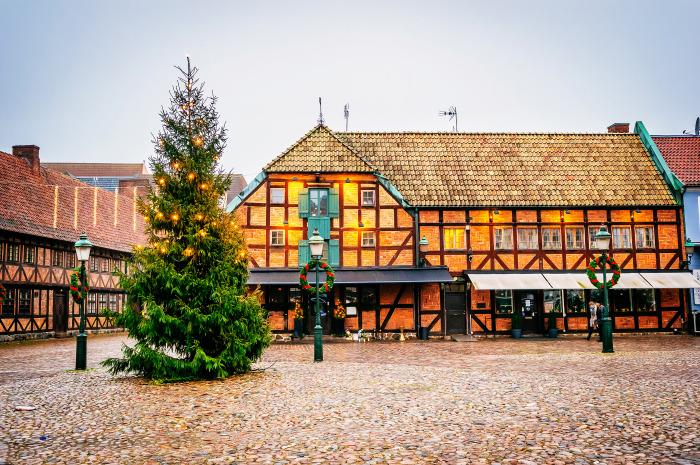 Dreamstime
The Christmas market in and around the Gustav Adolfs square is not to be missed. The city has all sorts of Christmas markets, ice rinks, music, choral singing, and more fun. Make time to visit the trendy Möllevången area and enjoy the art, culture, food and fashion. Have a mug of glogg – Swedish mulled wine.
Reykjavik, Iceland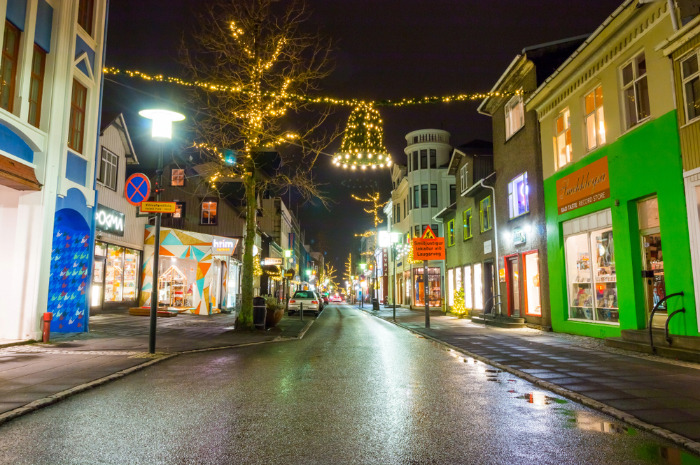 JohnKruger/Shutterstock.com
The city is known for their extraordinary landscapes, but during the holidays tourists enjoy their exciting events and Christmas decorations throughout the month of December. View the enchanting Northern Lights and visit the peaceful Reykjavik Botanic Garden; admire their beautiful arboretum and incredible displays of indoor and outdoor lights.
Santa Claus, Indiana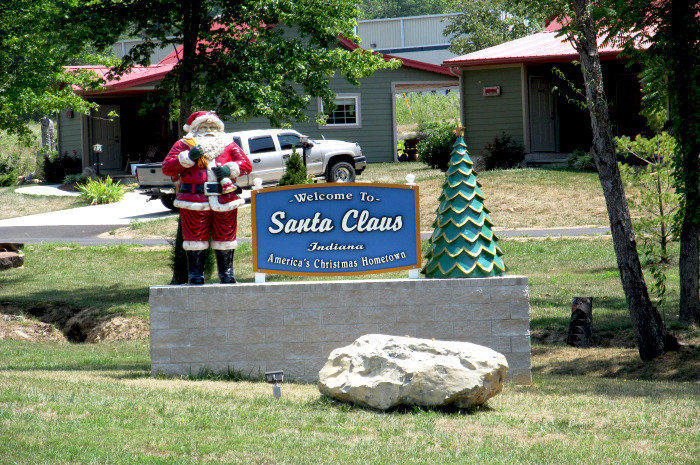 Flickr/Doug Kerr/CC BY-SA 4.0
Last, but certainly not least. Santa Claus, a small town of about 2,500 people, is on all must-see Christmas lists. The local post office has been sending letters to kids "from Santa" for over a century. Dubbed "America's Christmas Hometown," it offers a lot to locals and visitors. Book now a package at Santa's Lodge, which includes a pass to Santa Claus Land of Lights and an access card to chat with an elf on the Northpole Network at Santa's Candy Castle.