The Airlines With The Best Food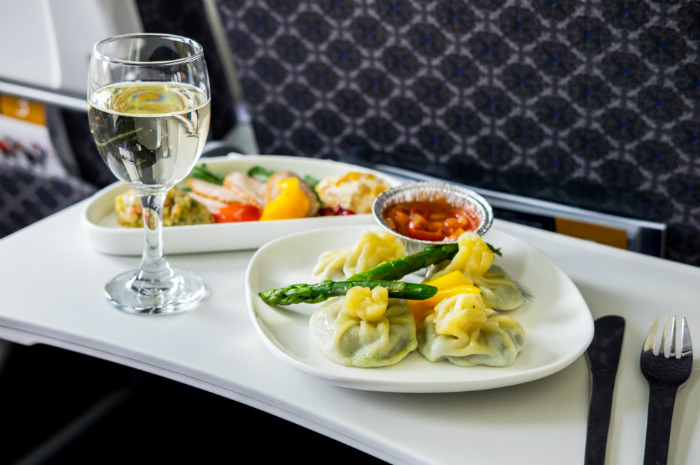 Shutterstock
The 14 Airlines With the Best Food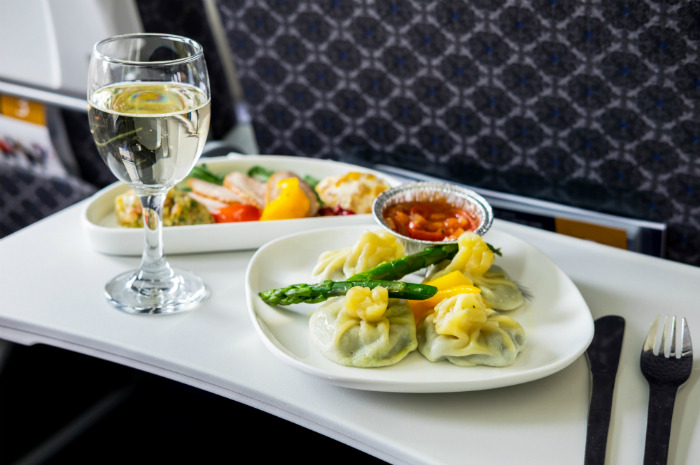 Shutterstock
Turkish Airlines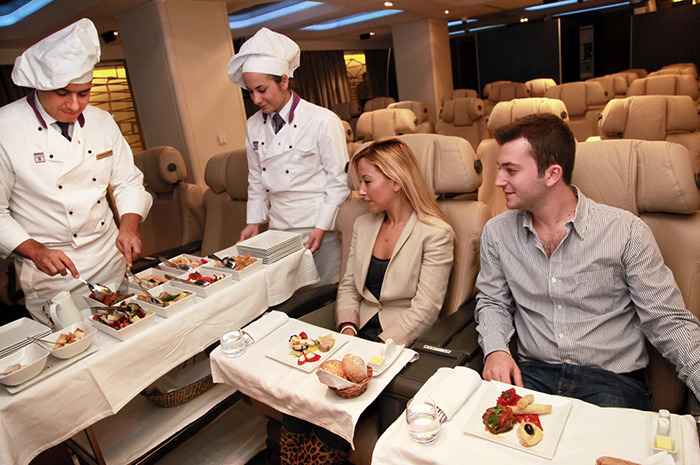 Prometheus72/Shutterstock.com
All long-haul flights have a flying chef who prepares meals for first-class and business-class passengers, according to Seat Guru. If you're flying on your birthday or for your honeymoon, the airline will provide a celebratory cake. Turkish Airlines is the runaway winner for providing its customers with the world's Best Airline Food onboard its flights, according to Airline Quality. It also ranks No. 2 in the world for Economy Class inflight meals, and No. 3 for Premium Economy Class inflight meals.
Virgin America
In 2015 Virgin America won Travel + Leisure's Best Domestic Airlines for Food. Meals are offered on flights that are longer than two hours. You can order various snacks and other food via the seat-back entertainment system. The airline with partnered Dean & DeLuca to bring First Class customers a curated selection of tasty snacks including kettlecorn, spicy Cajun snack mix, cashews and chewy sweet fish.
Austrian Airlines
Austrian ranks 3rd in the World's Best Business Class Onboard Catering at the 2016 Skytrax World Airline Awards; it was No. 1 the previous year. You can have a schnitzel on your flight from New York to Vienna or a choice of tapas, meze or Japanese delicacies. Business Class passengers enjoy the services of the unique Do & CO Flying Chef who attends to the preparation of the meals in the galley as well as to the passengers in the cabin.
Cathay Pacific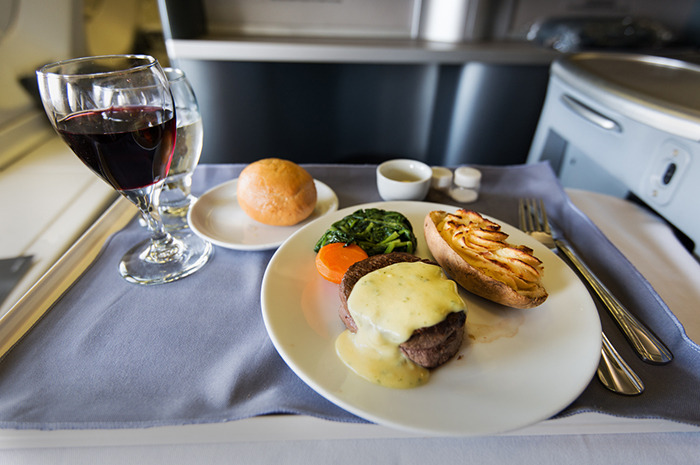 istockphoto.com
Passengers in all cabins have a choice between Asian and Western dishes, according to Seat Guru. Cathay ranked No. 7 in the Best Business Class Lounge Dining at the 2016 Skytrax World Airline Awards. A sample menu for a short-haul Economy Class flight includes sesame soy marinated wood mushroom, stir-fried spicy chicken, bean curd, and steamed fragrant rice, pan-fried cod fish with olive, zucchini and red pepper sauce, roasted potatoes and wilted spinach, Blackeye bean masala with basmatic rice and mushroom curry, and chocolate soufflé mousse cake for dessert.
Air New Zealand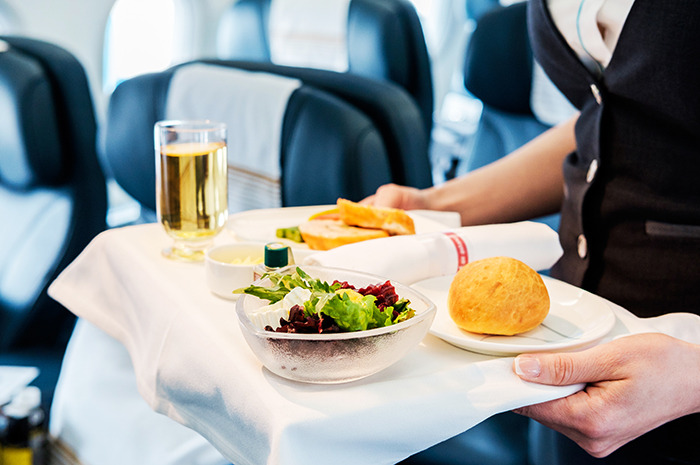 Shutterstock
This is the airlines for wine tastings. Air New Zealand chefs and wine consultants have created a menu the aim of which is to give you an authentic taste of New Zealand. The main course for Economy passengers is Masala chicken curry with cumin basmati rice or tomato paprika beef with herb mash and peas. Flyers in Business class get to choose between lamb shank, moorish chicken, seared and parsnip and yellow split pea soup with blackened corn and mustard seed relish – and this is just the main course.
Emirates
First-class passengers on long-haul flights are spoiled with seven-course lunches and dinners, which business-class and coach passengers get five-course meals, according to Seat Guru. The airline was No. 2 in the First-Class Airborne Eats and Travel + Leisure Best International Airlines for Food 2015. Even the wines are chosen specifically for every flight.
Singapore Airlines
The airline has an International Culinary Panel in which top-rated chefs from all over the world work with the airline's chefs to create menus and develop dishes, according to Seat Guru. Singapore also tests meals and wines in a kitchen that is built to mimic the conditions of a pressurized cabin, which can affect a person's taste buds. The airline has a separate inflight meal service for kids travelling in Suites, First and Business Class.
United
The airline has improved over the last couple of year when it comes to meal options. Everyone in Economy class gets a free snack. Passengers flying on long flights across oceans even get pre-arrival goodies such as a croissant and jelly or a meal such as spinach and cheese quiche with chicken sausage and breakfast pastry prior to landing. Dessert is a choice between gelato, sorbet, ice cream, mousse, or a regional specialty.
Hawaiian Airlines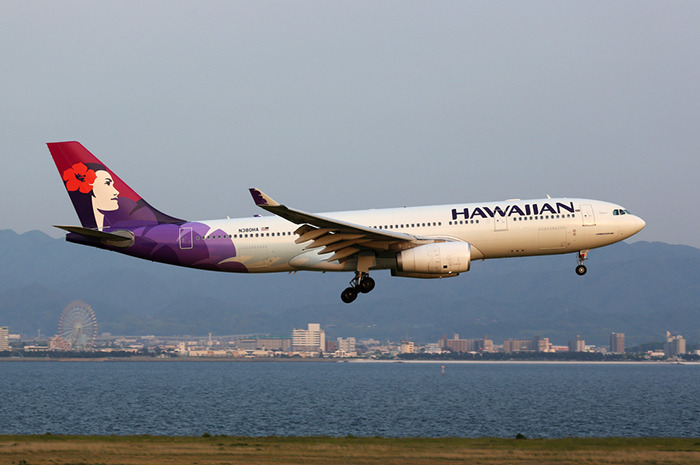 Markus Mainka/Shutterstock.com
This is an airline that is not afraid to add flavor to the food it serves onboard. It serves dishes like spicy eggplant with Lilikoi sauce and steamed Thai Jasmine rice, chicken barley pumpkin soup and wine-braised short ribs with mashed taro root. Their island-inspired meals are created by Chef Chai Chaowasaree and also include exquisite appetizers and desserts. Meals are complimentary for travelers in all classes.
Etihad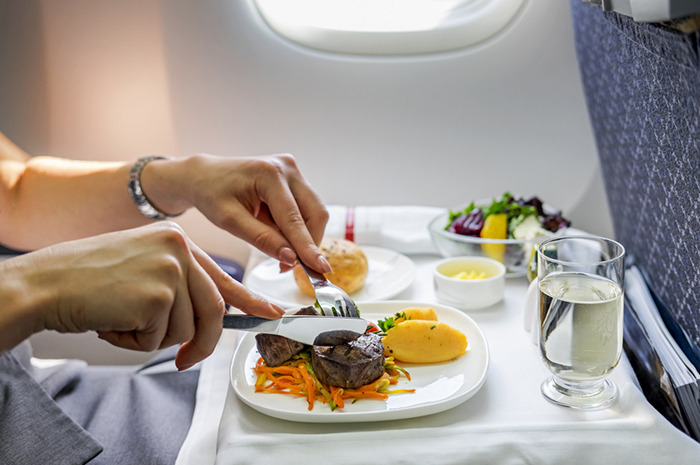 Shutterstock
Etihad has an in-flight chef who prepares customized meals for its first-class passengers. You can even order grilled steak. Coach passengers can choose between three meals – one Middle Eastern, one Western and one that reflects the local cuisine of the plane's destination. Etihad won World's Best First Class Onboard Catering at the 2015 Skytrax World Airline Awards for its extravagant dining options.
JetBlue Airways
If you like snacks such as Doritos and Terra Blue chips, you'll love flying with JetBlue because they offer them free of charge in unlimited supply. There are also self-serving snack bars. The company hired a chef in 2014 to re-invent the airline's first business class menu. You can now eat a dry-aged beef burger topped with Havarti and bacon relish at 30,000 feet. The luxurious Mint service also includes Brooklyn's hippest ice cream. JetBlue now serves rosé wine as well.
Alaska Airlines
How about a drink from a local distillery? The company's onboard menus highlight the local fare of the Pacific Northwest and Hawaii. Three-time James Beard award-winning chef Tom Douglas brings his culinary style and seasonal flavors to Alaska passengers on select flights. Enjoy the signature smoky BBQ chicken sandwich. It's a real treat. You can pre-order food a week before your flight.
Asiana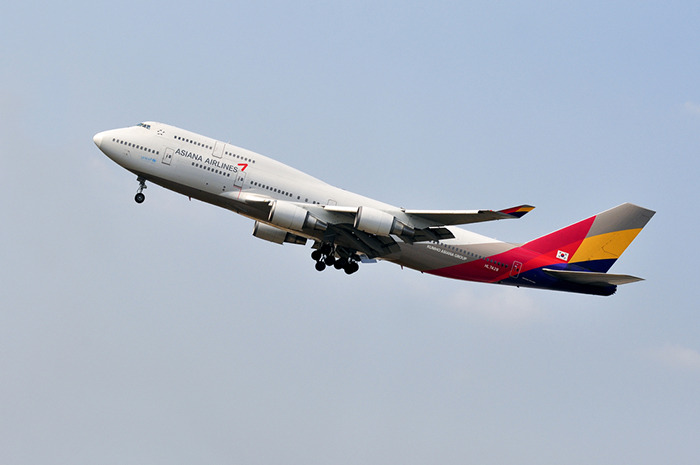 Vytautas Kielaitis/Shutterstock.com
The Korean airlines achieved a clean sweep winning the awards for World's Best Economy Class, Best Economy Class seat and Best Economy Class catering at the 2016 World Airline Awards. The "Yeongyang Ssambap," a Korean-style, in-flight meal available on long-distance flights, which features crisp and delicious vegetable wraps, and an assortment of nuts, sauces and other authentic ingredients, won the International Travel Catering Association "Mercury Award."
Qantas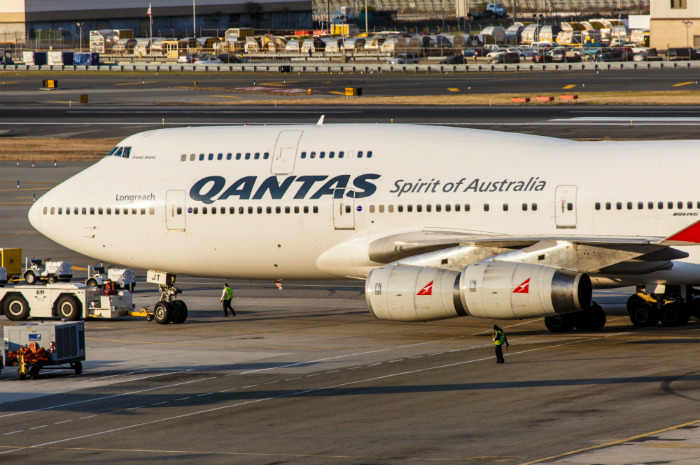 Shutterstock
The airline has been working for 20 years with Rockpool and Neil Perry, Australia's leading chef, author and restauranteur. You can now request Charles Heidsick Champagne in Business and First classes alongside the Strawberry Daiquiri as a pre take-off drink. The company won Best Catering at the AirlineRating.com World's Best Airlines Awards 2016 and was a joint winner at the Business Travel Awards 2016 in the Best Airline Food category.