10 Small Towns Where It's Christmas All The Time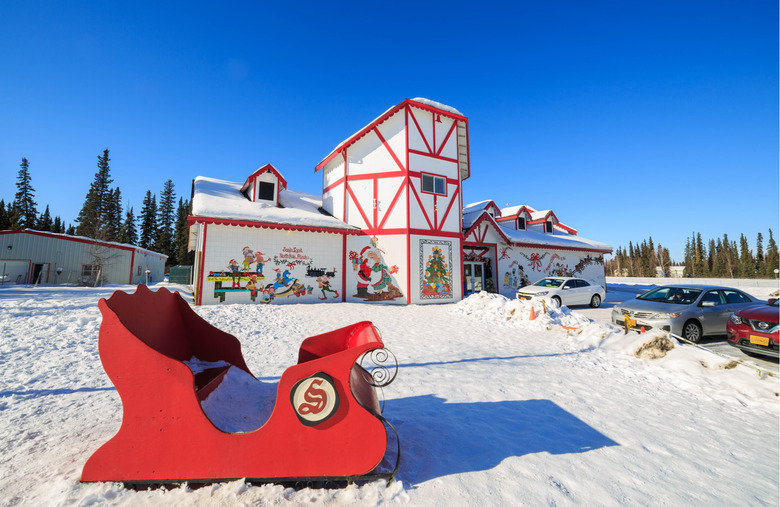 Kit Leong/Shutterstock.com
The minute that Halloween has passed, it seems stores, businesses, and even homes immediately deck the halls for Christmas, stashing the mummies and Mars bars to trot out the holiday decor and blast Mariah Carey's "All I Want for Christmas Is You." Instead of everything pumpkin spice, it's suddenly all eggnog and peppermint.
As Christmas celebrations seem to come sooner and sooner each year, eating into the Thanksgiving and Halloween holidays' time to shine, Christmas is the star of the show in certain cities — in many cases, all year round.
In these 10 small towns around the country and the world, boughs of holly, nativity scenes, ornaments, candy canes, Christmas trees and jingle bells stay up all the time instead of getting packed away after New Year's. Some of these places have historic ties to Christmas celebrations, while others have embraced their seasonal names or built Christmas-themed winter wonderland tourist attractions.
So if Christmas can't come soon enough for you every year, consider visiting these cities, towns and villages that will rouse your holiday spirit no matter what time of the year it is.
Santa Claus, Indiana
Santa Claus, Indiana, has fully embraced its holly, jolly name, with a variety of Christmas-themed activities. Lake Rudolph campground has amenities such as Santa's Splashdown Water Park. It also puts up a drive-through outdoor light show during the holiday season. The Holiday World theme park lets you stroll through Halloween, Thanksgiving and Christmas areas and meet Santa all year round in between roller coaster rides. Elsewhere in Santa Claus, shop for sweets at Santa's Candy Castle and decorations at the Evergreen Christmas Store. Before you book a holiday trip right now, make sure and mail a postcard at the post office to get a coveted Santa Claus postmark.
North Pole, Alaska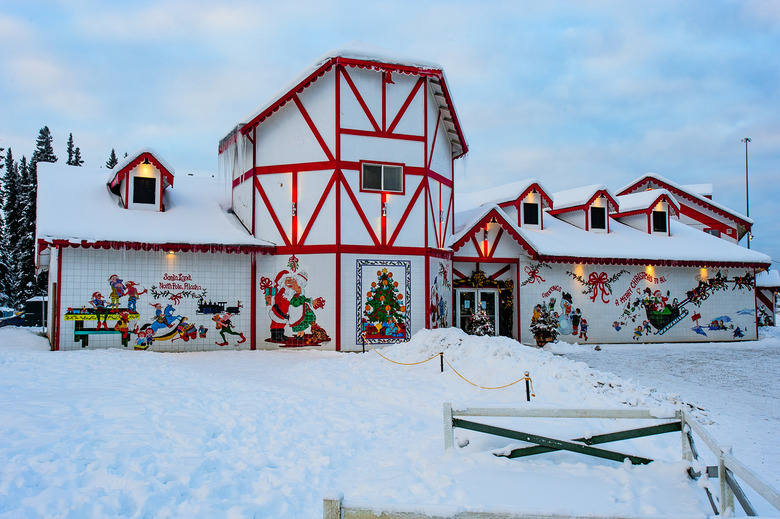 iStock
It might be more than a thousand miles off from the real thing, but Alaska's city of North Pole is home to its own version of Santa's workshop. Kids can meet Kris Kringle and his reindeer there any day of the year, but the town really knows how to do Christmas itself. There's also a 42-foot-tall Santa statue outside as well as festive signs and road names around town, including Snowman Lane, Saint Nicholas Drive, Holiday Road and Santa Claus Lane.
Rothenburg ob der Tauber, Germany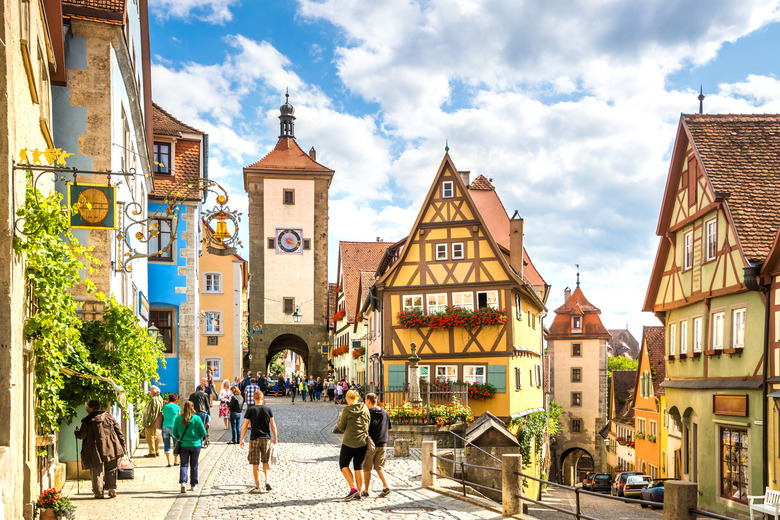 iStock
The German town of Rothenburg ob der Tauber is famous for its Christmas market, one of many throughout Germany. More than one million people a year visit the charming medieval Bavarian city, and while it's especially magical during the holiday season, it is also known to Christmas connoisseurs for its year-round store, Käthe Wohlfahrt, which sells the world's largest selection of German decorations. Rothenburg also has a year-round Christmas Museum, which documents the evolution of Christmas decorations with beautiful items such as elaborate wooden Christmas pyramids, which are carousel-like tiered carvings.
Rovaniemi, Finland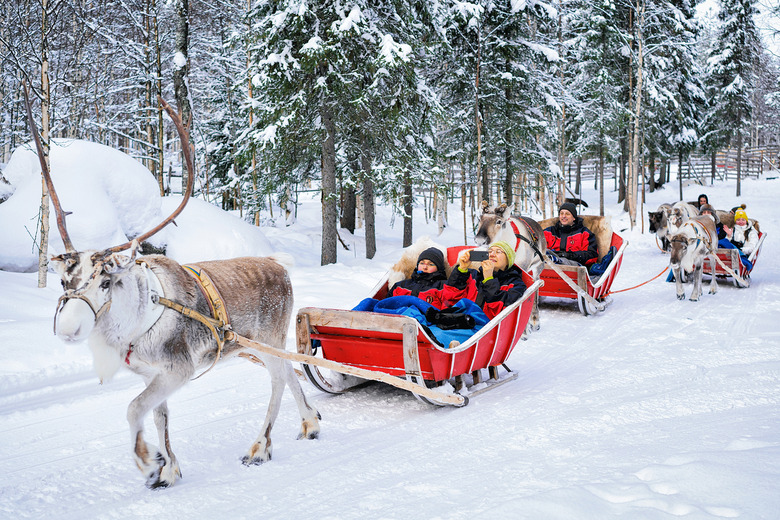 iStock
The myths about St. Nicholas originated in Europe, with many saying Santa himself came from the Finnish Lapland. Rovaniemi, in particular, has been declared by some as the official home of Santa Claus. Every day of the year, Santa offers tours of his house and of his elves' toy workshop as well as the post office where he receives millions of children's Christmas letters. Visitors can also take a reindeer sleigh ride or learn what it takes to be one of Santa's elves at Elf School. The city is also on the border of the Arctic Circle, meaning visitors can experience some natural magic by seeing the midnight sun or the northern lights.
Medina, Ohio
Castle Noel in Medina, Ohio, is the country's largest indoor year-round Christmas attraction. It's home to America's largest collection of holiday movie-related artifacts, compiled by the appropriately-named collector Mark Klaus, including Hollywood props from movies such as "Elf," "Christmas Vacation" and "The Grinch." Castle Noel also has Christmas window displays of years past from New York City department stores Saks Fifth Avenue, Bloomingdale's, Lord & Taylor and Macy's.
Pigeon Forge, Tennessee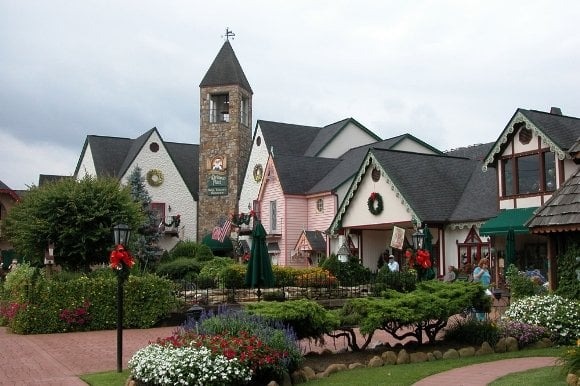 The Incredible Christmas Place/Yelp
Many other tourist attractions have been built up around Dollywood in Pigeon Forge, Tennessee. This underrated small town is also home to Incredible Christmas Place, the largest permanent Christmas store in the South. Get in the Christmas spirit strolling through 43,000 square feet of decorations or stop to chat with the Santa-in-residence who's there to hear Christmas wishes year-round.
Frankenmuth, Michigan
Known as Michigan's "Little Bavaria," Frankenmuth is a small town-sized ode to Christmas. It's home to a replica of Austria's Silent Night Chapel, where the iconic Christmas song was first written and performed. Other attractions include a German Christmas museum and a life-size replica nativity scene. But the town's biggest claim to fame is Bronner's Christmas Wonderland, which claims to be the world's largest Christmas store. The store houses more than over 50,000 items, including dazzling displays of decor that are an attraction in and of themselves.
Midland, Michigan
About 40 miles away from Frankenmuth, Midland, is where jolly men from around the country travel to learn the secrets of St. Nick at the Charles W. Howard Santa Claus School. Open since 1937, it's the longest continuously running Santa Claus school in the world. Students brush up on their Santa history and costume skills, while also learning ways to connect with children, such as Christmas-specific sign language, toy making and singing classes.
Bethlehem, Pennsylvania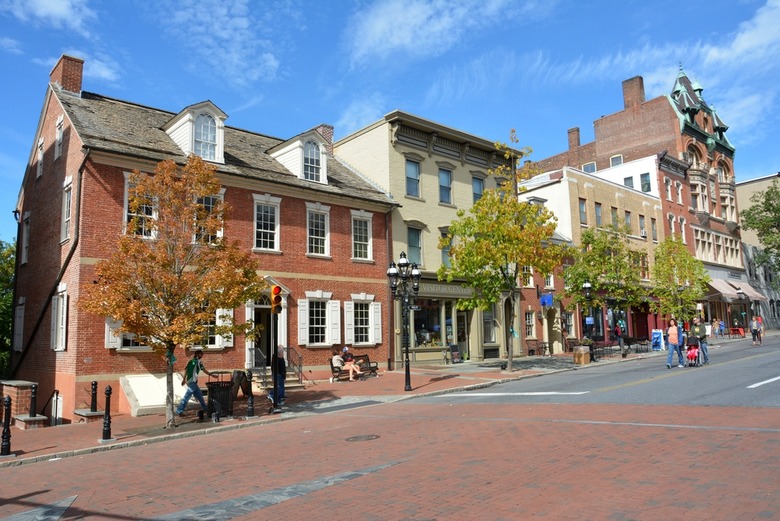 Shutterstock
Much like its Biblical namesake, the city of Bethlehem, Pennsylvania, has a star lighting visitors' way — though this one is electric. Founded on Christmas Eve in 1741, Bethlehem declared itself "Christmas City, USA" in 1937. Around the holiday season, the city puts on a Christkindlmarkt, lights up hundreds of trees in the historic district and stages its one-of-a-kind Live Advent Calendar. Every day, someone is chosen to knock on the door of the Goundie House. A special guest inside emerges and gives treats to the crowd.
Solvang, California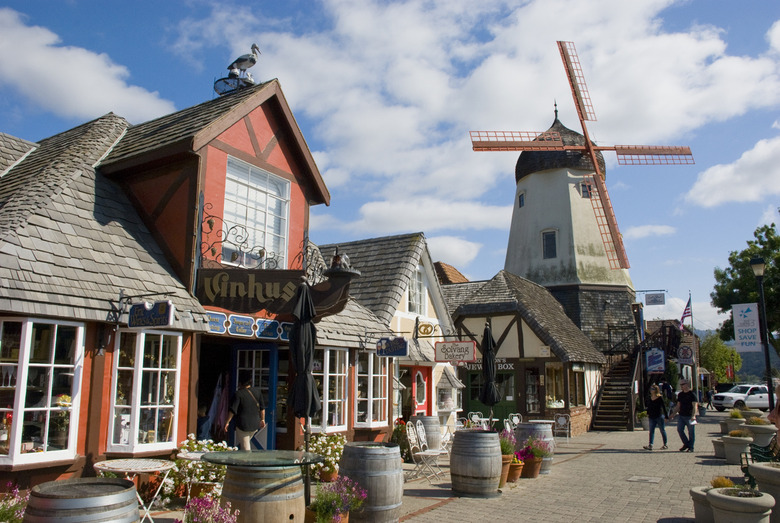 iStock