Take A Ride On The Scariest Roller Coaster In The World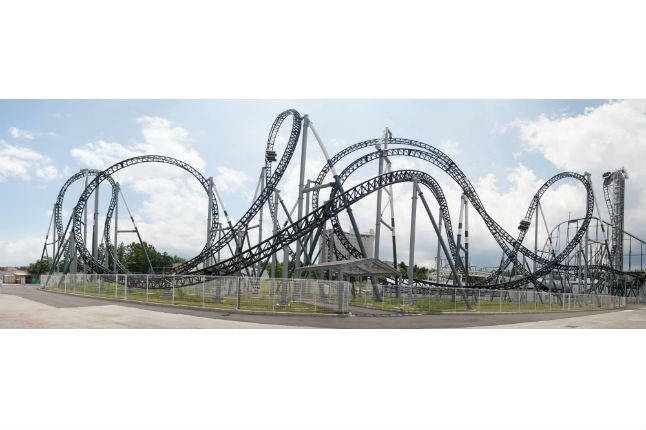 Wikimedia
Heart-racing, stomach-turning, eyes-tearing, skin-flapping, death-defying roller coasters. It takes a certain person to love them, to seek out the biggest and the baddest, and for each roller coaster junkie, a certain element is key in determining their favorite rides.
Some like inversions, or when the roller coaster turns completely upside down and back again and again. Others like speed, when a roller coaster shoots from 0 to 100 in 4 seconds. But, when it comes to wanting to take a ride on the scariest of the roller coasters, it's all about the big drop. And that big drop is not just determined on height, no. Because a tall coaster could gracefully travel down the tracks. What really makes the difference is the drop angle.
In May of 2011, it was announced. A roller coaster that would beat the record and become the world's steepest one yet. Takabisha opened to the public July that year in Fuji-Q Highland theme park in Fujiyoshida, Yamanashi, Japan. The ride starts with a sudden drop that brings you into a pitch black darkness before you enter a slow roll. Then in less than 2 seconds the car is shot down a 207 feet long tunnel reaching speeds of 63 miles per hour. The ride continues through inversions, and returns to the station where the track turns a sharp 180 and pulls riders up the vertical chain lift to the famed, record-breaking drop. Once there, the car slowly inches till it finally reaches the 121 degree, insane drop, down over 100 feet into more inversions and finally to a halt. The whole ride only takes 2 minutes, but it is bound to be the most thrilling 2 minutes of your life.
Curious what it would feel like to take a ride on Takabisha but can't make it to Japan any time soon? Check out this video of a front row ride, which only the most daring of daredevils would take on.
Click here for more of the biggest and baddest roller coaster rides
Related: 
The World's 15 Craziest Zip Lines
New Ways to See National Parks: 7 Alternative Adventures
8 Stunningly Beautiful Abandoned Places