The Most Picturesque Winter Hikes In The U.S.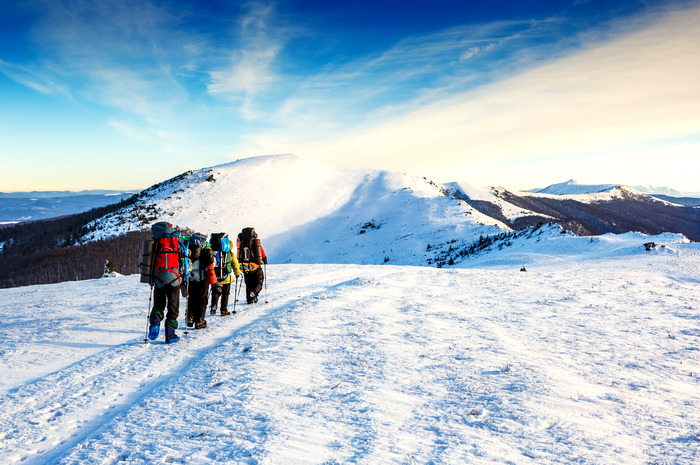 Shutterstock
A winter adventure is not all about difficult dangerous ice climbs, swimming or surfing in icy waters, or even skiing in the Rocky Mountains. Add an easy or challenging hike to the list of fun activities you can enjoy. Snowed trails, icicles and cooler temperatures don't necessarily translate into challenging conditions to explore a mountain or a national park.[slideshow:93568]
You are going to enjoy stunningly beautiful and inspiring views – some trails offer even more gorgeous sights in the winter because the snow adds contrast and serenity and removes all the crowds. Imagine a desert dusted in powdered snow, a waterfall frozen in blue ice or a horizon of snow up ahead of you with no tracks.
This is still winter so take precautions. Every trek involves going up and down and temperatures can vary greatly at each altitude. Be prepared to adjust and regulate your body temperature.
Wear layers, thick socks, an insulated jacket, and carry a waterproof one in your bag just in case. Bring safety gear like a trail map, first aid kit, a compass, warming packets, and a pocket knife. Imagine what you'll need if you had to spend the night in the mountain because of an emergency, and bring it.
Hiking in the winter is all about location. Hundreds of trails offer striking settings, varied topography, mild temperatures, and little (or an abundance of) snow. In many ways the powder cover is the lure.
Make a winter hike your new adventure hobby this year.
Click here for 15 of the Most Picturesque Winter Hikes in the U.S.
More readings: 
Most Amazing Places for Hiking in the National Parks
Most Incredible Active Volcanos You Can Actually Hike Around the World