10 Awesome Spots For Snow Camping This Winter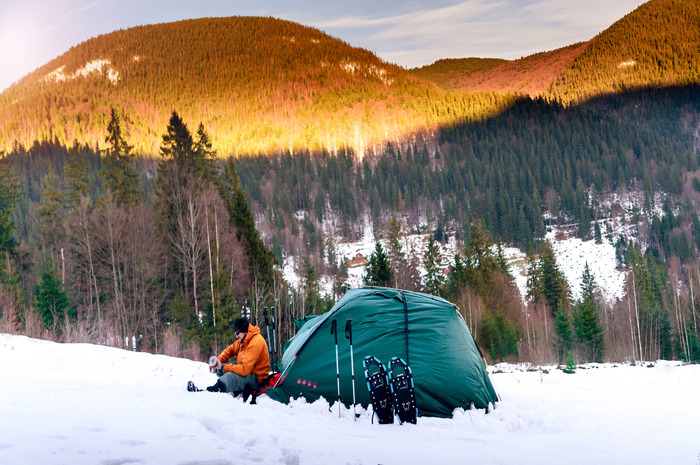 Shutterstock
Recent studies have shown that merely a walk in the park can calm the mind while changing the way the brain works to improve mental health.  Imagine what a few days in the wilderness will do. Campgrounds offer some of the most unique camping experiences in the country.[slideshow:93480]
Recharge your body and mind with stunning views of wild nature, breathtaking and frozen waterfalls, majestic and ice-covered lakes and rivers, powdery red rock landscapes, and lavish forests all blanketed by snow.
Still, winter camping is not for everyone. You need the right tools, very warm clothes, and sturdy tents. Water usually means a pump of melting snow; electricity is not a given. Preparation is key but the opportunity to go cross-country skiing, snowshoeing, animal tracking, bird watching and ice fishing undisturbed will be worth every obstacle.
Snow camping usually means no crowds and no bugs – two prerequisites if you want an enjoyable experience in the wilderness with a side of peace and quiet. In fact, this can be a unique adventure in several ways as icy lakes and streams may not be a way for you to get to previously unreachable spots.
Magnificent scenes of white-capped mountains and smoky blue skies set the scene for a grand winter camping journey. Set up your base camp at one of these impressive locations.
Click here for 10 Awesome Spots for Snow Camping This Winter
More readings: 
The Most Insane Cliff Camping Destinations
The Most Dangerous Camping Destinations