Rock Climbing Techniques That Can Be Your Secret Weapon In Life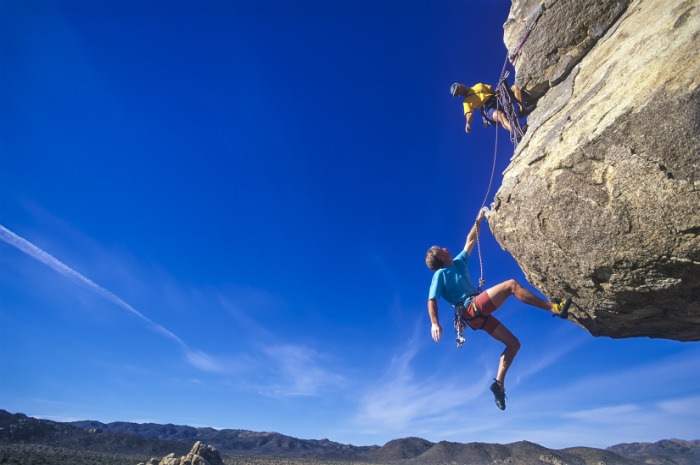 Shutterstock
There are times when desire and commitment drive people out of any comfort zone they could possibly imagine.
Manley Feinberg II thought about that fact one day as he stared at a wall of rock in front of him in the Aksu Valley, one of the last frontiers of big-wall rock climbing, located in the country of Kyrgyzstan in Central Asia.[slideshow:102273]
Feinberg, a business leader, motivational speaker and author of Reaching Your Next Summit, was about to take on one of the greatest challenges in this adventure sport. But before he could do it, he had to put faith in a Russian colleague named Dima who suffered a seizure only hours before the climb. 
Dima served as Feinberg's belayer, the one who uses a small metal device known as a belay to control the friction of a climber's rope and save him if he begins to fall.
"The belay allows climbers to safely accomplish what seems impossible," Feinberg says. "The same belay principle can be your secret weapon in life where someone can help you stretch your own comfort zone and reach toward higher summits while encouraging you and saving you from the falls you will inevitably encounter."
Feinberg says the business leaders he often advises and anyone else looking to accomplish lofty goals can use their own belay system and reach beyond what they think they can.
"When executed consistently, the belay lesson will have a dramatic impact on your life," says Feinberg, who recommends those looking to accomplish bigger goals should start their day with two questions: "Who do I need on belay today?" In other words, who can support me to help me accomplish my goals? And, "Who will I belay today?" What individual needs my support the most today?
Click here for the rock climbing techniques that can be your secret weapon in life
Related stories:
20 Ways to Be Calmer, More Mature...And More Productive
Skills All Rock Climbers Should Master