48 Hours In Great Smoky Mountains National Park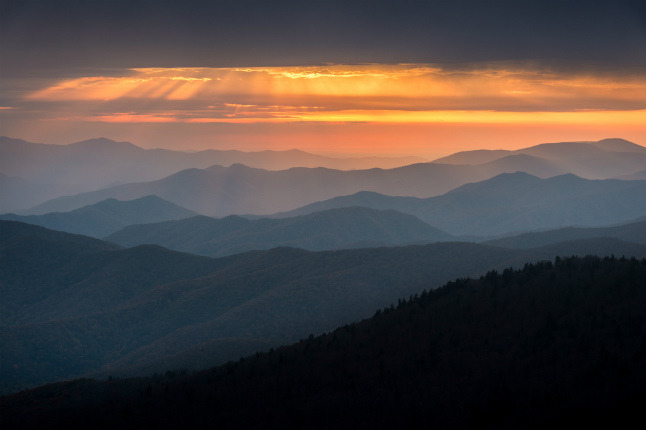 Shutterstock
Great Smoky Mountains National Park is a hiker's haven, a sightseer's paradise and a nature-lover's dream. It's also the most visited national park in the country by far, with more than nine million visitors per year.
What makes the park so popular, you might ask? Well we've found that answer is best found by visiting Great Smoky Mountains yourself. When you get there, here are a few things you might want to do.
Day 1
10 a.m.— Bike Cades Cove
This incredible section of the park should definitely be on your to do list and the best way to experience it all is by bike. Take the 11 mile path around Cades Cove and stop off to see wildlife like black bears, incredible vistas and the historic buildings still there from when the settlers first built them. This route accommodates cars too, and can get busy in the summer so it's usually best experienced when it's less busy.
2 p.m.—Horseback Ride
Stop in at one of the stables (either in Cades Cove or Sugarlands) to see the park in a one-of-a-kind way. The rates are normally $30 per hour, but in the busy summer months there may not be any availability.
Day 2
10 a.m.—Visit Clingmans Dome
Trek up the steep half mile trail to the tallest point in the park, Clingmans Dome. The tower offers 360-degree views of the park and well beyond its borders.
1 p.m.—Picinic and Hike the Deep Creek Area
Make your way over to the Deep Creek area of the park. Home to a campground, picnic area, stream and hiking trails, this scenic spot is perfect for lunch. Roughly two miles of hiking will give you a view of three stunning waterfalls and Deep Creek.