Adventure On The Mighty Mississippi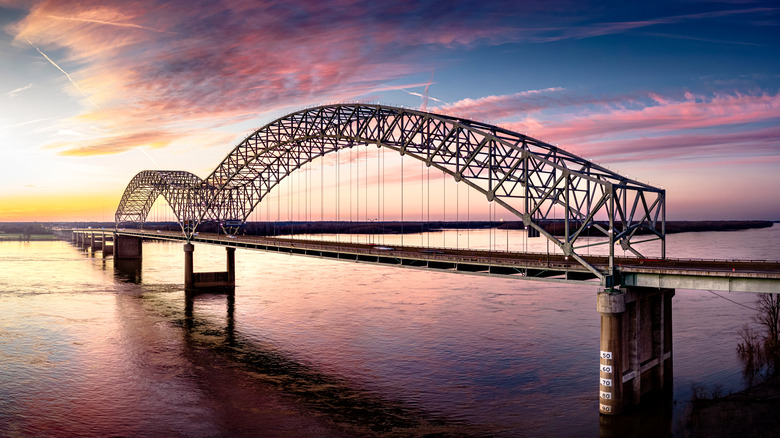 Alexander Parmley/Shutterstock
Canadian adventurer Brett Rogers undertook his first big river expedition as an undergraduate at the University of Waterloo, back in 2004. In what was the final year of his geography studies, Rogers led a voyage on the Mackenzie River, nearly dying in the process when his homemade raft capsized. He and his crew escaped with enough footage to produce his first documentary, and has continued on that track ever since.
Rogers went on to complete a 100-day expedition on the Yukon River before spending a full 110 days on the Mississippi in the fall of 2009—a season that saw the worst flooding on record in 70 years.
Under the mentorship of Les Stroud, the star of TV show Survivorman, Rogers has flourished as an adventurer and filmmaker in his own right—staying busy teaching documentary film classes and taking TV production jobs around the world. Just this February he spent three weeks on a fishing trawler out of Dutch Harbor, AK.
Currently Rogers is between adventures, living in Toronto. We caught up with him to talk about his Mississippi expedition, which he has just begun releasing online as a ten-part web series.
The first couple episodes of your Mississippi expedition have just recently been released, but when did this trip actually start?
We started the trip in August 2009 with the goal of trying to bring some attention to water issues. I wanted to produce something with more of a mainstream appeal, not to just connect to the people that already get it. I wanted to hit these underlying themes, like the right to fresh water.
One of the themes that comes out in the web series is our struggle to get fresh water, while going down this freshwater river. It took more than two years, but I've finally got the footage edited into a 90-minute-long documentary intended for television.
So will the full-length documentary be airing in the U.S. or Canada anytime soon?
I got some offers to sell it to TV, but I figured why not put it on the web, get it out there. I sold my last film on the Yukon, and it's been sitting on a shelf for a year. My main goal all along was to capture the modern-day story of the Mississippi River, and tell it in a compelling way that's part Geography 101, and the other thread of the trip is the expedition itself.
How did you hook up with Les Stroud?
I did my first expedition on the McKenzie in 2004, right around when Survivorman came out in Canada. I emailed Les and he wrote me back. For about five years, he was a mentor to me. As a guy going out in the field, not having a lot of support, that was huge. He loaned us all the camera equipment for the Mississippi expedition—about $20,000 worth—and we pretty much broke all of it.
What was your biggest challenge on the river?
Besides the challenge of getting water, this trip never got easy. It's not a technical river, but 2,400 miles is a good long distance. From portaging around the locks and dams and getting around the Twin Cities, it was a lot of work.
There are 31 locks and dams to deal with, so basically that means 31 different lakes. And there were ten portages before Twin Cities where we had to get around dams that had no locks. We also ended up experiencing 30 straight days of rain, and it was one of the coldest seasons on the river in recent history. It was a real endurance battle.
Industry along the river seems to be another theme—what did you see in terms of pollution?
There were lots of ships and barges, and fumes coming out of all the refineries along the river. Pollution wasn't that much of an issue until Baton Rouge. From there to the Gulf of Mexico, it was pretty rough. There was no public land, so nowhere to camp, and nowhere to go—plus, the water started moving pretty quick.
You're far from the first person to devise an expedition down the Mississippi. How did you set out to make your adventure unique?
The big x-factor was the boat. If we went down in a canoe or kayak, well, everyone's seen that. But our boat was our tool of engagement. No one had ever seen that, and our vessel really captured the imagination.
Another component is that from having worked in TV, we knew how to do guerilla production really well.  It's funny because we were passed by a National Geographic crew that was doing the whole river in two weeks—on a houseboat. We just laughed because they probably had a million-dollar budget, but how compelling could that be? Two weeks? We were a complete expedition. We brought television production value to the project, but it was real. I've worked in TV, and TV is fake. This was 100 percent real—we didn't fake a thing.
So you didn't have a million-dollar budget?
We were fully self-financed. All the crew threw in $4,500 apiece and Les gave us $20,000 in camera gear to use. And there was an American woman I met who was extremely supportive, and gave us another $20,000 to help build the boat.
What can you tell us about Annie, your boat?
It's a York boat we built specifically for this trip. It's a flat-bottom design that originated in Europe centuries ago. It came to North America during the fur trade, and was favored because it could carry twice the amount of weight as a voyager canoe, but could still cross open water. Basically, it's like a big dory—we just built a modern interpretation of the design.
Did the original version of the boat have a centerboard and a mast, like yours did?
In the original versions, there was no centerboard, but there really was no specific design. The boats tended to evolve in the location where they were, depending on what they had to do. Some had a mast, some didn't. Ours was 32 feet long.
Portaging a boat like that looks like two tons of fun. How much did it weigh?
As you'll see Chapter Three, we end up doing a lot of damage, and then happened to camp next to a boat factory. They brought our boat in and helped us out with $3,000 worth of improvements to the hull. Then it really got heavy—it went form 800 pounds empty to about 1,000 pounds empty.
What was the most dangerous part of the trip?
One of the main dangers was that the U.S. Army Corps of Engineers builds these wing dams all down the river. They use them to concentrate the current, and keep the sediment from depositing on the bottom. Sometimes you see these little boils and sometimes there's no warning at all. These can be 200 to 400 feet long, and the danger is that if they're right at water level and you're doing 6 or 7 mph, these giant man-made rock and concrete dams can seem to come out of nowhere. Luckily, after St. Louis, the water was running so high these were 20 or 30 feet below the waterline.
Going through the Port of St. Louis was pretty trippy, too, just because we just weren't used to that much traffic on the river. Then, south of Baton Rouge, the river was filled with ocean-going vessels—so in addition to dealing with barges that were two-football-fields long, here come these giant vessels that were totally silent. That part got pretty scary.
What did all that rain do to the current?
We saw the largest Fall flood in 70 years on the Mississippi. The first half of the trip took three months. We completed the second half in one month. It took us just three weeks to get from St. Louis to Baton Rouge. We went from averaging 25 miles a day, to 45 to 60 miles a day.
How big was your crew?
There were six of us—five guys and one girl. We had two cameramen along in a canoe through to Dubuque, IA, where they had to leave, so then we got rid of the canoe. After that, all the external shots are from when we met other boats and they let us go aboard with a camera.
How did this trip compare to your others on more remote rivers through wild, isolated terrain?
As a Canadian, it was kind of like going through the Roman Empire at the height of its power. I thought I knew America, but I got to know it in a whole different way. I got to go right through the heart of a whole country, and everyone was so accommodating. From Minnesota to Louisiana, everyone was so nice—it was a really positive experience.
The first U.S. screening of the Old Man River Project will be held Friday, April 27 in Baton Rouge, and will benefit the Lower Mississippi Riverkeepers. For more on the past and future expeditions of Brett Rogers, go to BrettOnTheWater.com