11 Las Vegas Adventures That Have Nothing To Do With Gambling
Las Vegas Adventures that Have Nothing to Do with Gambling
Sin City—the spot best known for gambling, partying, and general debauchery—has a seriously warped reputation, even among those who have visited. Tourists flock to the Strip for gambling in casinos, drinking beside rooftop pools and partying at some of the hottest clubs in the country until after sunrise and then leave thinking that's all there is to Vegas.
Little do they know, a short journey off the Strip would have put them right in the heart of an outdoor adventurer's paradise. With all the incredible outdoor venues that surround the city and several awesome outfitters located around Las Vegas, casinos simply can't compete with the epic adventures that await thrill seekers in the great outdoors.
Take a Big Leap from the Stratosphere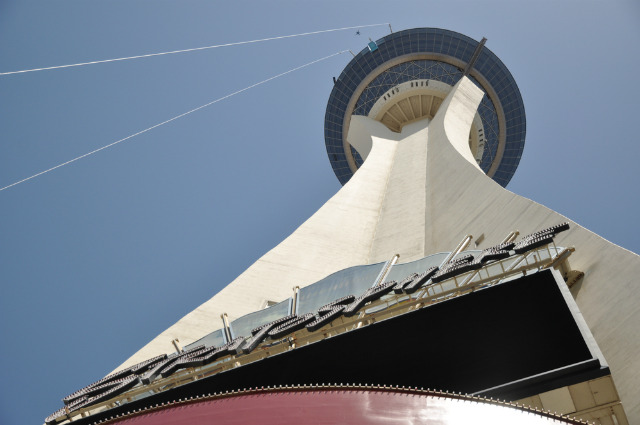 Pe3k / Shutterstock
If you thought the most intense gambling was going on at the tables, you haven't felt the thrill of plunging from 829 feet above the Strip. Go to the Sky Jump at the Stratosphere in Las Vegas and step over the edge at floor 108. In a heart-pounding, controlled free fall that's been described as a vertical zip line; you'll make it to the base of the tower and land safely on the ground. This adventure promises unbelievable views of the Strip, but we're betting you'll find it a little hard to focus on the city lights until after your epic jump.
stratospherehotel.com; jump packages from $120
Kayak the Colorado River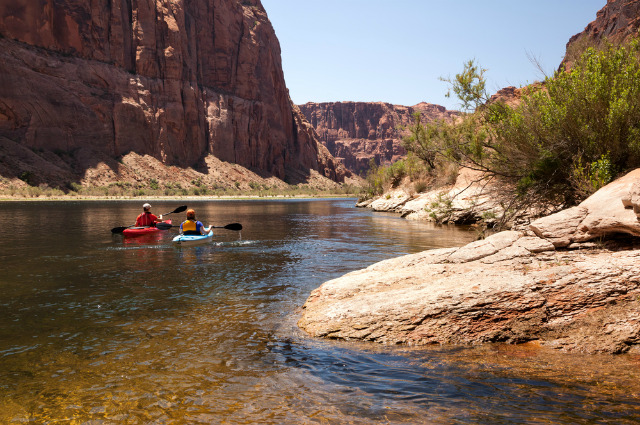 Shutterstock
When it comes to outdoor adventure around Vegas, it's tough to beat paddling around the base of the Hoover Dam and then traversing a 12-mile stretch (or more, if you so choose) of the Colorado River. The river that cuts through the Grand Canyon is a top paddling spot and with plenty of great side hikes, it's an experience you absolutely shouldn't miss. Several outfitters in the area rent kayaks and coordinate transportation and the Hoover Dam is just a 40 minute drive from the city.
Rappel the Valley of Fire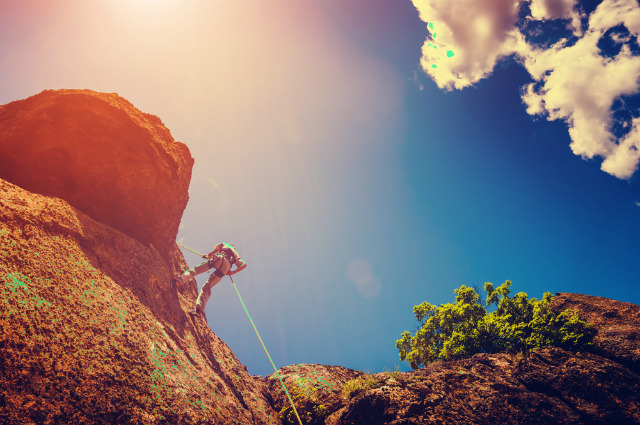 Shutterstock
The Valley of Fire State Park is a must-see spot for any outdoor enthusiast visiting Vegas and there's arguably no better way to take it all in than from 150 feet up on the side of Lone Rock, while you're rappelling down. Those with experience and equipment can go it alone after notifying park officials, but guide services are also available and Awesome Adventures is a highly rated option.
awesomeadventures.com; $149 
Race Dune Buggies on the Outskirts of Vegas
An adventure to satisfy the most die-hard adrenaline junkies, Mini Baja Chase (or the more exploratory Amargosa Big Dunes expedition) from Sunbuggy Fun Rentals offers the ultimate off-road thrill. The Mini Baja Chase will send you speeding over dunes, following an expert driver, just 15 minutes from the Strip; while the Amargosa Big Dunes adventure will put you closer to Area 51, amid ginormous dunes, some of which are too tall to scale. Both of these extreme adventures are both mind-blowing and physically tough, so come prepared.
sunbuggy.com; Mini Baja Chase from $159 and Amargosa Big Dune from $699 (all day adventure)
Mountain Bike in Cottonwood Valley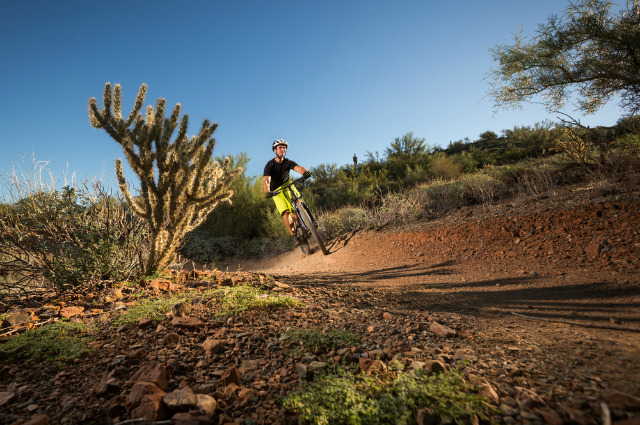 Shutterstock
Enjoy dozens of miles of marked trails just 30 minutes from the Strip. Cottonwood Valley has routes to entertain any rider (with an emphasis on beginner and intermediate riding ) and stunning views to match. McGhie's Ski, Bike & Board is set at one of the starting points for easy rentals and repairs.
Ski or Snowboard at the Local Ski Resort
Believe it or not, you can ski and snowboard just outside of Vegas, on actual snow that falls on an actual mountain. The Las Vegas Ski & Snowboard Resort is usually open from late November to early April and averages a surprising 212 inches of snow annually. The mountain, which has 30 trails and 195 lift-serviced skiable acres, also features another 250 skiable acres you can reach by hiking and a terrain park.
Hop Aboard a Hot Air Balloon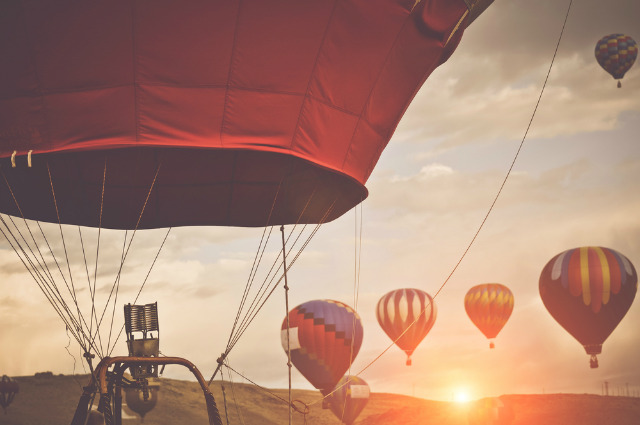 Shutterstock
It's romantic, exciting and, quite possibly, the best way to see Las Vegas—lift off in a hot air balloon for a truly unique experience and some incredible photo opportunities. Sailing with the wind, up to 2,500 feet off the ground, there's really nothing like it. Several outfitters in Vegas offer rides, typically starting at $200-$300.
Take a Helicopter Tour of the Grand Canyon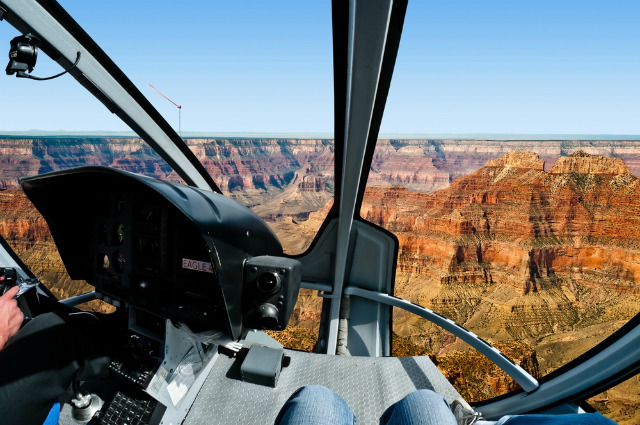 Shutterstock
For hundreds of years, this colossal canyon has beckoned people to its cutaway gorges. From Native Americans who considered it a holy site to the masses of tourists that visit today to take in the grandeur, the Grand Canyon and it's almost two billion years of geological history is a landmark whose importance is evident at first sight. What better way to take it all in than from the cockpit of a helicopter? Forego the 10-hour roundtrip drive and the crowds on the ground and see America's most popular natural attraction from the sky. Several outfitters in Vegas run these tours, with rates typically starting at $300-$400.
Hunt for Hot Springs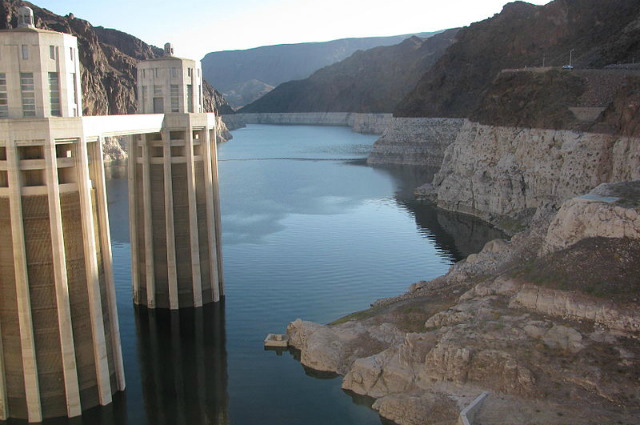 Wikimedia Commons/ Raquwl Baranow licensed under CC BY-SA 3.0
There are few things in the world more relaxing than a soak in a hot spring, especially when that soak comes after a tough hike. Head out on foot to one of the many hot springs in the Las Vegas area and enjoy a restorative soak in the naturally warm waters. There are several springs set below the Hoover Dam, but if you're looking for a truly tough hike, you should head to Goldstrike hot Springs.
Zipline Over Bootleg Canyon
Take in stunning desert canyons from a bird's eye view while reaching speeds of 60 mph on this incredible four-line course. Start at the top of Red Mountain, 3,800 feet above sea level and fly over canyons on your way to the desert floor. With lines that stretch up to a half mile, you'll have time to feel the surge in adrenaline and then take in the views that span many miles. If you're looking for an experience that's even more adventurous, they offer sunset and full moon zipline tours as well.
flightlinezbootleg.com; zipline tour from $159
Hike Mount Charleston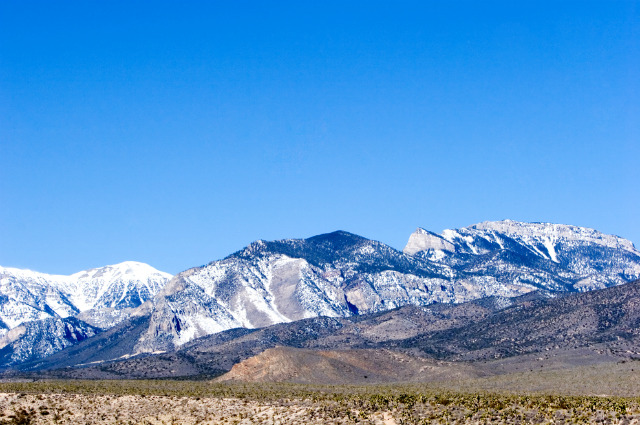 Shutterstock
In the height of the summer, when the blacktop on the strip becomes completely unbearable, head west to Mount Charleston. The hikes on this incredible mountain are not only a refreshing sight, but because of the altitude it's significantly cooler up top as well. Just be prepared with plenty of water, sunscreen and a big hat—not only will the intense sun still be a factor, but the hikes are a workout on their own.