14 Oldest Hotels In America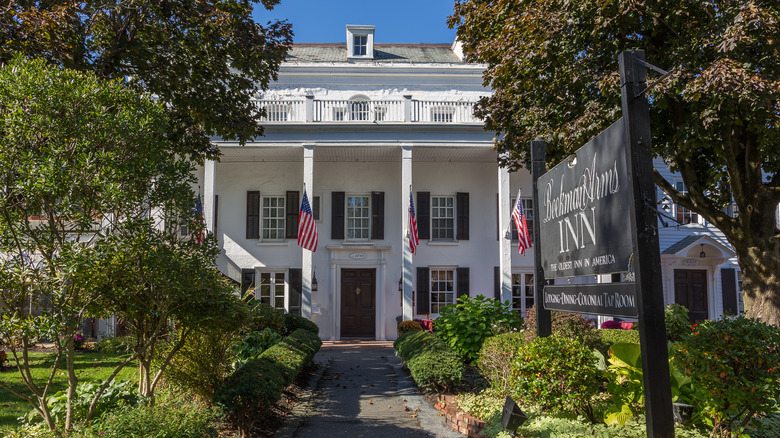 Olegalbinsky/Getty Images
America has no shortage of charming hotels, but there's something about staying in one that's been in business for 100 years or more that makes the experience really special. 
Staying in an old hotel doesn't just connect you to the past in the way that the oldest restaurant in every state or the oldest bar in every state does; it immerses you in the kind of old-fashioned style that's in short supply nowadays. The best old hotels are ones where time stands still, where you feel a tug to while away the afternoon with a good book on a porch and where an iPhone feels oddly anachronistic. 
Thankfully, there are still plenty of old inns and hotels across the country where you can rest your head for a night, and most of the following are also recognized by Historic Hotels of America for "faithfully maintaining their authenticity, sense of place, and architectural integrity," and are significant in their city's history. Staying in some of these historic hotels might be a splurge, but the experience is truly priceless.
1. Concord's Colonial Inn (Concord, Massachusetts)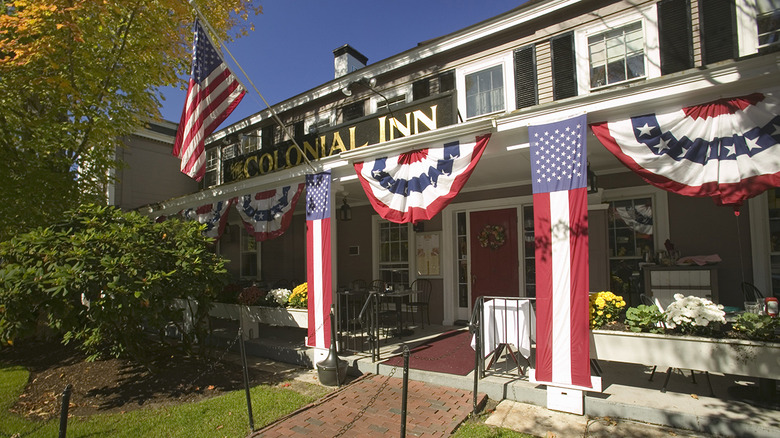 Dreamstime
Before functioning as a hotel in Concord, Massachusetts, Concord's Colonial Inn served many purposes. Originally built in 1716, the structure was a storehouse for weapons during the Revolutionary War. In 1835, acclaimed writer Henry David Thoreau lived in the building. By the time the inn opened in 1889, years of history had passed through the halls of the building. According to today's guests, the hotel has had so many terrifying occurrences that it's believed to be haunted. If you're searching for a thrilling adventure, you can book a stay at the inn for as low as $130 a night.
2. Historic Inns of Annapolis (Annapolis, Maryland)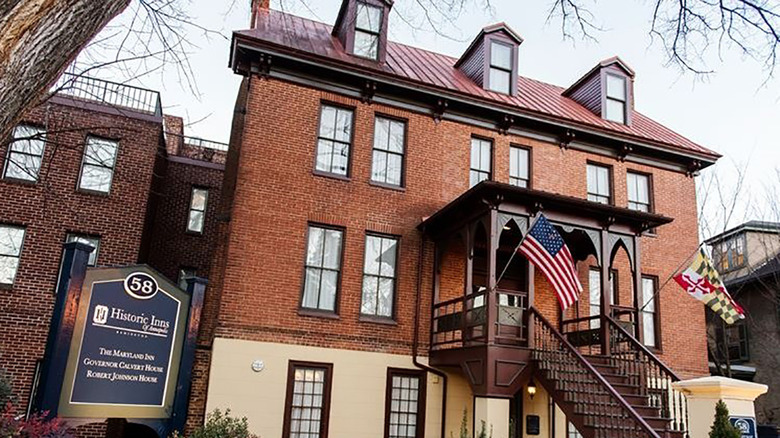 Historic Inns of Annapolis/YELP
The Historic Inns of Annapolis is made up of three historic buildings in Downtown Annapolis, Maryland, the oldest of which was built in 1727. These days, patrons can tour the historic grounds with more updated amenities, like a Starbucks, or have a meal at the Treaty of Paris Restaurant and Drummer's Lot Pub. The hotel is also not too far from popular, historic attractions in Maryland like the National Maritime Museum and the Maryland State House. Pricing for a room begins around $130 a night.
3. Kelley House Hotel (Edgartown, Massachusetts)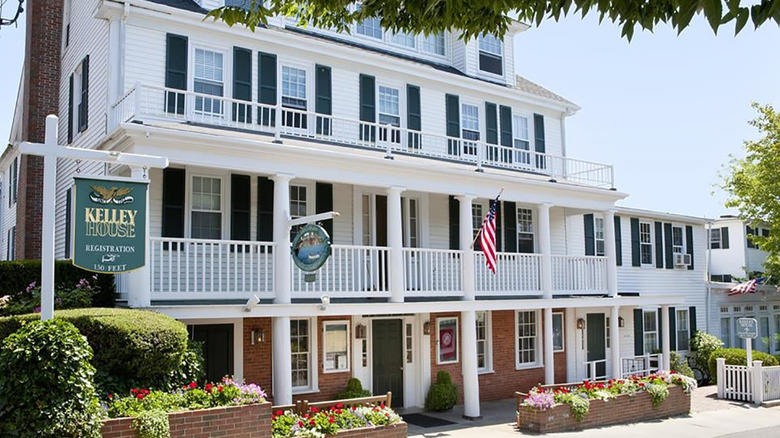 Kelley House/YELP
The Kelley House Hotel, in what is today's Edgartown, Massachusetts, opened more than 250 years ago in 1742. Originally named The Tavern, Kelley House served as a respite for sailors during the Revolutionary War era. Today's guests can enjoy meals at a historic colonial pub and restaurant on the property or relax at the private guest sunshine pool. Booking can get a bit pricey — a one-bed suite can range from $200 to $1,300 a night, depending on the time of year you're visiting — but if you're looking to explore Edgartown's history, this is the place to stay.
4. Beekman Arms (Rhinebeck, New York)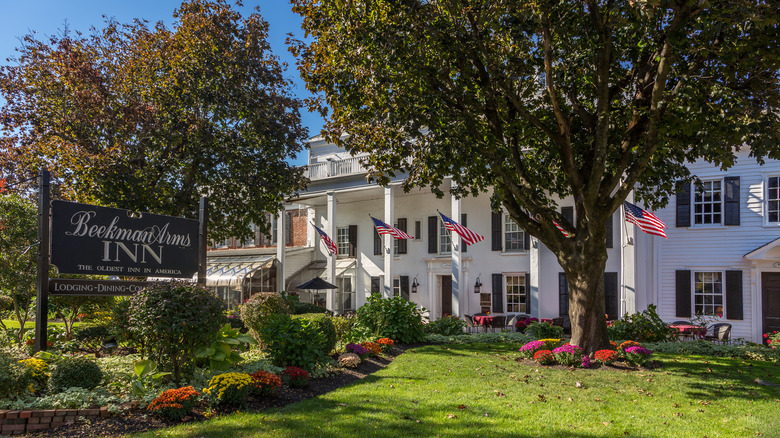 Olegalbinsky/Getty Images
The Beekman Arms has welcomed guests to Rhinebeck, New York, since 1766, and it remains a central gathering place in this charming upstate New York town. Close to Rhinebeck are other estates that belonged to the Roosevelts, Vanderbilts, and more. Rooms are decorated to resemble olden times while still having modern charm, and in-room spa services are available to all guests. A stay at the Beekman Arms starts around $250 a night.
5. Publick House Historic Inn (Sturbridge, Massachusetts)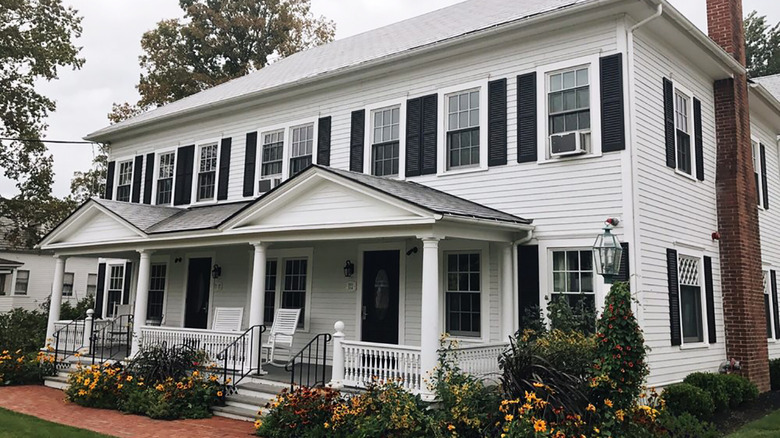 Sari Marissa G./YELP
Colonel Ebenezer Crafts opened what is now the Publick House Historic Inn in 1771 in Sturbridge, Massachusetts, and its three buildings are still quaint and charming. Rumor has it that Crafts was able to acquire the land where the Publick House now sits after winning a card game. Nowadays, no visit is complete without dropping by the 18th-century bake shoppe. Nights at the Publick House Historic Inn start at around $100 a night.
6. The Red Lion Inn (Stockbridge, Massachusetts)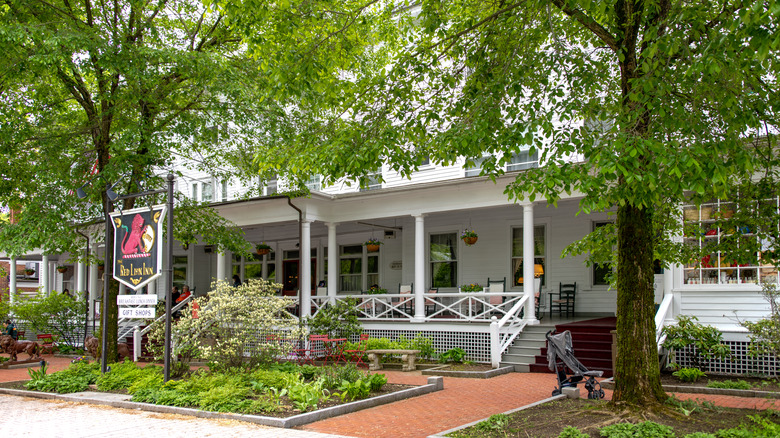 Robert Michaud/Getty Images
The Red Lion Inn opened its doors in 1773 in Stockbridge, Massachusetts, as a tavern for travelers to visit on their journey from Albany to Boston. It was purchased by Charles H. Plumb and his wife, a collector of antique furniture and china, in 1873. The building burned down in 1896 but was rebuilt completely the next year, and Mrs. Plumb's antiques are still on display at the inn these days. Current guests can relax and sip a drink on the inn's porch while soaking in what Stockbridge has to offer or take part in a handful of fitness activities. Rates start at $100 a night.
7. Woodstock Inn & Resort (Woodstock, Vermont)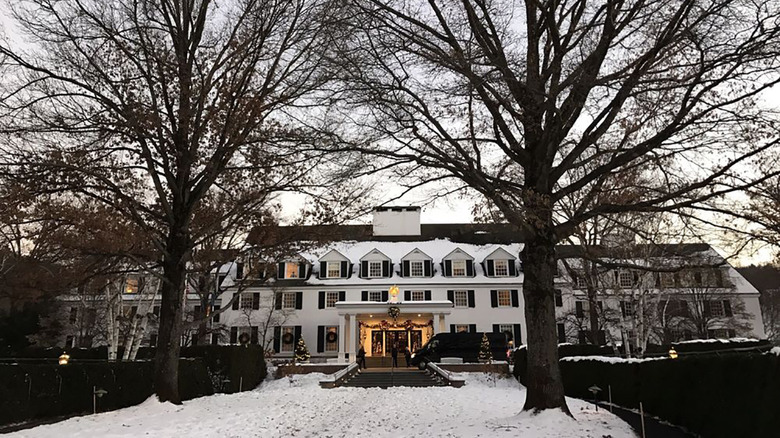 Yannie E./YELP
In 1793, the Woodstock Inn & Resort was opened as the first lodging in the new town of Woodstock, Vermont. It was completely rebuilt by Laurance Rockefeller, a third-generation member of the prominent Rockefeller family, in 1968. Guests today can enjoy meals made from farm-fresh ingredients or take part in recreational activities ranging from mountain biking to falconry. Each room features wood-burning fireplaces and handcrafted bed frames. For this luxurious stay, rooms start at $300 a night.
8. The Inn at Montchanin Village (Montchanin, Delaware)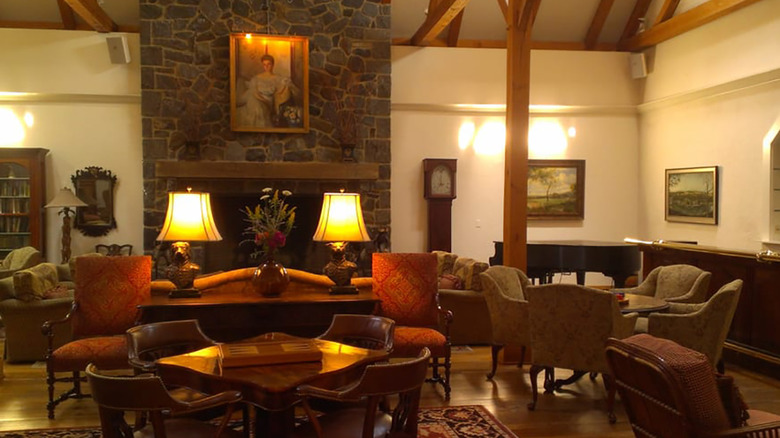 Gary C./ YELP
The Inn at Montchanin Village is located in the town of Montchanin, Delaware, and includes buildings dating back to 1799. The Inn only has 28 rooms and is designed with antique furniture placed with an eye towards transporting guests to the past. Krazy Kat's Restaurant, once where the village blacksmith's shop was located, offers award-winning cuisine in a space decorated with tiger-print chairs and photos of cats in military garb. A night at the inn starts at around $150.
9. The Willard InterContinental (Washington, D.C.)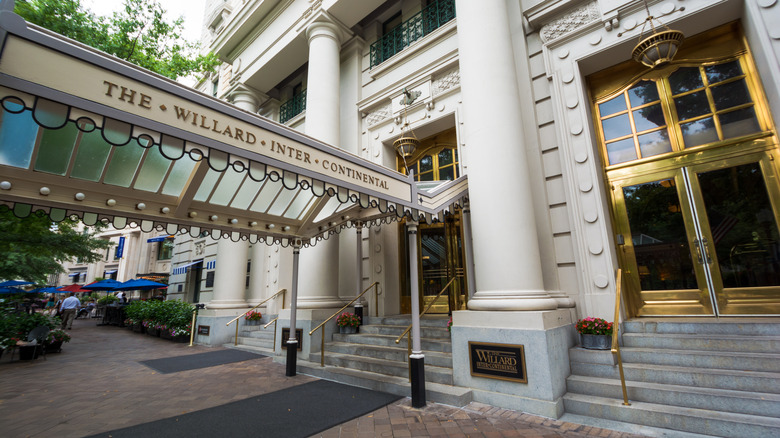 Gregobagel/Getty Images
The Willard InterContinental's history dates back more than 200 years. Since opening in 1818, the Willard has hosted prominent guests like Abraham Lincoln, Calvin Coolidge, Dr. Martin Luther King Jr., and the Dalai Lama. Its interior is coated in gold, with the halls speckled in burgundy and paintings of historic moments. Inside the hotel is the Café du Parc, a Forbes Travel Guide-recommended restaurant with cuisine guaranteed to make guests feel like they're in France. A standard room at the Willard starts around $330.
10. French Lick Springs Hotel (French Lick, Indiana)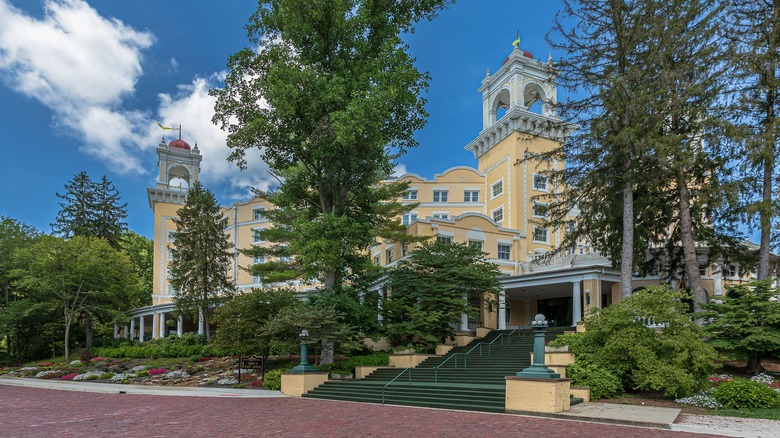 Wirestock/Getty Images
The French Lick Springs Hotel was built in 1845, and the property has been a popular resort since, though the original building burned down in 1897. The hotel was originally only open during the summer months with William A. Bowles, a physician and the hotel's owner, using nearby mineral springs to treat sick guests. Since its opening, notable figures such as Bob Hope, Ronald Reagan, Louis Armstrong, and Howard Hughes have all stayed at the hotel. Nowadays, guests can test their inner athlete at one of the four golf courses or relax at one of the spas on the resort. A night at the French Lick is a little over $200 for those searching for an escape.
11. Grand Hotel Golf Resort and Spa (Point Clear, Alabama)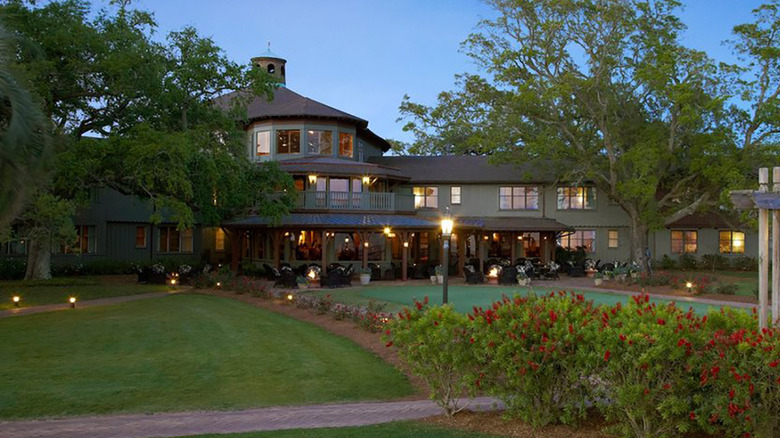 The Grand Hotel Golf Resort & Spa, Autograph Collection/YELP
Since 1847, The Grand Hotel Golf Resort and Spa has hosted guests (including Dolly Parton and Barbara Bush) and served as a place of refuge throughout Point Clear, Alabama's history. During the Civil War, for example, it doubled as a hotel and a hospital for wounded soldiers. Today, the Grand Hotel has more than 400 rooms and offers fun classes like the Culinary & Beverage Academy for aspiring mixologists and The Fun Camp for children. A night at the Grand Hotel starts around $340 for the queen suite.
12. The Sherman (Batesville, Indiana)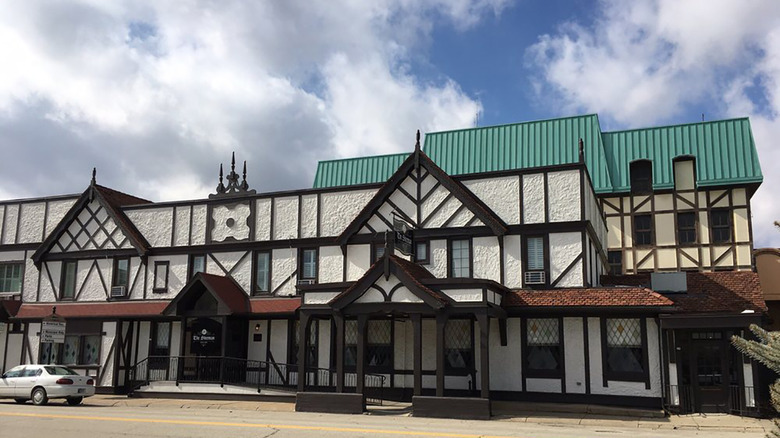 C V./YELP
Located in Batesville, Indiana, The Sherman began hosting guests in 1852. It gained its official name in 1865 in honor of William T. Sherman, a general during the American Civil War. Currently, there are 22 rooms in The Sherman with no two alike. A night at The Sherman starts around $140.
13. Island House Hotel (Mackinac Island, Michigan)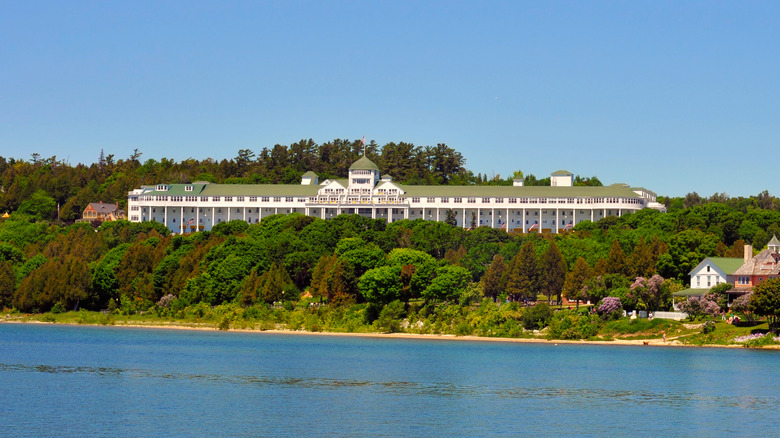 Kenneth Sponsler/Shutterstock
The Island House Hotel was initially built to serve as a beautiful waterfront beach house in 1852. But the Mackinac Island, Michigan, home was instead used as one of the first summer hotels on the island. Today, the Island House is the oldest hotel in Mackinac Island and offers a jaw-dropping view of the Great Lakes. Guests can enjoy nightly bonfires with the family or have dinner on the outdoor terrace while soaking in a breathtaking view of Michigan at its finest. A night at the Island House Hotel tends toward the pricier side — think $400 a night — but breakfast, luggage transfer, and baggage handling are included.
14. Omni Parker House (Boston, Massachusetts)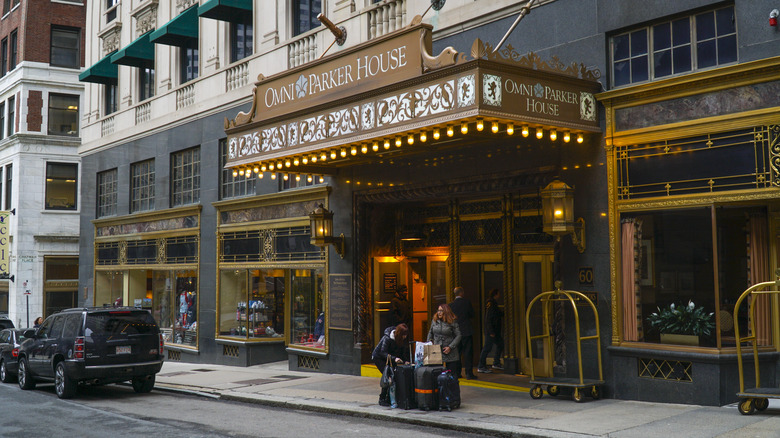 Cineman69/Getty Images
The Omni Park House in Boston is the city's oldest inn and the "longest continuously operating hotel in the United States." Since its founding in 1855, the Omni Parker House has hosted famous writers like Ralph Waldo Emerson and political giants like Franklin D. Roosevelt. With remnants of its history still lingering in the decor, the hotel lobby has old-fashioned seating and photos of the hotel during its initial opening. The views from suites in the hotel provide a glimpse of Boston's beauty with twinkling city lights and vibrant shrubbery. The price for a standard room with one bed at this resort starts around $200.