The Most Beautiful Coral Reefs In The World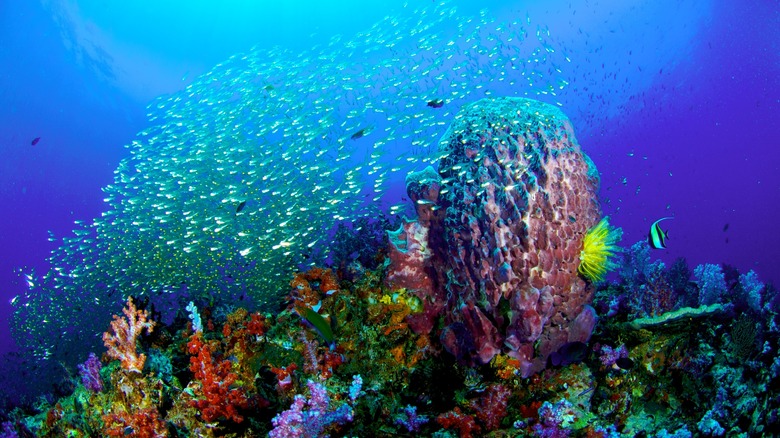 © Piboon Srimak | Dreamstime.com
With the current state of the world, is there a better time to dream of hiding out in that wonderful world beneath the waves? The Earth's magnificent coral reefs offer a glimpse into an enchanting place where colorful fish swim quietly by and amazing, diverse ecosystems flourish. Until you can plan your next tropical vacation, here's a way to see those magical places sometimes called the "rainforests of the sea."
Great Barrier Reef (Australia)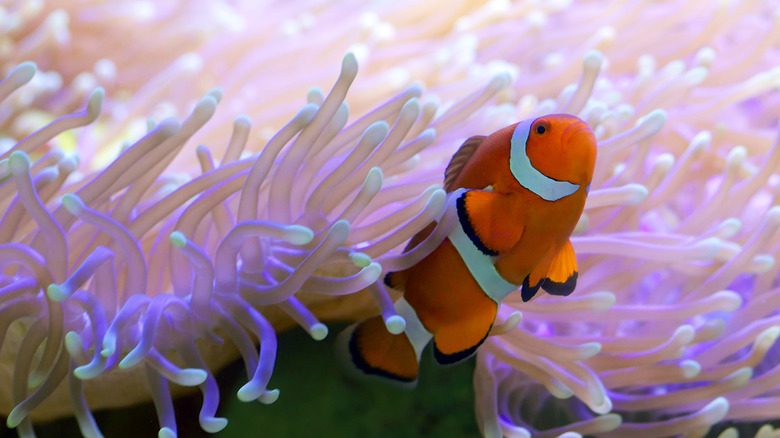 © Tanya Puntti | Dreamstime.com
The Great Barrier Reef, located in the Pacific Ocean off the coast of Australia, is the longest and largest reef complex in the world. It was also already likely the most famous reef in the world. Then came a 2003 movie called "Finding Nemo" about a clownfish living in the reef who gets separated from his father. After that, the reef, one of the world's most amazing natural wonders, found a new generation of fans.
Belize Barrier Reef (Belize)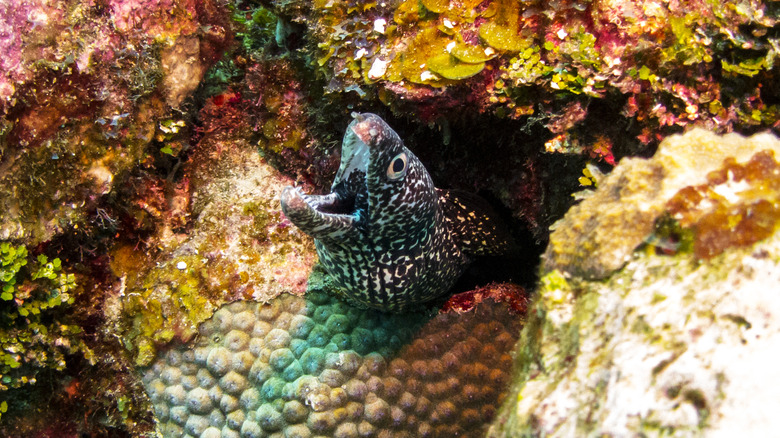 © James Kelley - Dreamstime.com
The Belize Barrier Reef is the world's second-largest after the Great Barrier Reef. Numerous endangered species, including sea turtles, manatees and the American marine crocodile, find a safe haven in these turquoise waters. 
New Caledonian barrier reef (New Caledonia)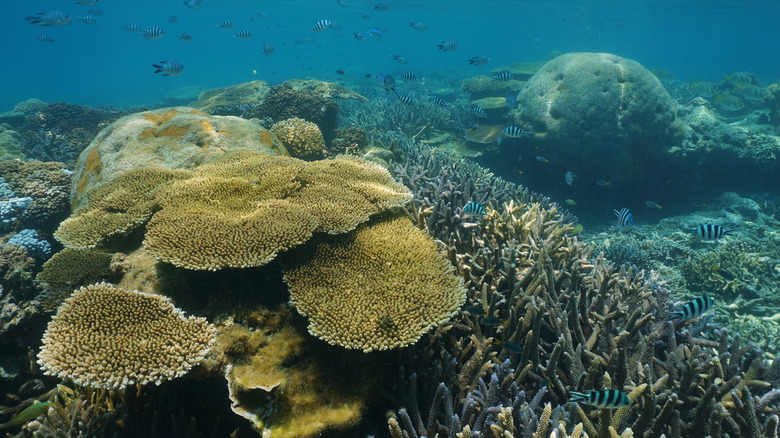 © Seadam | Dreamstime.com
New Caledonia is a French territory 746 miles east of Australia in the Pacific Ocean. It is home to one of the world's largest coral reefs. The diversity is dazzling, with more than 2,000 known species of fish. New species are being discovered regularly, but who knows how many undiscovered wonders of the world live here?
Red Sea coral reefs (Middle East)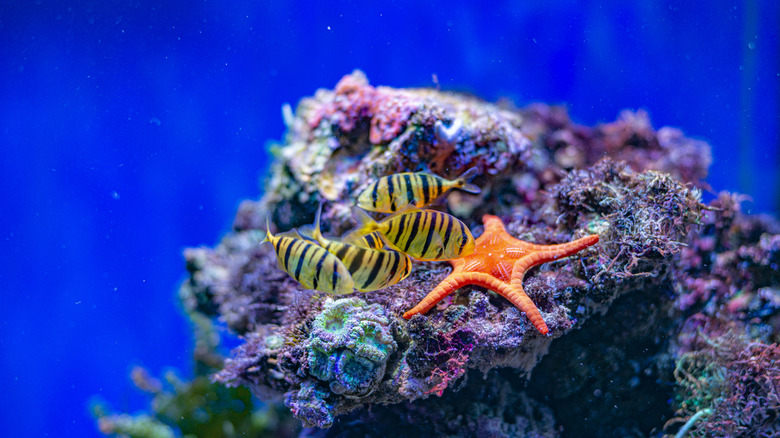 © Pavel Goberman | Dreamstime.com
The Red Sea, which is bordered by eight different countries, isn't actually red — and there's some debate as to where its name comes from. There's little debate, however, as to the beauty and diversity of its coral reefs. More than 1,200 species of fish call this Middle Eastern paradise home, with more than 100 of those species not found anywhere else.
Tubbataha Reefs Natural Park (Philippines)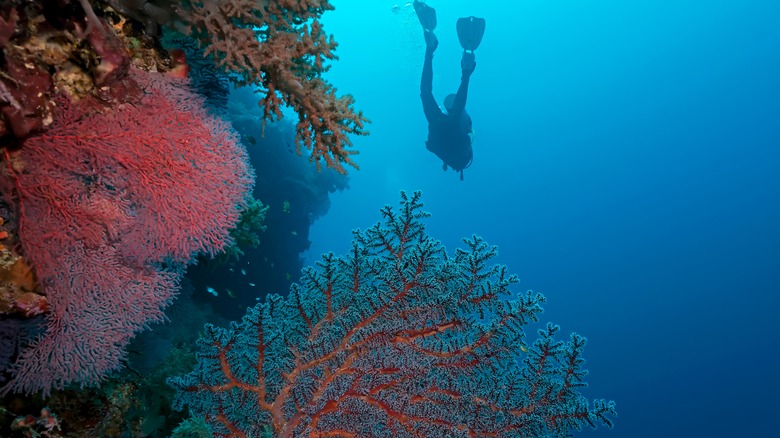 Janos Rautonen/Shutterstock
Divers who want to really get away from it all seek out Tubbataha Reefs Natural Park in the Palawan province of the Philippines. This isolated beauty, snuggled in the middle of the Sulu Sea, can only be visited on a liveaboard boat (a boat equipped so people can live aboard). Tubbataha Reefs Natural Park is renowned for its pristine coral reefs and for being home to more than half of the hundreds of coral species in the world.
Raja Ampat Islands coral reefs (Indonesia)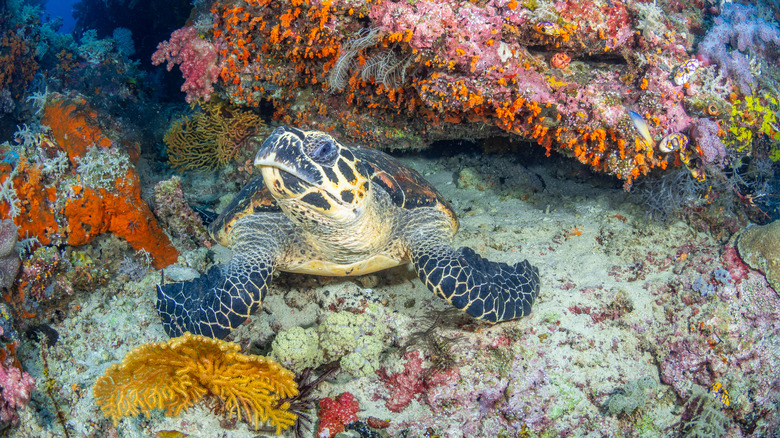 © Jeremy Brown | Dreamstime.com
Call the Raja Ampat Islands royal beauties — the name literally means "four kings." This archipelago with four main islands and hundreds more small islands, cays and shoals straddles the Equator and is home to 75% of the world's coral varieties.
Mesoamerican Barrier Reef (Caribbean)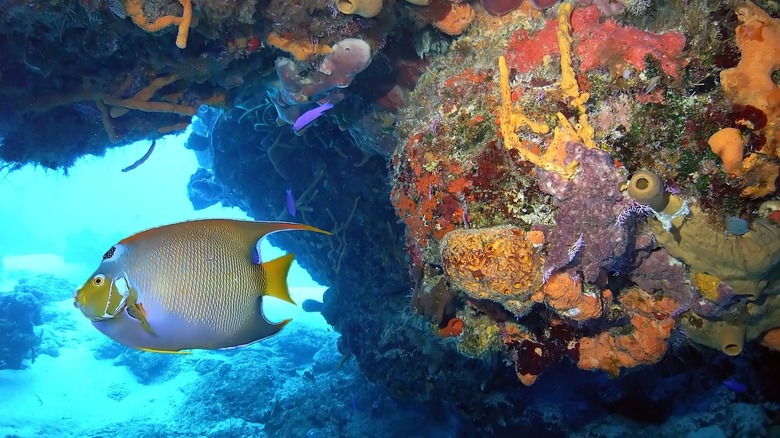 © Conchasdiver | Dreamstime.com
The enormous Mesoamerican Barrier Reef System lies in the Caribbean Sea. Here, seven different reefs offer underwater wonderlands to divers of all abilities, each boasting such diverse sealife as turtles, rays, barracuda, reef sharks and more. This massive reef actually runs along the coasts of Mexico, Belize, Guatemala and Honduras.
Wakatobi National Park (Wakatobi Islands, Indonesia)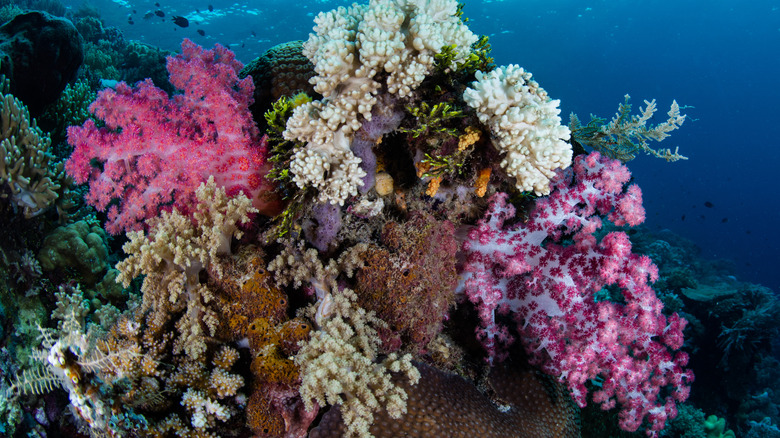 Ethan Daniels/Shutterstock
What's in a name? Indonesia's Wakatobi National Park takes its name from a blend of the four island names — Wangi-Wangi, Kaledupa, Tomia and Binongko — that make up the Wakatobi Archipelago off the coast of Southeast Sulawesi, Indonesia. While there are more than 50 dive sites easily accessible from the main islands, Ali Reef, known for sea turtles and reef sharks, is a divers' paradise.
Maldives coral reefs (Maldives)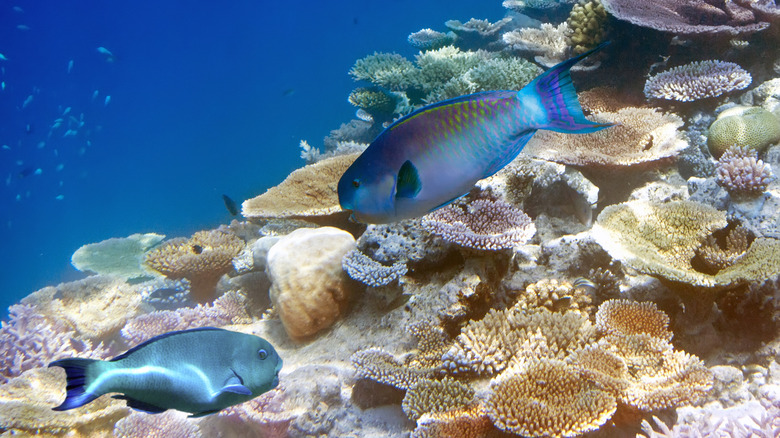 © Konstik | Dreamstime.com
The breathtaking Maldives archipelago, located in the Indian Ocean southwest of Sri Lanka and India, is a celebrity vacation hotspot that has even earned the royal stamp of approval. Indeed, the Duke and Duchess of Cambridge have vacationed there. This island nation's reefs contain 250 species of coral teeming with more than 1,000 species of fish.
Rainbow Reef (Fiji)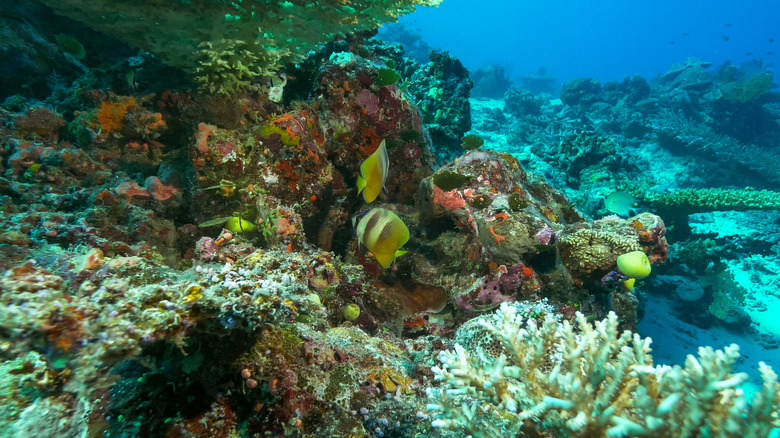 © Christopher Bellette | Dreamstime.com
Fiji's Rainbow Reef has a colorful name to go with the vivid sea creatures who swim there. The reef is known for its Great White Wall, a stunning steep slope wrapped in striking white soft corals. For more of nature's rainbow-colored sights, check out the most colorful beaches in the world.
Lord Howe Island (Australia)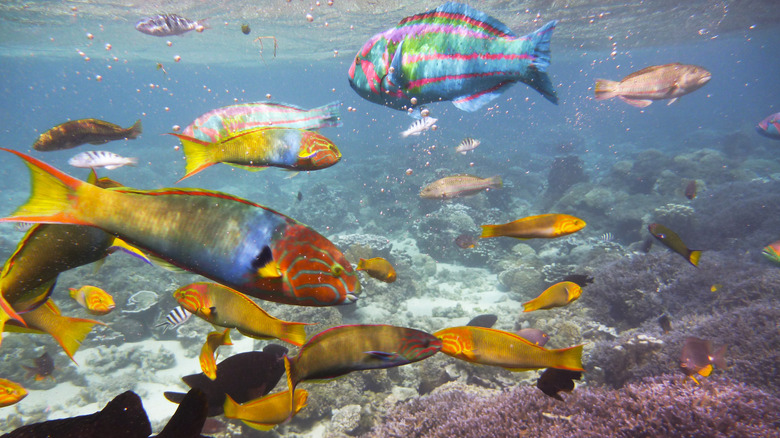 Darkydoors/Shutterstock
Like some of the world's most breathtaking abandoned places, Lord Howe Island, located in the Tasman Sea about 372 miles off the Australian mainland, can be difficult to see. Only 400 people are allowed on the volcanic island at any one time and get a gander at the more than 500 species of fish weaving their way through the world's most southern coral reefs.
Apo Reef (Philippines)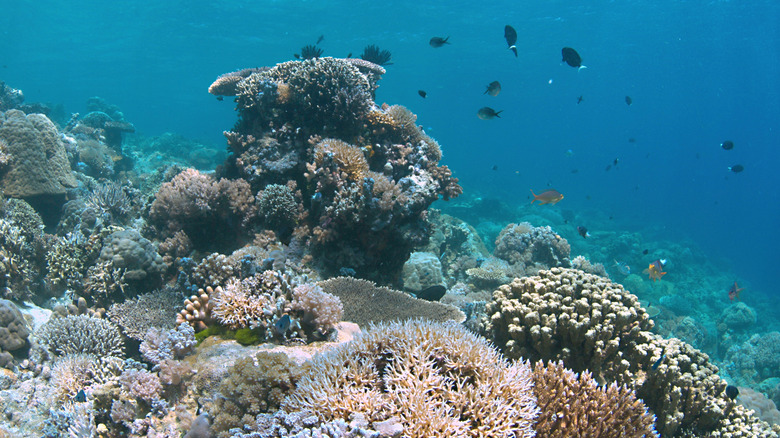 © Jan Lorenz | Dreamstime.com
Magnificent Apo Reef, the largest atoll-like reef in the Philippines, was declared a protected natural park in 1996. The reef is actually a 13-square-mile series of coral reefs and is considered the second-largest contiguous coral reef system in the world. It's also richly diverse, featuring about 500 types of marine species, 26 species of algae and seven species of seagrasses that are all breathtaking views to behold.
Bonaire Reef (Bonaire)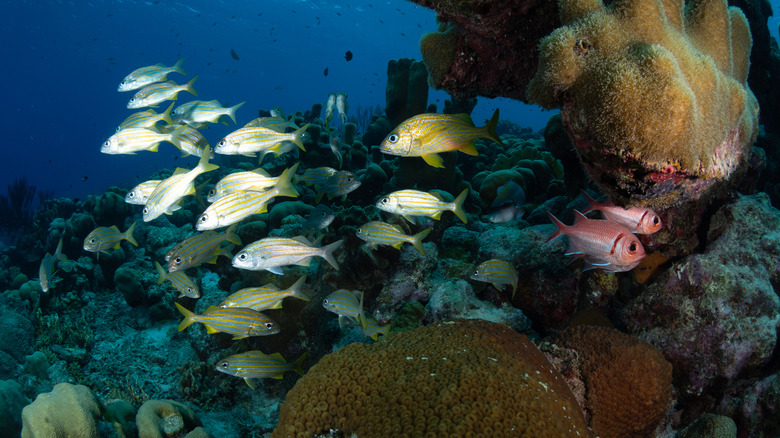 © Jeremy Brown | Dreamstime.com
Lovely Bonaire, a lesser-known island in the Leeward Antilles in the Caribbean, established the Bonaire National Marine Park in 1979 to protect and preserve its sea life and coral. The reef is home to over 57 species of soft and stony coral and more than 350 recorded fish species.
Flinders Reef (Australia)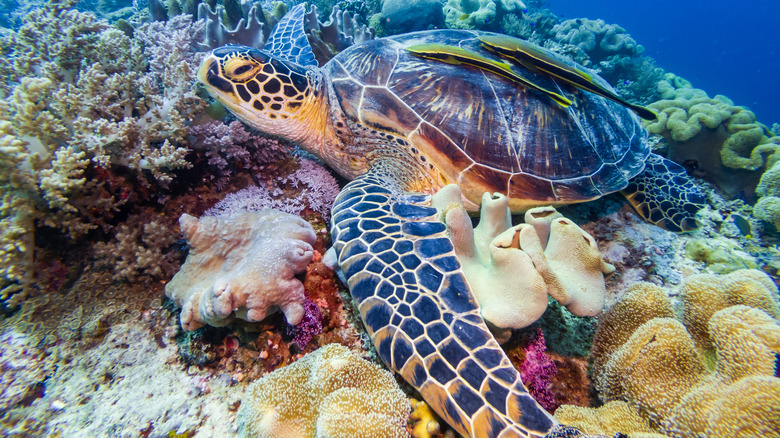 Richard Whitcombe/Shutterstock
Flinders Reef, located within Moreton Bay Marine Park in Queensland, Australia, has a special feature: a turtle cleaning station. No, this isn't a man-made feature. Rather, it's a kind of car wash for marine life where green turtles rest on the corals and are cleaned up by surgeonfish and the appropriately named cleaner wrasse fish. Another star of the reef is the haunting shipwreck Cementco, a barge that sank nearby in 1985.
Ningaloo Reef (Australia)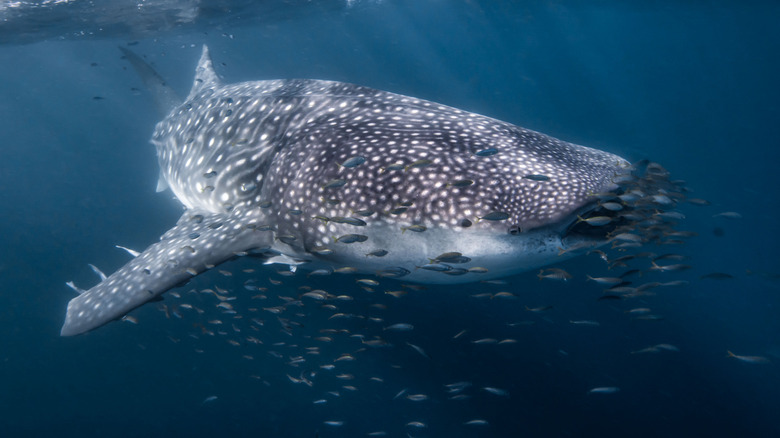 © Seanothon | Dreamstime.com
Whale sharks aren't whales. Rather, they earned their name because some can be as large as a whale, reaching lengths of 40 feet or larger. And Australia's Ningaloo Reef has plenty of these enormous but docile creatures. Every spring, whale sharks migrate to this area on the country's central west coast, where they can gobble their fill of plankton.
Osprey Reef (Australia)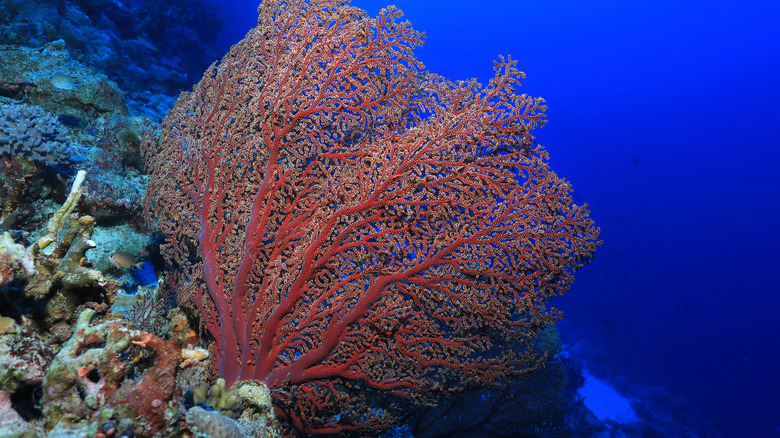 © Aquanaut4 | Dreamstime.com
Osprey Reef is located farther offshore than the Great Barrier Reef, but it might as well be a world away from that more popular tourist destination. Located in the Coral Sea Marine Park, this reef is isolated, remote and home to rare and fascinating marine creatures.
Similan National Park (Thailand)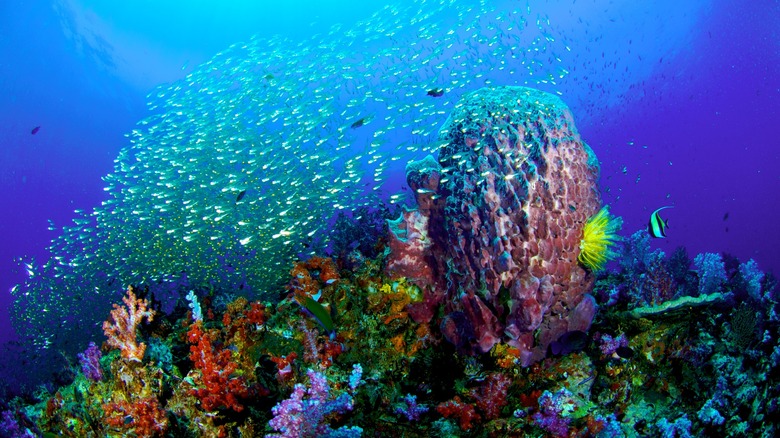 © Piboon Srimak | Dreamstime.com
The 11-island archipelago making up Thailand's Similan Islands was established as a national park in 1982. The park includes hard and soft coral reefs, striking rock formations and a diverse selection of sea life. Shark Fin Reef is a popular part of the park with clear visibility to see a rainbow of tropical fish and a variety of sharks. The crystal clear waters are some of the most stunning waters in the world.
Hanauma Bay Nature Preserve (Oahu, Hawaii)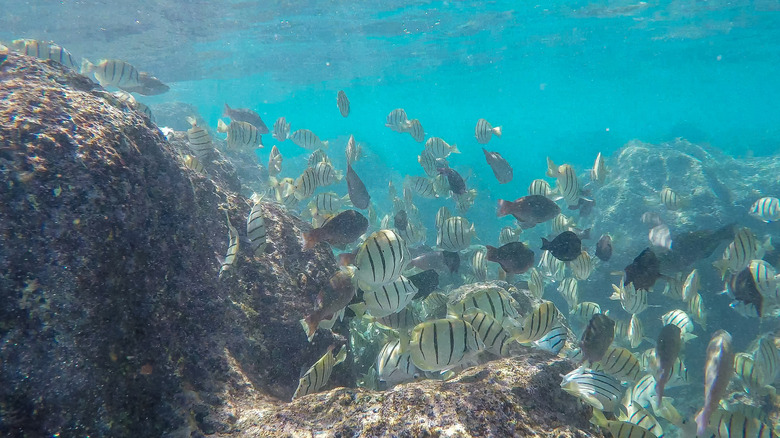 © Christopher Bellette | Dreamstime.com
Years of neglect and abuse severely damaged the beautiful Hanauma Bay reef, located off the southeast coast of the Hawaiian island of Oahu. But beginning in 1990, the city of Honolulu began working to reduce visitors and increase awareness, opening a Marine Education Center in 2002. Thanks to these efforts, the reef and its underwater residents have found new life.
French Reef (Florida)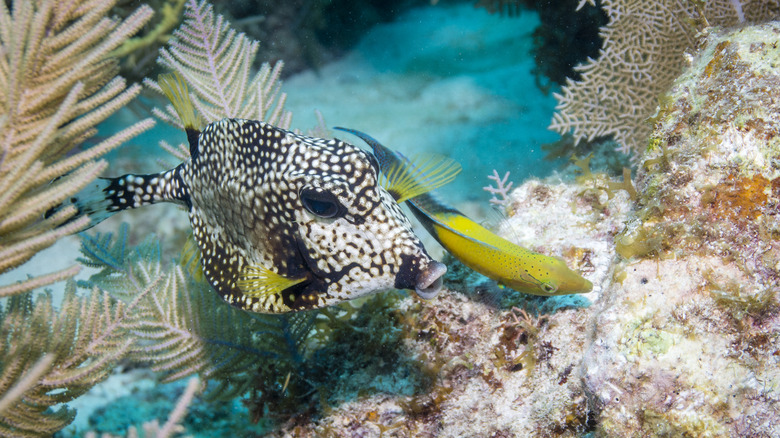 © Sergio Llaguno | Dreamstime.com
French Reef, located just 6 nautical miles southeast of Key Largo in the Florida Keys, is a popular dive area in the Sunshine State. Its creatively named features include Hourglass Cave and Christmas Tree Cave.
Molasses Reef (Florida)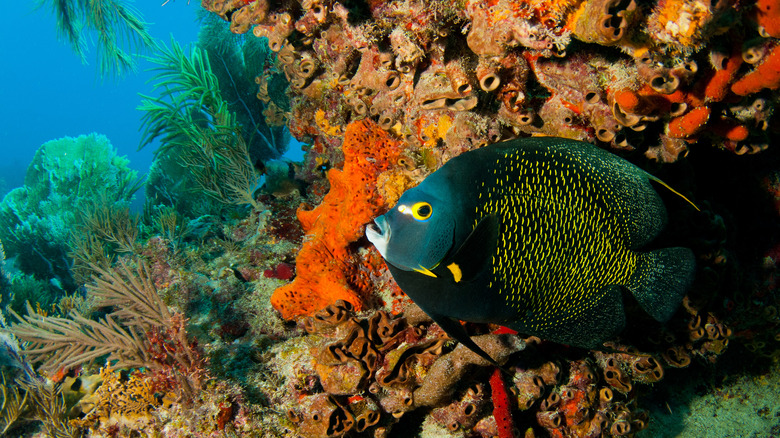 © Timgimages - Dreamstime.com
Another renowned reef in the Florida Keys is Molasses Reef, famed for its sparkling water and boulder corals. A large ship's winch and historic Spanish anchor make for some of the most notable landmarks in Florida.
Kimbe Bay (Papua New Guinea)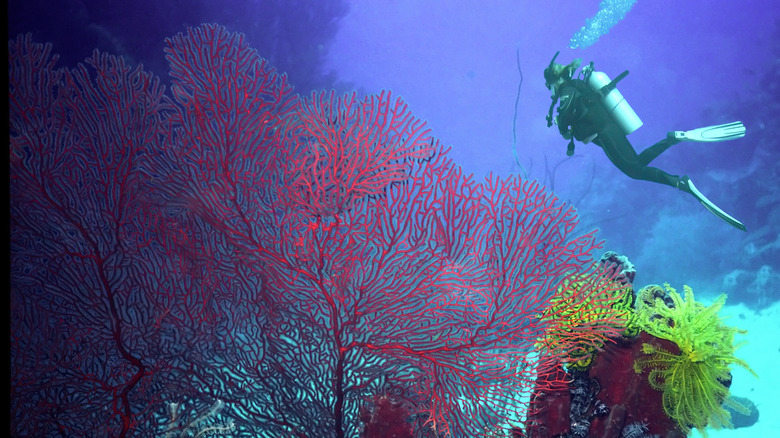 © Conchasdiver | Dreamstime.com
Papua New Guinea is the home to the colorful beauty of the reefs in Kimbe Bay. In addition to its healthy and diverse reefs, this dive spot is known for its nearly intact wrecked Japanese Zero plane, a remnant of World War II. Learning about this plane's remarkable story is a must for history buffs.
Perhentian Islands (Malaysia)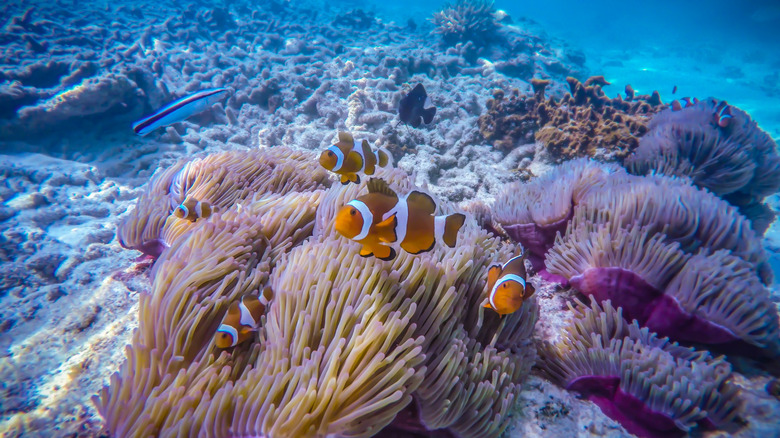 © Alvaro Rodriguez Elez | Dreamstime.com
Gentle orange-and-white clownfish swim through the reefs fringing the Perhentian Islands of Malaysia. But flitting schools of fish are the only traffic jams you'll see. Of the seven remote islands in this archipelago, only two are inhabited and they have very little infrastructure.
Banderas Bay (Mexico)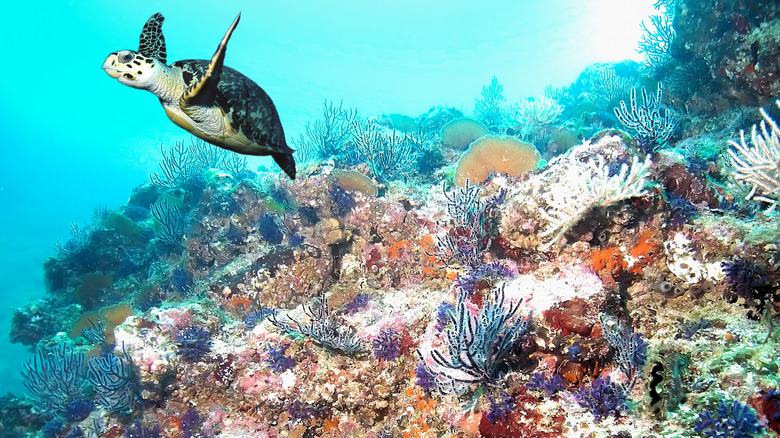 © Conchasdiver | Dreamstime.com
"The Love Boat" once docked at Puerto Vallarta, Mexico, and it's easy to fall in love with the scenic resort city located on Banderas Bay. This scenic Pacific Ocean bay features warm, welcoming waters and colorful coral formations. It's also home to a spectacular array of wildlife, including octopuses, rays, eels, turtles and sharks.
Elphinstone Reef (Egypt)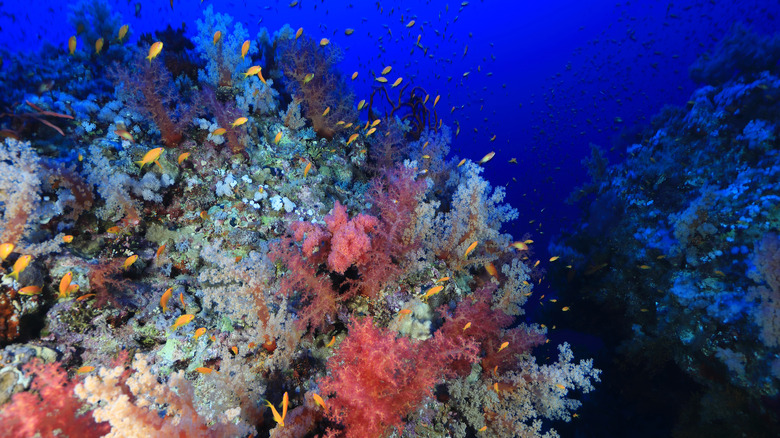 © Aquanaut4 | Dreamstime.com
Soft corals abound at Elphinstone Reef in Egypt's Red Sea. But watch out, because so too do sharks. Hammerheads, grey reef sharks and oceanic whitetip sharks, once described by aquatic explorer Jacques Cousteau as "the most dangerous of sharks," swim around here.
Elbow Reef (Florida)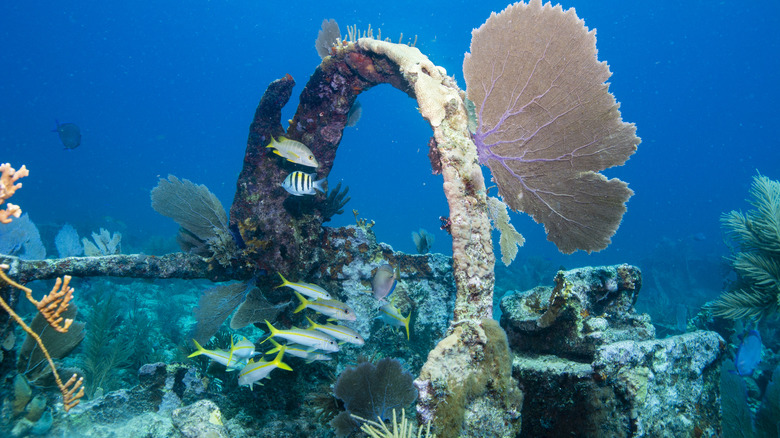 © Sergio Llaguno - Dreamstime.com
The area in and around Elbow Reef, located approximately 6 nautical miles southeast of Key Largo, Florida, is a reminder that the sea is as dangerous as it is beautiful. Colorful fish flit in and out of the haunting shipwreck of the City of Washington, which ran aground on the reef in 1917 then quickly broke up and sank. And in 1911, the cargo vessel Hannah M. Bell also sank here. For years, it was known only as "Mike's Wreck" after a local dive-shop employee, until archaeologists figured out the ship's true name in 2012. Though this shipwreck's name was finally discovered, there are plenty of other mystifying locations that are the most mysterious places in the world.