23 Places In New York Where You're Most Likely To Spot Celebrities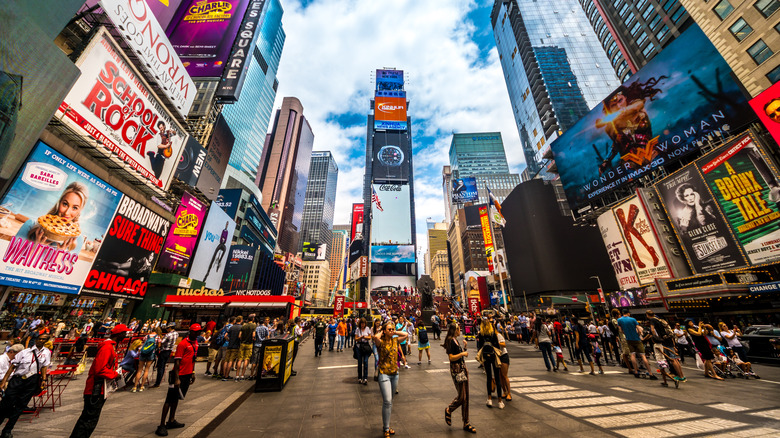 Emyu/Getty Images
New York City is home to iconic tourist destinations, bright lights professionals pursuing the dream — and those who've already achieved it. Like Los Angeles, a lot of movie stars, TV actors, singers, and athletes choose the Big Apple as their home base. 
But unlike Tinseltown where they are pretty much tailed by the paparazzi round-the-clock, many celebrities get to enjoy some semblance of anonymity in the city that never sleeps. "We're not leaving," actor Matt Damon once told USA Today. "Nobody bothers me. The younger ones are not aware of any of the celebrity [stuff]."
If you're hoping to spot a celebrity or two when you visit NYC, however, it can be a challenge. With more than 8 million inhabitants, how are you supposed to find the famous ones? To help you out, we did a little digging on social media and other parts of the web to see where the stars are eating, drinking, and hanging out. But here's a golden rule you have to follow when seeing celebrities in New York: If you come across someone famous at any of the following locations, be respectful. Just like you, they're human too. As opposed to the celebrity-obsessed city of Los Angeles, bothering a famous person you encounter in New York is considered quite a faux pas. So get ready for prime people-watching at the places in the five boroughs where you're most likely to spot celebrities.
Central Park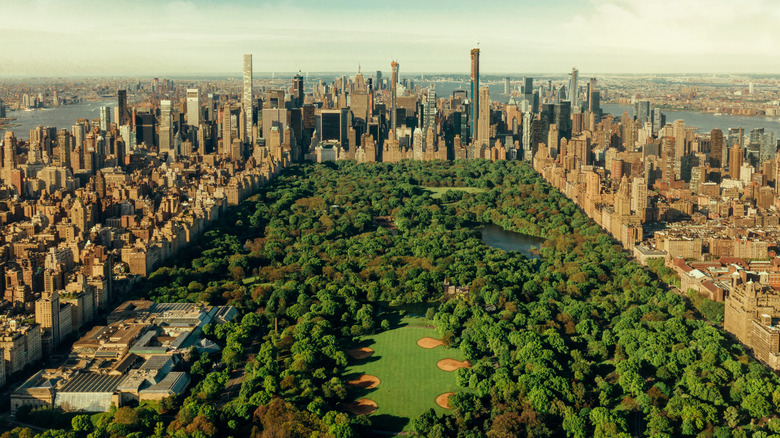 Orbon Alija/Getty Images
Let's start with the obvious: The park that is nearly as famous as New York City itself. Lots of stars live and hang out in the Central Park area, including Antonio Banderas, Trey Anastasio, Al Sharpton, Tony Danza, Bobby Flay, Anne Hathaway, Regis Philbin, Yoko Ono, Gayle King, Mark Ruffalo, Michael Strahan, Madonna, and Jordan Peele. While you certainly shouldn't stand watch over their buildings, you could happen upon any of these celebs on a Sunday stroll along the reservoir.
Pro tip: You may want to schedule your celebrity spotting in the early mornings when the stars are likely to do their morning runs or walks. Some New Yorkers have attested to crossing paths with "Succession" star Matthew Macfayden, aka Tom Wambsgans, at the park while running, as well as Hank Azaria who notably has a penchant for chilling and reading the paper amid the trees.
Carbone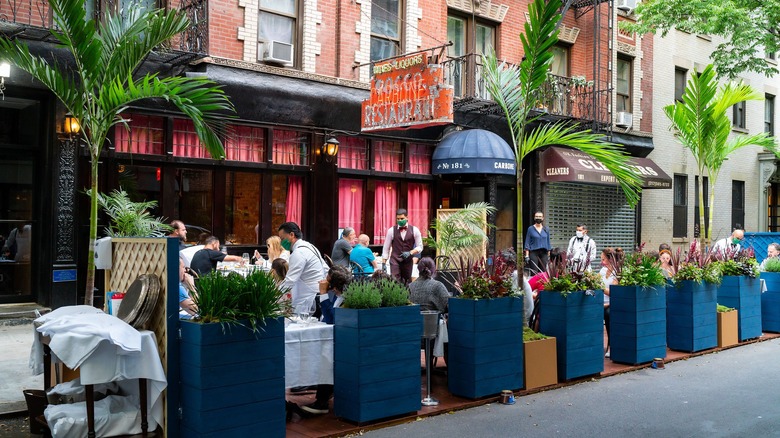 Gotham/Getty Images
Carbone is an upscale Italian-American restaurant with a tiled floor inspired by "The Godfather." Goop's website has called it "1950s meets hipster chic" and says the food is rich and luscious. Taylor Swift threw Lorde a birthday party here (Karlie Kloss, Aziz Ansari, and Lena Dunham were all in attendance), and Kim Kardashian once sipped tea at a corner table with Serena Williams. Even former President Barack Obama swung by once to get his pasta fix, which stunned Carbone co-owner Chef Rich Torrisi. "The list of people I've gotten a chance to cook for has been pretty remarkable," he told The Guardian. "But when President Obama was still president and he came to Carbone, that was like, 'Oh my God, the leader of the free world is stopping by for pasta.'" 
A small caveat: Getting a table at Carbone is notoriously tough, and scoring a reservation may even be harder than buying a ticket to a Taylor Swift concert. But according to locals, you may have better luck reserving via Resy on the day of instead of planning in advance. Good luck!
Emilio's Ballato
Want to get a chance to witness one of Taylor Swift's legendary girl's night outs? Just head to Emilio's Ballato in Nolita. Founded in 1956, and frequented by Swift, along with her gal pals like Sophie Turner, Blake Lively, Gigi Hadid, and Zoë Kravitz, it's an Italian restaurant known not just for its scrumptious pasta, but also for its no-reservations policy. While it has a private room in the back that caters to the likes of Tom Hanks, Billy Joel, and former President Barack Obama, it's accommodating to both tourists and locals alike. You just have to stand in line and wait to get seated before you can order a plate of yummy Bolognese.
Brooklyn Heights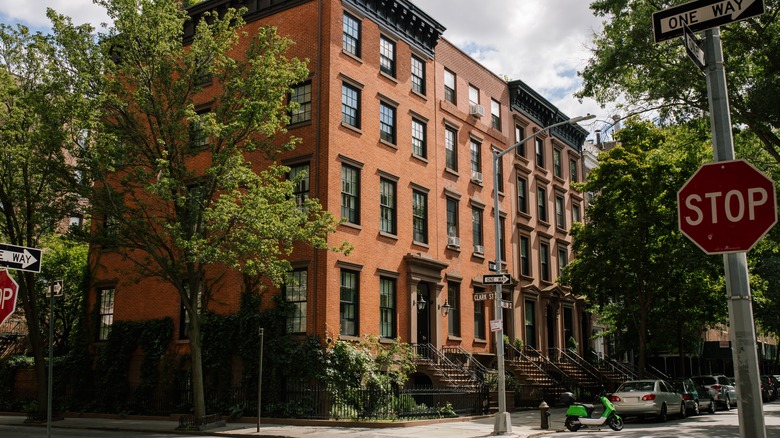 Masha Zolotukhina/Shutterstock
Many stars turn to laid-back Brooklyn neighborhoods to get away from the chaos of Manhattan. Touted as the "next West Village," one of the most star-studded areas in the borough is Brooklyn Heights, where Paul Rudd, Amy Schumer, Matt Damon, John Krasinski and Emily Blunt, Jennifer Connelly, and Adam Driver all reportedly have homes. "The West Village is where you went if you wanted to see celebs in their natural habitat," Jenny Jackson — whose famous novel, "Pineapple Street" is set in the neighborhood — told The New York Times. "I've seen Matt Damon outside the pharmacy. He's so conspicuous because he pulls his hat down to try not to be noticed." 
It's not hard to see why celebrities are flocking here — not only are houses a bit bigger than they are in the West Village, but it's also noticeably less chaotic. Its streets are peppered with quaint bakeries and restaurants, and while it has commercial establishments here and there, the borough has largely maintained its old-world charm.
Broadway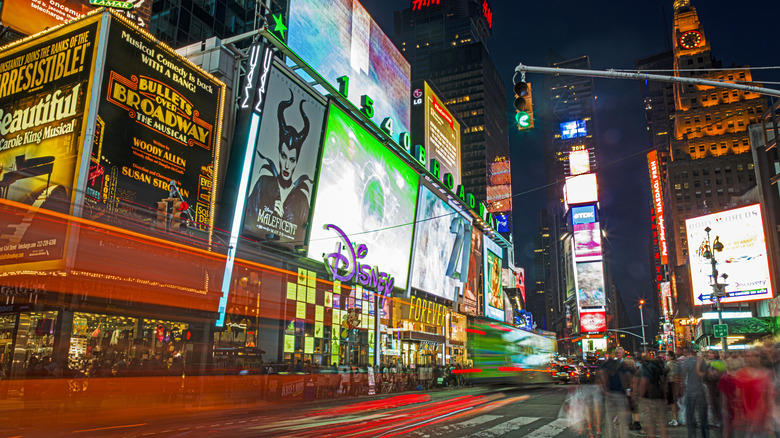 Ozgurdonmaz/Getty Images
This hot spot's a no-brainer, but if you want a surefire way to see celebrities, you can just watch a play on Broadway. It's almost guaranteed that there are a couple of celebs in shows, like Jonathan Groff, Lea Michele, Hugh Jackman, and Idina Menzel. Others have taken their seats in the audience at various shows to see Lupita Nyong'o, Angela Bassett, Kacey Musgraves, Joshua Jackson, Jesse Tyler Ferguson, Uma Thurman, Phylicia Rashad, Alanis Morissette, Carrie Underwood, and more. 
If you have the patience for it, you may even get the chance to meet celebrities and snag an autograph or two by waiting at the stage door. Don't count on it every time, but some actors take a few minutes to chat with fans after their respective shows. 
Rao's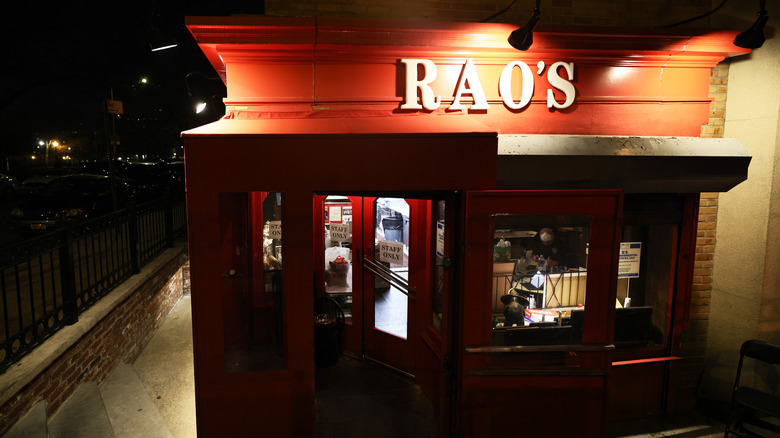 Michael M. Santiago/Getty Images
Rao's has been serving authentic Italian fare in Harlem since 1896. The restaurant is so elite that you can only dine here if you "own" a table, are a noted regular, like Billy Crystal, Rob Reiner, Nicholas Pileggi, and Danny Aiello, or are lucky enough to be invited by a VIP. "Every table has been booked every night for the past 38 years," owner Frank Pellegrino shared with Town and Country in 2020. "There's weeklies, biweeklies, monthlies, and quarterlies, so in every three-month period, I see all my clients. And now I'm dealing with their children and grandchildren."
With just four tables and six booths, Rao's is among the toughest restaurants to get into in the country, and odds are you won't be dining there unless you know the right people or win a meal there in a charitable auction. Bill and Hillary Clinton, Tom Hanks, Liza Minelli, Al Pacino, Fat Joe, Martin Scorcese, Tony Bennett, Leonardo DiCaprio, and Mariano Rivera all have had the privilege of eating at this notoriously exclusive joint.
Balthazar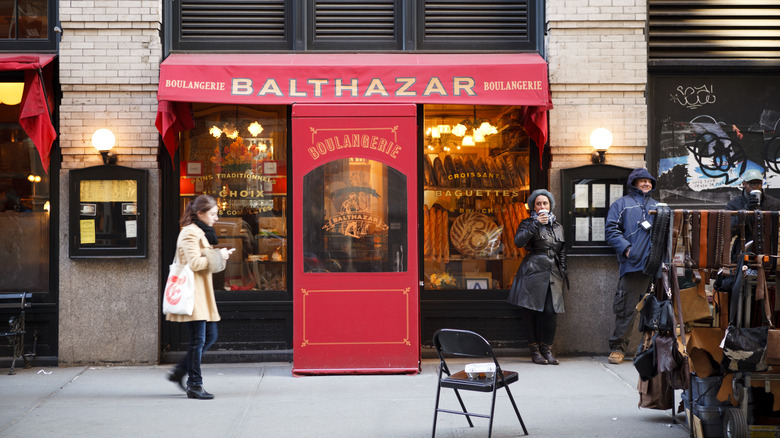 Wdstock/Getty Images
Balthazar may have earned a reputation as the establishment brave enough to temporarily ban late-night TV host James Corden, but it's a celebrity favorite for a reason. The French brasserie is famous for its steak frites, seafood, and pastries. And just like many upscale restaurants in New York, Balthazar also has a list of VIPs, which includes actors, business executives, and fashion editors. According to the restaurant's owner Keith McNally himself, the list includes Anna Wintour, Leonardo DiCaprio, Bill Nighy, movie producer Mark Settembre, Rolling Stone CEO Gus Wenner, playwright Jon Robin Baitz, and Google VP Mike Romoff, among others. Luckily, scoring a table at the restaurant isn't too challenging: You just have to go through good old Resy to book.
Veselka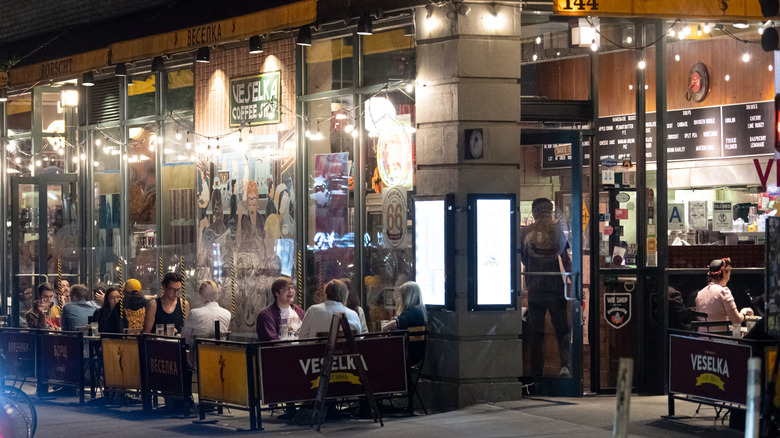 Alexi Rosenfeld/Getty Images
Another fixture in New York City is Veselka, a Ukrainian restaurant located in the East Village. It's one of the spots the great Anthony Bourdain featured in his famous "Parts Unknown" series, which should tell you something about the quality of food it has in store. Since its inception in 1983, Veselka has welcomed a slew of celebrities and notable figures, including John F. Kennedy Jr., Madonna, Ed Koch, Adam Sandler, Julianne Moore, and last but not least Ray Kelly, who the restaurant's owner Tom Birchard told The New York Times, "arrived with an entourage every two weeks, like clockwork." But if you wish to try this NYC favorite, you should be prepared to queue. "There is a line standing [outside] all day from 10 o'clock in the morning to 10 o'clock at night," Vitalii Desiatnychenko, one of its managers, told CNBC.
Rockefeller Center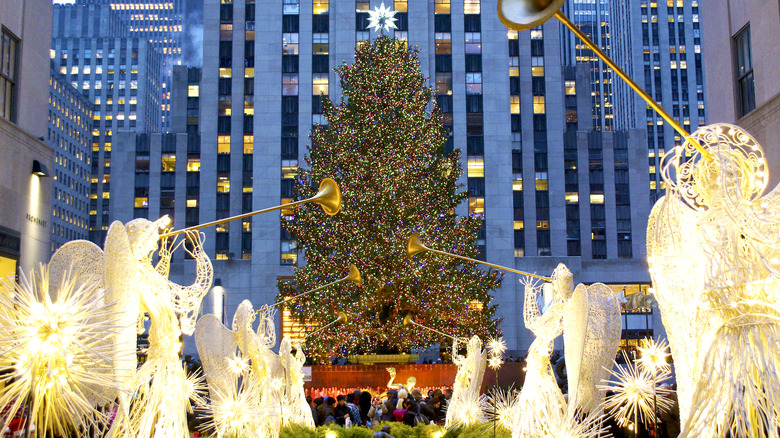 Lukeabrahams/Getty Images
NBC Studios is inside 30 Rockefeller Plaza, where shows including "Saturday Night Live" and "The Tonight Show Starring Jimmy Fallon" currently film. You can spot talent walking around the premises, especially coming in and out of the "Tonight Show" entrance on 49th Street. The famous Rockefeller Center Christmas Tree is in front of the building, too, and every year, performers sing at the lighting ceremony. Many of your favorite singers have probably been part of the night's lineup at some point. The likes of Andrea Bocelli, Alicia Keys, John Legend, David Foster, Blake Shelton, and Dolly Parton have all belted their hearts out by the tree to celebrate the holiday season.
Chelsea Market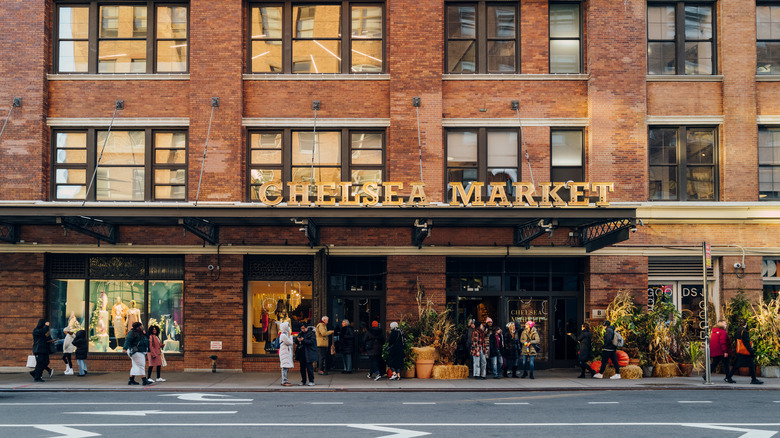 Alena Kravchenko/Getty Images
Chelsea Market is an indoor food hall with tons of food and retail shops. Plus, Julianne Moore, Kelly Ripa, Peter Dinklage, and Ted Danson have been spotted shopping here. Chelsea Market is home to the Food Network's headquarters and main studio, so don't be surprised if you spot a Food Network star or two. It also used to house YouTube Space, a 20,000-square-foot production, recording, and editing studio for artists with more than 10,000 subscribers, so many content creators and influencers flocked to the area when it was open. And since Chelsea Market is located in, well, Chelsea, you may bump into celebrities who reportedly live there, like Cameron Diaz, Katie Holmes, Nicole Kidman, and Harrison Ford.
Nobu
Lawrence Lucier/Getty Images
If you follow the Kardashians, you know that one of their favorite restaurant chains is Nobu, wherever they are in the world. Coincidentally, Nobu's location in Tribeca is co-owned by Robert De Niro and acclaimed chef Nobu Matsuhisa. The ultra-luxe Japanese restaurant has locations worldwide that serve high-quality sushi to Hollywood elite and their bodyguards, socialites, and other people who have the money to spend an average of $120 on a meal pre-tax and not including alcohol, while bigger bills ring in around $1,000 a head. Apart from the Kardashian family, A-listers are almost always on the reservation list, including Drake, Taylor Swift, Gigi Hadid, Kendall Jenner, Madonna, and Martha Stewart.
Lilia
Remember when Kim Kardashian and Pete Davidson briefly dated? Well, Lilia is reportedly where they often had their low-key dates. It's an Italian restaurant located in Brooklyn, which tons of celebrities have enjoyed, including Dua Lipa, Anwar Hadid, Mariska Hargitay, and Chris Meloni. In 2018, the restaurant was so packed that not even Jennifer Lawrence could get a table right away. "She came in and asked for a table and exited so quickly," a fan told Page Six. "She came back in 10 minutes later and swiftly ducked over to the bar and moved back to the café where you wait for your table." These days, though, it looks like reservations are much easier to get, as the establishment is listed on Resy. Just remember to turn on your notifications so you know when to pounce! Otherwise, calling the restaurant supposedly works.
Patsy's
If you haven't noticed by now, celebrities love their Italian food. So it's not surprising that many of them frequent Patsy's Italian Restaurant, which was notably a favorite of Frank Sinatra. The late singer frequented the joint so much that the owners reserved a special table for him and his family in the back. After he passed, they continued to honor his legacy by serving Sinatra's favorite dishes, which included Pomodoro pasta, on his birthday each year. Many other celebrities have made Patsy's their go-to Italian spot, including George Clooney, Julia Roberts, Michael Buble, Ben Stiller, Oprah Winfrey, Keanu Reeves, and Stephen King, among many others.
Barclays Center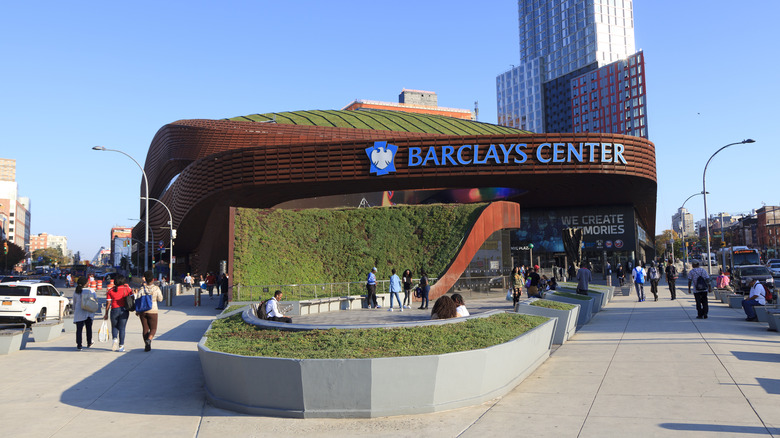 Mizoula/Getty Images
It's practically guaranteed that celebrities are sitting courtside at every Nets game. Famous figures photographed at Brooklyn's Barclays Center include Rihanna, Beyonce, Jay-Z (as you'd expect from a Nets superfan), 50 Cent, Amy Schumer, Floyd Mayweather, French Montana, Ja Rule, Vinny Guadagnino, Naomi Campbell, Emily Rajatkowski, and more (the list is practically endless!). Of course, these celebrities often have courtside seats, so interactions with them may be tough to come by, unless you have courtside seats, too. But hey, if your goal is to just get a glimpse of your favorite stars, you'll probably catch them from a distance at a game.
Madison Square Garden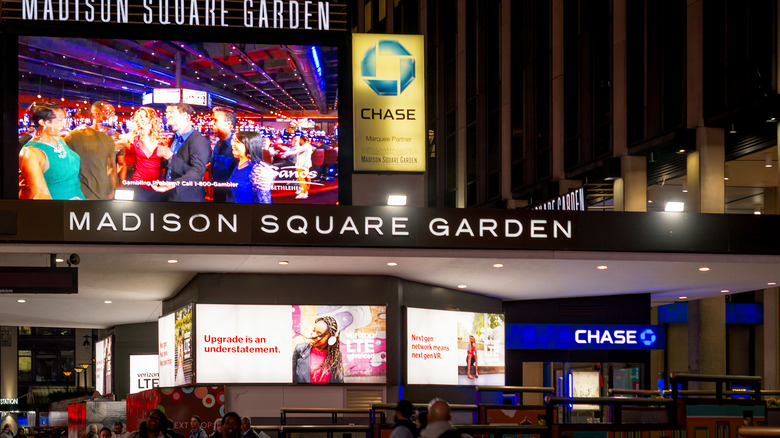 Rarrarorro/Getty Images
Just like Barclays Center, Madison Square Garden is home to sports teams, particularly the Knicks and Rangers, making it another incredibly popular place for celebrity courtside and rinkside sightings. Kevin Bacon, Pete Davidson, Hassan Minhaj, Kaia Gerber, Cecily Strong, Fat Joe, Chris Rock, Tracy Morgan, David Harbour, Justin Long, Joe Jonas, and Sophie Turner have all been spotted at games. Known Knicks fans like Spike Lee, Jack Harlow, BTS member Suga, and Trevor Noah are more than likely to be in the audience at games, so if you're a fan of any of them, you'll have a good chance of scoring a sighting. It's also worth mentioning that MSG is also frequently used for concerts, so you can catch your favorite artists live there, too.
Ray's
Justin Theroux, Nicholas Braun, and a bunch of nightlife experts opened a country western-inspired dive bar on the Lower East Side, and since it's co-owned by a celebrity, that usually means others will follow. Jimmy Kimmel, Billy Crudup, David Spade, Cody Simpson, and Mark Ronson have all been to Ray's since it opened in the summer of 2019. According to self-proclaimed "curator of pop culture" Deuxmoi, Ray's is also a favorite of Zoë Kravitz's, so by extension, you'll also likely spot her beau Channing Tatum here as well. If you're in New York City for an adventure, you can expect to have the time of your life at Ray's. Apart from great cocktails, the place also offers a pool bar, the occasional karaoke night, and viewing parties of popular shows and game events.
The Bowery Hotel
Celebrities are known to regularly crash at The Bowery Hotel on the Lower East Side. VIP guests have included Ashley Olsen, Rachel Bilson, Blake Lively, Kiefer Sutherland, Joshua Jackson, Ashley Tisdale, Kendall Jenner, Bella Hadid, Kristen Stewart, Hailey Baldwin, and James Marsden. You might even catch someone famous at Gemma, the hotel's ground-floor rustic Italian eatery. "They'll hang out in the lobby," anonymous content creator DeuxMoi told Thrillist of the hotel. "They'll hang out at the bar that people can walk off the street and go into. It's not super discreet. It's not a private club." He added, "I don't necessarily understand the allure of why it's still so popular." To be fair, The Bowery does have quintessential New York energy, which is probably why so many stars populate the place. If you want to try it out for yourself, rooms start at $127 per night.
The Mark Hotel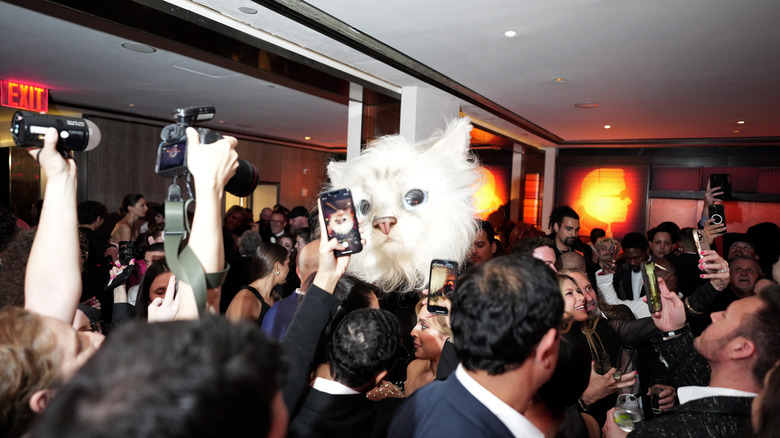 Ilya S. Savenok/Getty Images
The Mark Hotel is a luxury property on the Upper East Side with room rates starting at $1,695 per night, so it should go without saying that this place caters to the well-heeled. Some of its esteemed guests have included Oprah, Anna Wintour, Russell Crowe, Marc Jacobs, Katie Holmes, Kelly Ripa, Novak Djokovic, Meghan Markle, Kendall Jenner, and Jennifer Lopez. Whenever the Met Gala rolls around, more than a handful of celebrities reportedly book rooms there for preps, including Anne Hathaway, Cardi B, and Lizzo. The hotel restaurant, The Mark Restaurant by Jean-Georges, is also renowned among the famous crowd, so you might catch A-listers chowing down on Maine lobster, truffle pizza, and fresh fettuccine.
Casa Cipriani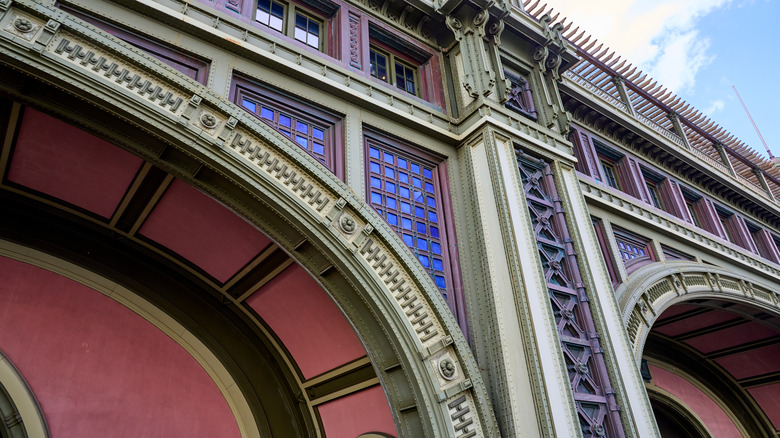 John Penney/Getty Images
Now, if you're having a tough time spotting celebrities out in the concrete jungle, they are probably hanging out at Casa Cipriani, which is a members-only club. You reportedly have to pay $4,000 to be a member, and even if you do have the resources to spring for it, you have to join the thousands of people on its waitlist. The club's exclusivity is kind of understandable, though, considering how its members include superstars like Taylor Swift, Blake Lively, Ryan Reynolds, Drew Barrymore, Chrissy Teigen, John Legend, and Alicia Keys. All these stars pay good money to enjoy the club's cushy amenities: A spa, gym, bar, lounges, live music, and more. If you happen to have friends in high places who are members, you can likely score a pass, as members can bring up to three guests per visit.
Morandi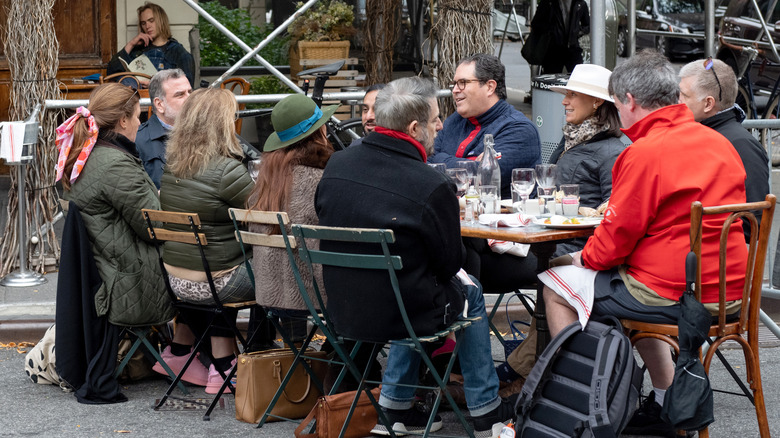 Alexi Rosenfeld/Getty Images
Like Balthazar, Morandi is another Keith McNally creation, and as you may have guessed, it's an Italian restaurant. The joint is situated in the West Village, and it's always packed. Andy Cohen has been here, and it comes highly recommended by Giada de Laurentiis, who loves its pasta, meatballs, and arancini di riso. Other celebrity patrons include Amal and George Clooney, as well as Cameron Diaz and Benji Madden. Sarah Jessica Parker and Maya Rudolph are reportedly regulars also. And you may come for the celebrities, but you'll stay for the menu. The restaurant is known for its hand-rolled pasta and an impressive selection of wine. The best part? It's relatively easy to get a table via Resy.
Laser Wolf
Laser Wolf is one of Brooklyn's newest establishments, and it's notably where Ben Platt got down on one knee and proposed to Noah Galvin. It boasts a long list of celebrity patrons, including Jennifer Aniston and her ex-husband Justin Theroux, Jimmy Kimmel, Howard Stern, Jon Hamm, and Jason Bateman. Located at the top of Hoxton Hotel in Williamsburg, Laser Wolf gives you a mesmerizing view of the world-famous New York City skyline, so it's no surprise that it quickly became a hotspot in town. It also serves Israeli dishes good for sharing, like unlimited servings of salatim, tender and juicy koobideh, and its own take on hummus. While it's hard to get a table, the restaurant sometimes has days where it only serves walk-in diners, so keep your eyes peeled for announcements on its social media accounts!
Polo Bar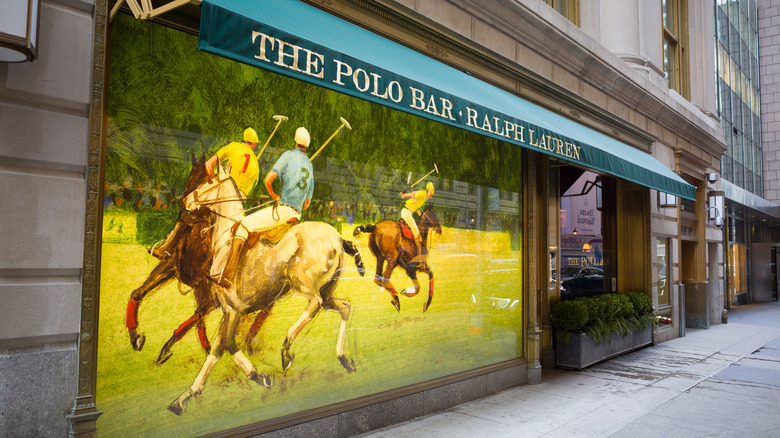 Andraz_naglic/Getty Images
Polo Bar is another highly exclusive, reservation-only restaurant that's more or less impossible to get into. You can't even pop into the bar for a drink because it's reserved for dinner guests only. The Ralph Lauren-owned Midtown eatery is revered for its selection of American classics. And it often serves people of importance, which the menu alludes to by asking guests to respect the privacy of others and limit photography to their own party. Meghan Markle, Hillary Clinton, Andy Cohen, Gwyneth Paltrow, Scarlett Johansson, Carol Burnett, Julie Andrews, Kristin Chenoweth, and Bernadette Peters are among the stars who've reportedly dined here. While it's a challenge to get reservations, the restaurant is listed on Resy, and with a stroke of luck and fast fingers, you might just get yourself a table.
Cafe Mogador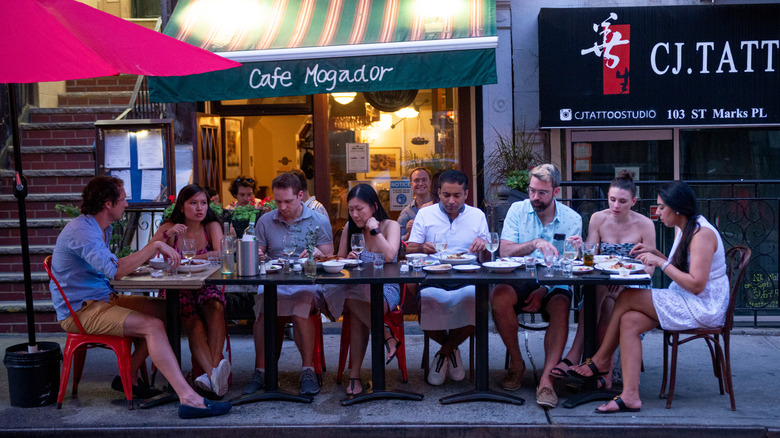 Alexi Rosenfeld/Getty Images
After power couple Justin and Hailey Bieber were denied a table at Carbone (yes, that really happened), they reportedly dined the next day at Cafe Mogador for brunch. A New York City staple since 1983, the restaurant eventually opened another branch in the boroughs, and now it caters to diners in both Brooklyn and Manhattan. It serves Moroccan-inspired cuisine, so you can expect to enjoy couscous, lamb shank, Merguez sausages, and similar dishes while you're there. You may even spot other celebrities besides the Biebers, as some of the restaurant's frequent patrons include Scarlett Johansson, Natalie Portman, Johnny Depp, and Kevin Bacon.