15 Reasons You Should Never Take A Cruise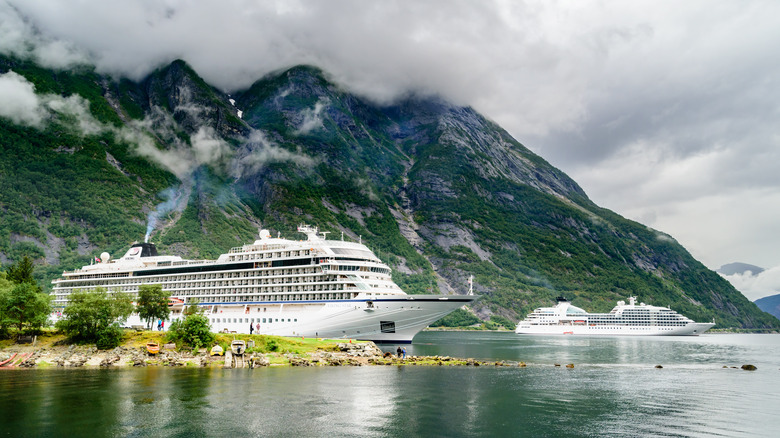 Imfoto/Shutterstock
Ah, the allure of the open sea. You can almost picture it now — the cool, tropical breeze wafting across the ocean's briny waters as the waves lap gleefully in the summer sun. As you kick back on the lido deck, the charming wait staff bring you frozen concoctions garnished with pineapples and maraschino cherries while somewhere in the distance, a steel drum plays. You dream of sprawling buffets, after-dinner concerts, and dancing on the moonlit deck under a stream of endless stars. As you take it all in, the lifeguard flashes a bright, toothy smile.
Suddenly, a commotion sends patio furniture flying as a Kafkaesque scene straight out of Jerry Springer erupts. And just as suddenly, you realize that the omelet you had for brekkie isn't sitting so well. You turn to pick up your beach tote only to realize it's been stolen. Could this be the cruise from Hades, you wonder? No — you're just finding out the hard way that cruises are not always all they're cracked up to be. From free-flowing raw sewage to overboozed Chads and Karens, plenty of horrors await on the high seas. Here are 15 reasons to consider giving cruises a miss and booking an all-inclusive resort instead.
They're terrible for the environment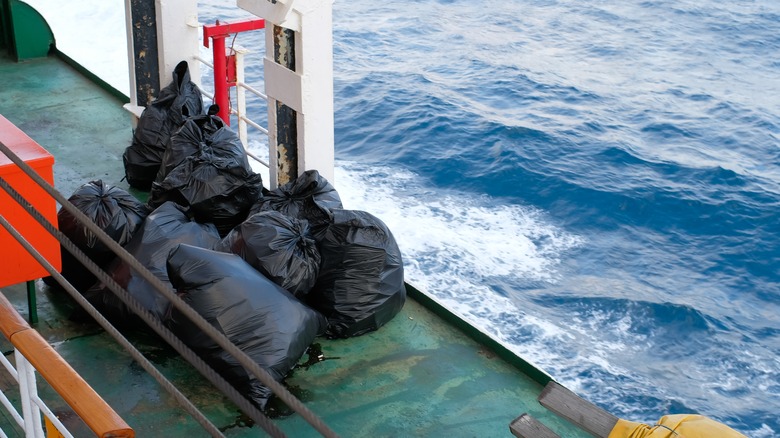 Kanurism/Shutterstock
The travel industry as a whole is something of a drain on the environment. And the cruise sector is among the worst offenders. In a world where marine megastructures dominate the cruise industry, a single medium-sized cruise ship releases upwards of 12,000 cars' worth of greenhouse gas emissions. To help mitigate this in compliance with regulations, fuel scrubbers are used to remove nitrous oxide, sulphur oxide, and other exhaust gases, but the process removes and collects toxic chemicals that are often discharged into the ocean.
The industry also dumps tons upon tons of other waste into the ocean, including graywater, sewage, and bilge waste. While waste disposal is heavily regulated, several liners have been caught bypassing or outright flouting regulations. In 2016, The Guardian reported serious violations and sensor rigging from Princess, particularly concerning the line's oily bilge waste. Factor in noise pollution, light pollution, trash, and the countless other negative environmental impacts that come from moving an entire city across the ocean, and cruise ships represent a serious threat to ocean wildlife and the broader global ecosystem.
You might end up with motion sickness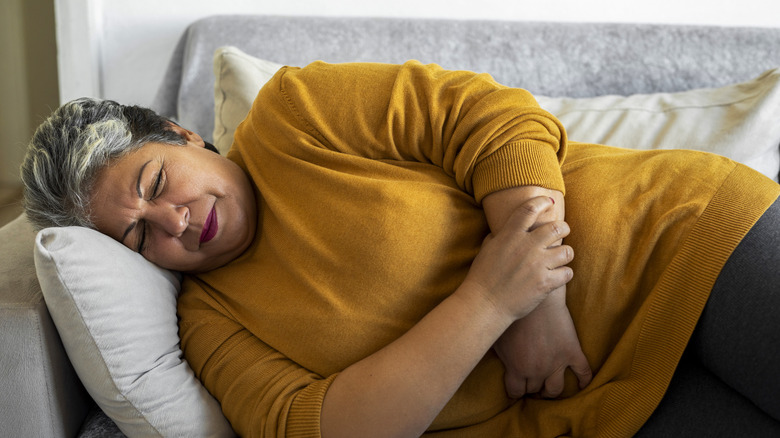 Bymuratdeniz/Getty Images
Once upon a time, feeling the ocean's dance was part of the cruisegoing experience. But in the modern age of stabilizers and super-huge marine megastructures, calm seas could mean you barely feel a thing. Even so, motion sickness is still a common ailment on cruise ships, particularly if you encounter choppy waters or sail into an unavoidable storm. When this happens, even iron-stomached folks who never get seasick can end up feeling a little queasy.
In a Carnival cruise subReddit, users related their experience sailing through rough seas. After sailing out one sunny November day, their cruise headed into windy waters "so bad that crew members were being sick and the staff couldn't keep up with cleaning the washrooms." When the ocean was too rough for a day trip to an island, the user's party booked a spa day — but the spa employee could barely work. Even if you can pop a nausea med and happily carry on, watching others suffer can put a damper on the festivities. another recounted watching a girl at dinner suddenly stand up and vomit from seasickness. "I'm a recovering emetophobe, so that freaked me out a little," they recalled. "I felt so bad for her, though."
Overdrinking is a serious problem on cruises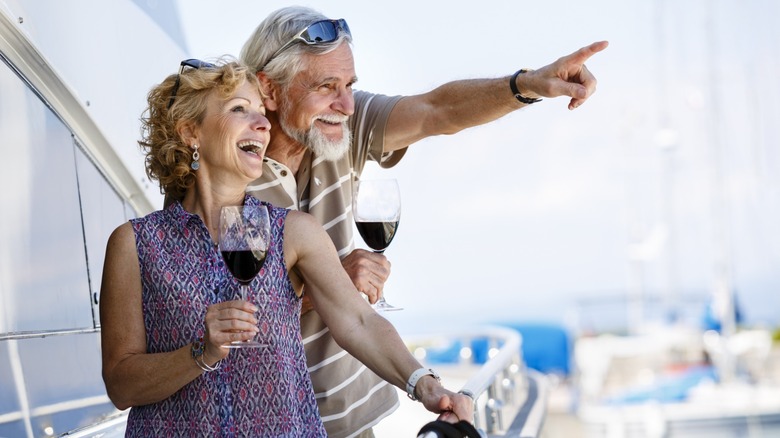 Damircudic/Getty
For many cruise guests, imbibing in cocktails is part of the overall experience. While you obviously don't have to drink to have a good time, folks seem to love boozing it up on the high seas. One in-depth analysis of drinking on cruise ships found that the average passenger drinks 4.7 alcoholic beverages per day for a grand total of 33 per week. That comes to about eight times the amount most Americans consume during a typical week.
For folks who find it difficult to moderate their alcohol consumption in booze-rich environments, a cruise ship can be something of a minefield. But even if you see throwing a few back as part of the fun, being surrounded by tipsy folks can come with some unwanted side effects. Although "man overboard" incidents are an infrequent occurrence, when they do occur, alcohol is often involved. And all too often, liquid courage is in the mix when passengers take up the old fisticuffs.
Many cruises are notorious for bad food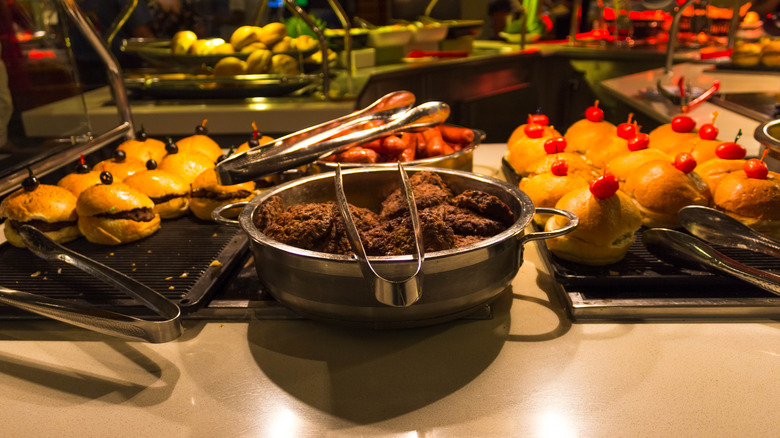 Solarisys/Shutterstock
Even if you've never been on a cruise, there's a good chance you've heard the legends of cruise ships' sprawling buffets. In fact, some cruises are known for their quality offerings, with Disney Cruise Lines and Celebrity Cruises boasting solid reputations for serving food that stands out in the industry. But since cruise ships serve a pretty wide audience, recipes are meant to please as many folks as possible. As one reviewer put it when talking about Indian food on a Celebrity cruise, "They really kind of tend to tame down the spice level to typical wimpy American taste buds."
Depending on the cruise you're sailing with, there's a chance you might not enjoy the food at all or could quickly tire of the available options. Reddit is full of cruise food remorse tales. On one cruise, a user lamented that they set a low bar to begin with, "But when the steaks were so bad I would have sent them back at Applebee's, it is bad." Another guest chimed in, "All the food was off, either the food is not the highest grade due to supply issues or the staff not knowing how to cook."
The accommodations are more cramped than hotels
American travelers may find cruise ship cabins a bit on the smaller side. Whereas the average size of a U.S. hotel room is around 300 square feet, a cruise ship cabin can be half that size on the low end — particularly if you opt for a money-saving interior cabin. While some passengers don't mind sacrificing the space in service of their travel budget, preferring to spend time hanging out around the ship, the smallest cabins can be tough to stomach. In the r/Cruise Reddit, one user complained, "I really hate them. Very cramped, physically, but also mentally."
But even passengers with exterior cabins will often prefer to spend time on their balconies rather than inside. If you're the type of person who might have a hard time in cramped quarters, be sure to check out your cabin's measurements ahead of time and compare it to your own bedroom. You can also check out pics online to get a better idea of what to expect on your trip.
It can end up costing a lot more than you think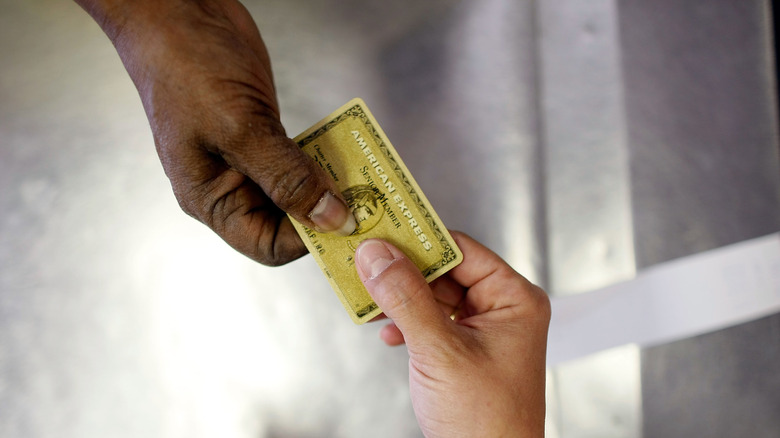 Joe Raedle/Getty Images
One of the big draws for many cruise passengers is the allure of the all-inclusive cruise package. These budget-friendly packages generally include room accommodations, meals, non-alcoholic beverages, onboard entertainment, port fees, and taxes. You can even get alcohol added to your package depending on which line you're cruising. But anytime you're on vacation, there are bound to be extra costs you didn't anticipate — and they can add up dramatically over the course of a week. It's important to do your research carefully and check out reviews from past cruise guests so you don't end up shelling out a lot more than you originally planned.
Even on all-inclusive cruise packages, it's possible to purchase food that isn't included in your meal plan. Alcohol, specialty coffees, certain soft drinks, and other a la carte items can cost you. You might also want to work in some budget for additional gratuities, room service, add-on activities, spa visits, and souvenirs. And if you've got children in your group, you might want to pay for a babysitter or onboard kids' club so you can take advantage of an adult night out. Some cruise ships also feature special clubs or events that you'll need to cough up extra cash to visit.
They can be floating petri dishes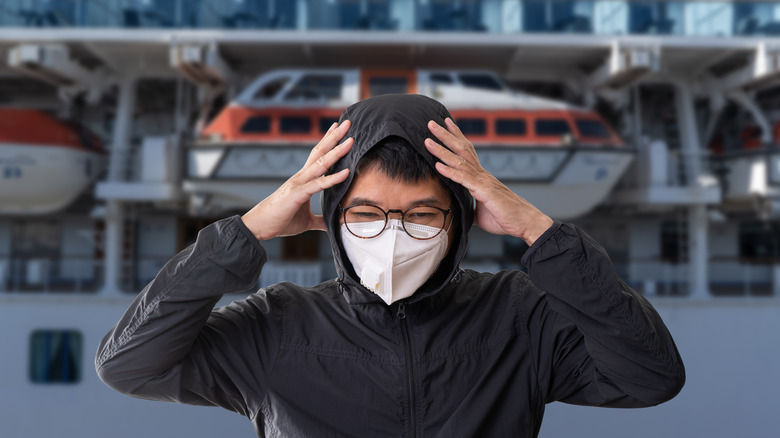 Business stock/Shutterstock
Cramming a few thousand strangers from all around the globe into the cramped, cloistered living conditions of a cruise ship seems like a perfect recipe for a viral outbreak. This suspicion was confirmed during the peak of the COVID-19 pandemic when the quickly spreading virus ripped through dozens of cruise ships facilitated by the ships' minimal medical facilities and the close quarters of guests.
The first significant cruise ship outbreak occurred on the Diamond Princess while it was docked in Japan for quarantine in February 2020. Of the ship's 3711 passengers, 712 had been diagnosed with COVID-19 by late April, resulting in a total of 14 related deaths. In their analysis, the Journal of the Chinese Medical Association concluded that the conditions on cruise ships "accelerate the spread of infectious diseases," whereas evacuating passengers and crew could reduce the overall rate of infection.
According to the American Society for Microbiology, the high potential for onboard outbreaks includes gastroenteritis, respiratory infections, varicella, skin infections, and shore-acquired infections. Factors contributing to the petri dish effect include a ship's shared food supplies, the close proximity of cabins, the potential for spread via spas or hot tubs, reduced vaccination rates among some populations, the convergence of guests from around the world, and the intermingling of passengers.
Destinations are generally tourist traps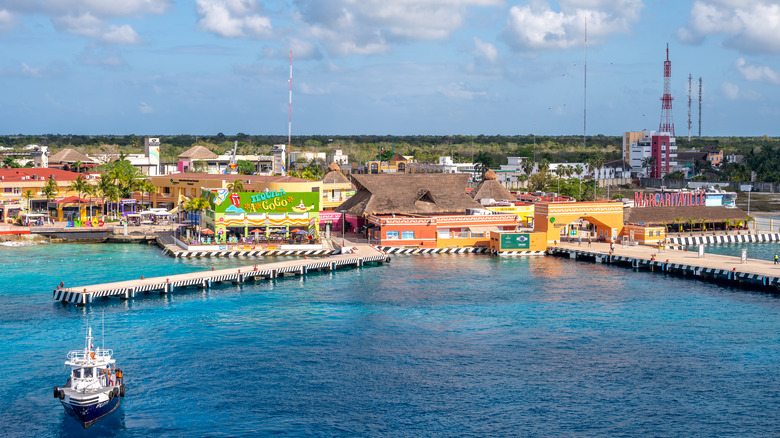 Jewhyte/Getty Images
If your dream vacation involves being thousands of miles away from everything in a floating mall and casino, you might really love going on a cruise. But if you're hoping to truly get a chance to explore another corner of the world and experience other cultures, a cruise is the last vacation you should consider. That's because most of the spots you'll get a chance to experience are very much on the beaten path — so much so that every scammer in the region sees a bullseye on tourists' backs.
Cruise ports see a ton of tourists, so it makes sense that the restaurants, shops, and attractions around them would naturally become a little touristy. One of the most notorious examples is Mexico's Costa Maya. Tripadvisor is full of reviews from disappointed cruise tourists calling it a labyrinthine "scam spot" full of overpriced merch and aggressive shop owners. Sure, you can set off on your own or book an excursion, but reviewers warn those options can be just as dodgy. A cruise guest named Laurie reported, "Our friends got the cab run around — the price was a moving target, and the 'tour' was a joke!" The page is rife with reports of cosmetics scams, tour scams, and locals demanding more money for services already rendered.
You could become even a scam target while on board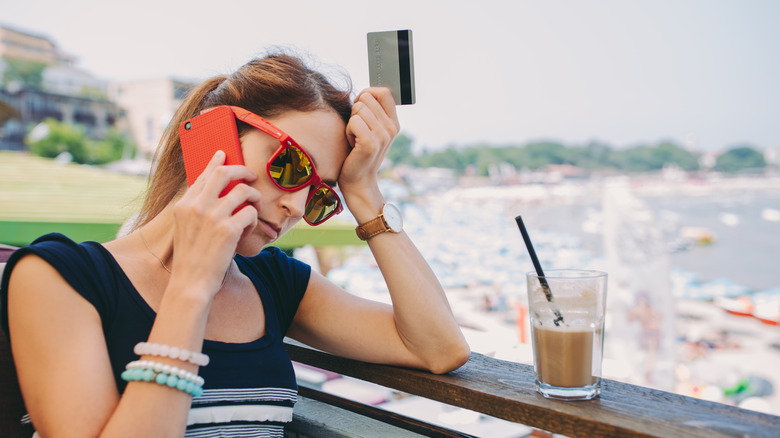 Martin-dm/Getty Images
Even if you're exceedingly careful about who you talk to and where you go in port, you're not immune to ripoffs on a cruise ship. If you like shopping, a cruise ship has plenty of opportunities for you to scratch that itch, but many of those shops are run by third-party vendors. Many past guests have questioned the value and pricing of the art, jewelry, and watches they offer. Reddit is full of cautionary tales from experienced travelers warning against falling for onboard "deals." As one user explained, "Watches that are '75% Off' can be bought from the actual watchmaker for half of the sale price. Same with the jewelry and beauty supplies." Another invidivual recounted purchasing their first two Invictas on a cruise only to find them "super cheaper on Shophq" after returning home.
There's also a chance you could fall victim to a more insidious scam onboard your cruise, particularly if you're on a smaller company. One passenger on Tripadvisor warned that they caught their cruise ship's wait staff and management charging for menu items they never ordered throughout the trip. After asking around, they soon learned other passengers had experienced the same thing.
You don't get much time to explore your destination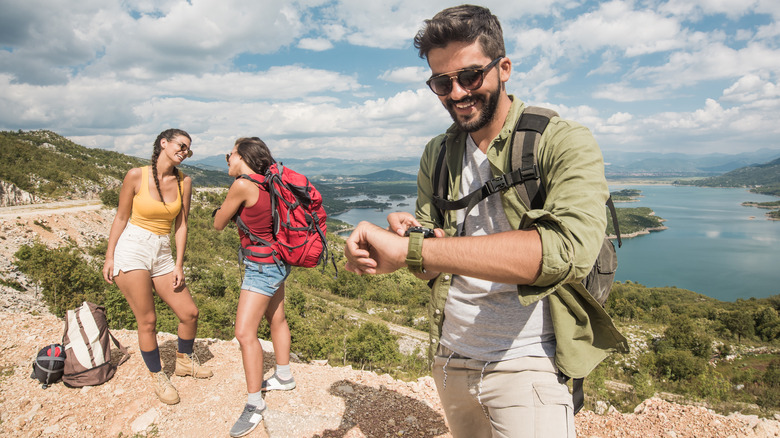 Djelics/Getty Images
Let's say you've gone out of your way to read up on reviews and research spots that aren't so touristy to visit while visiting a foreign port. The sad reality is that you're still not going to get much time to check out the local sights. Generally, you can expect between five to nine hours of shore time to explore each port. This usually involves arriving on shore sometime mid-morning and returning to your ship before nightfall. And if you're not aboard the ship when you're supposed to be, they will leave without you. YouTube and TikTok are full of panicked "pier runner" videos attesting to the very real fear that guests will get stuck in a foreign port and have to shell out for the trip home.
If you're cruising because you love the experience of hanging out on a cruise ship, a day trip to a foreign port can be a fun break in the routine. But if you're really hoping to experience someplace new, you will be disappointed. As emphasized in the Cruise Critic web forum, "Can you see all the sites of Rome in one 8-10 hour port stay? Of course not."
The pools are small and crowded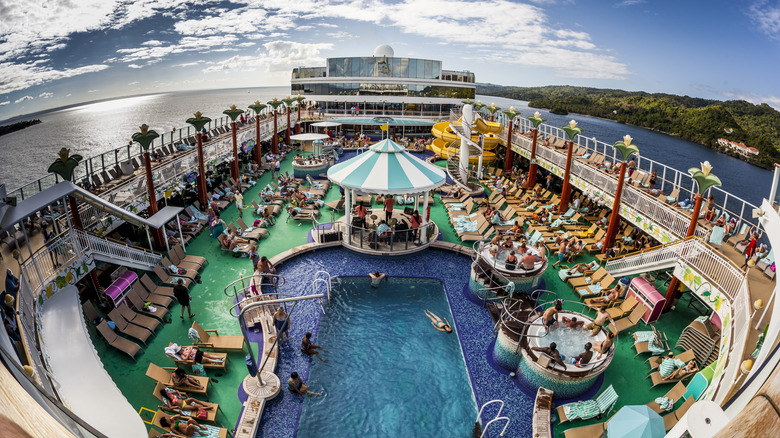 Guvendemir/Getty Images
For some folks, the idea of sharing a public pool with other humans is a miserable prospect. But even folks who will happily cannonball into a crowded hotel or waterpark pool can find cruise pools somewhat cringe-inducing. Even some of the most behemoth cruise ships will typically have some pretty pitiful pools. When you're ready for a swim, you'll find the pool or pools situated on the "lido deck" atop the cruise ship. Pools are generally less than 6 feet deep, and there's not usually a shallow end. On some cruise ships, the pools max out at less than 5 feet deep. And they also tend to be on the smaller side in terms of length and width.
It makes sense since water is pretty heavy and tends to slosh around dramatically when your ship hits rough seas. But their small size means they can get incredibly crowded — too crowded for some cruise ship passengers. Even if you just want to do a little sunbathing or kick back with a good book, the deck as a whole can get pretty intense crowd-wise. As one cruise guest put it on the Cruise Critic forum, "Every ship we have been on the main pool area was way too crowded...we are not interested in sitting by the pool with hundreds of other people."
Conflict between guests can become serious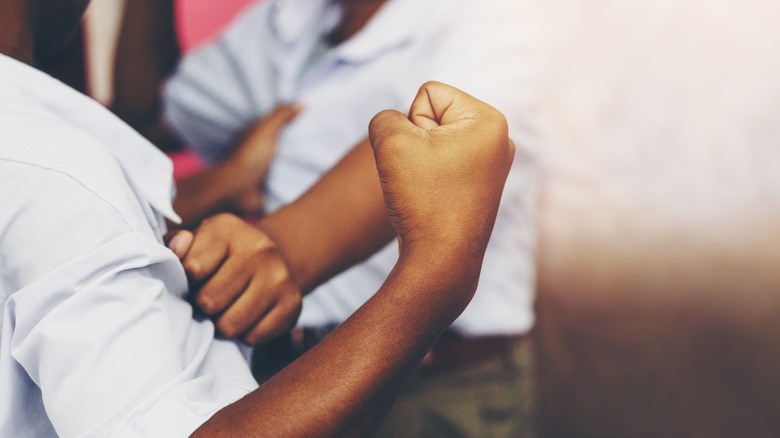 Cat Act Art/Shutterstock
Upwards of 3,000 guests might seem like a lot of people, but when you're stuck in the same spot for several days or longer, there's a good chance you'll end up running into some of the same folks several times over. Factor in some pretty heavy alcohol consumption and a whole lot of vacation hormones, and there's some serious potential for conflict — which is why it should come as no surprise that fights and even brawls are not uncommon aboard cruise ships.
Over the past decade or so, Carnival has developed a particular reputation as a breeding ground for mid-cruise smackdowns. In 2018, one 2,100-passenger Carnival cruise through the South Pacific got so out of control that news media labeled it a "floating fight club," culminating in a three-day brawl that had passengers locking themselves in their cabins for respite. In 2023, the freshly-minted Carnival Venezia saw such a severe outbreak that the brig completely filled up. According to some, things have become so bad that Carnival has hired extra security and posted a drug-sniffing canine living aboard to help combat these problems.
When things go wrong, they can go really wrong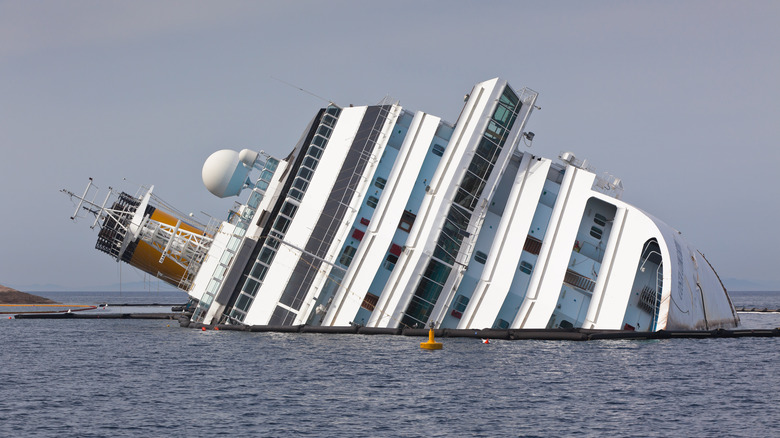 Dvoevnore/Getty Images
It's easy to forget how dangerous the ocean can be when you're chilling in a cruise ship buffet. While cruise ship disaster films like "The Poseidon Adventure" and "Titanic" depict some fairly blood-curdling worst-case scenarios, most cruise travel in the modern age is incredibly safe thanks to the engineering advances we've seen over the past century. Still, that doesn't mean nothing can go wrong; when it does, things can spiral pretty quickly.
Just ask the survivors of Carnival's so-called "Poop Cruise" of 2013. After a fire broke out in the aft engine room, it was quickly extinguished — but not before it could take out the ship's power and sewage systems. Raw sewage promptly began to back up, flowing into guests' cabins and forcing many to sleep outside. While awaiting rescue, the powerless ship drifted off course, leaving passengers stranded even longer with no air conditioning or power and a rapidly dwindling food and water supply. In 2018, a water line break caused 50 staterooms aboard the Carnival Dream to flood, creating a frightening scene for dozens of guests. And then there's the haunting, tragic tale of the Costa Concordia. After the ship ran aground west of Italy while performing a sail-by salute, the badly mishandled evacuation led to the deaths of 32 passengers.
If you get sick, you're just stuck there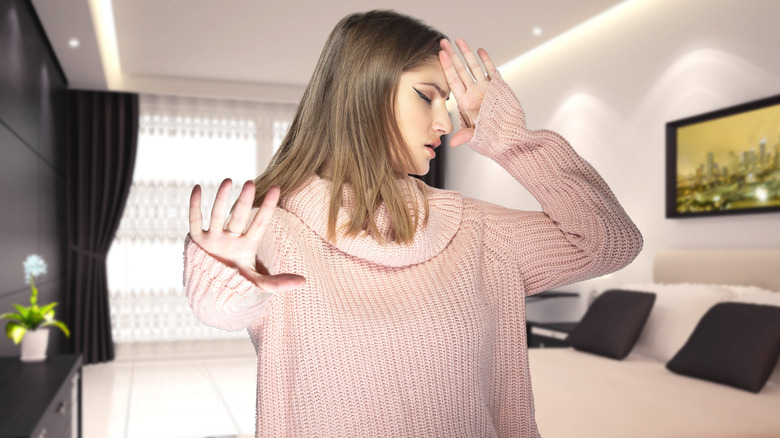 Rommel Canlas/Shutterstock
Typically, when folks get sick, they want to retreat to the comfort of their warm beds with all the comforts of home: a lovely heating pad, a nice cup of soup, and a fresh pot of whatever's brewing on Netflix. It's no fun to get sick while traveling, but generally speaking, you can book an earlier flight if things become truly uncomfortable. When you're sick or injured on a cruise ship, you're not going anywhere — anywhere except that cramped little cabin. Recounting a bout with Norovirus, one Reddit user lamented they "spent half the trip in the cabin. Could happen on any vacation, but definitely was miserable in such tight quarters."
And if you eventually have to visit the med bay, you might not like the care you get there. According to CBS, medical care standards for the cruise industry are minimally regulated. Doctors and medical staff aboard cruise ships are frequently trained in non-US countries and have little experience, which means cruise companies pay less for their services. To boot, many ships will only have a couple of doctors aboard to treat thousands of passengers.
Sun-related health problems can be worse on a cruise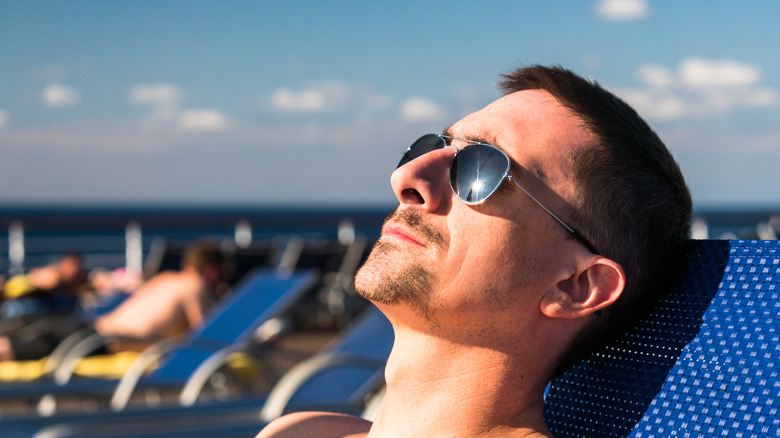 Avaniks/Shutterstock
Anytime you're planning to catch some rays, you should take extra care to protect your skin. But even if you're planning to spend most of your time dining and shopping inside your cruise ship instead of chillaxing on the balcony, you'll need to be extra cognizant of the potential for UV skin damage.
Since folks tend to get more sunburned when they're close to the ocean, there's a common misconception that reflected rays can be more damaging to the skin than direct sunlight from above. The peer-reviewed journal Photodermatology, Photoimmunology & Photomedicine found that while reflected UV isn't any worse, the fact that there's less shade when you're hanging near the ocean can still leave people feeling crispy. "The reason people get sunburnt at the seaside has more to do with the absence of shade than with reflectance by the water surface or even beach sand," the authors concluded.
And since most cruises tend to sail in sunnier climates, it stands to reason that you'll catch more sunshine than you typically might back home. The sun also shines more directly in the Caribbean and other equatorial locations, making it even more likely that you could end up with sunburn, skin damage, or even sun poisoning.