Beautiful Spring Flowers Around The World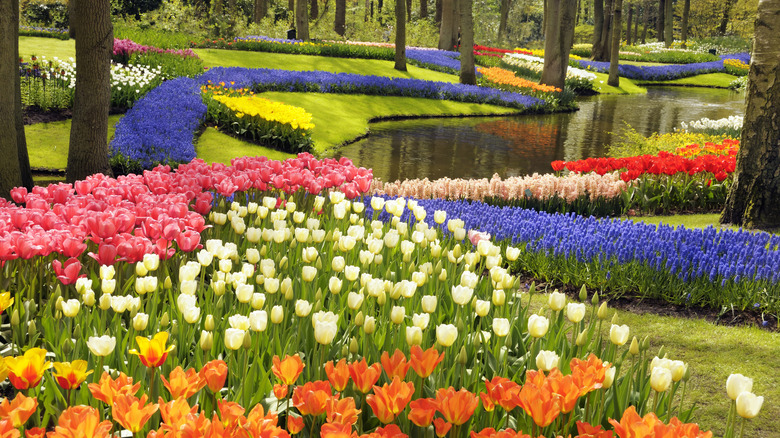 nikitje/E+ via Getty Images
Along with the happy chirping of birds and the warm sunshine, one of the most enchanting signs of spring is fields of flowers coming alive with color after their winter slumber. There are places from around the world that are famous for their beautiful blooms.
Antelope Valley California Poppy Reserve (Lancaster, California)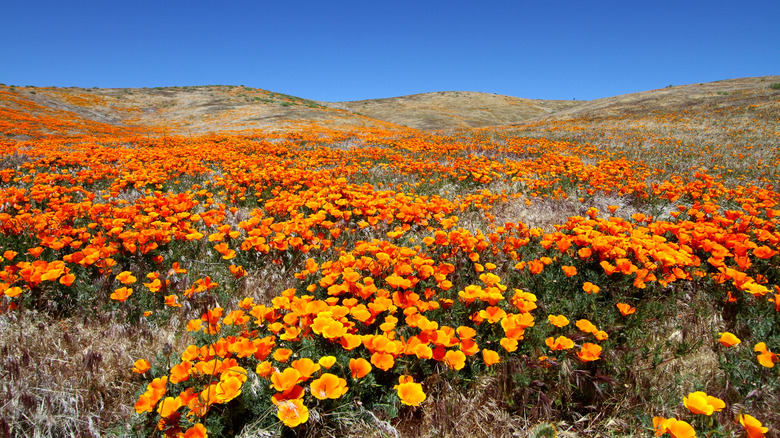 © Marc Turcan | Dreamstime.com
While poppies pop up in abundance in fields from England to Oz, one place with vibrant flowers straight out of a Hollywood movie is the Antelope Valley California Poppy Reserve. Rather than the red classic poppy color, California's official flower is a golden orange poppy, which speckles fields along this park's 8 miles of trails in the springtime.
Keukenhof (Lisse, Netherlands)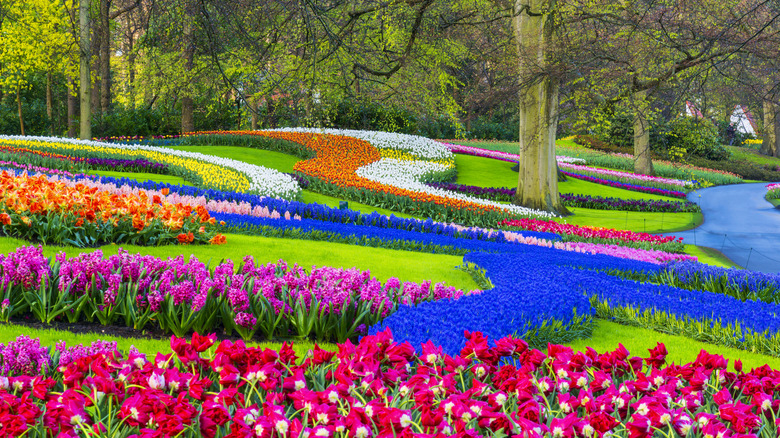 JacobH/iStock.com
Holland is world-famous as the "flower shop of the world" and is best known for its vibrant tulips. In fact, the country's Keukenhof gardens is the largest flower park in the world. More than seven million bulbs are planted at Keukenhof every year. The garden also has hyacinths, daffodils, orchids, roses, carnations, irises, lilies and more. It's almost impossible to see Keukenhof's beauty and not be inspired to start your own garden.
Umbria, Italy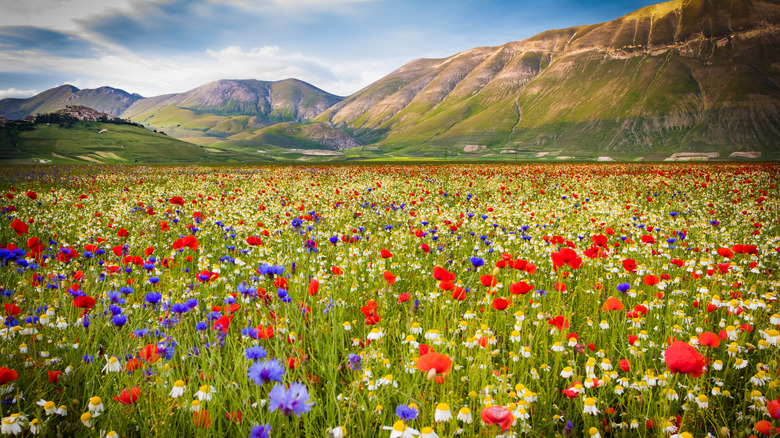 © Francesco Riccardo Iacomino | Dreamstime.com
While flowers and plants artfully arranged in the world's best botanical gardens can be beautiful, there's something breathtaking about seeing flowers freely blooming in rolling fields. The Italian region of Umbria is known as the "green heart" of Italy, and the charming small town of Castelluccio di Norcia, in particular, is famous for the thousands of cornflowers, daisies and red poppies that create a flower mosaic on its plains.
Hitachi Seaside Park (Hitachinaka, Japan)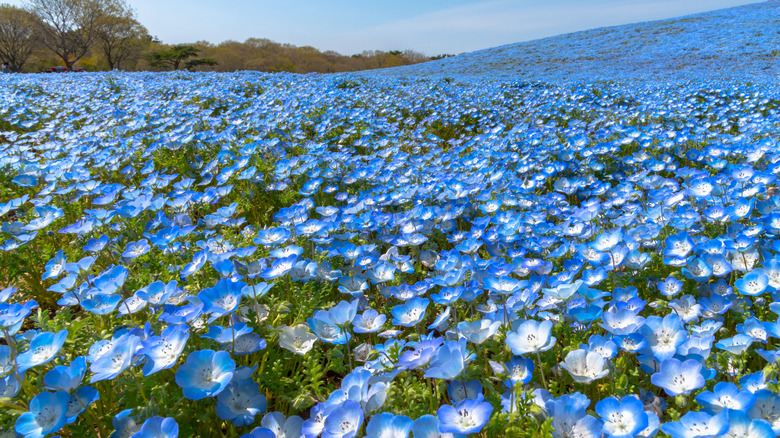 © Kaedeenari | Dreamstime.com
In each of the four seasons, the fields of Hitachi Seaside Park along the Pacific coast in Japan change colors as they are filled with different vibrant plants. In the spring, millions of daffodils, also known as narcissus, create a sunny carpet while more than 5 million baby blue eyes, also known as nemophila, transform the hills into oceans of pale blue.
Flower Fields at Carlsbad Ranch (Carlsbad, California)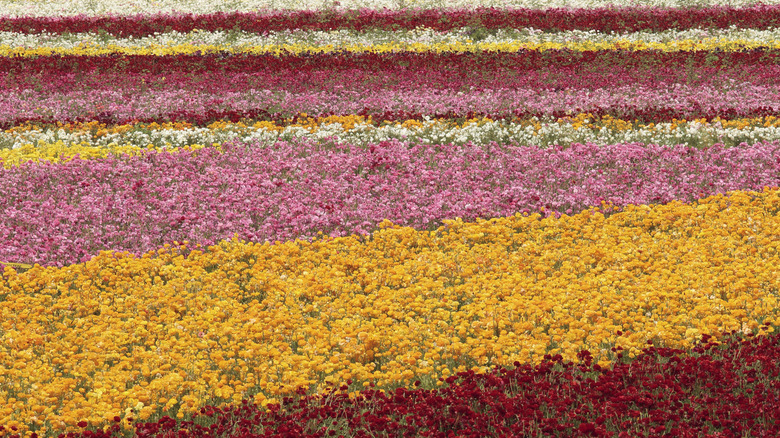 S. Greg Panosian/iStock.com
Every year in Southern California, 50 acres of giant tecolote ranunculus, also known as Persian buttercups, create rows and rows of rainbows in the city of Carlsbad. Though rookie gardeners might be unfamiliar with this flower, the white, pink, yellow, orange and red blossoms are a sight to behold. The Flower Fields at Carlsbad Ranch also have gardens of roses, orchids, petunias and more.
Ennis, Texas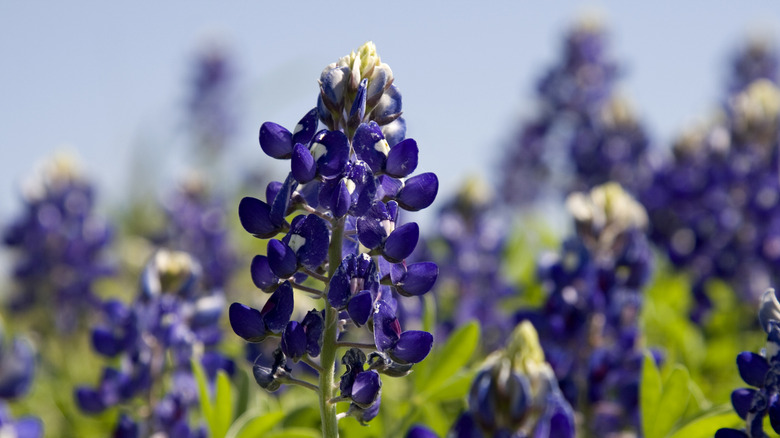 hartcreations/iStock.com
Much like big hair and high school football, bluebonnets have become synonymous with Texas. They're the Lone Star state flower, and their arrival along the highways of the hill country is the unofficial announcement that spring has sprung. There's no one place to admire the blue blossoms, but Ennis is the home of the official Texas Bluebonnet Trail and the official Bluebonnet City of Texas with over 40 miles of mapped driving trails.
Crested Butte, Colorado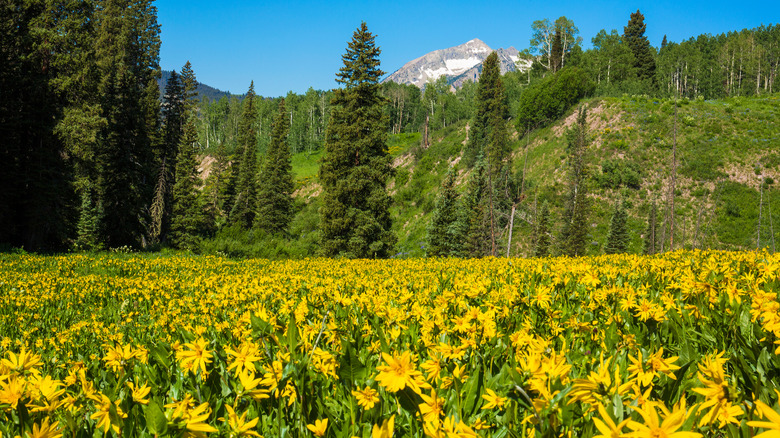 blewulis/Shutterstock
Crested Butte has earned the title of the Wildflower Capital of Colorado thanks to its annual display of hundreds of species, including buttercups, lupine, paintbrush, columbine and Alpine sunflowers. The flower show changes throughout the spring and summer months and the area is full of amazing hiking trails for beginners to enjoy the sights.
Skomer Island, Wales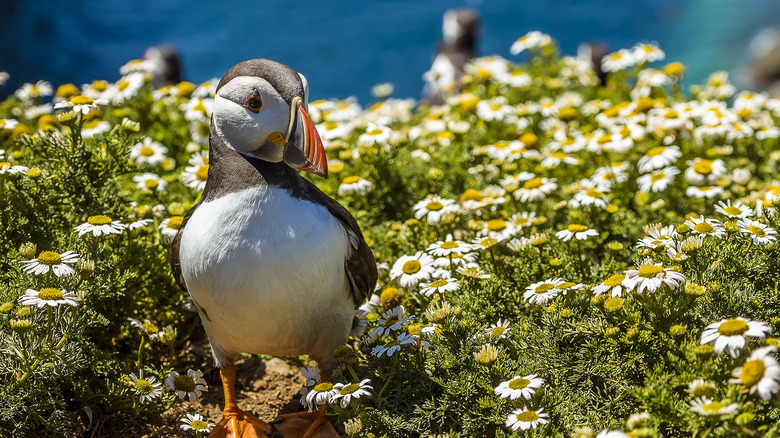 © Nicola Pulham - Dreamstime.com
Skomer Island off the coast of Wales sees an explosion of life in the spring that delights both flower- and wildlife-lovers. The island is a large breeding ground for puffins and becomes carpeted in bluebells during the spring, making the whole island appear blue.
Provence, France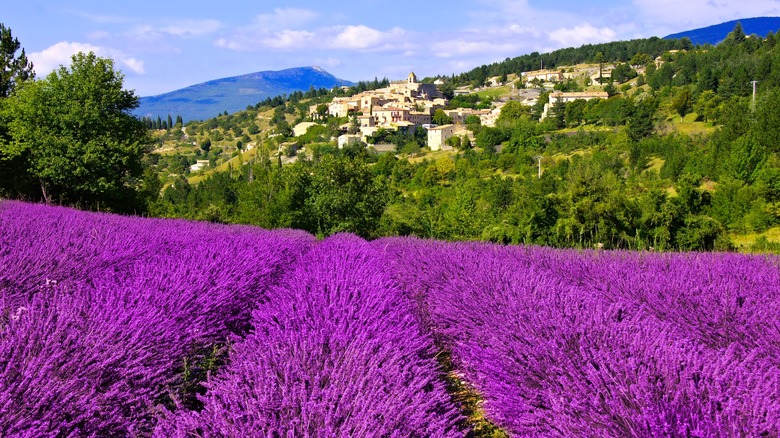 © Jenifoto406 | Dreamstime.com
France is world-famous for many things: the romance of Paris, the bubbly wine of the Champagne region and the lavender fields of Provence. Seeing these striking, fragrant purple fields in person is something that's on plenty of Americans' international bucket lists. Though Provence sees red poppies bloom in the spring months, the end of June to the end of August is when the lavender fields reach their peak bloom.
Willamette Valley, Oregon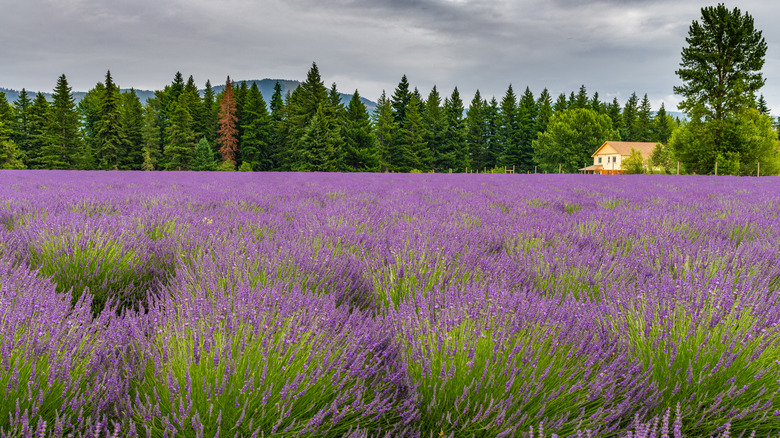 MightyPix/Shutterstock
There are rolling fields of lavender stateside as well. The Willamette Valley in Oregon has the proper climate to grow this Mediterranean herb, and the state's majestic Mt. Hood makes a beautiful backdrop to the rolling purple fields. Lavender is beloved for its fragrance but it's also one of many flowers you can actually eat.
North Cascades National Park (Washington)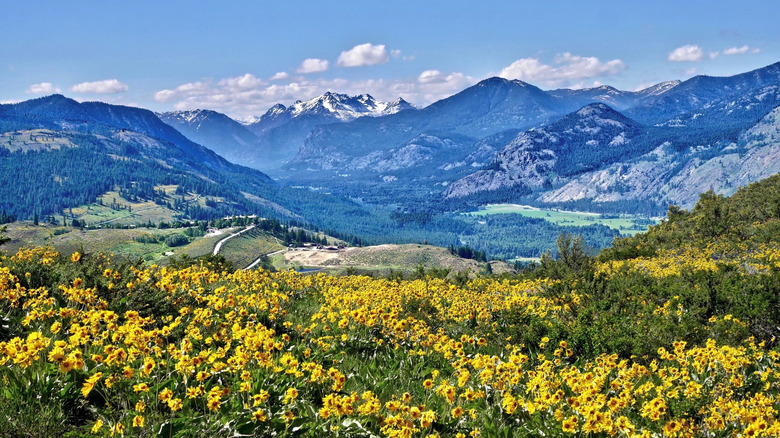 © Aquamarine4 | Dreamstime.com
The most underrated spot in the state of Washington, North Cascades National Park spans a large range of elevations, exposure and precipitation. Thus, many different varieties of flowers can grow in different areas of the park. In the springtime, lower-elevation flowers bloom as early as February while those in the alpine areas bloom as late as September.
Holland, Michigan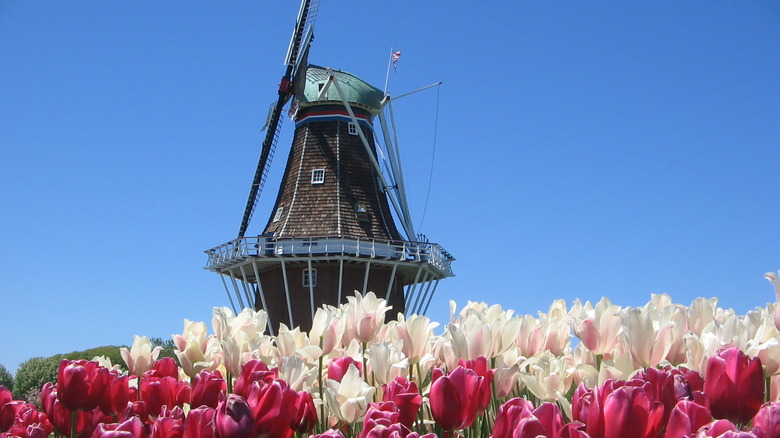 © Vladimir Babkin | Dreamstime.com
The Netherlands are known for their tulips, and Holland, Michigan, makes its namesake proud every year when 6 million tulips that are planted in the city's parks, gardens and private fields burst back to life. Despite the bustling blooms, this Holland remains one of the most underrated small towns in America.
Wooden Shoe Tulip Farm (Woodburn, Oregon)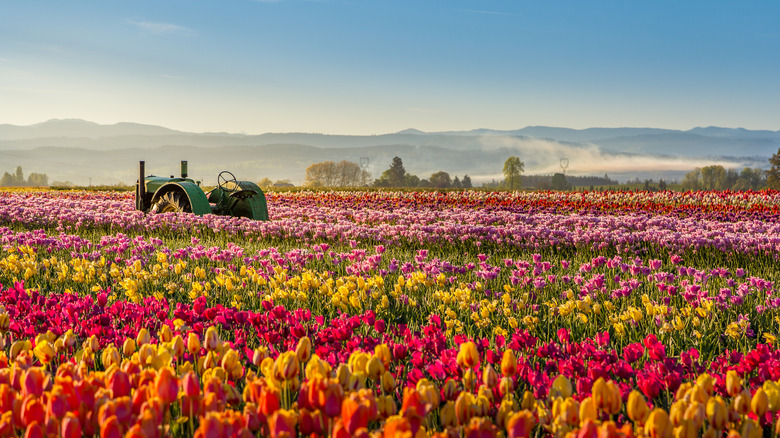 © Kan1234 - Dreamstime.com
Holland, Michigan, doesn't have a monopoly on flowing fields of tulips in North America. The town of Woodburn, Oregon, is located within the state's Willamette Valley and is known as the home of Wooden Shoe Tulip Farm. The farm has 40 acres of spring-blooming bulbs with distant mountains as the backdrop, making it one of the best springtime spots in America.
Washington, DC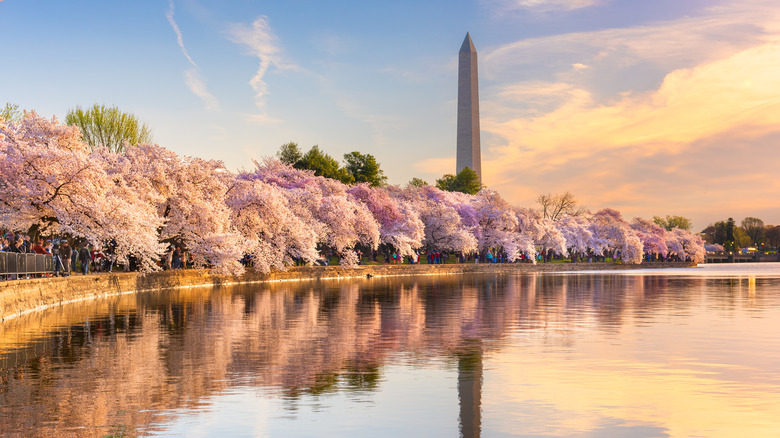 © Sean Pavone | Dreamstime.com
Beautiful flowers aren't just spotted underfoot but also overhead in the springtime. The most famous place for enjoying cherry blossoms in the United States is Washington, D.C. From roughly mid-March to mid-April each year, more than 3,000 trees around D.C. bloom, making it one of the best places to see cherry blossoms in the world.
Mt. Yoshino (Nara, Japan)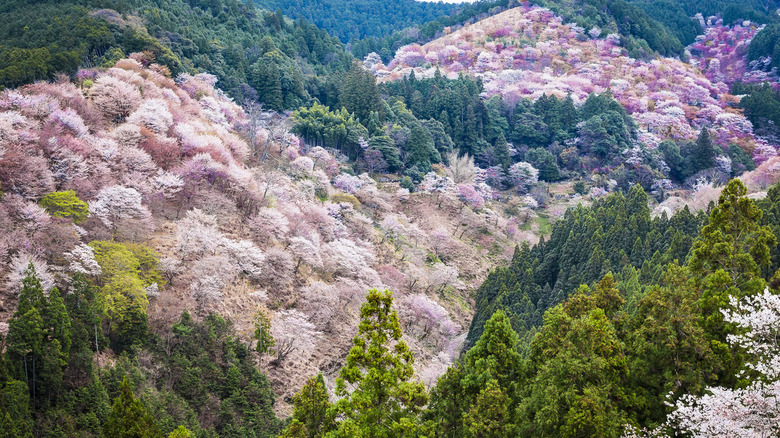 chrisinthai/iStock.com
Washington's cherry blossom trees were sent over as gifts from Japan, and the source still has some of the most beautiful blooms. There are plenty of places around Japan to see cherry blossoms, but Mount Yoshino outside of Nara is truly a breathtaking sight. The mountain is covered with 30,000 cherry trees that blossom in a variety of colors.
Fuji Motosuko Resort (Motosu, Japan)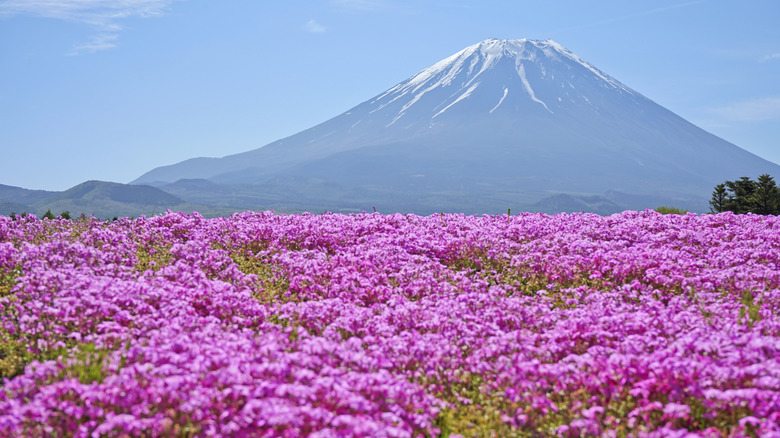 © Thananat Suksamai | Dreamstime.com
Japan's Fuji Motosuko Resort near Mt. Fuji also has a gorgeous view. While the area does see cherry blossoms, the base of the mountain famously pops with 800,000 phlox moss (shibazakura) in white as well as vibrant red, pink and purple during the Fuji Shibazakura Festival in April and May. The majestic mountain in the background is just a bonus.
Jeju Island, South Korea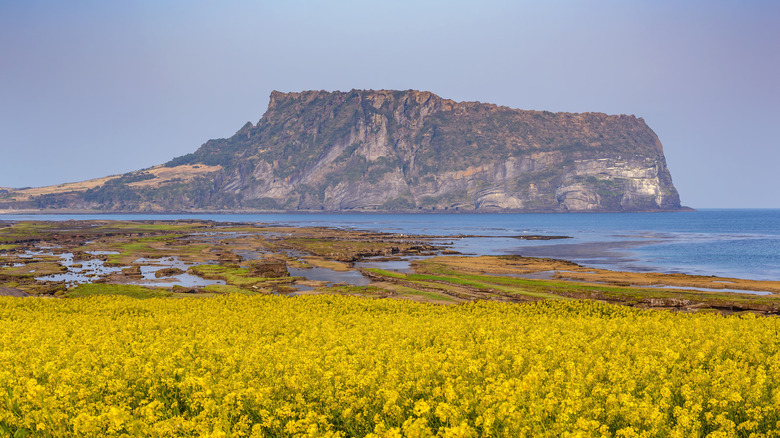 © Noppasin Wongchum | Dreamstime.com
Off the southern tip of South Korea lies Jeju Island, which is famous for its volcanic landscape and its beautiful spring blossoms. Small yellow canola flowers cover large swaths of the island and pink cherry blossoms burst overhead during the springtime.
Great Smoky Mountain National Park (North Carolina and Tennessee)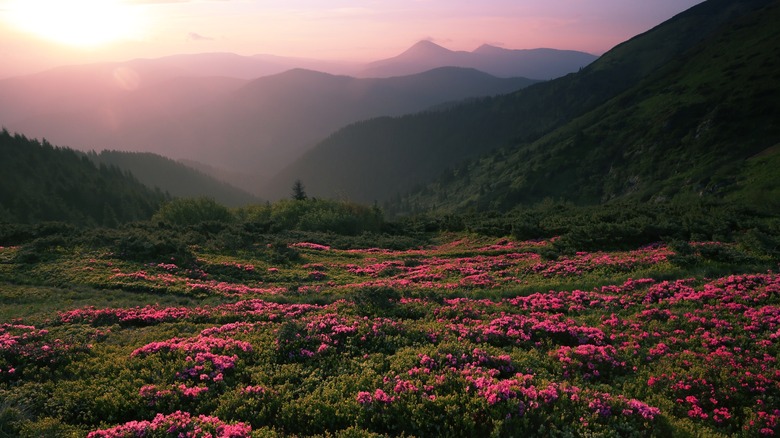 © Khirashvladimir - Dreamstime.com
With more than 1,500 types of wildflowers that explode in late winter and early spring, Great Smoky Mountain National Park has earned the nickname the "Wildflower National Park." The park is famous for its ephemeral flowers, which only bloom for a short period on forest floors before trees regrow their leaves and block the sunlight again. These more elusive flowers include lady slipper orchids, violets and trillium.
Green Park (London, England)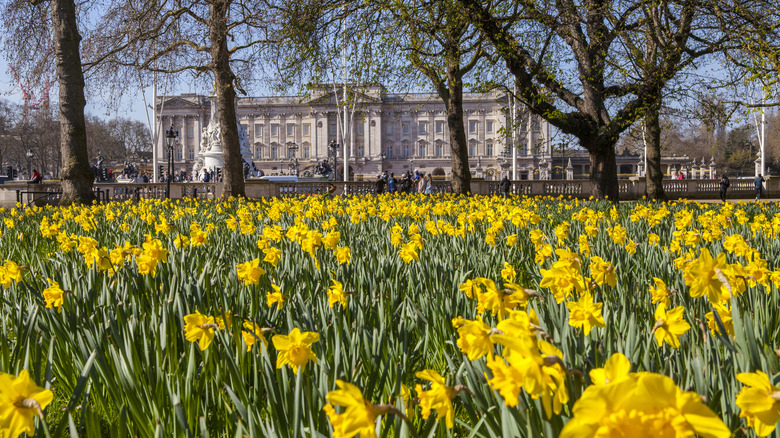 © Chris Dorney | Dreamstime.com
The U.K. is the world's largest commercial producer of daffodils, and these cheerful yellow flowers have long been associated with Great Britain despite not being native to the region. Located next to one of the most iconic landmarks in the world, Buckingham Palace, Green Park has no formal flower beds and bursts with around one million daffodil bulbs every spring.
Giverny, France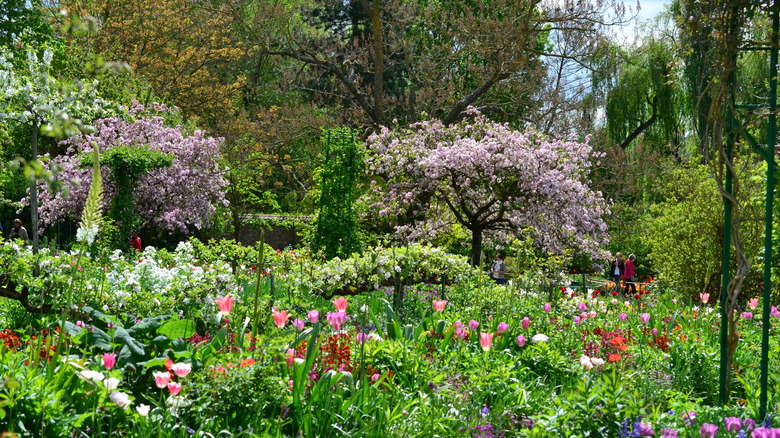 © Philippians44 | Dreamstime.com
Claude Monet's gardens have been immortalized in his art, but you'll feel like you're stepping into a painting looking at his gardens at Giverny, France. The painter preferred gardens that weren't too controlled, so plants grow freely and naturally. In the springtime, tulips, daffodils, pansies, daisies, irises, peonies and rhododendrons are among the flowering blooms.
Lompoc Flower Fields (Lompoc, California)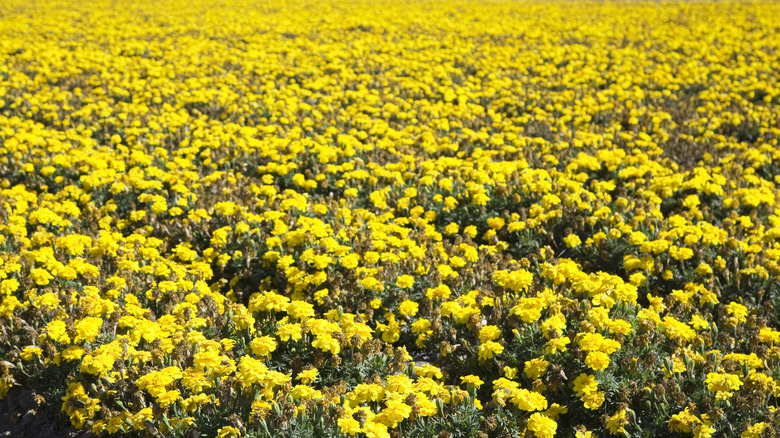 © Peter Mautsch / Maranso Gmbh | Dreamstime.com
Both commercial flower fields and seasonal wildflowers bloom throughout Lompoc, California. Popular flower varieties include the California poppy, lupine, baby blue eyes, blue bells and morning glory. Flowers grown in Lompoc are actually sold in national and local grocery stores around the country.
Skagit Valley, Washington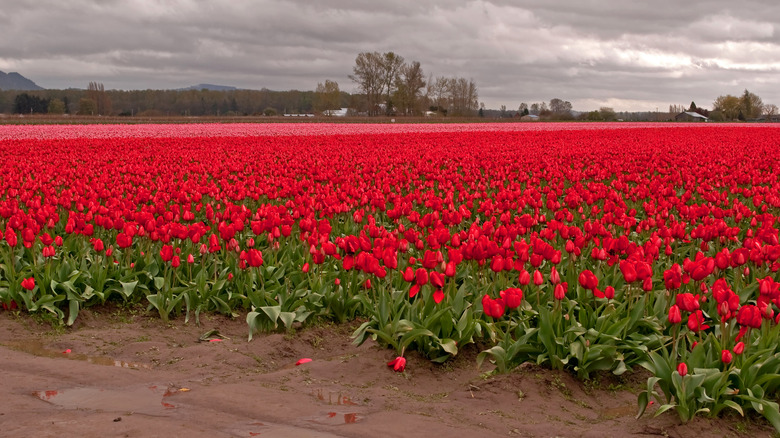 © Joyfuldesigns | Dreamstime.com
Washington's Skagit Valley is a diverse agricultural community on the West Coast, but it's best known for its tulips, which bloom by the millions in the springtime. In fact, more tulip, iris and daffodil bulbs are produced here than in any other county in the U.S. Because of the coronavirus pandemic, the annual Skagit Valley Tulip Festival is being hosted virtually. You can also virtually tour other famous landmarks and museums around the world.
Mainau Island, Germany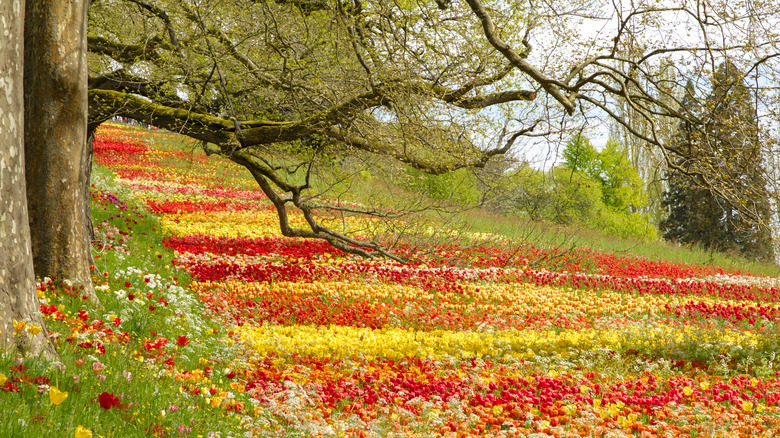 © Renedreuse | Dreamstime.com
Mainau Island is a more than 100-acre island in Germany's Lake Constance. Also known as Flower Island, it's home to an enchanting Baroque palace surrounded by lush trees with pathways and gardens full of a million tulips, rhododendrons, roses, dahlias and more as well as a collection of 1,200 orchids.
Luoping County, China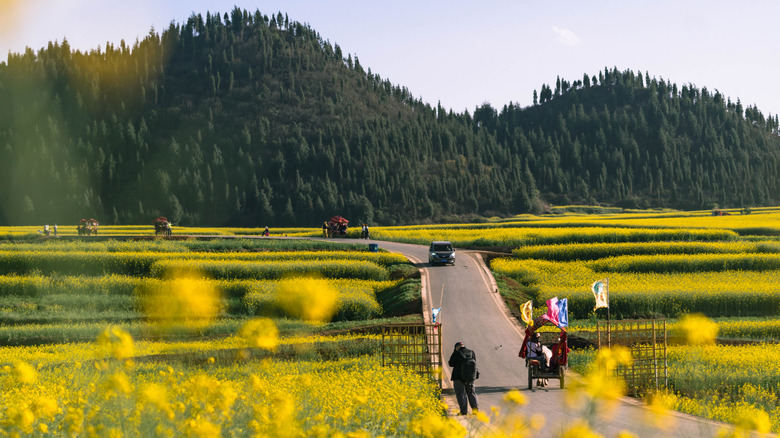 © Natchavakorn Songpracone | Dreamstime.com
Rapeseed, a member of the mustard family, is grown for its seeds, which are one of the world's largest sources of vegetable oil. In the west, it's better known by the name of its Canadian-engineered cousin, canola, which is grown for canola oil. Although they're grown as a crop, rapeseed plants make flowers. The small county of Luoping in China has become famous for its golden sea of rapeseed flowers that bloom every spring.
Hallerbos Forest (Halle, Belgium)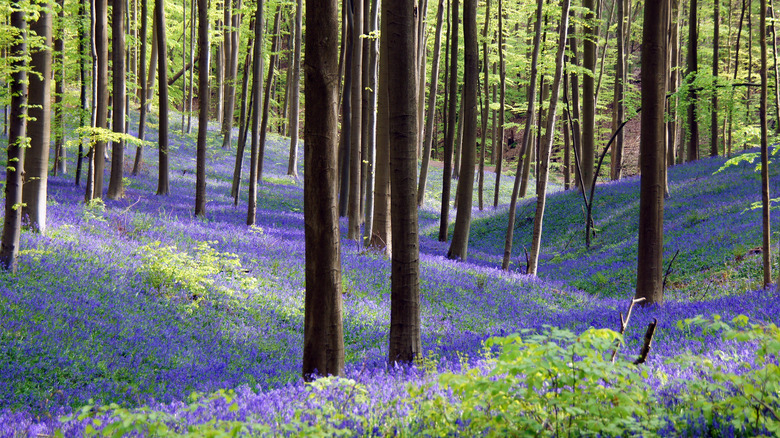 © Aagje De Jong | Dreamstime.com
In springtime, Hallerbos, which means "the blue forest," earns its name when this Belgian forest's floor comes alive with blue forest hyacinths, or bluebells. With the light dappled through the leaves, this phenomenon makes Hallerbos one of the most enchanting forests in the world.
Carrizo Plain National Monument (Santa Margarita, California)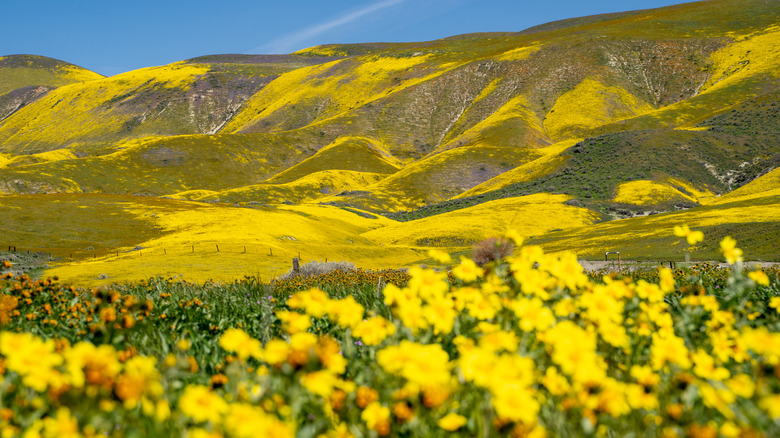 © Mkopka | Dreamstime.com
Carrizo Plain National Monument includes the natural wonder Soda Lake as well as the San Andreas Fault, but this California hidden gem also comes alive with wildflowers in the spring. Unique species include endangered California jewelflowers and San Joaquin woolly threads.
Mount Gilboa, Israel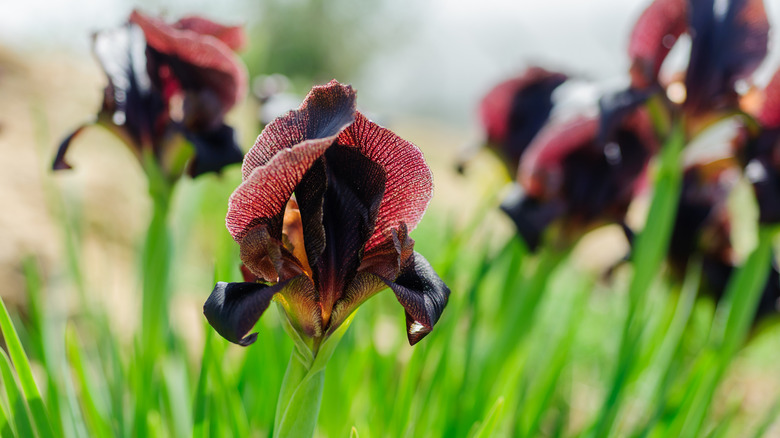 © Vadil - Dreamstime.com
Located in northern Israel, Mount Gilboa is a majestic mountain famous for its biblical significance as well as for its natural beauty. The Gilboa Iris Nature Reserve is known for its deep purple Gilboa irises, which bloom in early spring and are only found in a couple other locations in the country.
Gotland, Sweden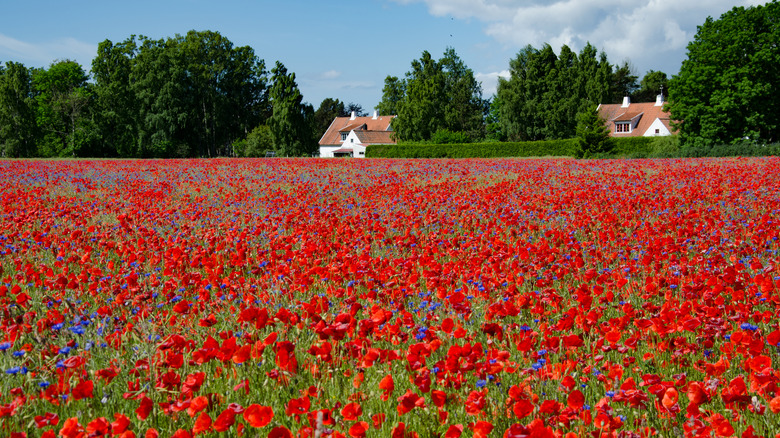 © Syberyjczyk | Dreamstime.com
The mild climate on the Swedish island of Gotland encourages a variety of lush greenery and wildflowers to grow. Sweden is home to 40 different kinds of orchids, and 35 of them can be found in Gotland. Other abundant flowers include poppies, blue viper's bugloss and wild chicory.
Blue Ridge Parkway (North Carolina and Virginia)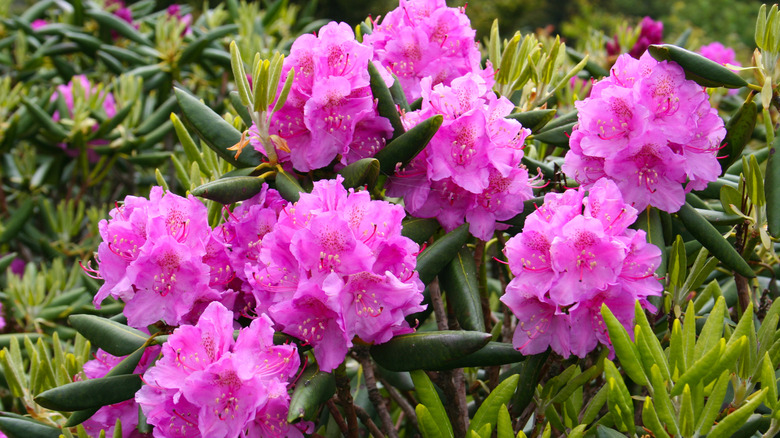 © Daveallenphoto - Dreamstime.com
Blue Ridge Parkway, America's longest linear park, runs through 29 counties from North Carolina to Virginia. The scenic drive comes alive with vibrant native plants in the springtime, though flowers bloom in certain areas from March through October. Buttercups, Queen Anne's lace and more dot the roadside in springtime. Those who venture into the forest on foot can find chickweed, wild ginger, trillium, larkspur and more. The area's famous rhododendron shrubs also start to show their white and pink buds in May.
Cape Floral Region (South Africa)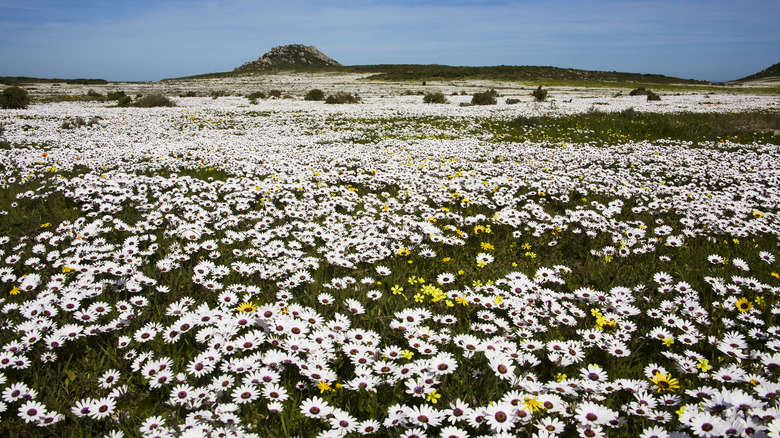 © Andrea Willmore - Dreamstime.com
Located at the tip of South Africa, the protected Cape Floral Region has the highest known concentration of plant species in the world. It's home to almost 10,000 different species that grow nowhere else on Earth. The majority of its plants are flowering shrubs. It's home to thousands of threatened and endangered species as well as more common plants like aloes and geraniums.
Shenandoah National Park, Virginia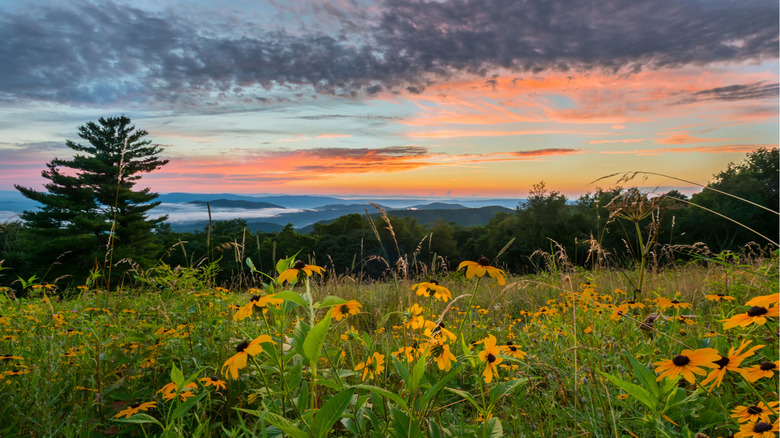 Kelly vanDellen/Shutterstock
You can drive, walk or hike along 500 miles of trails to take in the springtime sights at Shenandoah National Park along the Blue Ridge Mountains. More than 850 species of wildflowers bloom in the spring here. Blossoms include bloodroot, violets, trillium, lady's slippers and pink azaleas. Shenandoah is home to some of the most beautiful places in all of America's state and national parks.