The Biggest Mansions In America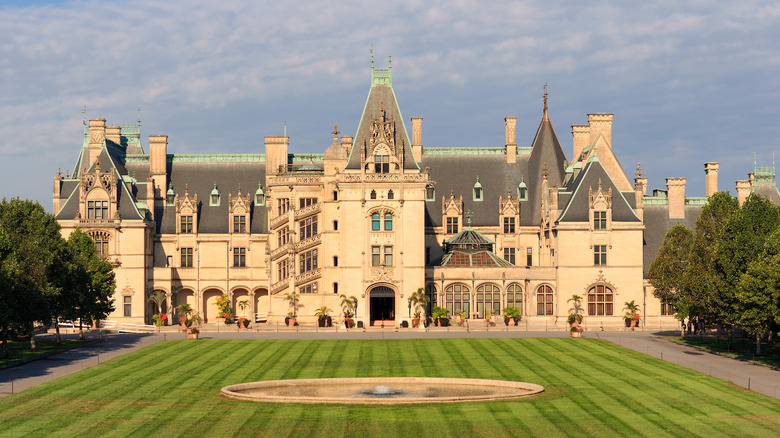 ZakZeinert/Shutterstock
Everything's bigger in America: the vast landscapes of the plains, the towering peaks of the Rocky Mountains, the portion sizes in restaurants, and, of course, the houses. Or we should say mansions because the sprawling estates we're featuring here are not mere houses. When measured by square footage, these stunning mansions all clock in at more than 20 times the size of the average American home.
Who needs that much space, you might wonder? Many of these mansions were originally built as private residences during the Gilded Age but are now excellent museums, college campus halls, conference centers, and even government buildings. Others, however, are still private residences for those who appreciate having room to spread out. A few of these homes aren't even fully constructed yet, leaving space for them to leapfrog one another in size. From Biltmore to The Breakers, here are 25 of the biggest mansions in America.
25. San Sylmar (Sylmar, California): 60,000 square feet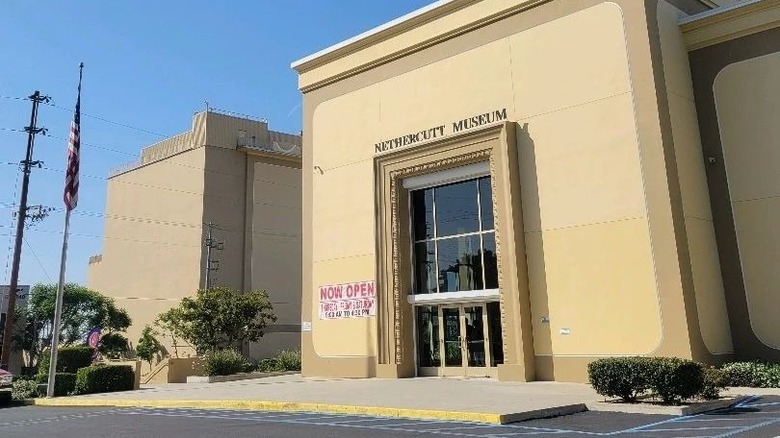 San Sylmar penthouse tower was a ten-story home where J.B. Nethercutt lived with his wife in Sylmar, CA. The penthouse suite even housed a rotating bedroom. On the floors below, there were a Louis XV dining room and a theater. Below that, Nethercutt kept his large collection of classic cars. The collection eventually got too big for the tower, and Nethercutt had to construct another building across the street. The two buildings are now the Nethercutt Museum, which is free to enter.
24. The Breakers (Newport, Rhode Island): 62,482 square feet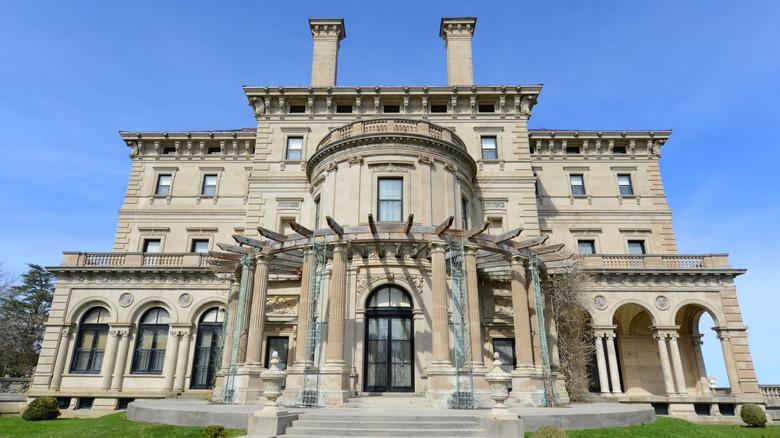 Wangkun Jia | Dreamstime.com
Built as the summer home of Cornelius Vanderbilt II in 1895, The Breakers is one of America's finest surviving Gilded Age mansions. Built in the Italian Renaissance style on 13 acres overlooking the Atlantic, its well-groomed gardens and interiors rich with imported marble and other high-end architectural elements make it a must-visit museum.
23. Mar-a-Lago (Palm Beach, Florida): 62,500 square feet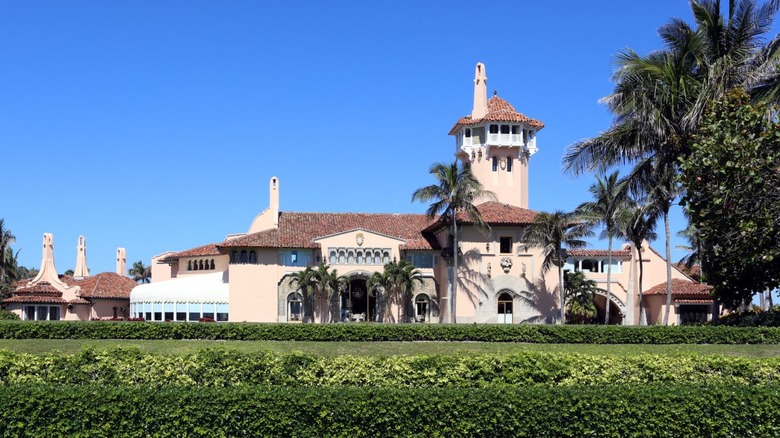 Wellesenterprises | Dreamstime.com
Mar-a-Lago officially opened in 1927 after four years of construction. The hurricane-resistant structure was built for socialite and cereal heiress Marjorie Merriweather Post. When Post died in 1973, she willed the estate to the federal government, which found the property too difficult to maintain. President Donald Trump purchased the property in 1985 and for a decade used it as a private residence before turning it into a private club.
22. Dumbarton Oaks (Washington, DC): 64,000 square feet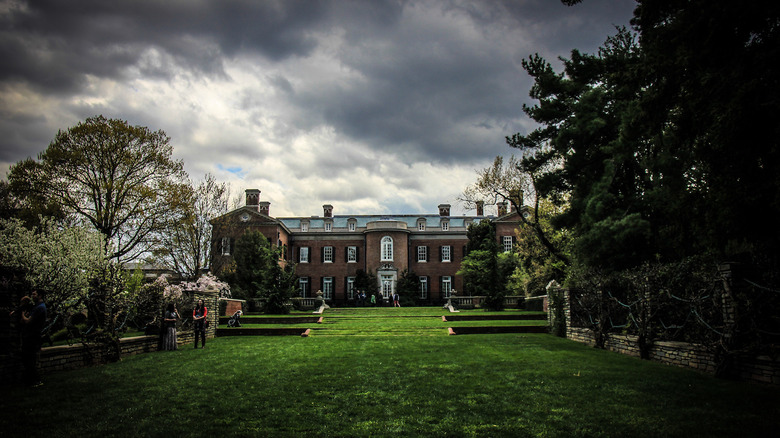 Nicole Glass Photography/Shutterstock
After passing through several hands, the Dumbarton Oaks estate was greatly expanded by Robert and Mildred Bliss throughout the mid-19th century. In 1940, the couple transferred the almost 55,000-square-foot property to Harvard University, Robert's alma mater. Today, the estate houses a museum, library, garden and research institute. 
21. Stan Hywet Hall (Akron, Ohio): 64,500 square feet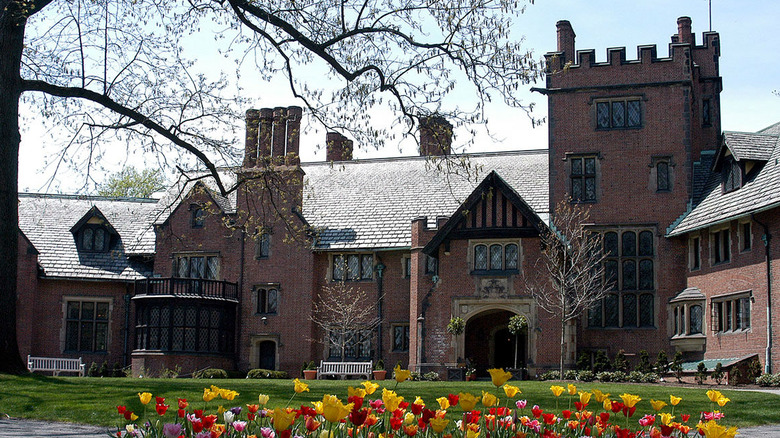 Wikimedia Commons/ Ohio Office of Redevelopment/ CC BY 4.0
This Tudor Revival-style estate was constructed between 1912 and 1915 for Goodyear Tire co-founder F.A. Seiberling. Inspired by English country homes, the mansion is decorated with 21,455 panes of glass and 23 fireplaces. Today, about 95% of the estate's furnishings are original. Nestled within the estate are four gardens, a grape arbor, an apple orchard and a conservatory. Tours are typically offered April to December but virtual tours are also available.
20. Florham (Madison, New Jersey): 65,465 square feet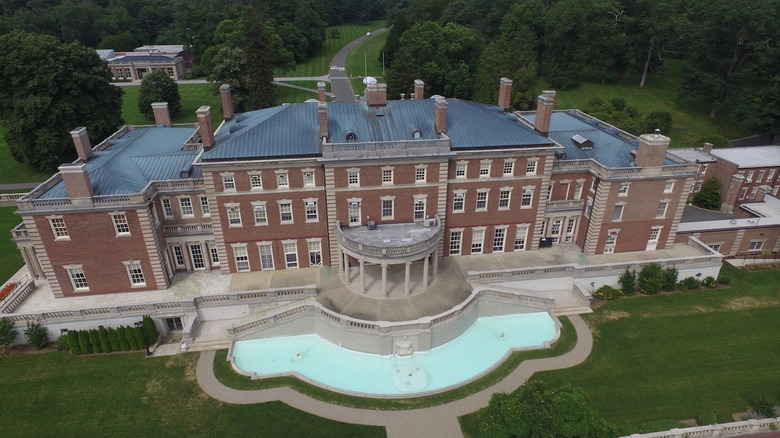 Photo Courtesy of Fairleigh Dickinson University
Designed in the 1890s to replicate a wing in Henry VIII's Hampton Court, the Florham Mansion was first the country estate of Florence Vanderbilt and her husband, Hamilton Twombly. The mansion was as lavish as you'd expect from the Vanderbilts: 100 rooms, and gardens designed by the same man who designed New York's Central Park. In 1957, the 178-acre estate was acquired by Fairleigh Dickinson University to serve as a third campus. The mansion is now known as Hennessy Hall.
19. Xanadu 2.0 (Medina, Washington): 66,000 square feet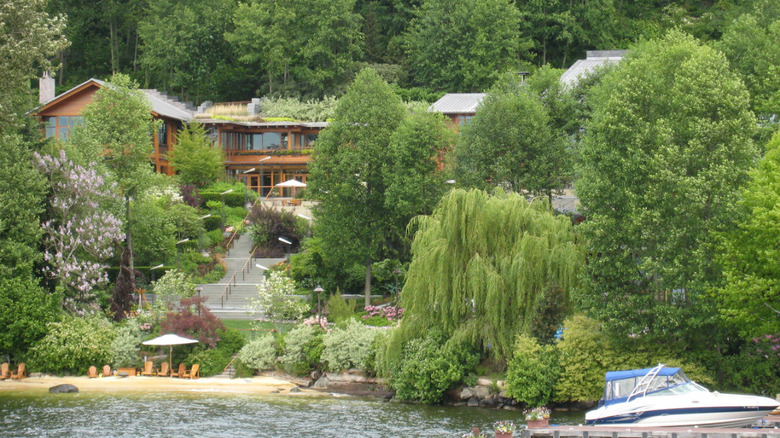 Wikimedia Commons/ Rscocol/ CC BY 4.0
Microsoft is one of the world's biggest businesses with humble beginnings, but founder Bill Gates' home is anything but humble. Gates and his wife Melinda live in a home informally dubbed "Xanadu 2.0," after the mansion in the movie "Citizen Kane." The main house contains six kitchens, seven bedrooms, 24 bathrooms and six fireplaces. As can be expected from Gates, the estate is chock-full of high-end tech. Visitors use wearable pins to control the lighting, room temperature and art designs in the guest house.
18. Grey Towers Castle (Glenside, Pennsylvania): 66,381 square feet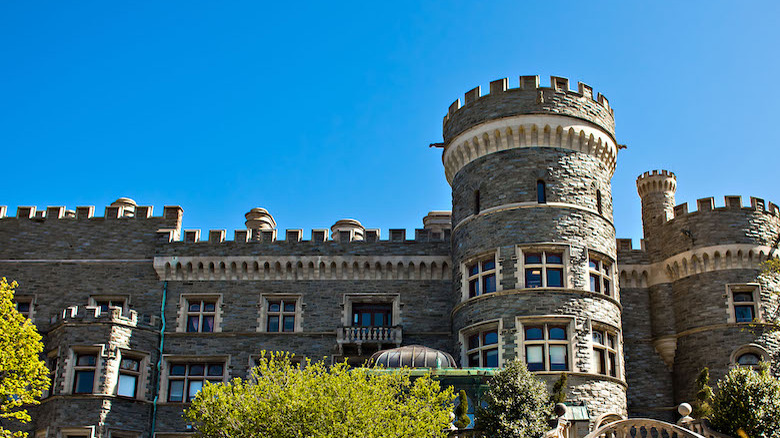 Photo Courtesy Of Arcadia University
Grey Towers was constructed in 1893 as the estate of sugar magnate William Welsh Harrison. In 1929, two years after Harrison's death, Arcadia University purchased Grey Towers from the Harrison family for $712,500. The castle is a multi-use building on Arcadia's beautiful college campus. Select freshmen are even allowed to live inside.
17. Hearst Castle (San Simeon, California): 68,500 square feet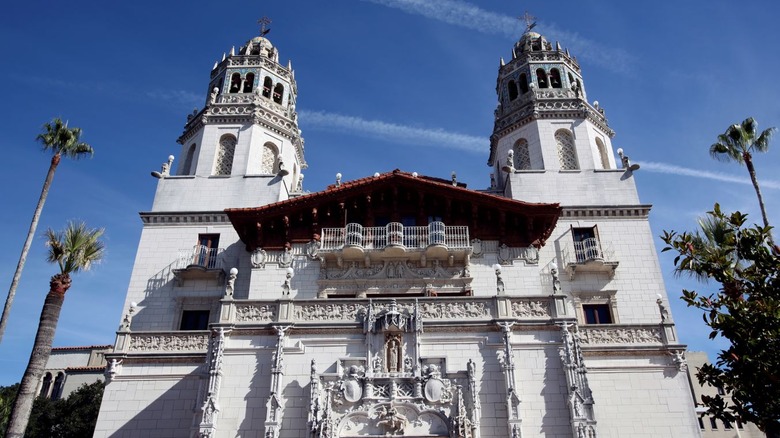 Djschreiber | Dreamstime.com
Built between 1919 and 1947 for publisher William Randolph Hearst, Hearst Castle was designed by one of America's earliest major female architects, Julia Morgan. The entire complex is made up of the massive Casa Grande, as well as three sprawling guest houses, elaborate gardens and one of the most beautiful swimming pools in the world, the 345,000-gallon Neptune Pool. Today, the enchanting castle is a California State Historical Monument and is open to visitors.
16. Lynnewood Hall (Elkins Park, Pennsylvania): 70,000 square feet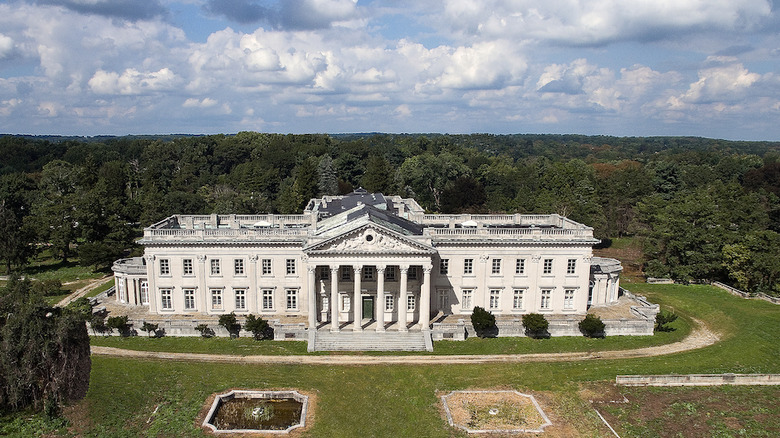 FMS57/Shutterstock
Constructed in 1900 for Philadelphia businessman Peter A.B. Widener, Lynnewood Hall has been left vacant for over a decade. Widener's son and grandson died in the Titanic's 1912 sinking, and Widener died three years later. An avid art collector, Widener donated his collection, valued at $10,000,000, to the National Art Gallery in Washington, D.C.
15. Woodlea (Briarcliff Manor, New York): 70,000 square feet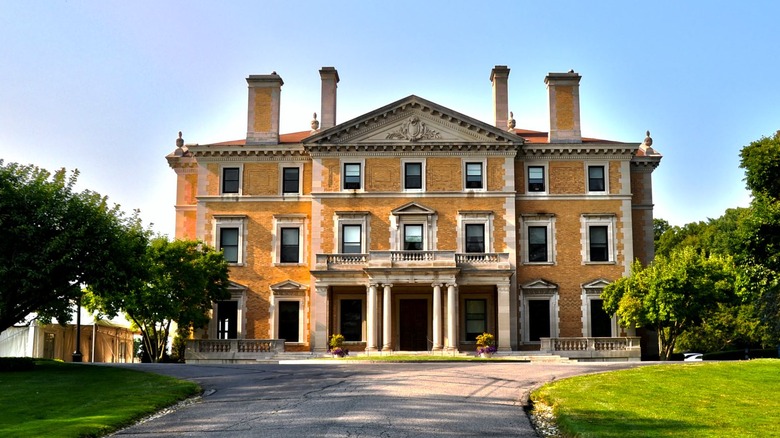 Wikimedia Commons/ Ɱ/ CC0
The 75-room Victorian-style Woodlea mansion was completed in 1893, costing $2.5 million to build at the time. Originally owned by Colonel Elliott Fitch Shepard, a founder of the New York Bar Association, the mansion later became the clubhouse of one of America's top-rated country clubs and golf courses.
14. Idle Hour (Islip, New York): 70,000 square feet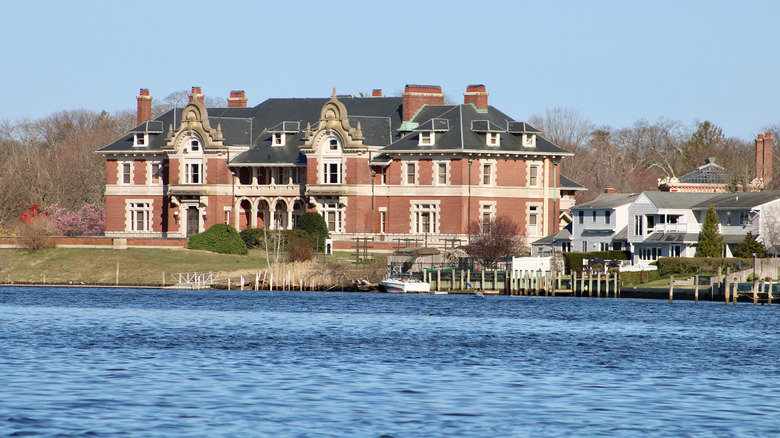 Jaclyn Vernace/Shutterstock
Idle Hour is one of the Vanderbilt homes, originally owned by the famous railroad magnate. While it doesn't quite rival the Biltmore Estate in size, it still stacks up as one of America's largest mansions. The home has had a turbulent past: The first version, built by William Kissam Vanderbilt, burned down in 1899, though it was quickly rebuilt. Vanderbilt died in 1920, his estate was broken up, and Idle Hour was bought by Dowling College in 1962. The college shut down in 2016, and the building has been empty since then.
13. Pensmore (Highlandville, Missouri): 72,000 square feet
Pensmore Chateau looks like a little piece (or actually, a rather large piece) of Europe transported to the middle of America. The home has been under construction since 2008 and is owned by astrophysicist Steven Huff. Pensmore, with its large turrets, resembles a castle but seems more like a fortress. It has been built to withstand tornadoes, earthquakes, and bomb blasts. Huff will not only live there with his family when it's complete, but will also use Pensmore as a retreat to host other scholars.
12. Indian Neck Hall (Oakdale, New York): 75,000 square feet
Indian Neck Hall was one of the largest houses on Long Island in its day. It was built for Frederick G. Bourne, president of Singer Manufacturing Company (the famous sewing machine). Bourne and his family moved into the 110-room mansion in 1900. After Bourne died in 1919, his children sold the estate, and it was opened as the La Salle Military Academy in 1926. More recently, in 2016, it was bought by Amity Education Group, a non-profit education group in India.
11. Gemini (Manalapan, Florida): 85,000 square feet
The Gemini Estate is the most expensive house ever to be sold in Florida. Tech billionaire Larry Ellison snapped it up for $173 million in 2022. What does that much money buy you in Florida? Thirty-three bedrooms, 16 acres of lush outdoor space, and a sports complex that includes a golf practice area up to PGA standards. Oh, and part of a nearby island, too. Ellison also owns large properties in California and Newport, Rhode Island, as well as 98% of the Hawaiian island of Lanai.
10. Meadow Brook Hall (Rochester Hills, Michigan): 88,000 square feet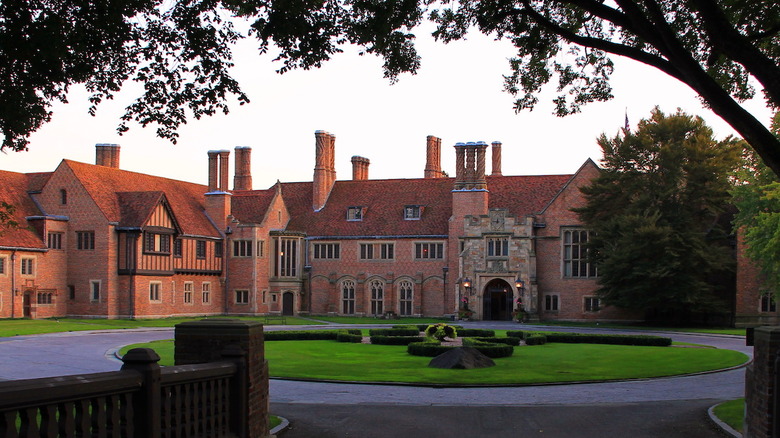 Photo Courtesy of Oakland University
Built in the 1920s for Matilda Dodge Wilson, the widow of Dodge motor car company founder John Francis Dodge, Meadow Brook Hall boasts 110 rooms. In 1957, Wilson and her second husband donated the hall, its collections, the estate's 1,500 acres and $2 million to found what would become Oakland University.
9. Versailles (Windermere, Florida): 90,000 square feet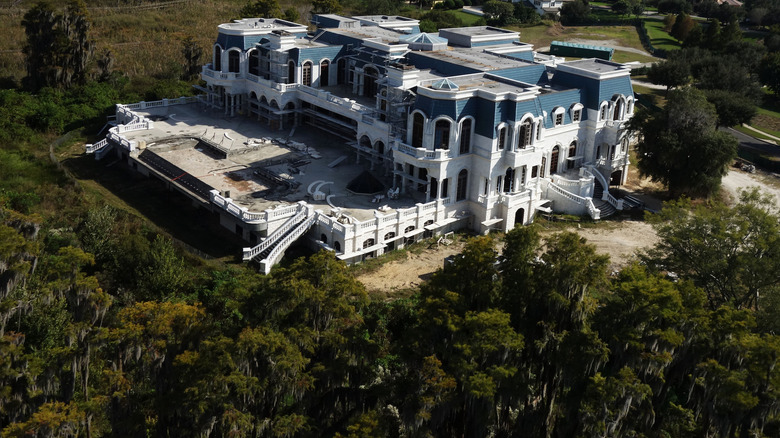 Orlando Sentinel/ TNS
Famed Florida couple David and Jackie Siegel are over 18 years into constructing what they've dubbed a modern-day Versailles. Their efforts were documented in the 2012 film "The Queen of Versailles." Construction hasn't exactly been a breeze; it stalled in 2009 as the financial downturn hit. In 2019, according to the Orlando Sentinel, Jackie expressed regret in ever having started building the home.
8. Shadow Lawn (West Long Branch, New Jersey) : 90,000 square feet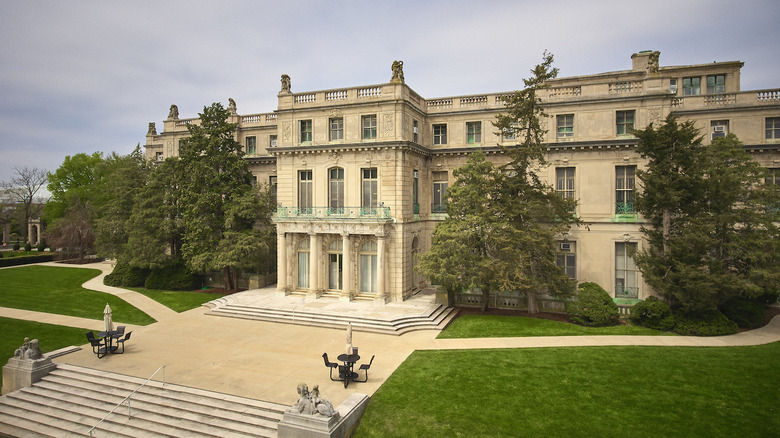 Photo Courtesy of Monmouth University
Constructed in 1927, Shadow Lawn was built in the location of another mansion that was once inhabited by President Woodrow Wilson and later burned down in a fire. In 1955, the second Shadow Lawn was purchased by Monmouth University and renamed Woodrow Wilson Hall. Beyond just a beautiful mansion, Shadow Lawn is a movie location you can actually visit too. It was used as Daddy Warbucks' mansion in the 1982 film "Annie."
7. Winterthur (Winterthur, Delaware): 96,582 square feet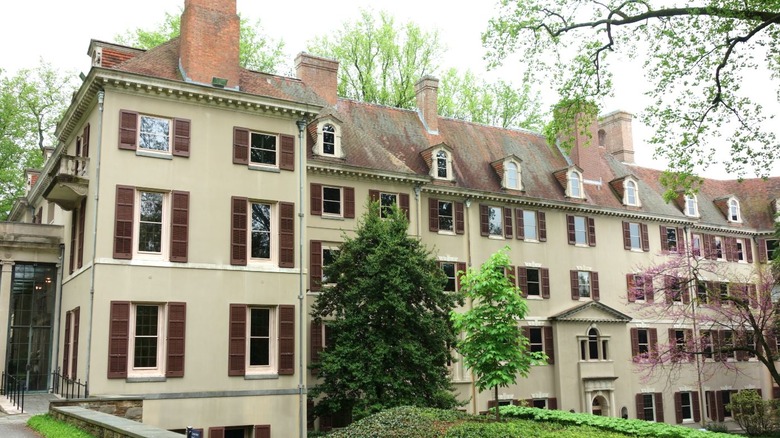 Wikimedia Commons/ Daderot/ CC0
Built in 1837, Winterthur underwent massive renovations in the 20th century by Henry Francis du Pont that doubled its size. The additions were largely constructed to hold du Pont's massive collection of American art. Today, its 175 rooms house 90,000 objects dating as far back as the 1600s as well as research and conservation facilities.
6. Whitehall (Palm Beach, Florida): 100,000 square feet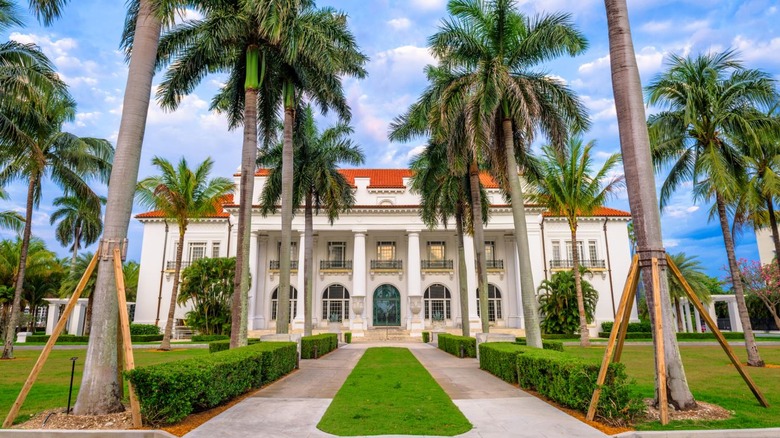 Sean Pavone | Dreamstime.com
Arden House was completed in 1909 after being under construction for five years. It was owned by E. H. Harriman and designed by the same architectural firm that designed the New York Public Library. The house sits on a mountaintop surrounded by 110,000 acres of parkland. It was fairly unusual among Gilded Age mansions as all materials and decorations, from the woods used in construction to the decorative tapestries, were sourced from the United States. It now serves as a conference center.
5. Arden House (Harriman, New York): 100,000 square feet
Whitehall was built in 1902 for railroad tycoon Henry Flagler. Widely regarded as the man responsible for turning Florida into a tourist destination, Flagler died in 1913 after suffering a fall in Whitehall. Today, the 55-room mansion still drips with marble, gilding and murals and is open to visitors. Add a stop at the estate's Flagler Museum to your list of things to do in Florida that aren't Disney or the beach.
4. The One (Bel Air, California): 105,000 square feet
How many swimming pools does one house need? Five is the answer if you're film producer Nile Niami, who built The One in Bel Air, California. Niami planned to sell the mansion for $500 million in 2015. However, the project became mired in debt, and the house was put into bankruptcy before being sold at auction for $126 million in 2022. The buyer, Richard Saghian, who owns Fashion Nova, will be able to enjoy the full-service spa, nightclub and private theater.
3. Oheka Castle (West Hills, New York): 109,000 square feet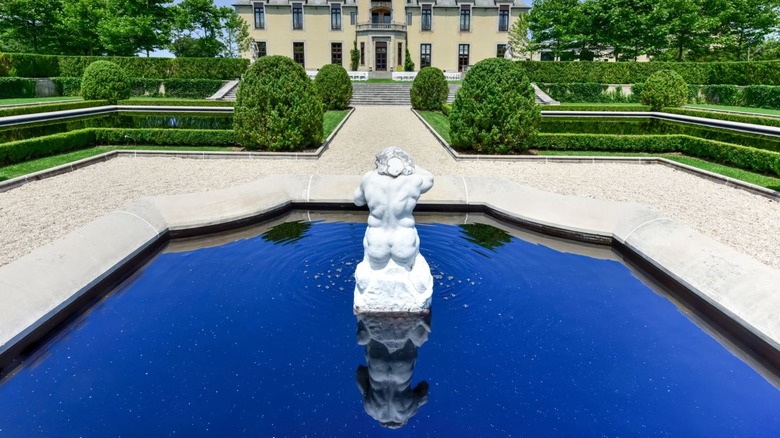 Demerzel21 | Dreamstime.com
Oheka Castle was built as the country home of investment financier Otto Hermann Kahn between 1914 and 1919. It contains 127 rooms and was once part of a 443-acre estate. After Kahn's death in 1934, the castle passed through several owners before being taken over by the Eastern Military Academy. After the school closed in 1979, the house nearly burned down several times. It has since switched owners again and been fully restored. Today, it's one of the country's most high-end wedding venues.
2. Fair Field (Sagaponack, New York): 110,000 square feet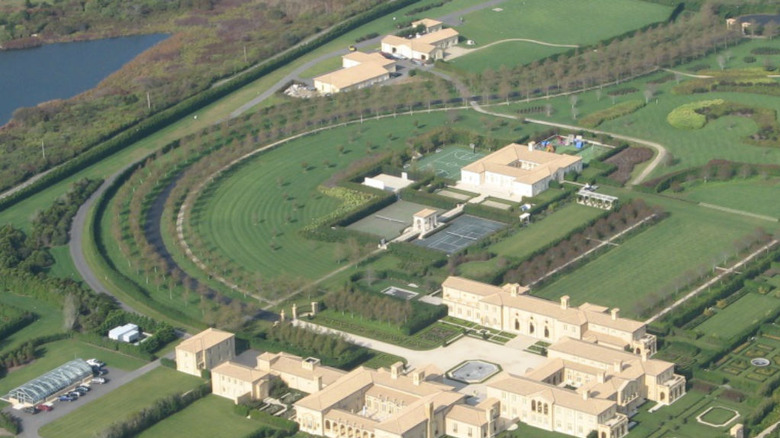 Wikimedia Commons/ Cfijames/ Public Domain
Built in 2003 for junk bond billionaire Ira Rennert, Fair Field sits on a 63-acre estate. The main house has 29 bedrooms, 39 bathrooms, three pools, a 164-seat theater and its own power plant. Its construction was so controversial that writer James Brady wrote a novel about it called "The House That Ate the Hamptons."
1. Biltmore Estate (Asheville, North Carolina): 175,000 square feet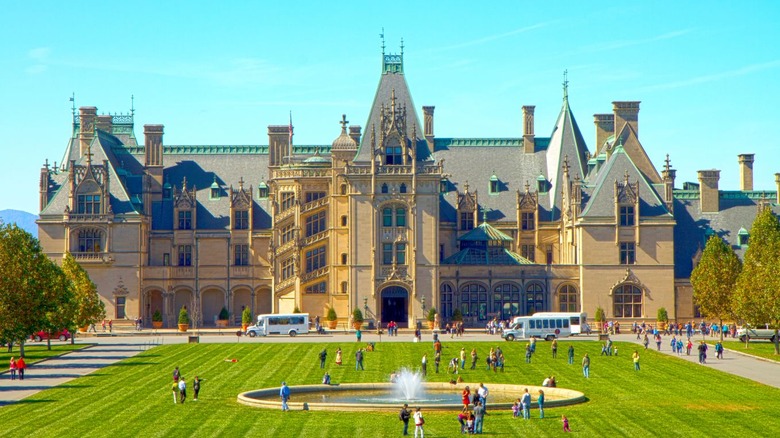 Florentino David | Dreamstime.com
The Biltmore Estate isn't just the largest privately owned house in the United States — it blows the competition out of the water. Built in the style of a French chateaux between 1889 and 1895 for George Washington Vanderbilt II (who dubbed it his "little mountain escape"), the mansion boasts 35 bedrooms, 43 bathrooms, and 65 fireplaces. The surrounding Antler Hill Village is a charming town that looks stuck in time.