How To Pick The Right Canoe Paddle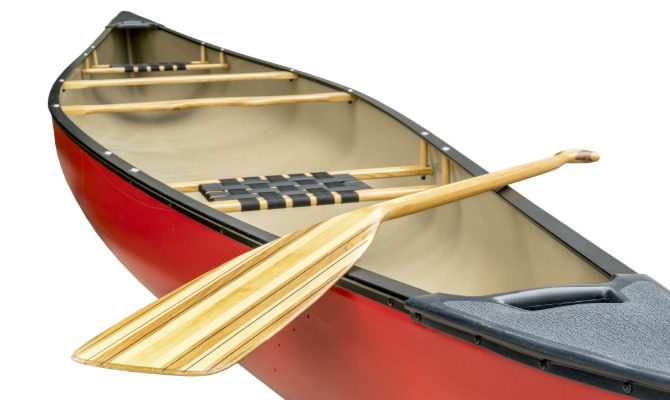 Thinkstock
At first glass canoeing seems like one of the easiest and most pleasant water sport you can try. While definitely pleasant, it may not be easy especially if you have the wrong gear.
Choosing the right paddle, which consists of a grip, shaft and blade, is more complicated. "Blade size, shape and materials vary depending on the type of paddling; whitewater, river or flatwater, according to Old Town Canoe. The main considerations are weight, comfort, durability and, of course, cost.
The make-it-or-break-it factor is often length.
Bow paddle
Bow paddling requires shorter but more strokes, which is why you want a shorter paddle. Otherwise, your arms will get tired too soon from moving a heavier addle quickly for a long time. The rule of thumb here is to for the paddle to measure from the ground to the middle of your chest when you're standing.
Stern paddle
This is pretty much the opposite of bow paddling. You'll be making longer strokes and you'll be maneuvering and steering the canoe, so you need a longer paddle. It should go to your collar bone when you're standing up.
Shaft length
As you paddle, you want your top hand to stay even and horizontal with your shoulder throughout the paddle stroke, according to Mad River Canoe. "If you find your hand dipping in mid stroke, it's time to try something a bit longer. If your hand scribes an arc up by your ear, check out a shorter paddle."
Keep this general rule in mind: A 60" traditional style paddle with a 28" long blade will have 7" more shaft length than a 60" contemporary paddle with a 21" blade.
Bent shafts are ideal for flatwater paddling or cruising. The smaller the angle, the less efficient the shaft. Most range between 7 and 14 degrees.
A few other tips they suggest are:
You can use a paddle or even a broom stick to determine shaft length. Tape a tape measure to the shaft of whatever you're using.
Kneel on a flat floor. Turn the paddle over upside down and put the grip on the floor just outside one of your knees.
Reach across your body, grab the shaft with your top hand, so your hand is parallel across your body.
Read the measurement from the shaft at point where the shaft emerges from your hand.
When you translate this shaft length to a paddle remember to take into account the extra height added by the grip, particularly if the grip is glued onto top of shaft.
The most common interval for paddle length sizing is 3", though you'll find some paddles sized at 6" and others at 2" intervals. This is when you need to think about the paddling position you will be in most of the time. If you're paddling from bow or stern, you can likely go down an inch or two from optimum size (say you measure 58" when kneeling and paddles are sized at 57" and 60" intervals; in this case you're safe to drop down an inch to the 57". However, if you anticipate a fair amount of paddling from center of the boat where it's the widest and there's a longer reach to the water, you'll probably be happier with the 60" edition.
Blade shape
Long and skinny blades (traditional beavertail) are good for cruising on lakes while shorter and wider blades are best for rivers and shallow water, according to Rei.com. Paddle blades measuring 8" x 20" are most common and are a suitable choice for most canoeists.
Grip
A T-grip allows for more control, especially if you're a beginner or on whitewater, but if you're touring, a rounded "pear" grip, also called a palm grip, is easier on your hand. It allows for more comfort because the shape fits naturally into the palm of your hand. Most paddles have a palm grip.
Material
Materials from wood to fiberglass to various composites have been used to make canoe paddles. The cheapest and best for most beginners option is an aluminum shaft and plastic blade. It's a bit heavier but will get you started for an affordable price.
Common sense says that you want the paddle to be light but strong. Fiberglass and other composites are the lightest materials and the most rigid. They also cost the most. Save them for more serious expeditions like whitewater where you want more control.
Wood paddles are heavier but cheaper and are good enough for flat water, where shock absorption is more important. Some wooden paddles can be almost as cheap as aluminum, but they're not as durable and require more maintenance.
More readings: 
5 Water Trails Perfect for Paddling in the National Park System
Best National Parks for Kayaking