Movie Theaters Reopen To Eager Audiences, According To Survey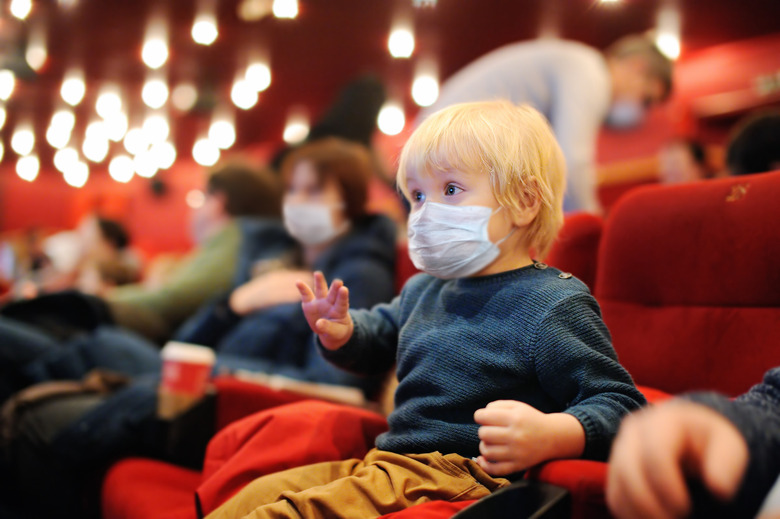 Maria Sbytova/Shutterstock
The coronavirus pandemic has affected millions of Americans and a wide variety of industries, with certain sectors being hit particularly hard, including movie theaters. Many theaters remained closed throughout the typically busy summer months that usually see crowds flocking to blockbuster releases. However, now that theaters have begun reopening, Americans are eager to go to the movies again.
Drive-in Movie Theaters That Feel Like Stepping Back in Time
Movie ticket app and website Atom Tickets conducted a survey in August of more than 16,000 U.S. moviegoers. The majority of Americans, about 74%, said they are ready to return to movie theaters within one month and 40% said they are ready to return to theaters immediately. Only 15% said they would not be comfortable going until there is a vaccine for COVID-19.
According to 34% of survey respondents, the most critical safety feature for people to feel confident returning to reopened movie theaters is having spaced seating in the theater auditorium. Other critical safety measures noted by moviegoers include staff and guests wearing masks properly and heightened theater cleaning procedures. In the survey, 85% of respondents also said that they plan on wearing a mask even if it is not required by the theater or local government.
Other ways theaters might look different due to the coronavirus pandemic include contactless ticketing and concessions. While many Americans are comfortable heading back to the theater, there's another option for people who want to guarantee their own space while catching a flick: drive-in movie theaters. Drive-ins have increased in popularity during the pandemic. Here are cool retro drive-ins across the country where you can catch the latest releases from the comfort of your own car.