What Is Telemark Skiing And Should You Try It?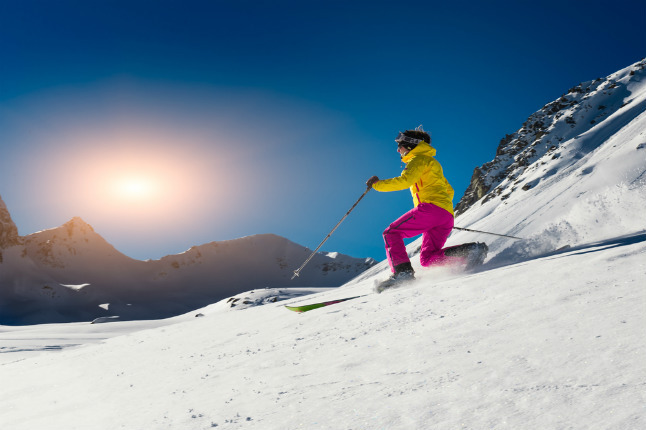 Shutterstock
Telemark skiing, or telemarking, is an old ski technique that originated in Norway more than a century ago. The defining characteristic of this ski style is that both of the skier's heels are detached from the skis. Only the toes are held to the bindings, which makes for strange looking turns that sets this style apart from other downhill skiers.
To give you an idea of what these strange turns actually look like, they're often described as a series of curtsies. During a telemark turn, one leg advances downhill, but the skis are still parallel. Skier bends the back knee, pulling the heel off the ski and that is what looks like a curtsy. To get a better idea of what it might look like, think of walking down a set of stairs in a zig-zag pattern.
Though the old style might not be the most popular method for getting downhill, it's made a major resurgence in the U.S. Telemark skiing has become popular again due to its versatility and learning curve. Those looking for a challenge have learned to telemark ski and the detached heel allows skiers to take on anything from cross-country skiing to the backcountry steeps. With the help of skins—removable strips of material that fit the bottom of skis—skiers can hike uphill and reach uncrowded backcountry terrain.
For the best learning conditions, though, you'll want to start out on groomers until you've got the hang of the technique. And, as with any foreign sport, it's best to seek instruction from someone who knows that they're doing.
Since its resurgence, there are competitions and events and lessons held across the country. To find out where you can learn to telemark ski, either check with your local mountain or visit the North American Telemark Organization's website. If you're a fan of alpine skiing and you're looking for an added challenge this winter, it's definitely worth giving telemark skiing a try. Those experienced in the sport say there's nothing like telemark skiing on a powder day.
More Reading:
The Best Cross-Country Ski Spots in the U.S.
7 Reasons to Love Early-Season Skiing and Snowboarding
Top 8 Secret Ski Spots in North America