How To Get Your Skis And Snowboards Mountain Ready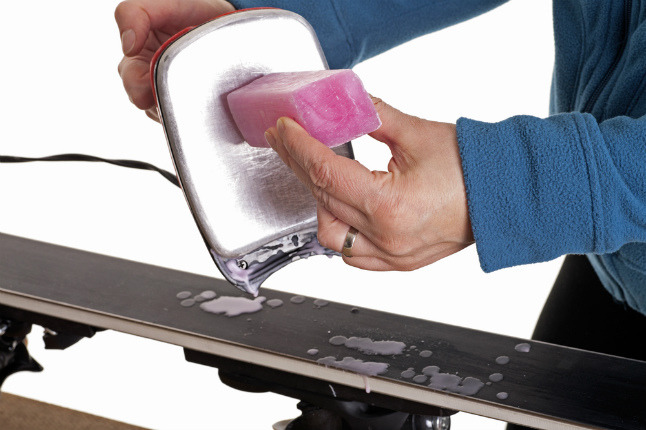 Shutterstock
You can feel it in the air—that chill that comes in the beginning of October—and although it's not quite time for heaps of snow, that chill is the first sign that it's time to prepare your winter gear for the season ahead. If you're like most skiers and boarders, you probably didn't give your gear the end-of-season TLC it deserved, so it's time to make it up now. Before you hit the mountain or even plan your first trip, you need to get your gear ready. In case you're unsure, here's what you'll need to do.
Clean Them Up
If you're one of those people who finished the last run of the season and immediately stashed your skis or board away, not to be seen again until the fall—no judgement—but you'll probably need to give your gear a good wash and scrub. Hose everything down, scrub with a soft brush and let it all dry.
Inspect the Base and Edges
First, take a look at the underside of your skis or board. Are there scratches or gashes in the base? Is the base shiny and bright or is it drying out? If there are imperfections or if your base is dry, you'll need to do some maintenance work.
Another thing you need to check are your edges—ideally, they're pretty sharp and free from major gashes. Very carefully, slide your finger along the edge so you can determine if there are chips or if the metal is wearing down and getting dull. If you find chips in the side or that the edges are getting dull, you'll want to sharpen them up before you hit the slopes.
Look Over the Bindings
Don't forget to check over your bindings too. Look for discoloration and cracks, keeping in mind how long you've been using them—a binding that's been used for more than five seasons should be thoroughly inspected and you should maybe consider a new set.
If your bindings look good, skiers should still make sure they're set to the right release value before heading to the mountain. Ski bindings that are set wrong can cause major injury.
Sharpen the Edges
When your skis or snowboard needs a little help on the edges, you have two options: you can take it to a shop or you can do it yourself. Shops often have machines to help with the process, but you can take care of it with a file and a light touch. Don't file it down too hard and don't file the entire length of the ski, focus on the problem areas if you're new to sharpening.
Give Them a Wax
So your skis or board is a bit dry and could use a little TLC before the upcoming season. Again you can either let your local shop do the work or you can do it yourself. If you want to take care of it, you'll need an iron, wax, a wax scraper, microfiber cloth, a heavy rubber band and something to hold your skis or board in place. Use the rubber band to secure the brakes, keeping them out of the way and then heat the iron, while you wipe the ski down. When the iron is hot (but not too hot), put the wax directly on the iron and drip it evenly over the length of the ski or board. Then run the iron over the ski, spreading the wax evenly, but be sure to keep the iron moving, so you don't burn the ski. When it's evenly spread let it cool completely and then shave off the layer of wax. Clean up the edges and you're set.
More Reading:
5 Top Websites for Discount Ski and Snowboard Gear
The Best Cross-Country Ski Spots in the U.S.
Infographic: How to Pick Your Downhill Skis