Russell Crowe Goes Kayaking, Gets Rescued
Last Saturday, Oscar-winning actor Russell Crowe went kayaking with a friend off of Long Island, New York. Then, he promptly got lost.
The 48-year-old spent four-and-a-half hours on the water before beaching at Huntington Bay at 10pm, nearly 10 miles from his starting point. When Crowe called out to a Coast Guard boat that was patrolling nearby, he and his friend were hauled aboard and given a lift back to Cold Spring Harbor.
"He just needed a little bit of help, he just got a little lost," said U.S. Coast Guard Petty Officer Robert Swieciki, who aided Crowe. "It wasn't really a rescue, really, more of just giving someone a lift."
The actor was in the area filming Noah, a Biblical epic set to be released in 2014, in which he plays the famed boat-builder himself. Will it be any good? Who knows—but we can safely say that after this weekend, at least Crowe has some firsthand experience floating aimlessly at sea.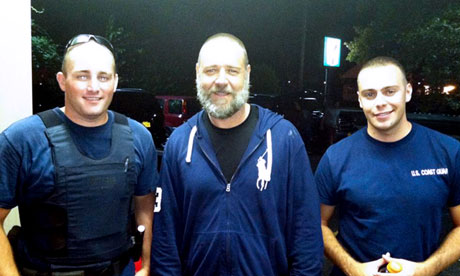 Crowe poses with petty officers Robert Swieciki (left) and Thomas Watson (right).