The Best Hikes For Fall Foliage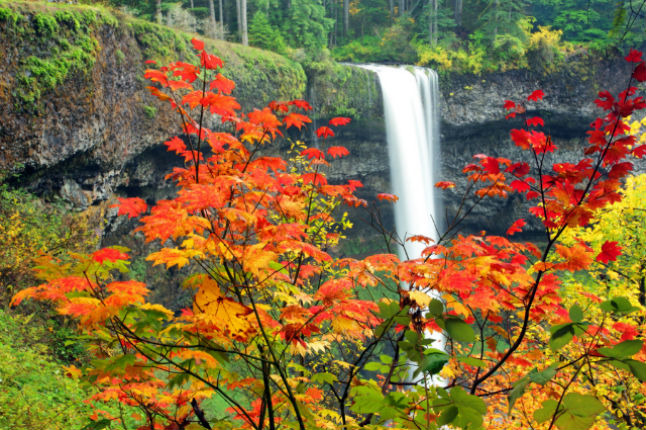 Flickr/ Ian Sane licensed under CC BY 2.0
If you think summer is the only season for hiking, it's time you experience the pleasant temperatures, sparse crowds and incredible beauty that comes with fall. [slideshow:77306]
We love hot summer hikes as much as the next outdoor enthusiast, but there's a special place in our hearts for fall hiking. Thanks to more reasonable temperatures, heat related issues are typically less of a threat and you probably won't have to call it a day due to mid-afternoon heat. Trails are usually less crowded in the fall when the kids are back in school and people are back at work from their summer vacations. And let's not forget those stunning yellows, oranges and reds that dot the tips of trees.
Most of us will admit that the scenery is at least half of the reason we go hiking in the first place and there's no better time to take it all in than autumn. We highlighted hikes from across the U.S. that show a particularly incredible display of fall colors so you can make the most of the fall hiking season wherever you are.
Old Rag Mountain—Shenandoah National Park, Va.
One of the toughest trails in this picturesque park, the trek up Old Rag is a classic eight-mile hike that has it all. Panoramic views of dramatic fall colors and a tough rock scramble make it one of the most popular routes in the mid-Atlantic. This day hike is an incredible adventure, but come early or during the week to avoid the crowds that visit during peak times.
—Diana Gerstacker
Twin Arches Loop Trail—Big South Fork National River and Recreation Area, Ky. And Tenn.   
This 4.6-mile loop takes hikers through two of the most incredible rock formations in the east and, during the fall, through some impressive foliage. The North Arch towers 62 feet over the trail, while the South Arch tops out at 103 feet tall and hikers can reach both formations by walking less than a mile, but the loop that connects is a worthwhile hike too. Can't get enough of the fall colors? The Big South Fork National River and Recreation Area is home to more than 150 miles of well-maintained hiking trails.
—Diana Gerstacker
19 other Hikes for Fall Foliage
Editor's Note: additional reporting by Megan Taylor Morrison.
More Reading:
9 Essentials for Fall Hiking
The Most Thrilling Ways to See Fall Foliage Across the U.S.
8 Things Outdoor Enthusiasts Love about Fall