Great Hikes: Condor Gulch, Pinnacles NM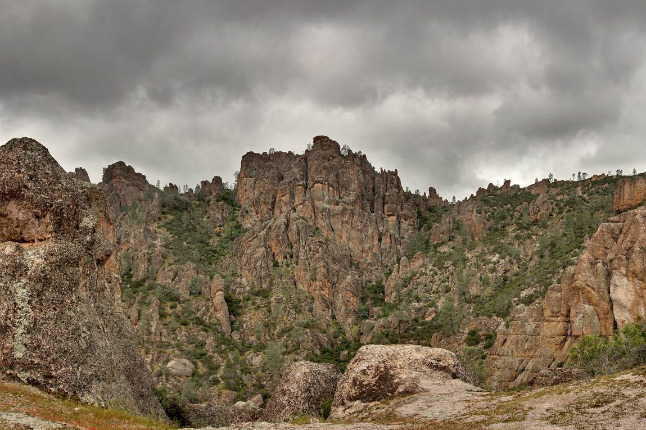 Shutterstock
The San Andreas Fault is notorious for causing the occasional earthquake in California, but more interesting for hikers, it's also created some distinct rock formations.
Pinnacle National Monument is a remnant of the Neenach Volcano, first formed 23 million years ago. The movement of the Pacific Plate along the San Andreas Fault split a section of rock off the volcano and moved it 195 miles northwest at a rate of about half an inch per year. Years of erosion and weathering turned the rock into the unique pinnacle formations found in the area today.
The Condor Gulch to High Peaks Loop will take you through the heart of the pinnacles and along the steep and narrow section of the High Peaks Trail. You'll get a clear view of the rock spires and crags and might even see a few climbers attempting one of the many routes in the park.
If you're in the area from March to November, check out the Bear Gulch or Balconies Talus Caves. These areas were created as large boulders fell from rock formations above deep, narrow gorges. Check at the visitor's center before you go, the caves can close suddenly due to storms or high water. Parts of Bear Gulch may also be closed during parts of the year to protect the resident colony of Townsend's big-eared bats.
Distance: 5.3 miles RT
Elevation Change: 1,300 feet
Difficulty Rating: Strenuous
Duration: 5 hours
Best Time to Go: Year-round
How to get there: Fly into San Francisco or San Jose, rent a car and drive south on Highway 101 past the city of Gilroy to Highway 25 south. Highway 25 will take you through the town of Hollister. Continue 30 miles to Highway 146. Turn right on Highway 146 and left into the pinnacles campground to check in at the visitor center. This is the east entrance of the park.