Great Hikes: Blue Mesa, Petrified Forest NP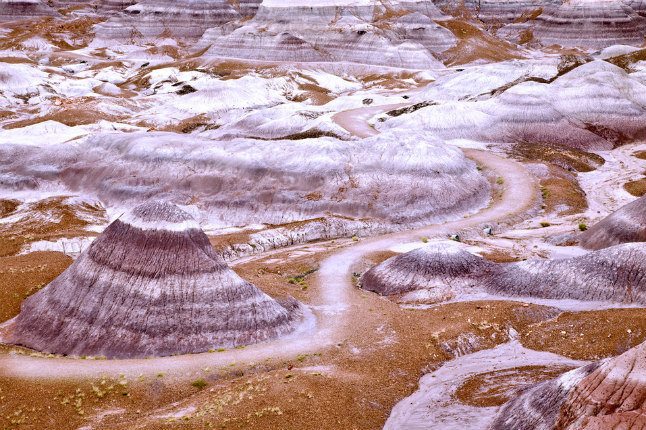 Shutterstock
If you're looking for a Halloween-themed hike,  the main attractions here are, literally, petrified. The Blue Mesa hike is located in Petrified Forest National Park, so-called for its many beautifully colored petrified trees. The trail runs down from a mesa through visually stunning hills of bluish bentonite clay. These badland formations also have grey, white, lavender and green bands. 
The colors were created by mineral presence and water levels during sedimentary deposition. The grey, green and blue colors formed when high water levels deprived carbon and iron minerals of oxygen; red tones were created when the water table fluctuated and allowed iron-based minerals to oxidize; and the white bands are made of bentonite clay, which was once volcanic ash.
As you hike, you'll also pass ancient petrified woodpiles. Although this area is now a desert, low-lying wetlands covered with stands of giant redwoods covered this region during the Late Triassic period. Many logs washed into the ancient river system and were buried quickly enough to cut off the oxygen supply needed for regular decomposition. Instead, over hundreds of years, the wood slowly decayed while minerals—such as silica—absorbed into and crystallized within the cellular structure. The organic material was therefore replaced with jewel-like crystals of clear quarts, purple amethyst, yellow citrine and smoky quartz. Today, the petrified wood you see is made up of almost solid quartz. 
While on the trail, keep your eyes (or more realistically, your imagination) peeled for animal fossils, as well. This area is well-known as an important spot for paleontological research. More than 200 fossil sites have been documented over the last 80 years. Some of the great finds include a complete phytosaur skull dug up in the 2003 field season.
This trail is very popular, so the best time to hike is early in the morning. Make sure you leave the petrified wood and fossils where you find them. Taking these items, as well as any plants or archeological objects, is illegal and the rule is strictly enforced by the park. 
Distance:  1.1 miles RT
Elevation Change:   210 feet
Difficulty Rating:  Easy
Duration:  1 hour
Best Time to Go: Year-round. Although this hike is in Arizona, the park's elevation at over 5,000 feet means that the weather is more temperate than lower elevations in the area. Make sure to check weather reports before you set out. In winter, there are often freezing conditions, and temperatures can be high during the summer months.  
How to get there: Fly into Phoenix, rent a car and head northeast toward the town of Holbrook. For the best directions, visit the National Park Service website. The Blue Mesa Trailhead is located at mile-marker 15 on Park Road.
Have a favorite hike? Submit it to mmorrison@theactivetimes.com or tweet at us.