Europe's National Parks: Emerald Isle Gems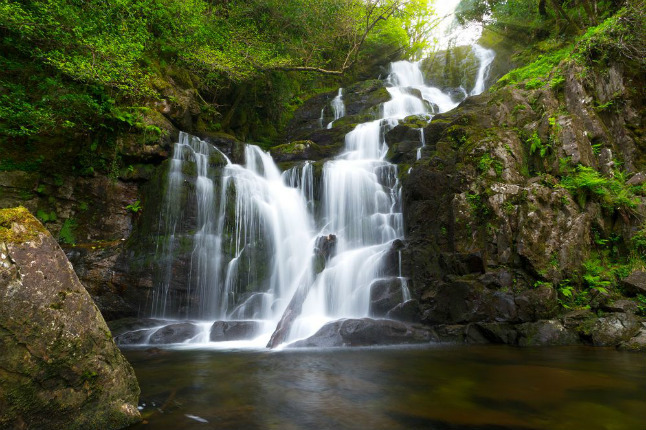 Shutterstock
Ah, the Emerald Isle—home to the world's best Guinness, tasty whiskies and plenty of hearty potato and pork dishes. It's the ideal food to eat while putting up your feet after a day of hiking. But where can you roam the wilderness in Ireland? Lucky for you, we have some suggestions. 
Killarney National Park
Size: 39.7 square miles
Location: County Kerry
This protected area beside the town of Killarney is also a UNESCO Biosphere Reserve. The first national park in the country, it shelters Ireland's only native herd of Red Deer, and comprises the most expansive covering of native woodland. The park is famous for housing the Lakes of Killarney, and tourists can visit the popular Meeting of the Waters, where the three lakes join together. You can also check out the Muckross House, a restored mansion beneath the backdrop of Mangerton and Torc mountains, or take advantage of the paved trails in the Knockreer, Muckross and Ross Island areas. For spectacular views of Killarney, explore the Old Kenmare Road and the track around Tomies Oakwood, the largest oak forest left in Ireland.
Burren National Park
Size: 5.8 square miles
Location: Northwest County Clare
In July and August, a free bus service will take you to and from the five popular walking trails. If you're a pro, try the Green, Blue or Red Routes, each a 459-foot uphill climb. For an easier trail, stick to the Yellow, Brown or Orange Routes, each about a 65-foot climb. Free-guided walks are also available to showcase the surrounding geological and archeological sites, as well as local plants, including many unusual species of orchids.  
Wicklow Mountains National Park
Size: 79.1 square miles
Location: County Wicklow
If you are visiting Dublin, take a short ride south to the Wicklow Mountains. Visitors can enjoy walking and hiking, rock climbing and a chance to snap photos of the beautiful landscape. Visit the nine walking trails in Glendalough valley. For an easy walk, we recommend the 65-foot climb (Purple Route) along the Upper Lake. If you have more than three hours to kill, try the difficult White Route (1,246.7-foot climb) that will lead you through some of the most spectacular scenery in County Wicklow.