The Active Feed: Dinner With An Insane View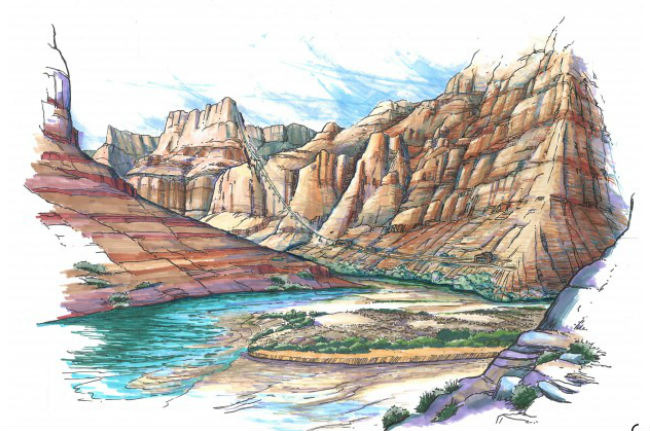 AP Photo/Confluence Partners, LLC/HO
Navajo Nation President Ben Shelly recently unveiled plans to, ahem, upgrade the East Rim of the Grand Canyon. The proposal includes the construction of a resort hotel and spa, a tramway leading to a gondola that would travel to the valley floor, an RV park and, finally, a restaurant at the canyon's bottom, just a half-mile away from the confluence of the Little Colorado and Colorado rivers—a space sacred to both the Hopi and Navajo tribes.
The East Rim, one of the last undeveloped sections of the Grand Canyon, is part of the 27,000-square-mile Navajo reservation that borders Grand Canyon National Park. Shelly says that the tribe is losing out on tourist revenue and jobs for its people by leaving it untouched.
The proposal is being met with opposition from both the Hopi and the Navajo people, who want the sacred land preserved, as well as from the National Park Service and environmentalists who cite the potential impact on endangered species like the humpback chub, and on dark skies that are still unpolluted by manmade light.